When the '90s began, it was the time when the '90s fashion supermodel was born. Ladies like Cindy Crawford, Naomi Campbell, Linda Evangelista, and more ruled the runways and captivated the world with their amazingly gorgeous looks, rocking trends and styles that were once considered modern and daring. So for this 2016 fashion trend, like the saying "what goes around comes around" – which works perfectly to describe the cycle of fashion – the trend that was considered cool in the 90s is cool once again this year.
To take us back where it all started, if you want to channel these 90s fashions – which is one of the greatest decades of all time – start thinking Britpop and grunge. Channeling the 90s is basically about sorting the bad from the good. It brought forth a youthful movement and offered carefree styles including grunge and minimalism that were the main trends of the decade, while casual and easy streetwear as well as "sexy school girl" styles were also trending. Learn some easy tips on how to rock the best '90s fashion, and find old pieces in your wardrobe that still look fresh today.
Like mentioned before, the looks of the 90s are all about looking grunge and fun styling. Good 90s fashion means a bit of schoolgirl look – think mini skirts, knee-high socks and platform shoes –, a smidgen of R&B look – those with high-waisted jeans, dungarees, and oversized jacket – and a whole lot of Britpop grungy chic – from slip dresses, Doc Martens, and cardigans, to plaid shirt, layering, and low-rise, ripped, wide-leg jeans. While the Grunge style itself screams for an overall "sloppy" look that suggests you to not spend very much time putting together your outfit, and yet still managed to look awesome anyway. For a little hint of this cool fashion trend, take a look at some of the best '90s fashion channeled by style icons of the 90s – whether they wore them on the movie or real life.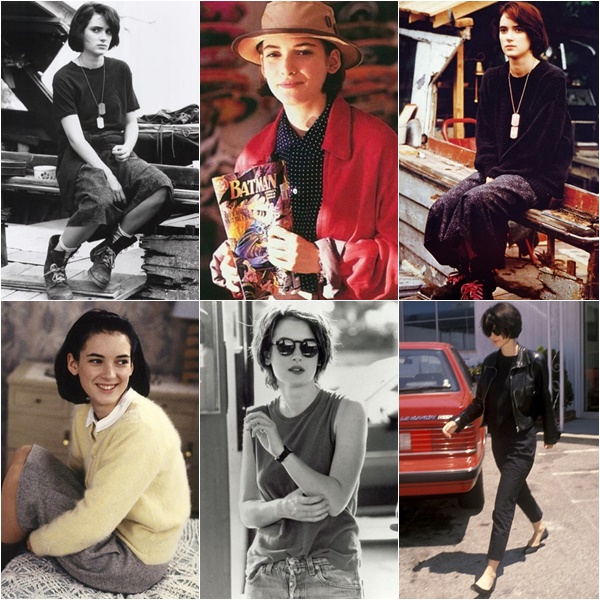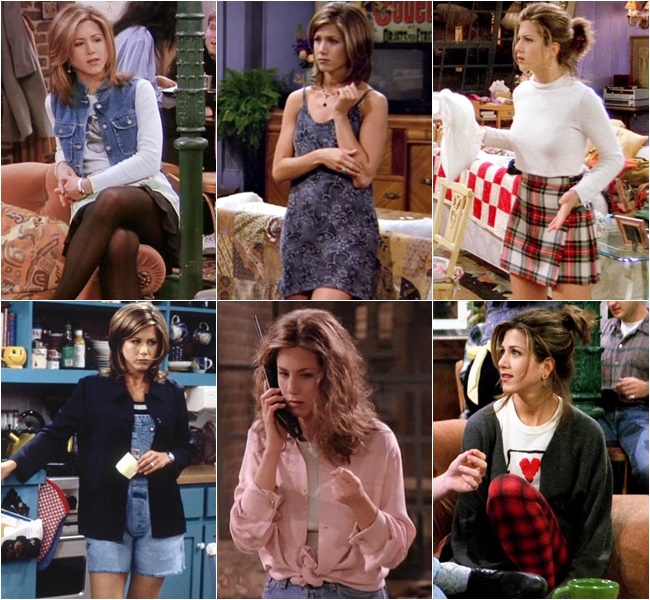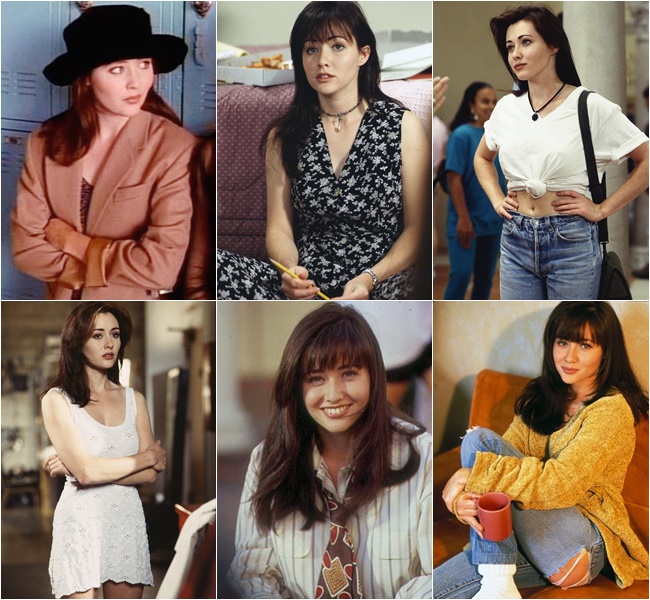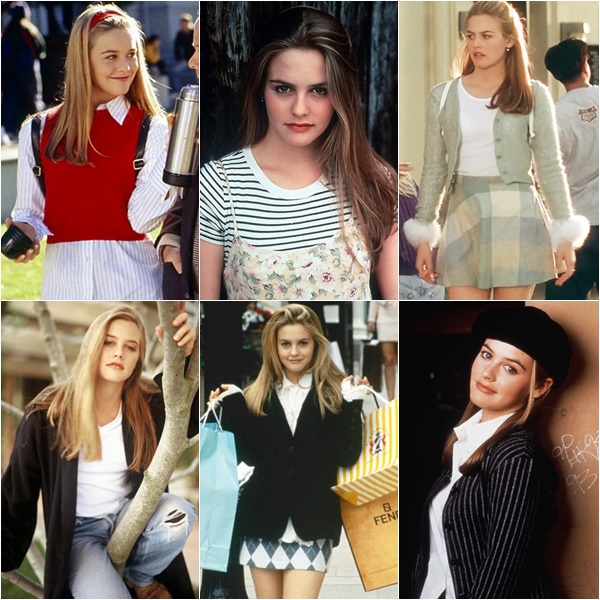 The 90s Trends That Make a Comeback in 2016
As the whole '90s-revival styles are currently picking up steam most recently on the fashion scene in 2016, countless styles and trends which were popular 20 years ago are popular once again. Some of these throwback styles can look either amazing, or just really, really bad that we would definitely rather forget. Here are several classics that are totally appropriate to add to your modern looks.
Alongside the iconic 90's jeans styles such as frayed or ripped denim, highwaisted pants, boyfriend jeans, overalls or dungarees, and oversized jacket to make a pulled-together outfit a bit more casual, other cool pieces and styles such as choker necklaces, crop tops, flannel plaid shirt, combat boots – or high top sneakers, backpack, a shirt around the waist, and dresses layered over tops have brought back the grunge into this 2016 fashion, as well as slip dresses for revisiting the 90s minimalism. While a black biker jacket as a surprisingly timeless trend that has staying power-likely for adding instant edge to any ensemble.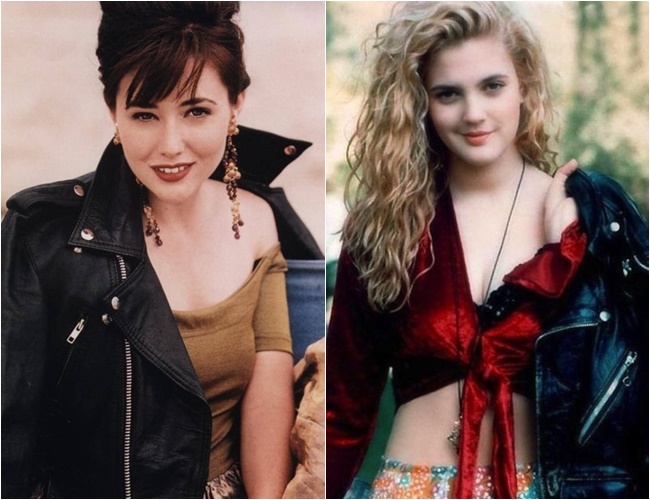 As we've learned a few must-haves from the 90s that make a comeback in 2016, be ready to revamp it this year for an on-trend look. And to pulling off this super cool trend, restyle the old pieces you might still have in your closet and tap into one of the season's key fashion trends, making it relevant in today's culture. So, instead of duplicating the trend exactly head-to-toe as they were in the 90s, recreate each of those in a modern and updated way, much softer and simpler than the 90s grunge with today's sleeker and polished aesthetic. Discover style ideas on how you can update the 90s trend in 2016. Learn that you might be able to pull off some items that you saved, but still have a modern twist, which makes them more than a rehash of the 90s.
Fashion the 90s Style in 2016
Baggy High-waisted Jeans
Got any old, baggy high-waisted jeans in your closet? If so, you're on the right track to embrace this cool trend of the 90s. Whether you prefer a more modern version, or the classic distressed grunge ones, don't pass them up. Yes, after years and years of tight skinny jeans, big baggy jeans have made a huge comeback. While it seems that most ladies are still sticking to their straight legs for day to day wear, it's no longer uncommon to see 90210 style Mom Jeans on the streets.
How to Wear the 90s Baggy Jeans Trend in 2016
As one of the comfiest and most versatile trousers to wear, the baggy jeans never let you down. This classic staple can easily be worn with any casual outfit as well as with any type of footwear including sandals, flats, chunky shoes, heels or even boots.
So, bear this in mind when you start making a combo with this type of trousers. Because one of the most important characteristic of baggy jeans is the comfort, try to pair them with other relaxed outfits pieces – such as slouchy sweater, basic t-shirt (or shirt) with casual layer like biker jacket or boyfriend blazer. Also avoid obvious accessories, and choose for a small and decent accessorize instead. Baggy jeans require also a relaxed attitude from you.
Ripped Denim (Patchwork and Splatter)
Ripped jeans – also including those with patchwork and paint-splatter – were a popular trend in the nineties. As they came in all sorts of styles, these are great to switch up your "regular" plain denims into something cool and fun, and they also make for an easy D.I.Y. project for those who cannot afford designer jeans – you can add unique flair of jewels, patches or sequins, rhinestones, beads, or even with paint for a pair of outstanding paint-splatter jeans.
How to Style 90s Trend Paint Splatter Jeans
Not to mention, since these are entirely customizable, the designs served to speak a lot about a person's personality, so that you can bring your own 2016's colorful style into your D.I.Y. denim work. And if this is a trend you want to reintroduce into your wardrobe, then here are some styles worth checking out
90s Fashion Trend – The Patchwork Denim
As for ripped, frayed and purposely distressed denim, these styles have been all popular for decades. But for this 2016 denim trend, the look of damage was taken to new levels, that they were so destroyed – more distressed than others – which sometimes looked nearly ready to fall apart. Whether just a slight of damage on your jeans or you want to go for extreme distressed ones, all types work perfectly for this summer. Pair them with a neat basic top for giving extra casual look then keeping it smart with heels and a tailored jacket. This jean look could be work all day and then out to dinner with friends in the evening.
How to Fashion Ripped Jeans this Summer
Overalls
One of the most iconic looks of the 90s, overalls and dungarees are also feeling fresh again. In the past few years we've seen resurgence in overalls, particularly for music festivals. So, if you want to feel comfortable all day long in warm sunny days, grab a pair overall on casual days and have fun with it, keep the look relaxed and easy.
The '90s Overalls Street Style for Spring Summer 2016Plus Size Fashion with Overalls
Chokers
Another best 90s trend that is coming back is obviously the choker necklaces. This type of necklace was definitely a favorite of the 90s, which been through a couple of variations throughout the years, from fake tattoo version to elegant design with gold, small beads, etc.
The '90s Trend with Choker Necklace in Modern Twist
To fashion this 90's iconic jewelry in modern way, try not to go for those tight velvety chokers with single pendant that basically just hanging around your neck. Instead, go for a simple fake choker tattoo or jewelry with a modern design that sits just a bit lower, at the base of the neck. Work yours into your wardrobe with a simple outfit, and let your necklace do all the talking. Just stay away from anything busy and vibrant – such as the heavy layered or beaded version, or the ones with neon color.
Crop Tops
These baby tees that exposes your midriff were a big part of the 90s style and they've been staying over the years both on the runway and on the streets that don't seem to be going away any time soon. The good thing about this super cute staple, is that the possibilities to make a combo with crop top are endless, from fancy to casual, long sleeve to short sleeve, and patterned to solid, there's a crop top out there for everyone – from skinny to full figured ladies.
How to Wear a Crop Top for this 2016 Spring Summer Trend
Although these 90s midriff revealing crop tops have been trendy for some time now, try to pull off the staple by bringing the old styles back to the future. To recreate the look into a modern twist, bear in mind that wearing a crop top doesn't mean your belly has to be exposed all the time. Showing only a sliver of skin and keep your outlook simple, elegant and sophisticated are in fact the right looks for this 2016 modern update.
Rocking a Crop Top with Something High-waisted for 2016 Trend
That means you need to pair your crop top with something high-waisted, and also be ready with layering piece – jacket, blazer or sweater – for the option of a little more coverage. Or, you can also wear a crop top as outer layer by pairing your crop top over a tank, button-down or other top (including dress and tunic) for a cool edgy-chic look.
Crop Top Worn Over a Shirt or Dress to Create Full Coverage of Your Tummy
Not to mention, by opting for longer shirts and higher bottoms – and pair them together for a trendy vibe that keeps your tummy hidden – will also give the illusion of longer and leaner legs. Learn "How to Wear a Crop Top" for numerous style ideas on wearing crop top
Flannel Shirts (Styling Shirt around the Waist)
The most important fashion piece in a grunge outfit is a plaid and flannel shirt. Some would even argue that this super cool and versatile grunge-inspired shirt never really went away from the 90s. However, while in the 90s, style icons wore their shirt washed out – the dirtier and worn out your flannel, the better – these days, the flannel fashion requires more tailored and fun attitude rather than just pulling it off like a lumberjack. Not to mention, actually the trend is all about the plaid print, not flannel. So if you just love plaid, you don't have to go for the flannel, but if you simply like your flannel without any patterns or stripes, you should probably skip this returning trend.
How to Style the 90s Trend Flannel Shirt
Knowing that flannels are one of the best things about the 90s trend, you definitely don't want to miss out on them. There are numerous ways to style a flannel shirt without looking dated. Pair a flannel top with a cute pair of jeans or rock a plaid skirt or dress to bring it back to life. Or, for a fun look that's not too over-the-top, tie it around your waist. Plus, in the winter they're another layer, and in the summer they are like a light sweater. So, everybody wins!
The 90s Trend – Flannel Shirt Tied Around the Waist
Things to consider on creating a flannel combo for today's trend, instead of always feeling and looking cozy, you may keep the comfy factor while still looking a little more put-together. Learn "Ways to Wear Flannel and Plaid Shirt for All Season" on how to rock a plaid shirt
Combat Boots and High Top Sneakers
Like the clothing and accessory trend, the shoes of the 90s fell in to the same trend categories, and one of the brands to benefit most from this revival of 90s trends is Doc Martens that have been slowly becoming cool again in the past few years. The versatility of these shoes (or any version of the "combat boot" and "high top sneakers") makes them comfortable to wear in any season and with any outfit, from jeans to shorts and even dresses.
How to Style the 90s Trend Combat Boots this 2016
However, since today is 2016, even if you go for the more colorful version of combat boots or high top sneakers, don't pair them with busy printed leggings because that's simply too 90s, just go for a more neutral mix-and-match instead. You can try wearing the shoes with your favorite dress in natural shades for daytime appropriate, or pair your high-tops with denim shorts and a tee for a more casual look.
T-shirt under Slip Dress
Last but not least of revisiting the 90s trend, is the super feminine slip dress that comes with skinny spaghetti straps. These dresses never seem to go out of style, yet, it's recently made a strong comeback-namely in sunflower and daisy prints, or even came out with satin or sleek fabrics for a more sexy look. This iconic 90s style is ideal for a fresh daytime and evening hangout, that you can pull it off with a more sophisticated turn.
How To Wear A Shirt Under A Dress This Summer
You can either wear such ensembles during hot summer days or cover your shoulders with a cozy cardigan – or a biker jacket – during the chilly nights. To make it more of the 2016s, take your summer dresses seamlessly into the color months by layering them with a crisp, basic white t-shirt or black tee. Opt for a more grown-up feel by keeping the dress in a muted tone like gray, black, navy or brown, or simply in natural, basic prints. Finish the look with sandals, or casual chic shoes – like mules – for an effortlessly cool summer outfit.