The plaid shirt is an off-duty favorite, and there's always a reason why the plaid or flannel button-front shirt is a classic – just like LBDs, white cotton shirt, and blue denim. The look is super cozy and comfy, where people usually don it for cold days during fall and winter. So how about this spring summer? If you're not quite ready to let go of your fall and winter flannel collection, check out variety of different ways you can wear this borrowed-from-the-boyfriend thrift finds throughout the warmer months.
The idea to rock this super chic staple for the warm season is to think outside the box and give the piece your own spin. Plaid shirts, or flannel shirts as some people call them, are so versatile and can be worn in a million different ways. And don't forget that they're comfortable, cozy and usually inexpensive. From rocking that button-down for the office, to a night out, and to weekend strolls in no time, try these ways of wearing a flannel shirt, and you'll be catching eyes and compliments all over town.
Worn Open Over a Basic Tee
You can always start simple by layering an over-sized plaid shirt over a basic tee with a pair of comfy skinnies to keep warm and super casual, or go with denim shorts for a more summer-y look.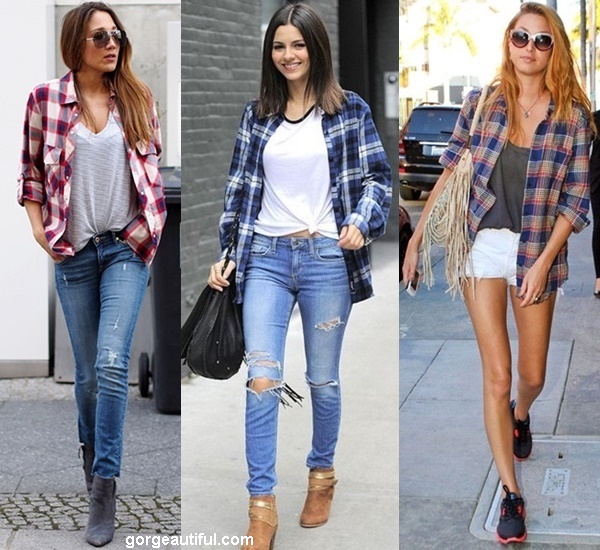 Worn Open Over a Dress
Not only worn open over a top, this versatile piece can also be worn over a dress as a cardigan and looks like a cute layer. For a safe, easy tip, If you're layering your flannel, match your under or outerwear in a solid color.
Worn Open Over a Crop Top
For a grunge-y edge, grab your oversized plaid shirt and wear it with a crop top and your favorite trousers or leggings. Complete the ensemble with a pair of comfy boots or other stylish footwear. These beauties are a trendy and fun way to spend a casual day running errands or shopping.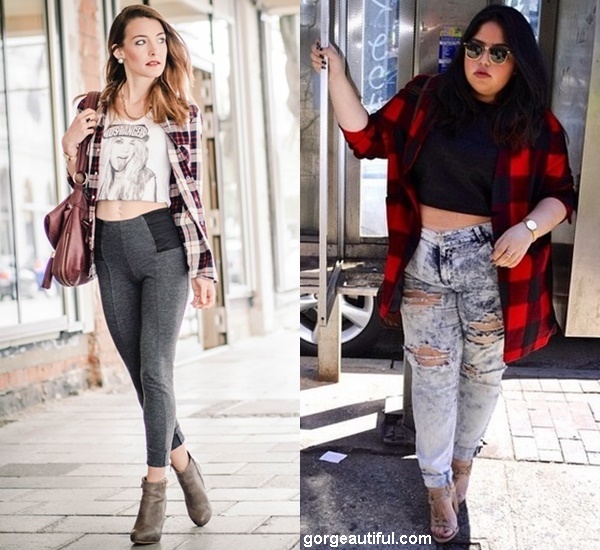 Cover-up at The Beach
For your summer days at beach and pools, a great set of chic cover-up and sexy swimsuit is totally a girl's best friend. So, let unbutton your plaid shirt and wear it open over a cute bikini to look chic and effortless.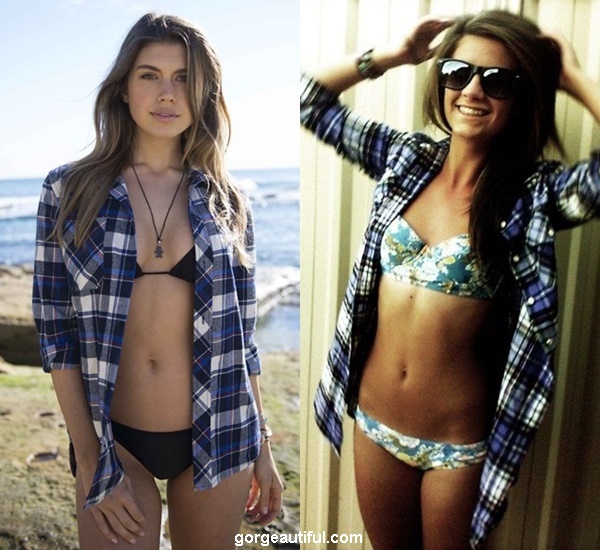 Oversized Shirt as a Dress
An oversized or men's plaid shirt looks adorable when worn as a dress. Think like a long tunic and throw other layer like a vest or jacket over it to help define your waist without interrupting the fluid line of your outfit. Or you may just pulling it off simply like a dress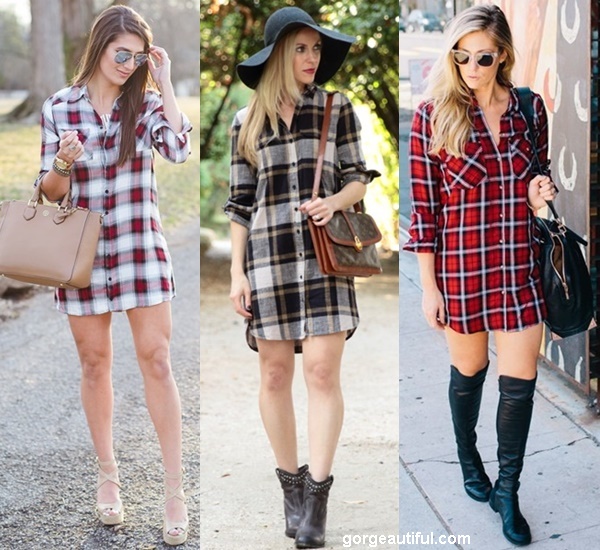 Tied Around the Waist
Always look stylish and classy, the around-the-waist shirt wrap has been spotted on everyone. This is the most common way to pull of the shirt-wrap look. Pay attention to the color of the shirt, either have it match the colors of your outfit to let it blend in or pick a very bold color to make it pop.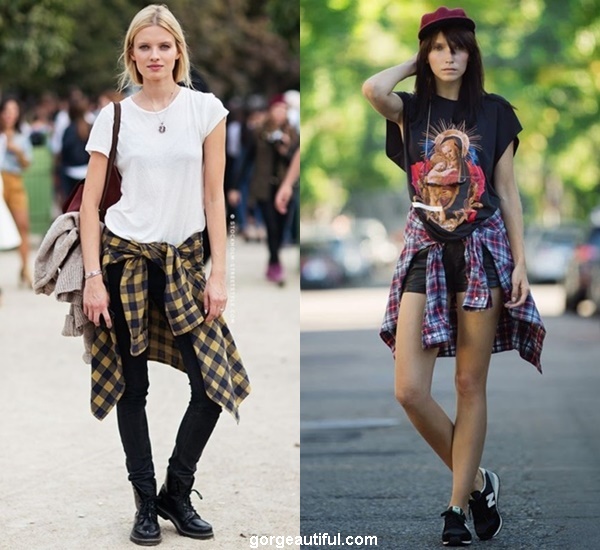 Go the Preppy Way
Layering any button-up shirt under a little knit top is a great look, but using a plaid print can add a lot of personality to your style while giving you the chance to mix prints as well as enhancing that smart preppy look. Go monochromatically between a knit top and skinnies, or you may add another layer over you preppy combo for that cozy look, or even dress it up with statement necklace.
Classic as a Shirt
All variety ways aside to pulling off this super versatile fashion piece, the list would be endless but wearing a flannel shirt for a classic everyday look is sure everybody favorite choice. Sometimes less is more, so wearing the plaid button-up traditionally with a pair of basic bottom like pants and skirt is always a great way to start your day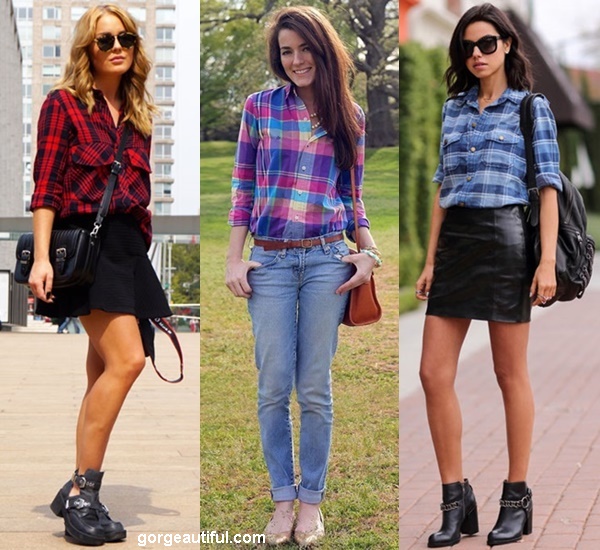 Add More Layer
When the weather is going to get chilly, it's just in time to go for layering. You may throw a leather jacket on your plaid top for a slightly more badass take on the look. Or, with a puffer vest for a more charmingly laid back look. An army coat will make you look trendier and stylish, while a soft colored cardigan over your casual combo with it and denim will make you look sweetly chic. You may also try a tailored blazer to add instant polish to a plaid shirt and jeans.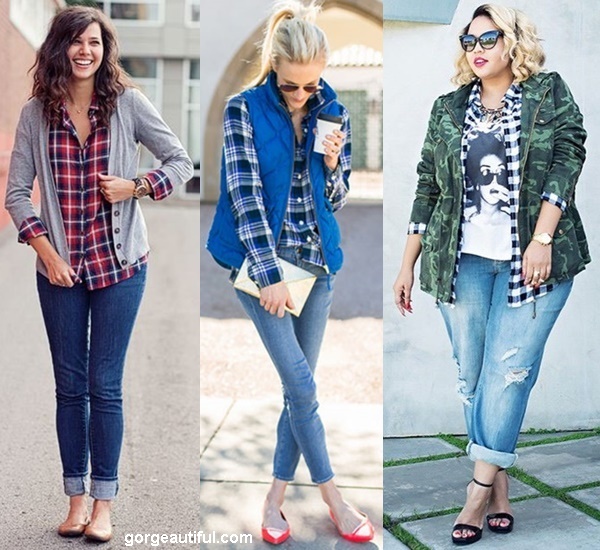 Tutu Skirt Glam
Who says tulle or tutu skirt is just for special occasions that you can match it with something casual like denim or flannel shirt. Make the glam works and looks fantastic on your flannel shirt, by pairing it over a tulle skirt and pop the collar for some extra face-framing drama. Then, add heels and sparkly jewelry. Try one of these looks and feel like a fairy tale princess in day time!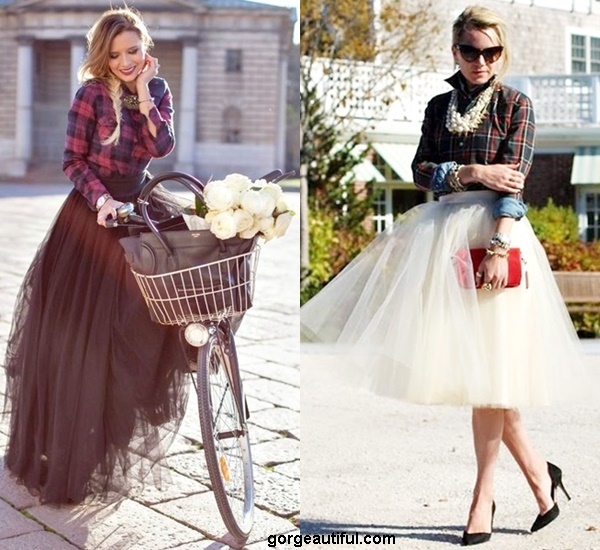 Belt it Up
Plaid is such a great way to make a plain outfit more lively. Whether you're throwing on trousers, skirts, or shorts, tossing on a classic plaid shirt is one way to add some color, pattern and excitement to your outfit. If your flannel shirt is loose or it's not at least fitted to some degree on its own, belting your shirt up is a great way to emphasize your waist in, plus it also looks tidier and more formal.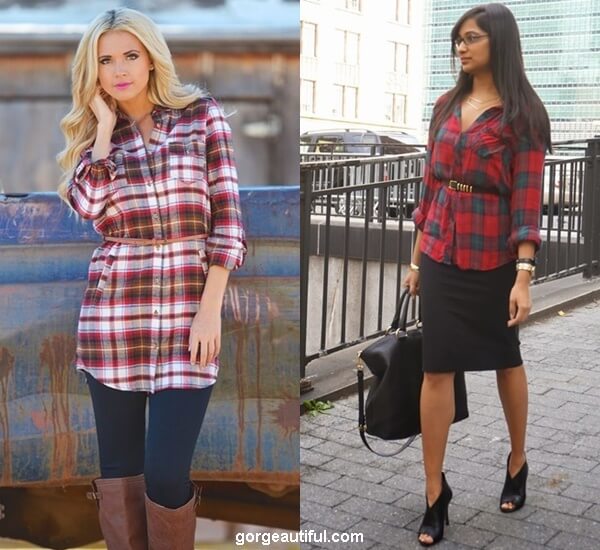 Bling it Up
Upgrade a basic plaid shirt with a statement necklace to make the look blings and trendier. You can go the rest of your outfit easy and simple with casual outerwear like denim or leather jacket or vest, along with basic skinnies, skirt or casual shorts, yet you still look amazingly stylish.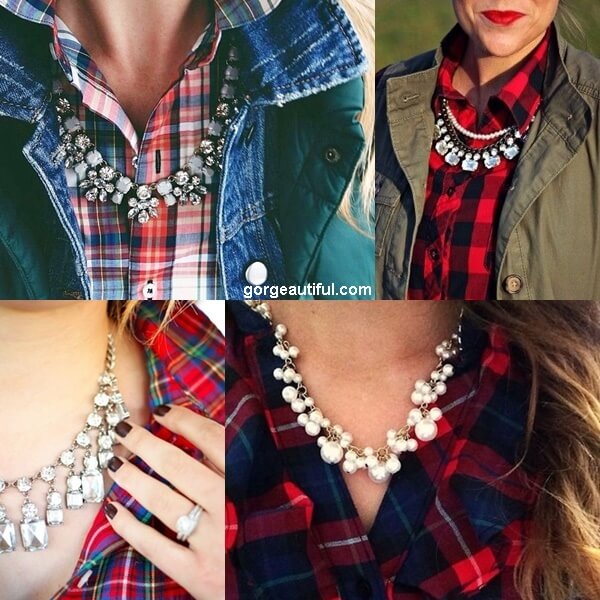 Print Mixing
Mix yours with another pattern or print, whether you want to go for a safe combo by pairing your plaid only with printed accessories, or you choose bolder by mixing two different prints between your plaid and other piece. Learn "How to Mix n Match Prints and Textures in Outfits" for print mixing fashion tips and ideas.