As one most important must-have lingerie items, wearing the right bra will certainly help you looking flawless and elegant in any outfit. Although there are certain tops or dresses that should be worn without any bra – especially for evening or cocktail venue –, but still, whether it's for looks, fashion, support, or comfort, knowing how to pick the right bra to an outfit is important, because no matter what you're wearing, you can't look or feel good if you don't have the proper undergarments.
In continuing previous article "Choosing the Right Bra for Every Type of Outfit and Occasion (Part 1)" we know that the degree of which the bra frames the breasts varies between style, functionality, fashion and fabric. Here are some more tips for picking the right bra for every type of outfit.
FIND TYPES OF BRA FOR YOUR OUTFIT
Whether you go out for a walk or get ready for party, whether you're looking for a cleavage bra that gives you a sexy neckline under a low-cut top, or a full-coverage bra to provide all day support under your professional work wardrobe – or something else entirely, it's time to explore different styles or bra, which should you be wearing for which occasion with which outfit.
Not to mention, learn "The Right Necklines for Your Face and Body Shape" to know different types of necklines
Types of Bra Cup
Generally, there are four main types of bra cup which include Balcony Bras, Demi Bras, Full Cup Bras, and Plunge Bras. These are different bra cuts and styles, named by the way the cups are cut and worn.
BALCONY BRAS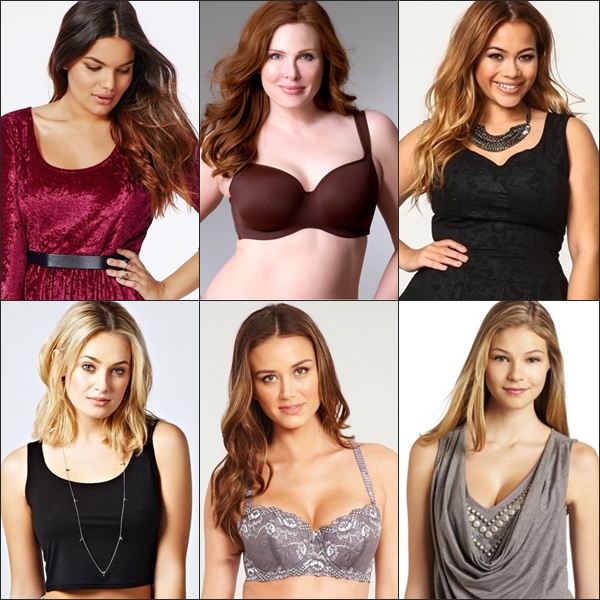 1. Balcony or Balconette Bra is designed to provide dramatic uplift and cleavage. It is typically a half or three-quarter coverage bra that covers the nipples and lifts the top half of your breasts. It creates nice, rounded cleavage, but doesn't fully cover your breasts. Women with broader shoulders or firm breasts look best with this bra, while women with narrow shoulders or breasts that aren't as firm sometimes may find that a balcony bra doesn't fit in the most flattering way.
As for necklines, this bra is great for women who want to wear a low-cut and wide neckline – such as V-neck, scoop, square neck or sweetheart – as it leaves the top swell of your breasts exposed for a sexy look. There's rarely a bad time to wear this type – it's more about whether it's the right fit for your body type and the clothes you're wearing.
DEMI BRAS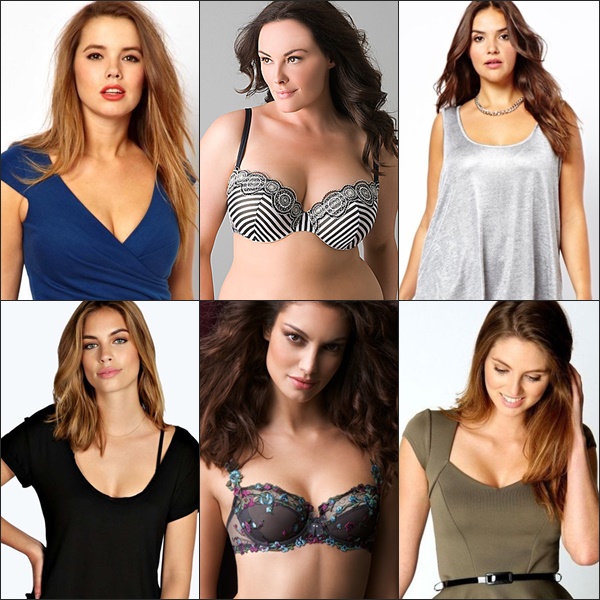 2. Having lower cup-cut than a balcony bra, a Demi Bra is also another sexy half-cup whose cups are partially cut away. It gives great cleavage and a frame-like effect, perfect for low-cut necklines or when you want to show a little bit more cleavage. Because the bra comes with less bra cup, it offers less support – but enables low cut garments to be worn without the bra being seen. Most of the support in a demi bra comes from the band, making it critical to select the right cup size in your demi.
Just like a balconette bra, this bra is great to wear with low-cut and wide neckline, even if you want to wear very low neck – such as deep V-neck or plunging neckline. Demi bras or low-cut bras are rarely wrong for any occasion, although you might find that they're not as well suited for office attire, everyday or running errands that some women may find this bra too revealing – with not enough coverage – for professional and casual occasion
PLUNGE BRAS
3. As for a Plunge Bra, it is an extremely popular special occasion bra that vanishes under deep and seductive necklines. A plunge bra is perfect for deep V-neckline (plunging) or other very low-cut neckline tops and dresses, as the angled cups and narrow center gore creates the appearance of increased cleavage. This bra is really great for special occasions.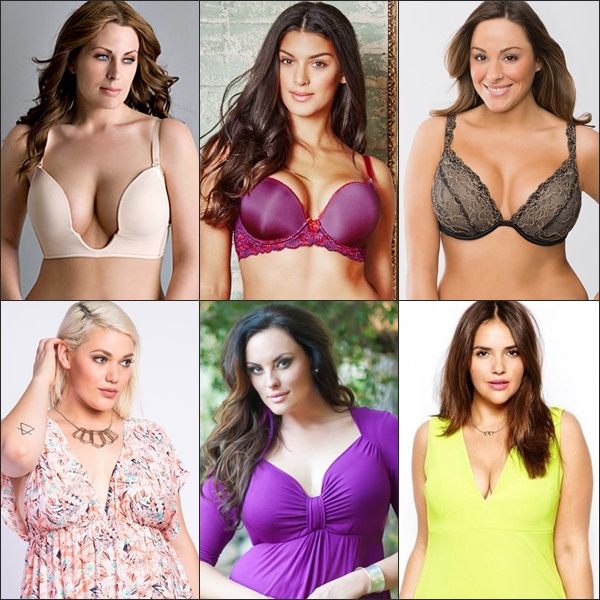 Knowing that today's fashion trends bring a wide variety of dresses and outfits with plunging necklines, you obviously need a plunge bra to match the needs. It is definitely your must-have underwear and you should definitely invest in one or two this year. The bra is great when you have a low-cut outfit or shirt, want to be giving your bust the perfect shape but don't want your bras to show.
FULL CUP BRAS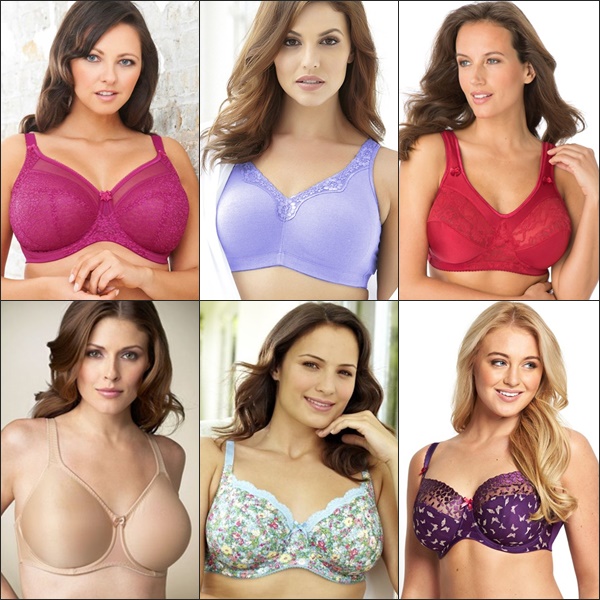 4. All sexy, low-cut cup styles aside, if you are looking for comfortable, supportive bras with great coverage – especially for ladies with full and large breast – a Full Cup Bra is your best option. This bra typically completely covers the breast – is a typical, practical bra for everyday wear – which offers maximum coverage or shaping for all day comfort. Although there's nothing 'wrong' with wearing this bra if you've got smaller breasts, but most women who don't need a full cup would prefer to wear something with less coverage.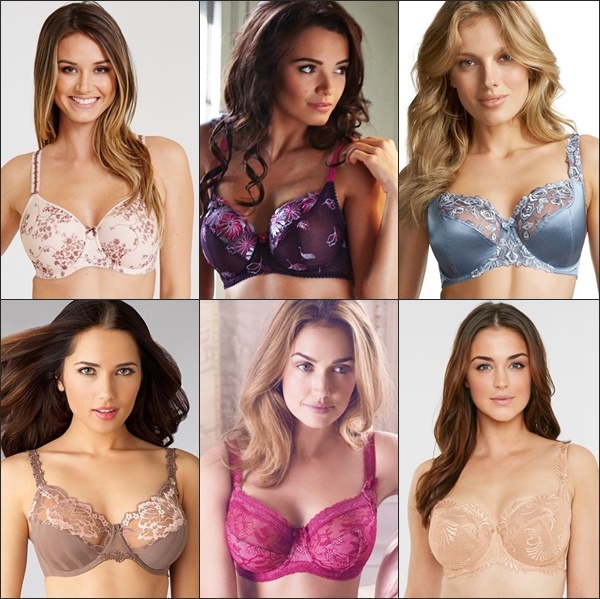 The opposite of demi and balconette bra, a full cup will not cause a crease or indentation along the top of the breast, making it a great choice under T-shirts or knits – and aren't great for low cut or deep necklines. From classic and elegant to sexy and festive, with laces, patterns, or in solid hues, since you'll find these bras in a wide variety of styles, shopping for a full cup is more about matching the right style of full cup with your wardrobe and your fashion sense.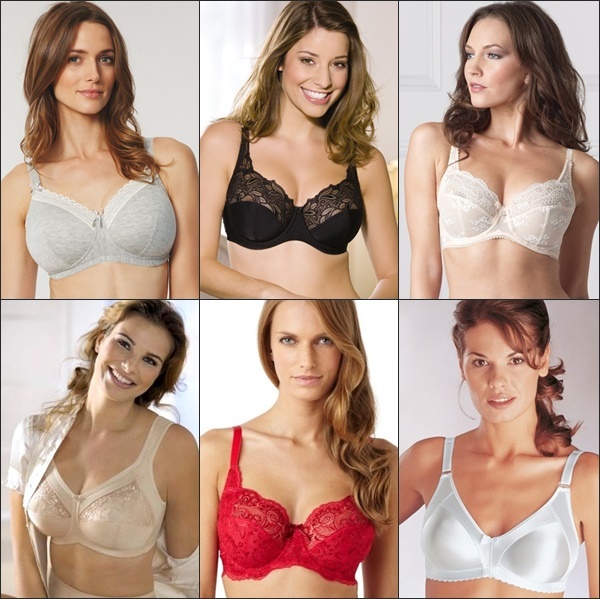 Go to the next page for learning different constructions, features, cuts and design details of bra
Bras by Purpose and Outfit
Depending on the occasions, outfits, and needs, certain bras have different styles for different silhouettes. You may need a comfortable and supportive bra for everyday use, a strapless for special occasions, and perhaps a long-line, corset bra to complement every evening gown. Start here if you're looking for a bra with specific design features or a certain type of construction, as well as a specific purpose in mind, like a sports bra, a sleep bra or a posture bra.
A. Bras for Everyday Wear, Casual and Professional Looks
If you are looking for a great everyday bra, or if you want a seamless and smooth look under your shirt, you probably should stick to a bra that is simple and standard enough that has no extra embellishments, fits against the chest perfectly, and has small feminine details along with simple straps.
Generally, as long as a bra provides great support and comfort to the wearer, virtually any bra in any styles can work for this purpose. Many women find a standard, no-fuss bra the most comfortable but you can opt for whatever style you like best. Here are some examples of comfortable bra to choose from:
SEAMLESS BRAS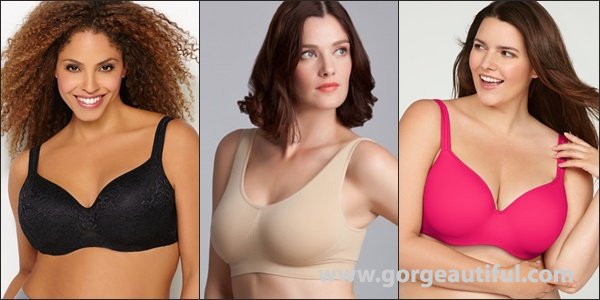 Seamless Bra: Also known as Smooth Cup Bra, this bra is designed to be invisible under your clothes – without seamed cups that might show through, featuring cups that are usually covered with a single piece of fabric that is free of seams or stitching. The cups of this bra can be molded or unmolded, depending on its designs. There's really no one who can't wear a seamless bra. Literally a seamless bra is great for every occasion, as long as you've got the right style to match your needs.
SOFT CUP BRAS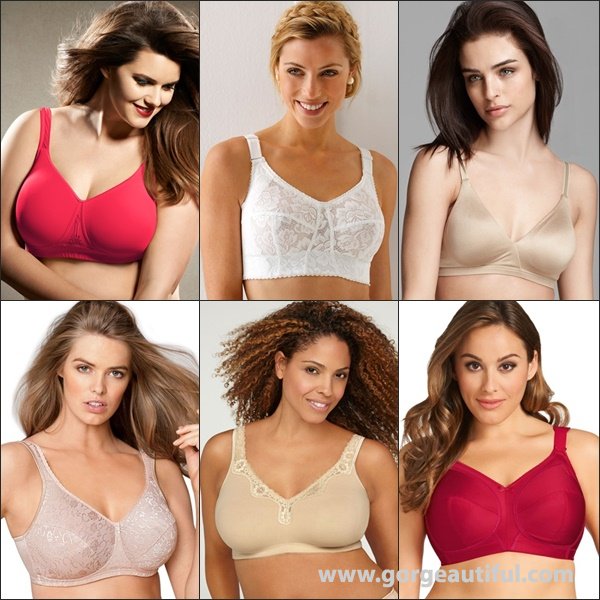 Soft Cup Bra: Extremely comfortable for everyday wear. Soft Cup are designed to provide support without using an underwire. Although it mostly don't provide great support (because it has no underwires), if you are unhappy with a wireless bra but still want the maximum support – especially for women with large bust – there are some great supportive soft cup are available at various plus size undergarment stores.
COTTON BRAS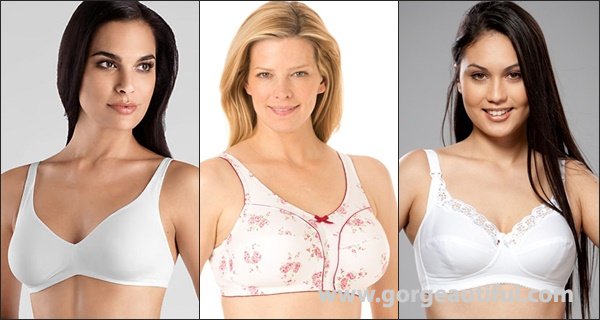 Cotton Bra: Just like its name, a Cotton Bra is made of cotton. Some bras feature cotton only in the cups, while other bras are cotton all over. Based on its fabric, this bra obviously provides great comfort, lightness and coolness – especially for women who live in hot or humid climates. However, keep in mind that cotton becomes less supportive when moist, and also retains moisture and odors. So, better not to wear this bra when you work up a sweat as it will retain moisture and may smell
COMFORT STRAP BRAS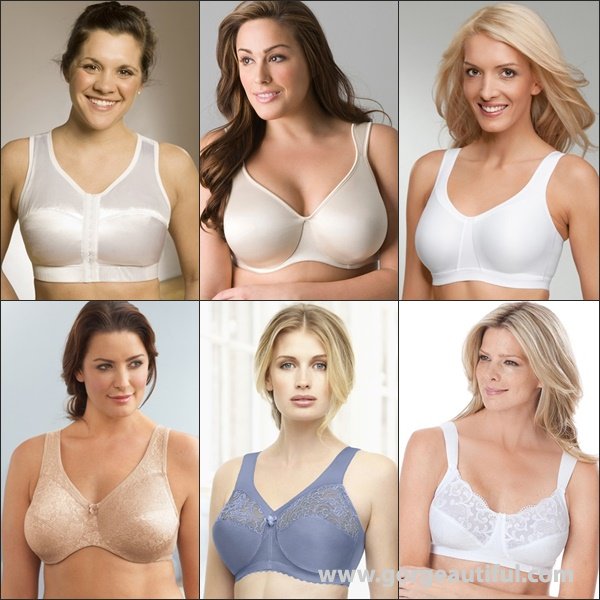 Comfort Strap Bra: Having wider straps than average straps to help prevent the straps from digging into your shoulder, or padded straps to help reduce discomfort, Comfort Strap Bras are designed to provide a softer, lighter feel on the shoulders. Wider straps distribute the weight of the breast more evenly, which increases the comfort, especially for the fuller-busted woman. If you have shoulder pain from your bra straps or your bra straps are digging into your shoulder, make sure you look for this feature.
T-SHIRT BRAS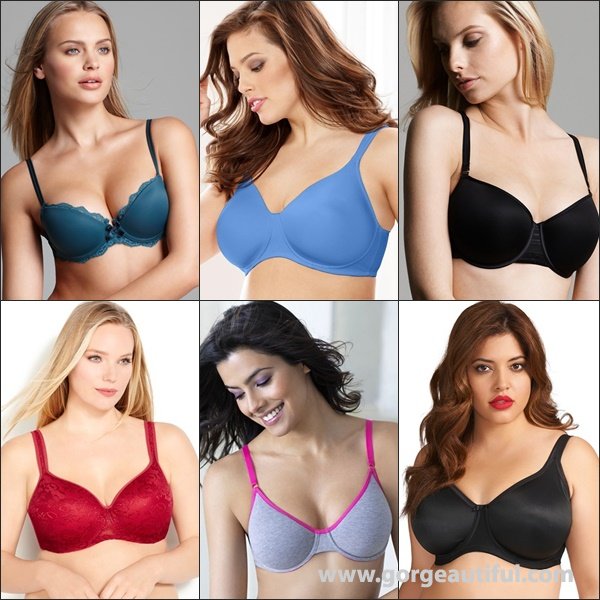 T-shirt Bra: Also known as a Contour Bra, the T-shirt Bra has cups that hold their shape, even when not being worn. The bras are designed to be invisible under tight-fitted t-shirts, form-hugging fabrics and clingy outfits. They are seamless and practical – super versatile that usually have no lace or ornamentation – with smooth, molded cups that provide a natural, rounded, symmetrical shape to the breasts.
B. Bras for Outfits with Special Neckline and Designs
With such a wide range of tops and necklines of women's fashion, you obviously need an appropriate bra to suit any type of outfit, even a plunging neckline or a backless dress. You'll definitely want to wear a bra in special designs and styles to make sure it works with your special outfit. Here's a simple cheat sheet for picking the right bra for every type of top (neckline).
STRAPLESS BRAS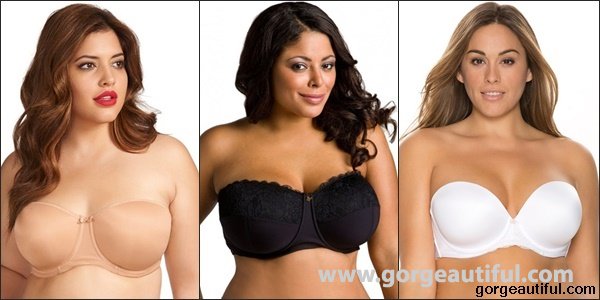 Strapless Bra: Just like its name, a Strapless Bra is constructed with no shoulder straps. It's is an underwire bra with wide sides, molded cups, no straps or removable straps, and a hook back. This tends to include rubber strips or silicone stitched to the upper and lower edges of the bra to keep it secure on the body. The bra is specifically designed to be worn under wardrobes that are strapless such as tube dress, or other designs with spaghetti straps, halter-neck, off-the-shoulder, one-shoulder, wide neckline, etc.
Pay attention when shopping for a strapless bra – especially for full busted women. Because a perfect strapless needs to give great shape and maximum support, make sure to find a special design that provides the support necessary for a large bust. Don't cheap out on this one.
CONVERTIBLE BRAS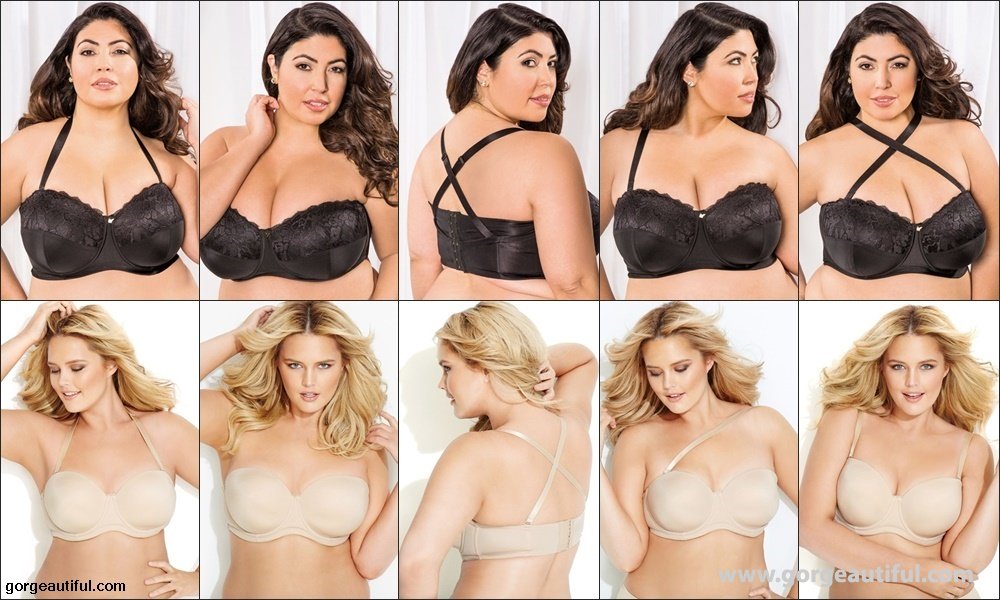 Convertible Bra: Backless dresses are super sexy but how can you wear them if your bra back will show up? For that purpose use this Bra with a low cut back. A convertible is almost a magical – super versatile – bra that has detachable straps, which allows it to be worn in various ways to fit under a variety of different clothing styles. With this bra, you can wear the straps classic, halter, strapless, one strap, criss-cross or racerback depending on your outer top.
If you have a halter top, for example, instead of choosing for a strapless bra – that might not provide enough support – you can choose this bra that you can adjust your bra straps for. Many convertible bras feature straps that you can wear in a halter style, or even as a crossover style. A few convertible bras can even double as backless bras.
RACERBACK BRAS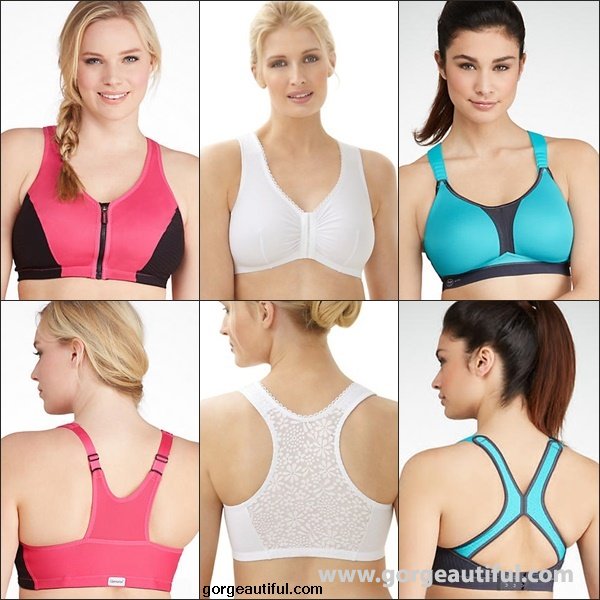 Racerback Bra: Refers to the way the back of the bra is designed, this Bra comes with thin straps that meet in the back and then splits into a Y, X or V shape instead of falling straight down the shoulders, leaving the shoulders and shoulder blades exposed. These bras are often front closure style and are perfect to wear with racerback tops meant to show off your shoulder blades.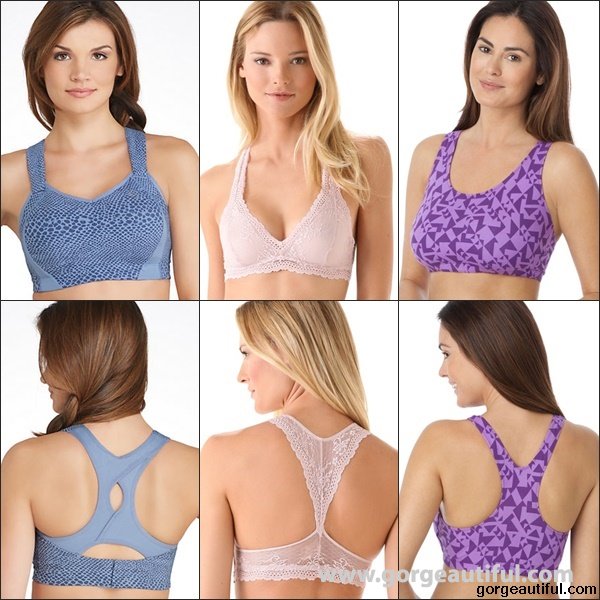 Especially for women with narrow or sloping shoulders who often find that bra straps slip, these bras designs might be the answer as its straps won't slip. Racerback styles are also great as workout wear or under tank tops. It is a good look that offers a whole lot of support and is extremely comfortable to wear overall.
LONGLINE BRAS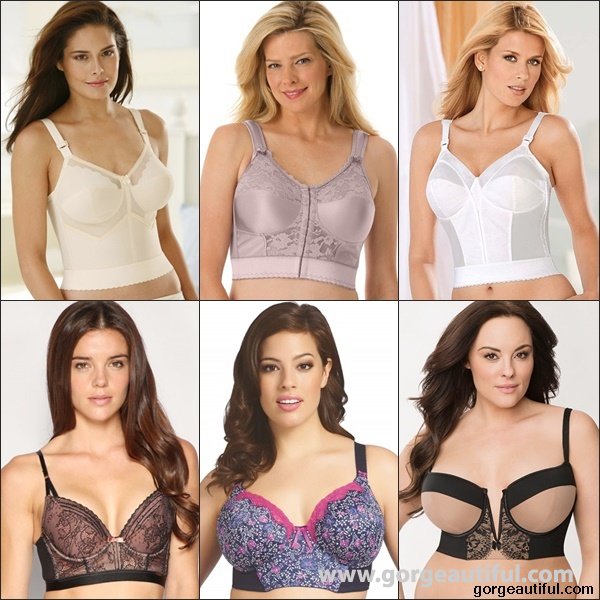 Longline Bra: Although it may come in different lengths, a Longline Bra is an extended coverage bra that starts a few inches below the bottom of the cup, and typically goes down over the ribcage, to end a few inches above the navel. A bit different from a bustier, a longline bra may provide more control than a bustier. They are supportive and smoothing, and may also help with posture. These bras may come strapless or in strapped styles, and often feature slimming stomach support.
Totally perfect to be worn under formal and evening wear to enhance curvier, hour-glass silhouette, especially for women who want more support for their busts and some boning or shaping for the stomach may find a perfect solution in a longline bra, because the extended structure helps to absorb some of the weight of the bust and provide support without slipping down under the weight of the breasts.
ADHESIVE CUP BRAS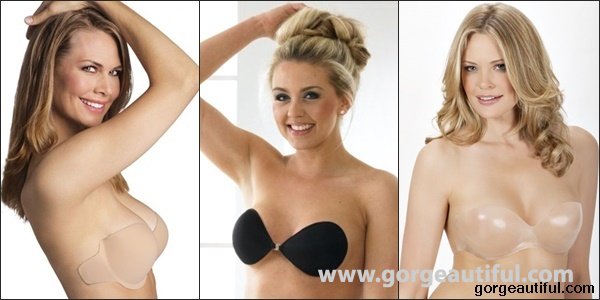 Adhesive Cup Bra: Probably offers the least support among other bra designs – especially for women with large breast – a silicone Adhesive Bra is a bra without straps or back wings that stays in place with the help of adhesive. These bras are great for deep necklines, backless tops and strapless tops as they stick onto your skin and smooth out your silhouette, ensuring you have some lift and shape without anything else showing, not from the center nor from the sides, not from the shoulders and certainly not in the back. Since they offer minimal support, most women usually use them only as a last resort.
FANCY BRAS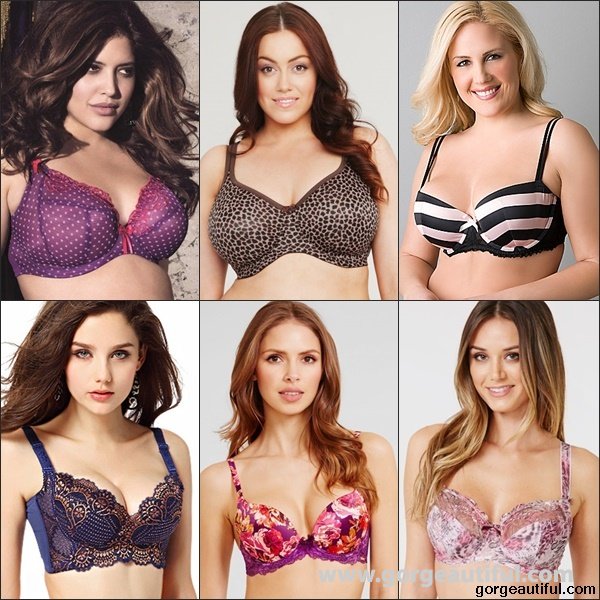 Colorful Bra: Although showing bra underneath your top is generally for the bold and brave ladies who would dare venture out in flirty styles, however, fancy, colorful bras are gorgeous beyond belief and are definitely the go-to pieces when you are dressing up or down. Depending on its designs and ornaments, these bras look great when you wear a sheer top and want to have fun with the colors and patterns used on your bra underneath to compliment the top, so choose a nice, punchy color.
C. Finding Bras for Your Specific Needs
Different body shape has different needs in finding the most suited and perfect bra, while some bras are actually designed for that reason. Some women want to have the illusion of greater breast size and cleavage, while others want to make the breasts appear to be smaller. There are needs for bra that is specifically designed for a curvaceous, voluptuous woman, and there are also women asking for special sporty bra for working out. Find more about bras that are designed for specific needs:
PUSH UP BRAS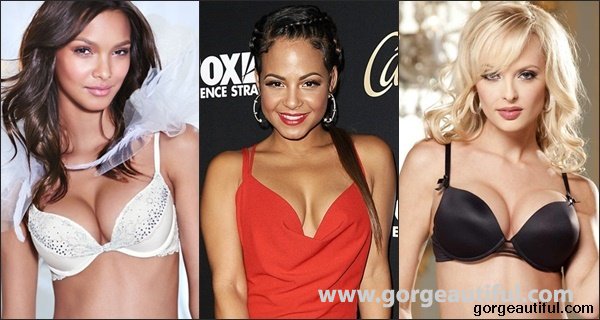 Push-up Bras: For women who want to create sexy, rounded and feminine cleavage, or want to enhance their breast size, might find a Push-up Bra as the perfect solution. This bra comes with design that lifts and supports the breasts by incorporating padding at the bottom portion of the cup that will instantly lift the breasts, making the breasts look visually larger. However, if you've got loose breast tissue, you'll need to be careful with the push up bra design, because some designs may make your breasts look 'flat' on top.
These bras are perfect to be worn with a low-cut top, V-neck dress, etc., and often come with feminine, fancy details such as lace, embroideries, or prints – although there are also many of them available in classic features –, plus, since the bras are focused on creating rounded cleavage, usually they are offered in demi, balcony or plunge cup cuts.
PADDED BRAS
Padded Bras: Similar to the function of push-up bras, a Padded Bra is specifically designed to create larger and fuller busts visually. The bra come with cups contain shape-enhancing pads or lining designed to increase bust size and add cleavage. While some of these bras use padding evenly all around the cup, some also come with graduated padding, which is thicker at the base of the cups and thinner at the top to provide lift to the breasts – the same function as push-up bras
This bra is great for women with looser breast tissue to create a fuller, more rounded, firm look, which in contrary not great for women with large or full breasts as it will make the body looks disproportional. For women with a slight unevenness between breasts, the padded bras are the best options since these bras often come in two styles – either with removable inserts, or with padding sewn into the cups of the bras.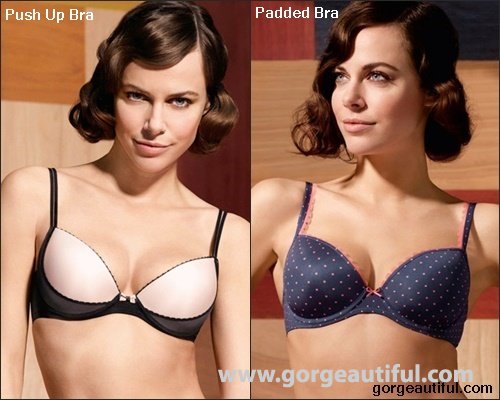 Noted the difference between padded and push up bra: While a push up bra is padded more on the bottom of the cup to push up the breasts and creates cleavage, a padded bra is padded evenly all around the cup which just makes the breasts look rounder and fuller but doesn't necessarily create cleavage.
MOLDED CUP BRAS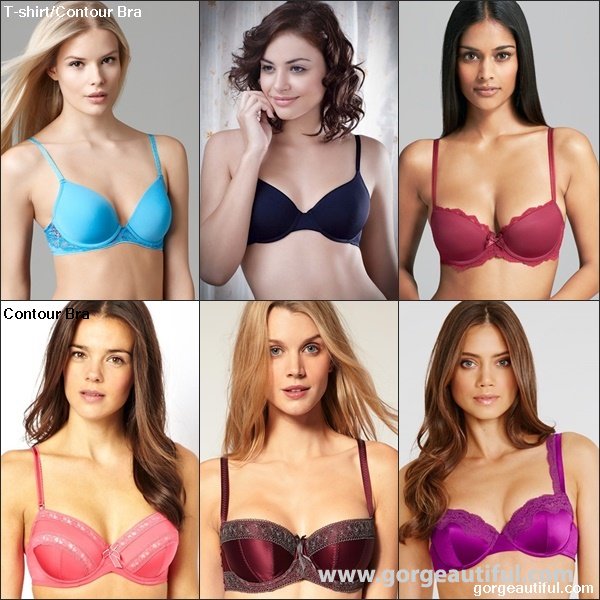 Molded Cup Bras: If you are looking for a bra that creates a round shape without using any bulky padding, a Molded Bra is a great choice to try on. Based on its cup design, this bra features cups that are made from a single piece of fabric, which is heat molded with a thin layer of foam or fiberfill to form a cup shape for a more rigid, non-collapsing style. If it's a style that fits your body type, a molded bra is a great style for everyday wear. It is a bra style that works well with all types of clothing – from a clingy t-shirt, to a fancy dress.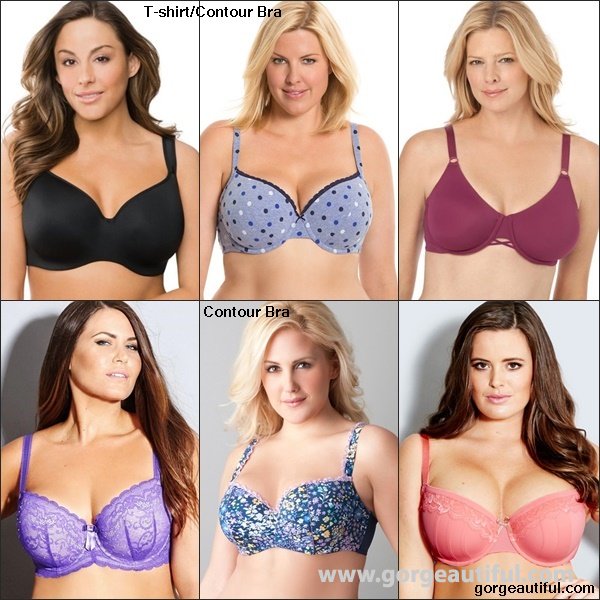 Several bra styles can have molded cups, including contour bras and T-shirt bras. However, there's a slightly key differences between these two bra styles. Basically, a contour style cups can either be seamless or seamed, while a T-shirt bra always has seamless cups.
A seamless contour bra (or a T-shirt bra) is great if you are looking for modesty – looking for a bra that looks invisible under the most form-fitting top, while a contour bra that has seamed cups is great to provide extra more support.
Depending on the body type, women who are full-chested may get the benefits of seamless contour/T-shirt bra because the bra style offers some shaping without adding any hint of bulk. While for fuller figures or women with large breasts, a contour bra with seamed cups are perfect because this cup style offers extra support.
UNDERWIRED BRAS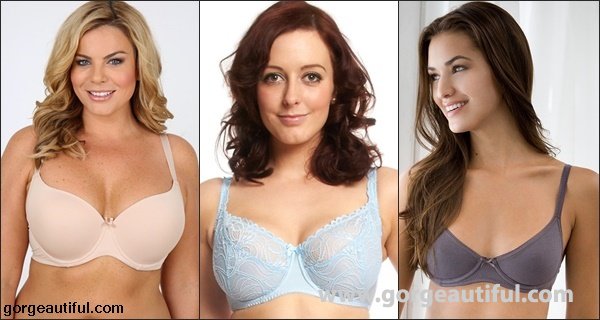 Underwire Bras: Just like its name, Underwire Bras are those bras designed with sewn-in molded wiring that runs underneath the breast in each bra cup. The purpose of an underwire is to contour the natural shape of the breast by encompassing the entirety of breast tissue and giving it lift and a round shape, separating the bustline for better shape and extra support under the bust.
PLUS SIZE BRAS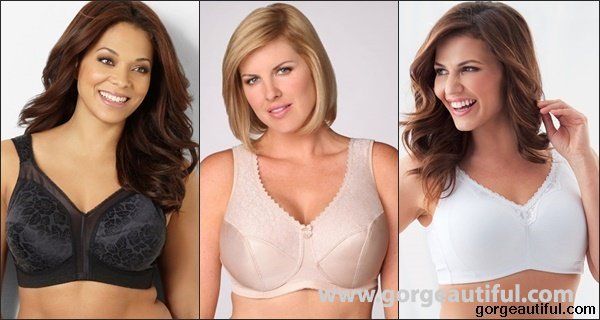 Plus Size Bras: Women with curvaceous, voluptuous figures, or those who wear bra bands anywhere from 38 to 42 and larger, might need certain bra designs that can accommodate a more generous figure. For that reason, a Plus Size Bra is exclusively designed with a more curvaceous body in mind, which means it should fit better than a standard bra that has simply been made in a larger size. This bra typically include features like a wider band, proportional bra cups with more coverage, wider straps and other design features that make life easier for full-figured women. Plus size bras are usually available in various plus size stores and can come in a variety of styles, so they're great for any occasion.
POSTURE BRAS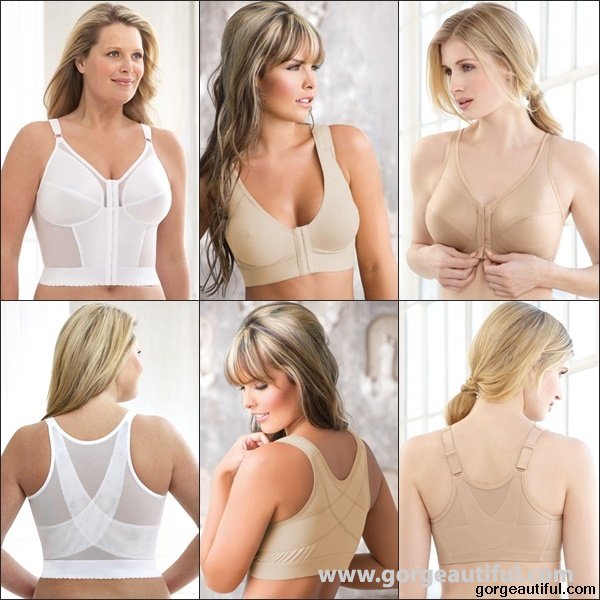 Posture Bras: Back pain and poor posture is the number one reported issue from women with large breasts. If you suffer from shoulder or neck strain because of the weight of your breasts, you might like to try a Posture Bras to better support the breasts while removing any tension on your back, shoulders, and neck. A posture bra therefore ensures that the bra straps don't pull at all on your shoulders, and that the weight of your breasts is distributed evenly. These bras are designed to make it easier to stand or sit upright, and they can provide a huge boost to quality of life.
There are a few key factors to know the right posture bras, because not all of these bras that contain the word "posture" are truly beneficial for its original purpose:
First of all you have to look for bras that have separated cup that encapsulate each breasts – the separated cup will give maximum and properly support to each breasts.
Secondly, a posture bra should always have a crossback design – a high back with a racerback cut – which is important to relieve the tension from your upper back, helping to stand up straight.
And thirdly, look for a front hook to relieve tension from the breast better, because a back hook means that all the weight from your breasts is supporting by your back.
MINIMIZER BRAS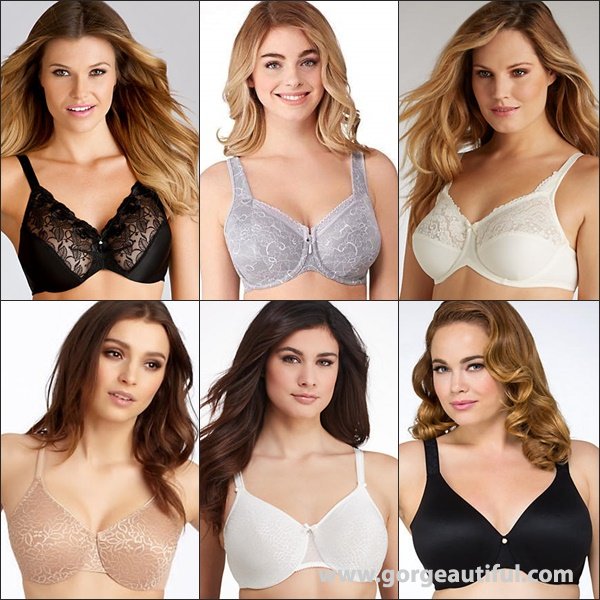 Minimizer Bras: And if you want to make your large breasts look smaller, a Minimizer Bra will the do the work, because it's designed to help you look an entire cup size smaller. These bras can also be sexy and functional, which tend to work in two ways: either by lifting and redistributing your breast tissue to look trimmer, or by simply 'squishing' your bust in an attempt to reduce protrusion.
However, this bra is often best suited only for large busted women – rarely looks good for full figures or women whose breasts are already wide – because minimizer bras tend to enhance a wider look. Not to mention, women with narrow shoulders may also not be best suited with this bra because the bra may make the breasts look disproportionately wider. As for women with full busts but whose body types are not best suited to minimizer bras, may choose full cup or full figure bras for a better option.
There's a vast range for the best minimizer bra, from bold colors to classic hues, from seamless to cotton to lace. This bra is very functional, especially if you have trouble fitting into shirts because of your large busts. Look for a minimizer bra whose underwire have ample support and fit exactly to your measurements, and make sure the bra still follows the shape of your breast, while reducing the overall size appearance.
SPORTS BRAS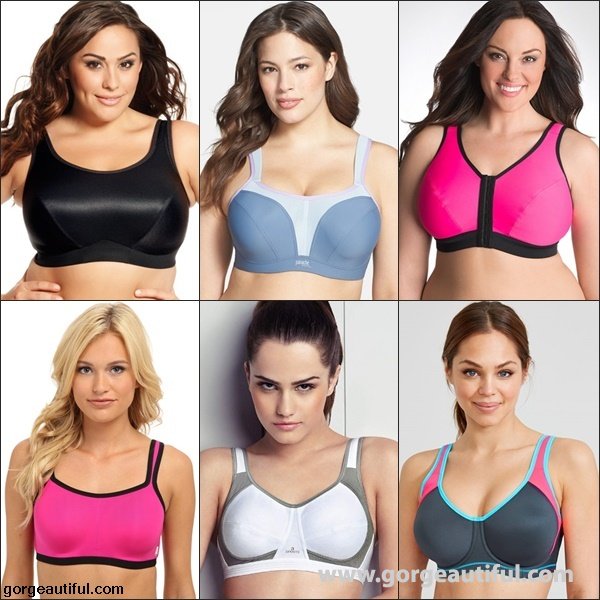 Sports Bras: Also known as an Athletic Bra, this type of bra is definitely a must-have for any woman who wants to be comfortable and supported while working out, playing sports, enjoying an active lifestyle or even just running errands and doing every-day tasks. Based on its designs, the Sports Bras protect the chest from tissue damage while you are exercising. Women with small breasts are recommended to choose sports bra with compression (extensive stretch materials) styles, while large busted ladies better to look at encapsulated cup styles to prevent excess bouncing.
Because sports bras emphasize more on support (to help hold the breasts in place while you're active) rather than shaping, nowadays, the sports bras are designed for different support levels according to the activity – by understanding the different needs of varied sizes.
Basically, the impact levels based on how much they will make you bounce – the higher impact levels the more supportive the bra should be. So, if you're shopping for a sports bra for a specific activity, look for a sports bra designed for that activity. For example, the sports bra for running is going to have a much more rigorous support system than one designed for yoga.
SLEEP BRAS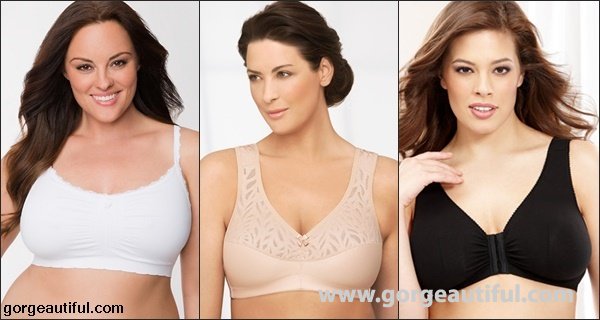 Sleep Bras: Also called as Leisure Bras, a Sleep Bra features soft, comfortable easy-to wear design as an alternative to going braless when you're relaxing at home. It's a bra that provides minimal support and is intended for sleep and leisure activities. While full-figured women often are more comfortable sleeping in a bra, as are women with sensitive breasts, some women with small bust sizes use these bras as every-day bras because they don't need the support other bras offer.
If you have a hard time getting to sleep because of your breasts, the sleep bras offer enough support for large busted women who feel uncomfortable while sleeping. These bras are soft, stretchy, and made of smooth, breathable cotton or nylon, which is designed to provide coverage and comfort without causing irritation with just enough containment to keep your breasts from sagging in a manner that will disrupt your breathing or interrupt your sleep.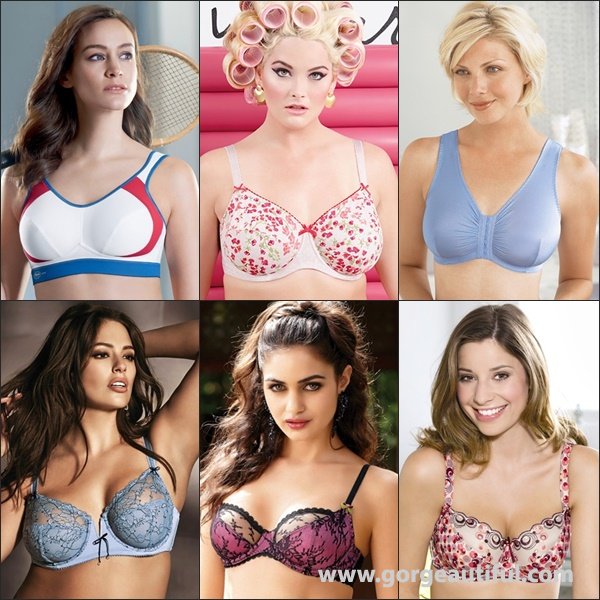 Finally, with numerous styles and designs of bra offered in many stores, again, it all just depends on the brand, and the words they choose. The descriptions mentioned aren't always 100% accurate. So, don't ever completely depend on a bra style's name to tell you how it will fit – but, still it can give you clues of which bras best suited to your needs.
All bra's styles and designs aside, always keep in mind that your main goal in finding the right bra is that your bra should be comfortable and supportive. It should be structured to keep the breasts from moving around, and supposed to prevent sagging and strain on the neck and back. Make sure you have these four key factors – even as you move around, bend over, or lift your arms up over your head:
The cups should hold the breast correctly
The gore should stay flat against your sternum
The band should hold the bra in place
The straps should fit securely – but not tight – to help mete out the weight around the shoulders and upper back area.