Choosing the most flattering plus size swimsuit is pretty easy and fun. Lots of varieties are out there offering large sizes up to 26W, and surely, as you see, designers have beautifully translated the mainstream trend into the realm of plus-size fashion. So, step out of your comfort zone and find what are offered by many designers and retailer stores as they understand the complexities and needs of a curvy body and even the styles are created with you in mind. Why settle for anything less?
Continuing previous article "How to Choose the Perfect Swimsuit for Plus Size Women (Part 1)", although we have made decision on what most fitted suit best to our shape is, sometimes plus size women still have issue with problem areas that need to hide. Just remember that you must invest in a suit that fits you perfectly. Here are some advices to consider when choosing a swimsuit, or check out this article "Fashion Tips and Style If You are Plus Size" for general tips on plus size fashion
– Be realistic: Look for swimsuit that shapes and contours your body. Avoid the oversized suits that will only swamp you or those that are too small which can make you look uncomfortable. Although you may think that having clothing in a smaller size will be motivating to loose weight, in most cases it is only self-defeating and will make you feel worse. It is essential to be very real with yourself about your current size and body type, and do your shopping accordingly.
– Stick to the general rules: the body type rules apply to all clothing, so they should be used when opting for swimwear as well. Always draw attention away from the "problem" areas and remember it is always a game of balance, elegance, and confidence.
– Money worth spent: There are lots of beautiful plus size swimwear out there in all price ranges, but remember you get what you pay for. Typically, swimsuits that offer extra detailing such as "tummy tamer" panels, underwire, removable and convertible straps, and removable molded cups, will cost more, but the amazing fit will be well worth it.
– Look for best styles and elements: Always choose styles that provide comfort, support, and coverage where needed. Most styles will also include tummy control panels, underwire support, and slimming design features. Depending on part of body you want to enhance and hide, some design elements – such as colors, details, and prints – also provide slimming and trimming effects on your body
Let's take a look at some styles listed below that are the most popular among full-figured women:
A. Different Styles of Plus Size Swimsuit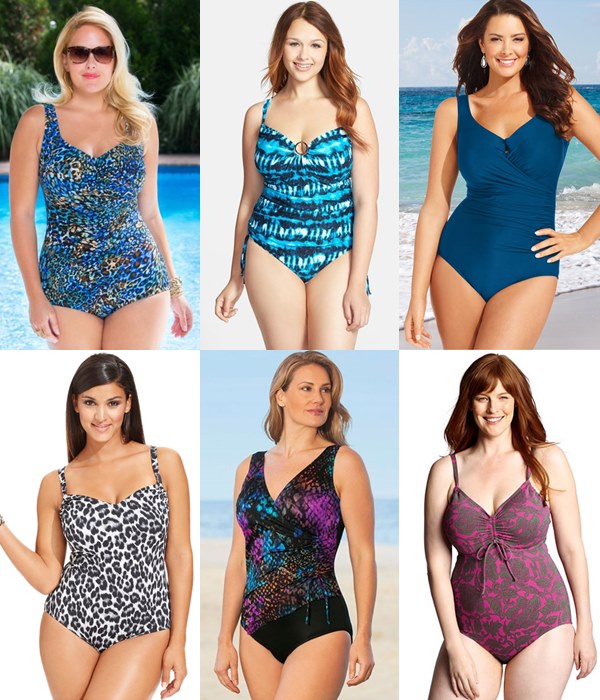 One-piece swimsuits: As mention before, one-piece swimsuits give more flattering look to women with curves as they accentuate the positives while drawing attention away from the negatives with colors and designs. A one-piece bathing suit offers a much more slimming line as well as better support for busted women.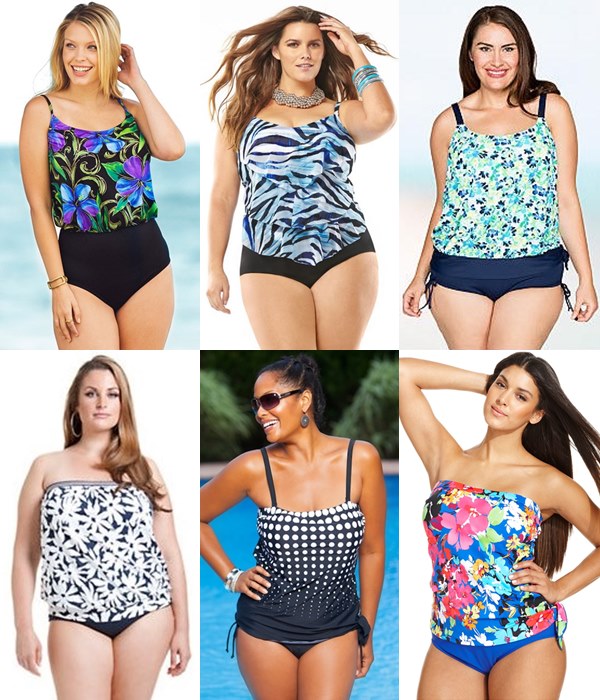 Blouson: This loose top flatters women with tummy issues. It looks adorable and at the same time it gives better comfort and movement. On the other hand, Blouson style also creates shapeless silhouette that can make full-figured women less flattering.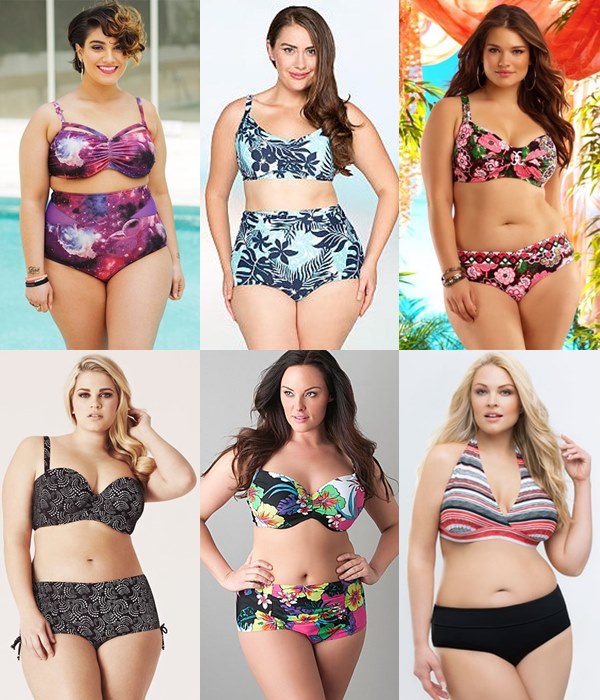 Bikini sets: The good thing about wearing bikini is that these pieces are extremely sexy and flattering. Colorful and printed bikini scream the brightness of summer while plain, simple ones speak for elegance. However, bikini sets are pretty hard to wear for plus size ladies as these sets expose many parts of the body, especially around tummy area. If you have rounded belly, search high and low bottoms for something flattering, with a little ruching and some cup support at the top. Keep in mind even full-figured women can don such luscious pieces.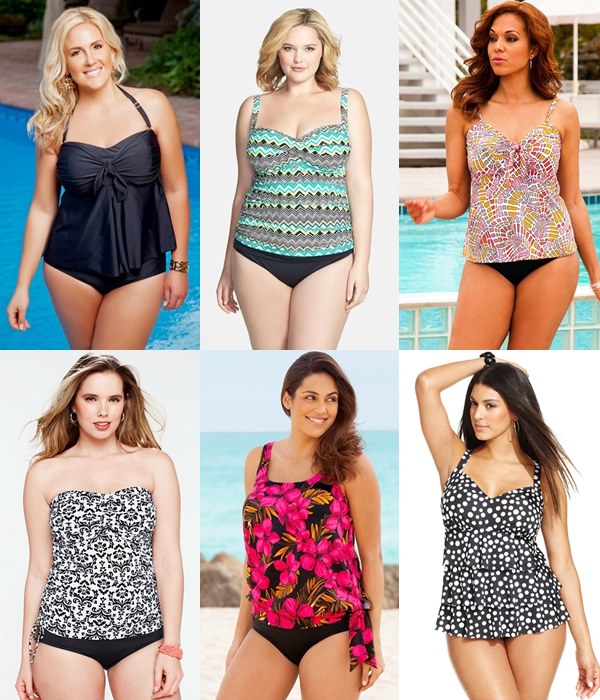 Tankini sets: Just like bikini sets, a set of tankini allows women to mix and match, and buy differently sized tops and bottoms. But, obviously, this type of two-pieces gives better coverage than bikinis, and it also provides freedom of movement, although still less supportive than a one-piece.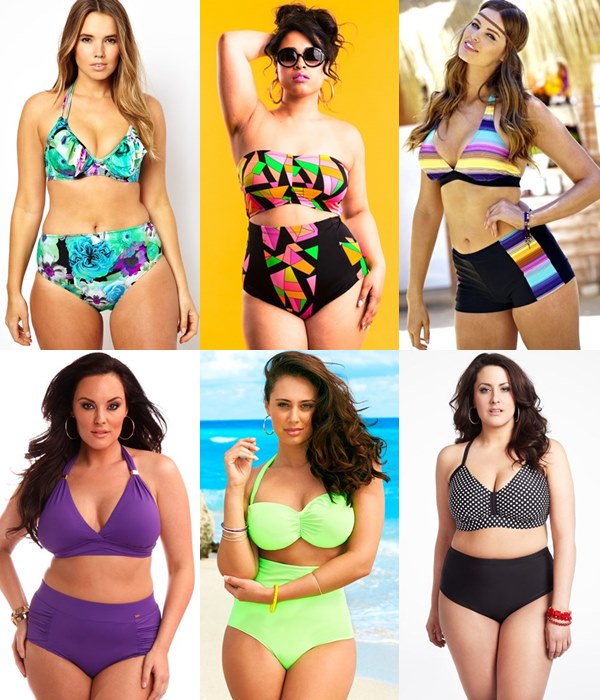 High-waist bottoms: Not only that it screams vintage Pin-up retro style glamorously, high-waist bottoms also slim down the tummy and flatter the thighs. The retro-styled swimwear is fun and playful and features low cut legs, a high-waisted bottom with flattering ruching and an exotic halter neck.
As for choosing styles of bottoms, be careful with the line of the leg. Suits with skirts or short shorts can be very unflattering as well as uncomfortable to wear. When trying on a suit, make sure to check the back view in the mirror.
B. Different Elements of Plus Size Swimsuit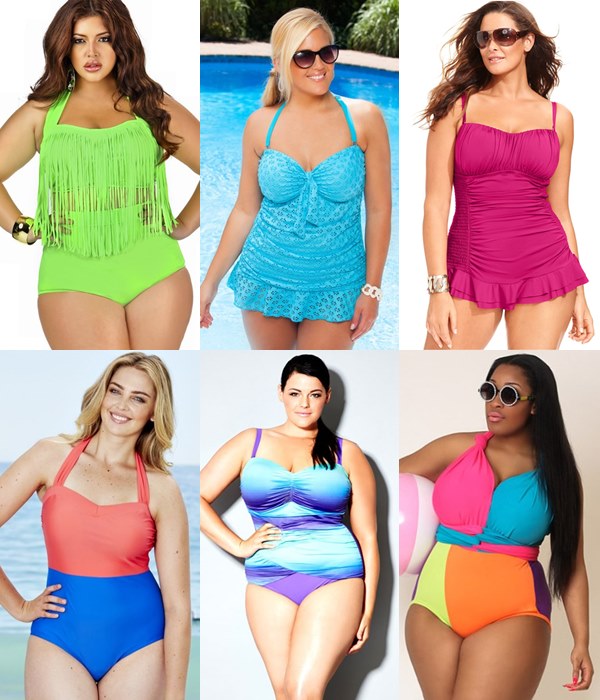 Bright colors: As the brightness attracts more attention to the eye, you can wear these colors on areas you want to emphasize.
Colorful shades: Combine brights with neutrals, or opt for a fully colorful prints for a striking look. If you're really concerned with the roundness of your tummy, try to avoid two-tone suits that sharply divide your body in half. Black and white combination is also a great bet for this season's monochromatic trend.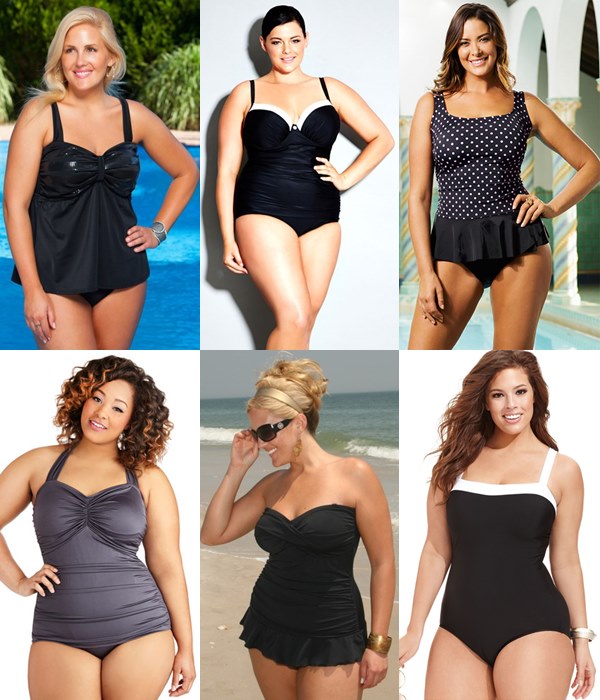 Dark colors: Obviously, these colors work as the opposite of bright shades. So, wear dark shades on areas you want to de-emphasize.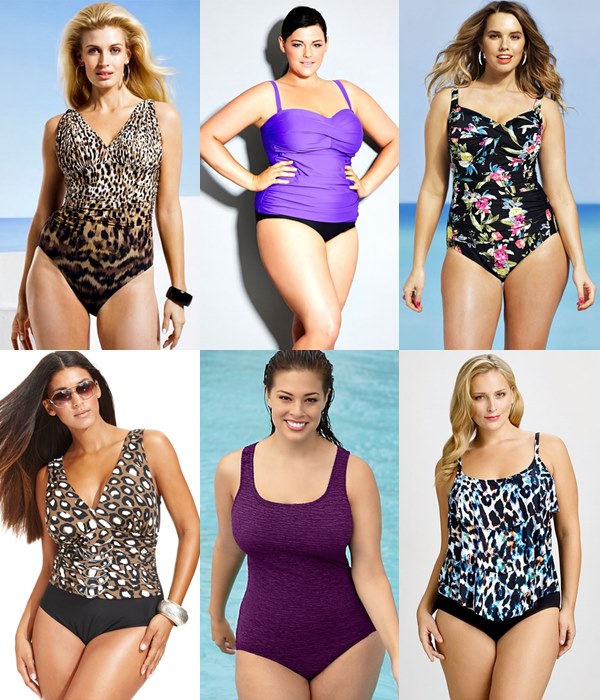 High-cut bottoms: Bottoms tend to draw attention to the thigh while higher cut legs will offer a more slender illusion, giving the appearance of longer, slimmer legs.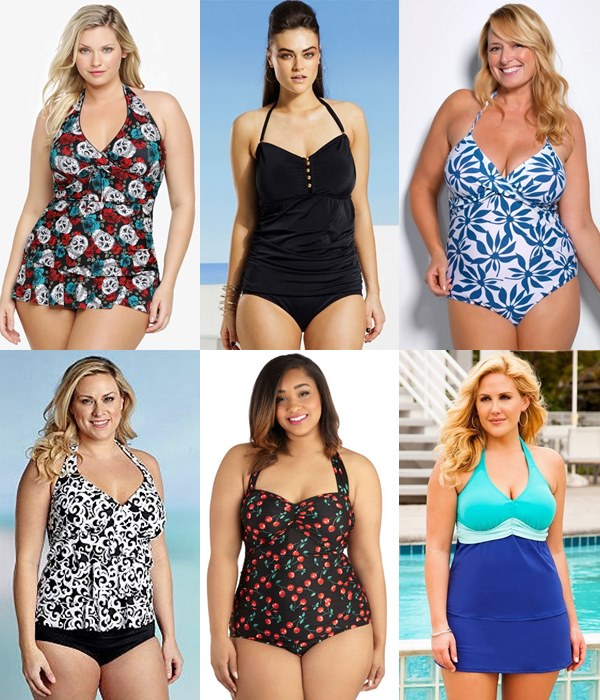 Halter-neck tops: As it draws attention to the middle of the body vertically, the halter neck is an ideal style of bikini for the plus-size woman. The V-necklines can perfectly lengthen the upper body by drawing the eye up and down on the chest, while halter neck with thicker band that runs under the bust can add extra support when necessary. The halter neck is also a good option for woman who wants to create the illusion of a bigger bust.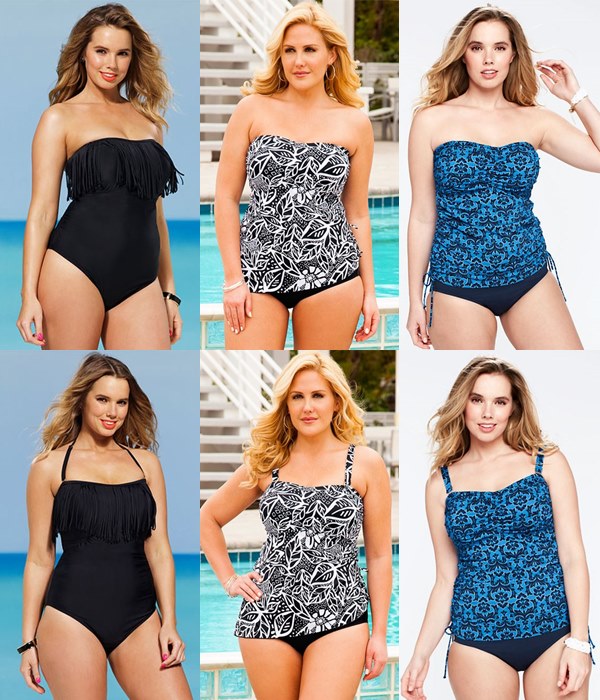 One-shoulder and Bandeau tops: They look super cool, very flattering and gorgeous for those who don't have issue around bust area. However, a bandeau as well as one-shoulder top that has great support can be a great way to make a larger bust appear smaller. A woman who feels that a strapless bikini is not able to offer the necessary support can try a bandeau with straps – even straps with halter style.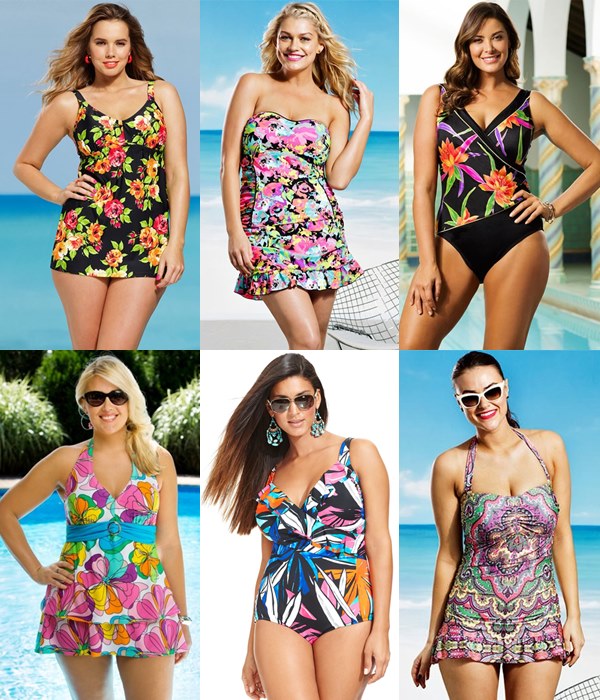 Ruffles or prints: From bust to hip or across the body, these elements create the illusion of a longer, slimmer body. But, be careful as these elements can also give busy look around the "problem" area. When it comes to prints and patterns, just remember basic rule that the larger the print, the larger it makes one's body appear.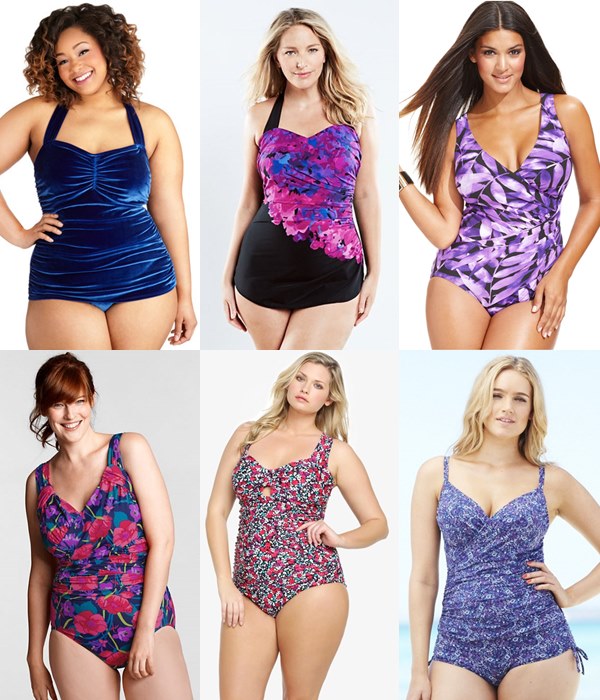 Ruched fabric: These elements can also slim down the body perfectly, especially when on the sides of a suit or in the middle of bust area for better support.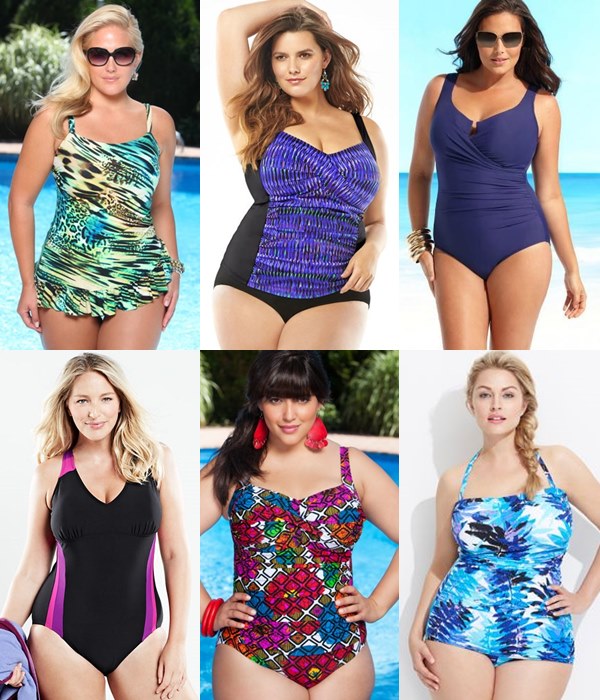 Tummy control: Specially designed fabrics are used to tighten and flatten the stomach area. Look for swimsuit that provides this element.
Last but not least, check the fabric content of the swimsuits, especially if you are going to have some serious aquatic exercise in a chlorinated pool. Suits that are primarily cotton will quickly fade in a pool. Lycra will not only fade; it will stretch out in chlorine. The best bet is a suit made of a polyester blend. There are also suits that are made to be resistant to chlorine, and while they are more expensive, they will far more durable and last longer. Don't miss out on summer fun and water exercise. Find a suit and get in the swim! =))
PS: Check out article "Spring Summer 2014 Plus Size Swimsuit Collection from Various Stores" for more ideas of plus size swimwear