It's no wonder if plus size women think they are surrounded by the skinny world. As they see images of thin women are all over television and in practically every magazine, we understand why basically there's no space for those full figured women to fashion with sizes of their own. If you are a plus-size, you'll know that finding on-trend clothing can sometimes be a struggle. When it comes to shopping you'll know that it can be quite challenging, and, depending on where you live, can be almost impossible.
Fortunately, these days plus size fashion industry is finally making the effort to catch up. Numbers of curvy-licious fashion lovers, designers, brands, and stores have emerged and are finally here for the taking for all women. Now it's all our choice to fashion what best suit on us as more fashion staples are available in plus sizes than ever before. It's time for the curvy girl to get her just due, and let's celebrate beauty and style in every size.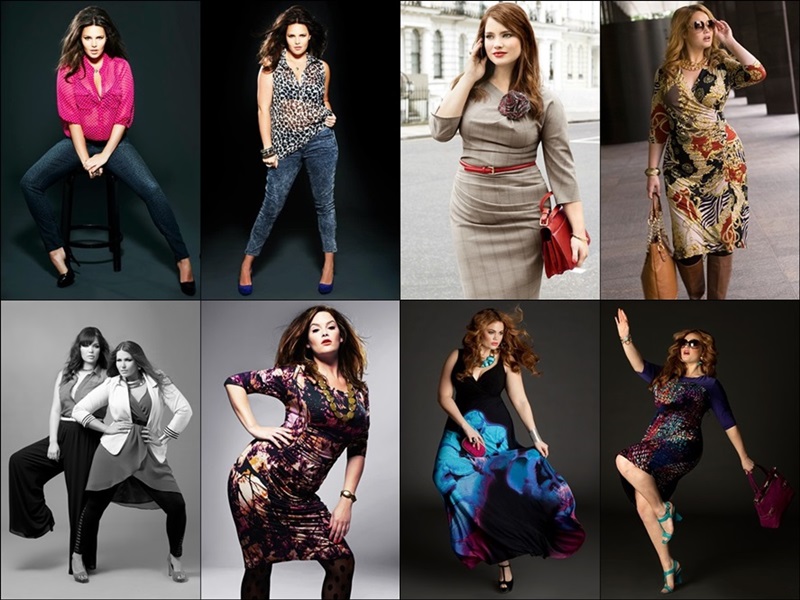 However, having variety of choices in plus sizes doesn't mean seeing a gorgeous full figure hidden in baggy jeans, shapeless tops or ratty sweats. There are still few rules curvy women need to follow in order to stay in fashion.
Take a look at these Style for Plus Size to help you up your style quotient.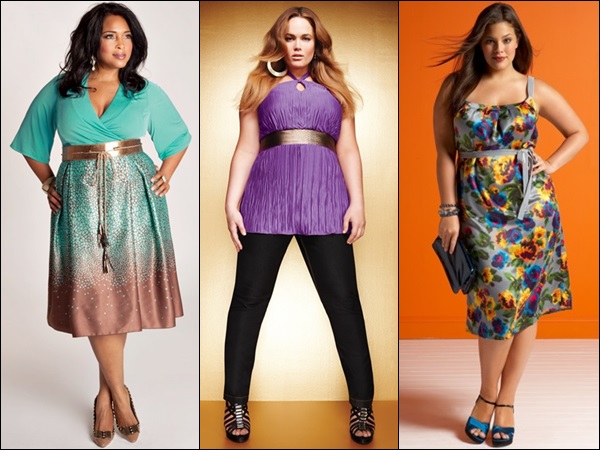 1. Size is not shape
First thing first, do understand that size is not shape. Every woman has different shape, smaller or bigger size, we all have our own shape from height to curves in different places, meaning the way clothes fit us is what matters. So, dress for your body shape, not for your size. Look for clothing that shapes and contours your body, and avoid those oversized pieces that will only swamp you.
Clothes that are too big can actually make you look larger and sloppy, while clothes that are too small can make you look uncomfortable. Try those figure-hugging clothes that are well made, rather than giant smocks that do nothing for your figure. Give priority to your comfort and look for outfits that fit you well. If you want to pull off heels, for example, opt for chunky heels that can support you more comfortably.
2. Look for plus size clothing everywhere
If we are lucky, even non-plus size clothing shops have styles that will work for a plus size frame. Some actually carry sizes well fitted for full-figured women, while others come with pants specifically for curvier body types or offer over-sized cuts in tops and dresses. Take a challenge to venture out to the regular-sized stores and see whether they might have pieces suitable for you. Don't be afraid for trying on one or two pieces that look good on you. You never know how something will look unless you try it on. It's easy to just look at something and say it's not going to work for your body. How can you honestly know that if you haven't tried it on?
3. Know Your Measurements
Since we are looking for pieces that fit us, and because every brand cuts differently, knowing the measurements of our shape does matter, and it helps a lot so we won't get tired for trying two or three sizes to see which one works the best. To save time and get the best fitting outfit, you should purchase a measuring tape and measure your waist, hips, thighs, and chest then match your measurements up against the company's sizing chart. This will help you determine if you need to go a size up or down.
4. Play with colors, prints, fabrics, and details
Mainstream fashion says "wearing black is sliming, large prints and horizontal stripes make you look wider, covering up is better to hide the rounder shape, etc." Toss those advices away and start being grateful for what you have. Showing off your best assets while concealing the others will do much better work to make you look flattering than hiding your figure away. Undoubtedly, form fitting garments are the best way to give your curves some love
When achieving those gorgeous looks, even plus size women can go for any fashion elements whatever they like. They are can wear horizontal stripes, wear bright colors and prints, can wear shorts. It's all about finding the right cut and style for your frame. If you have broad hips and bottom, for example, go for detail on top and choose narrow shapes on your bottom half. For ladies with rounder tummies, go for lower necklines or V-neck to give more shape and to create the impression of height. Think that the quality of fabric, color and print as of key importance of your outfit.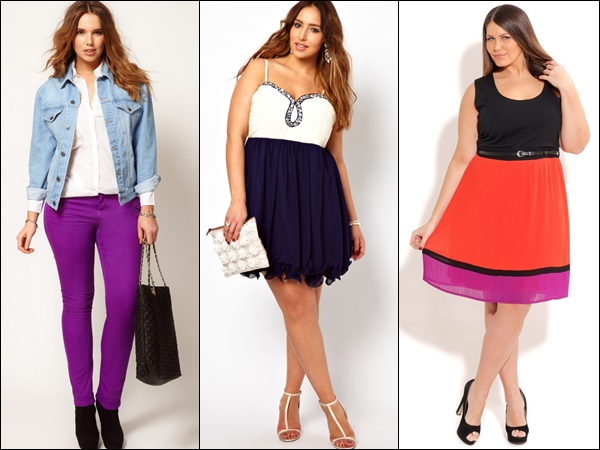 Colors: Although black and other dark shaded clothes are safe and can really do the slimming effect, sure plus size women can always wear bright colors to their outfit. One or many colors are fine as long as you can combine those colors in balance. If you cannot jump right in a colorful frock, try bold accessories or try a pop of color into every outfit. Have fun with this year's biggest trends like neon colors, pastels, vibrant shades, and even metallic to cheer you up and make you stand out. And, if you're still worry to show off your curvy shape, dress monochromatically to create one long silhouette.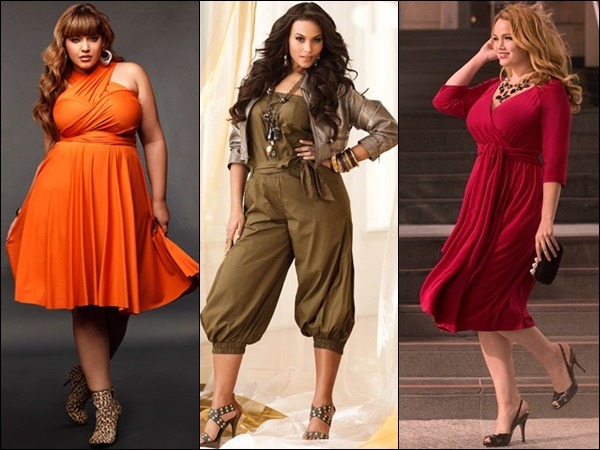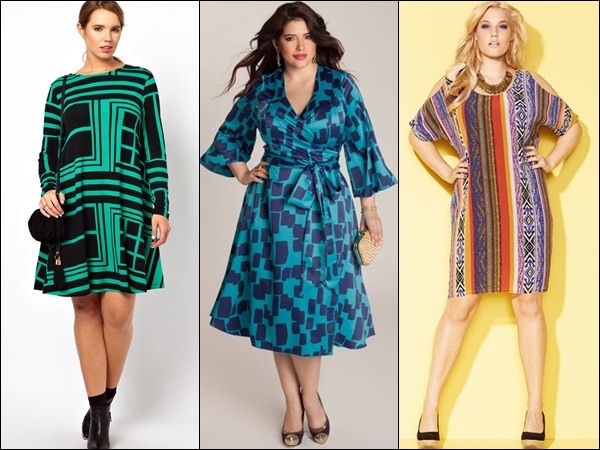 Plus size fashion with colorful patterns for this summer bright. Do horizontals, squares, and any other patterns you feel like to wear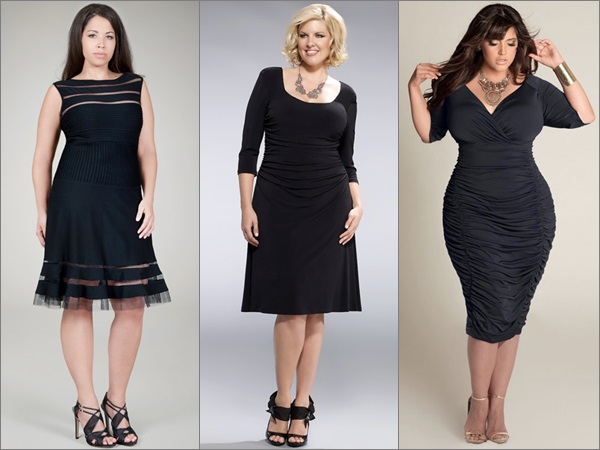 Little Black Dress for Plus Size: Besides being colorful, you can also be classic and elegant with this timeless fashion staple. Not only because it gives the slimming effect, but more than that it shows sophisticated and feminine touch into the look. 
Prints: For women with curves, any kind of prints are welcome to creating a fabulous fashion statement. Choose subtle patterns if you prefer to look simple, or opt for the vibrant ones for a more striking appearance. Outfits that show balance between print and solid can also be a great choice to accentuate your best bits and to disguise what you want to hide. Print is responsible to highlight your outfit, while solid color balances it out in order to avoid the overwhelmed look. For example, if you want to draw attention to your upper body, pair a top that has pretty patterns with a solid piece on your bottom half.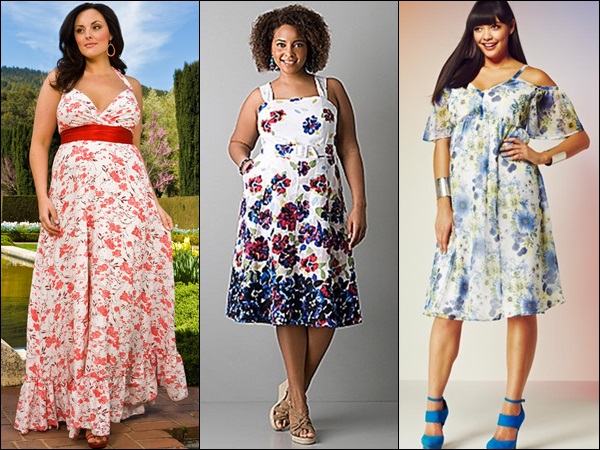 Plus size fashion look with floral prints. Choose well-fitting clothes with good quality fabrics to make you look flattering and comfortable
Fabrics: Since you're aiming to wear well-fitting pieces to showcase your body in its best light, having garments with good quality fabrics that are more fluid and flattering is one important key to reach the goal. Make sure the fabrics you choose compliment your curves and accentuate the positives.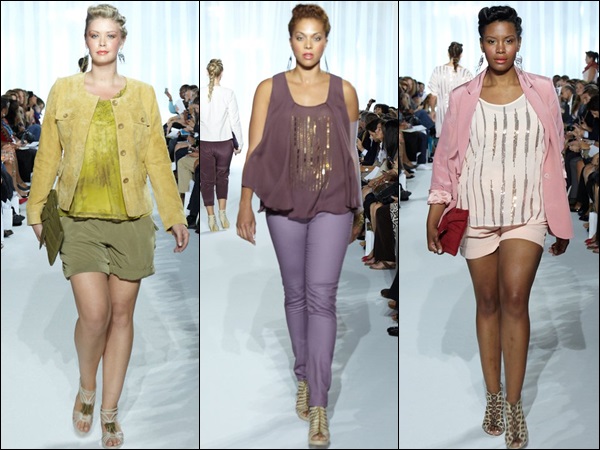 Details: Embellishments, trims, appliques, fringes, layers, pleats, and other details can truly highlight the areas you love (such as your lovely neck or covetable bosom). Abuse these details to make such a difference to your classic pieces such as jackets, blouses and skirts. However, too many details can make your outfit look busy or cluttered. Conversely, the lack of adornment can get boring. So, always aim for a nice balance.
5. Find a great tailor
Once you've get your well-fitting clothes, how you put them together makes all the difference. But sometimes we often find some 'incorrect' measurements in our clothing – great fitting pants but too long, a blazer in correct size but won't button while the next size up is entirely too big, comfortable tunic but shoulders and armholes are too loose, etc. – It's rare for plus size to get a perfect fit, and this is when a tailor comes in handy. So, ask your tailor to customize your clothes to make your outfits look like they were specifically designed with your body in mind.
6. Get inspiration from everywhere
Like many high-end fashion magazines that always come with skinny models, it can be quite challenging for plus size to take some inspiration from that kind of magazines. You probably have no idea what you are going to do with those stacks of Vogue's sitting on top of your coffee table. Take this advice: even "skinny" magazines can offer lots of inspiration for plus size to stay in style. Cut out the pictures with outfits that have peaked your interest and make a collage of them. On those days when you feel like you have nothing to wear refer back to that collage.
Lastly, here are video to make every full-figured woman look and feel amazing everyday on every occasions. And, take a look at various images of Plus Size Fashion Style for more inspirations, and have a great day being gorgeous.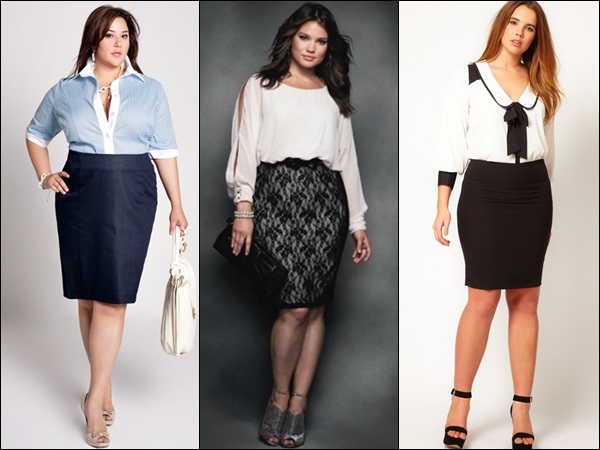 Plus size office wear fashion look: Opt for pencil skirt that are round from your waist down. Tube or pencil skirt is a good bet to make you look slimmer, taller, and classier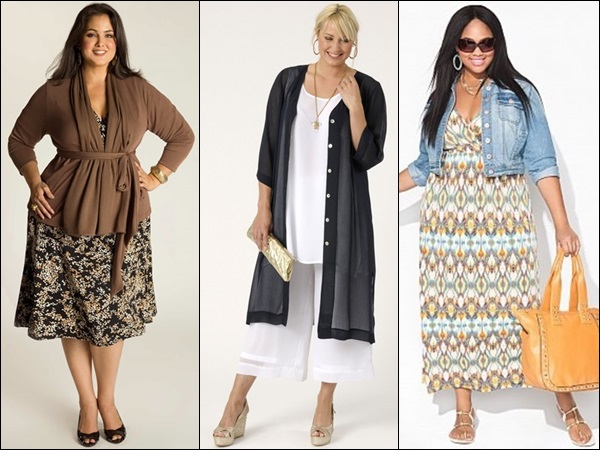 Plus size fashion look with layers: Opt for any type of layers, never worry with its hem or length as long as it fits you and gives you perfect comfort and confidence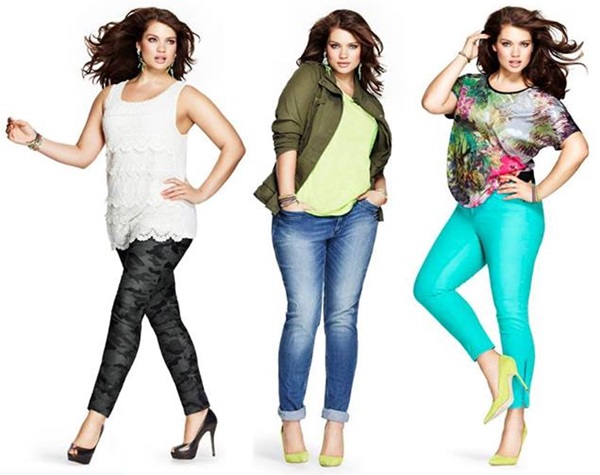 Plus size fashion look with skinny pants or cigarette pants: You don't have to wear super tight pants that only make you extremely uncomfortable. Remember that fit and comfort always come first. Look for something bright, trendy, and chic to achieve adorable look, as well, you can wear those pointed heels to make your appearance more feminine, and obviously slimmer and taller.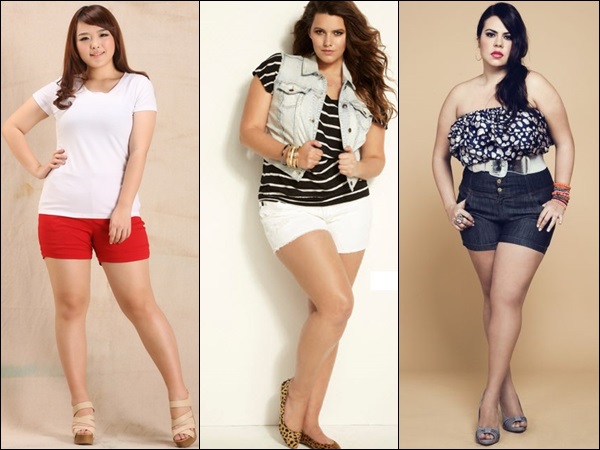 Shorts for plus size body: wear well fitting shorts above the knee to create longer legs and silhouette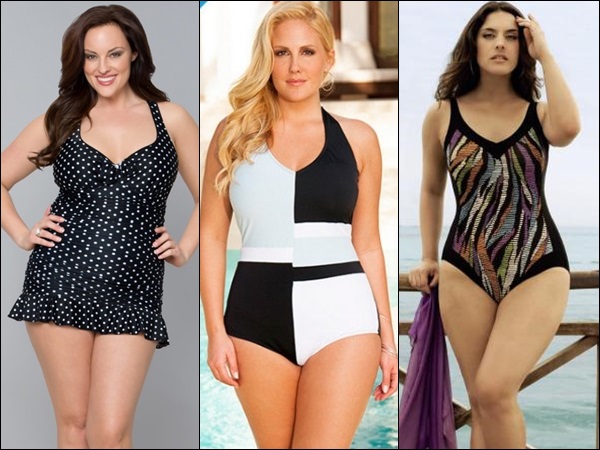 Swimwear for Full-figured Women: Have a stunning swimsuit with colors and prints, and although you may wear the two-pieces swimwear, a one-piece will make you look much more elegant and classy.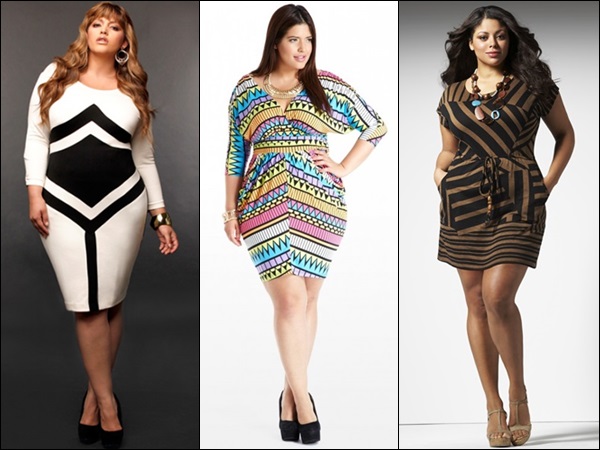 Bodycon dresses for Plus Size: Play with colors and prints, while optical illusions can draw more attention to the center of your body that make you look slimmer and feminine.