As fall and winter are approaching in a couple of months, prepare your colder weather wardrobe including a chunky knit sweater. Dress it up or down, a great chunky sweater is accessible to everyone and is a must-have staple every fashion girl owns and keeps on high rotation – whether it's at home, at the office, or while out making the most of happy hour. With a few adjustments, there are lots of fantastic ways to pull off the chunky sweater. Here are fun ways to wear the season's best sweaters.
How do you style your sweaters? Scarves, belts, layers? The world's most stylish bloggers – in all different body shapes – are really good at wearing a number of things. And they are big on the chunky knit too, dressing theirs up with maxi skirts or leather pants, angling at a preppy angle by layering a crisp, collared shirt underneath, or even winning over our comfort-conscious hearts in distressed denim.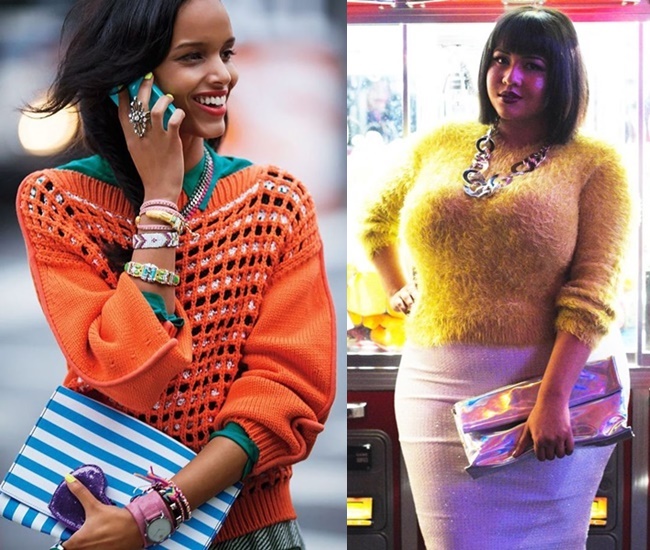 For starter, when it comes on choosing the right sweater, make sure you opt for a knit sweater that suits to your personal style and needs. Generally, Chunky Knits are casual sweaters. Don't fight it by trying to over dress them. Instead, it is better to go more casual when you are picking jeans and shoes.
If you're looking for a perfect sweater for those sundays where you want to look natural, minimal and a bit messy. Dress the sweater as simply as possible, and let the knit do the work. But if you want to go bold with your knit sweater, you may opt for those bright colorful pieces to show off your fun side or to look polished doing so.
If you're considered plus size, it's always nice to pick a knit sweater that fits well to your body (not too tight not too loose), and you might want to choose those with moderate collar (not too thick and heavy), as well find the most flattering way to style these pieces. Don't be afraid to wear the thick knitting fabrics. Avoid all the negatives, and be comfortable in it. Once you get comfortable, you can try out lots of ideas to see how these versatile pieces work.
Finally, if you're looking for a new way to wear your favorite winter warmer, these are women who never really look bad. Check them out and keep scrolling through to see number of street style stars styling their chunky knit sweaters.
Dress It Up Nicely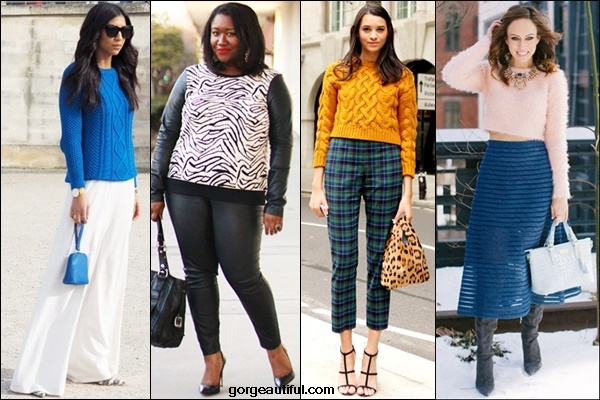 The easiest way to dress up your simple sweater is to pair it with dressy, fashionable staple, including tailored trousers and skirts. Generally, in order for a sweater to look its best, it must be worn and paired properly. Accessorize the look with a sleek clutch (or handbag) and pumps or structures booties to make it polished. You may also combine between bright colors and prints or pick the pairing with different texture such as leather or chiffon for showing dimensions to your knit sweater.
Wear Layers Like a Pro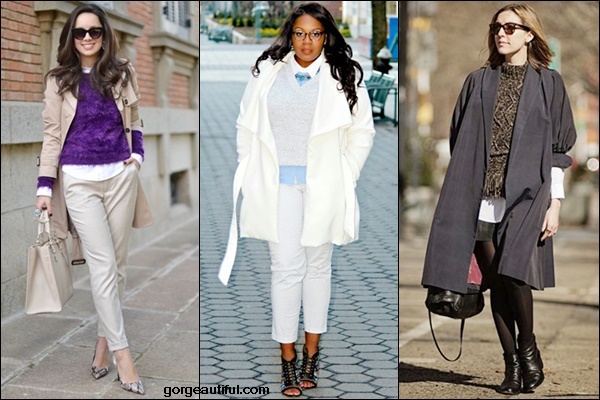 Not only it provides warmth and comfort, layering also offers a super stylish way to wear a cable knit sweater. Abuse some class into the imagery of your sweater by tucking a longer collared shirt or contrasting top underneath – you may find collars with prints, studs, or unique shape to increase the cuteness. Then, rock the layers even more with a wrap coat or woolen blazer over your sweater-and-shirt outfit for a cozy vibe. Finish the look with classic and comfortable accessories, and try to match accordingly between colors, textures, and prints for the perfect elegance.
Belting It with Style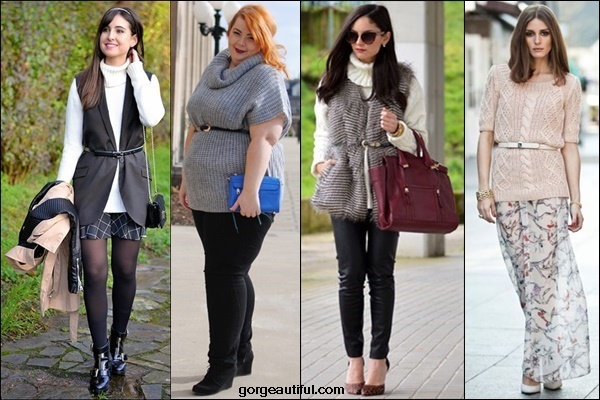 Another best way to style a knit sweater is by giving it shape. Since most sweaters do not have any definition, accenting the garment with a belt can make or break the look. So, create curve and shave off some of the bulk of the sweater by cinching it around the waist. You may also double up on dimensions by pairing a chic vest over the sweater then belt it all together for a perfect cohesive look. There is no limit to the kind of belts that go with your sweater, leather, cloth, braided, buckled, bedazzled, etc. For a classic look, opt for a nice skinny belt with a trendy look that makes a statement and matches the color scheme. Remember to have fun and be creative.
Dare to Wear The Fuzzy Sweater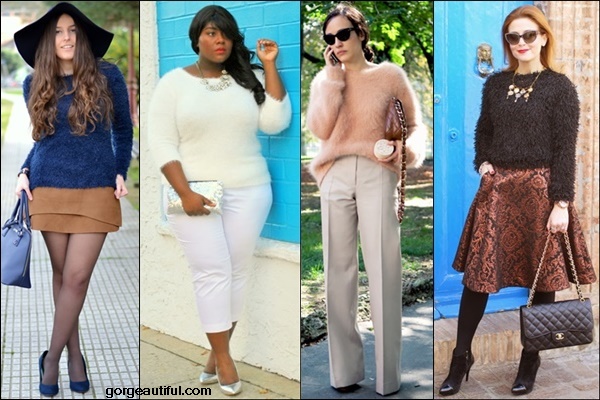 Nothing is more impressive than wearing a cozy, sweet looking, fuzzy sweater during the chilly days. It's warm, fun, yet quiet fashion-forward sweater. The only consideration for pulling off this cute staple is by choosing the one with the right fit – not too loose not to tight. If you're going for the "oversized" look, make sure they at least half-way if not all-the-way cover your bum. To dress up a sweater, add a heel, and pair it with anything chic, especially cropped pants, slouchy trousers, full or mini skirt. Not to forget, adding the perfect floppy hat always dresses up a look
Dress It Down with Denim Staple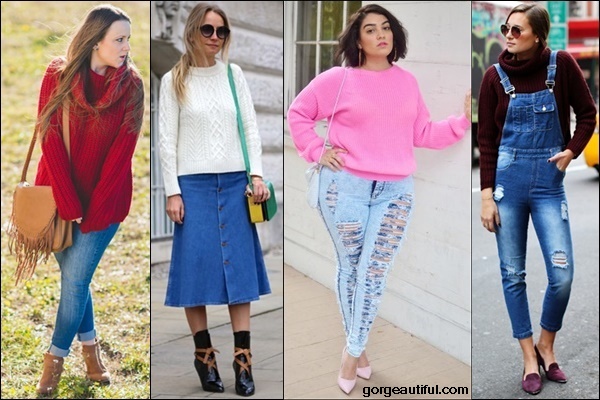 Throwing a combo with denim staple is always the best way to send off that stylish casual vibe, and this includes a pair of great chunky sweater with any denim staples you own. From distressed denim, to dungarees, to denim skirts, to the classic boyfriend jeans, they are your best options for an easygoing and subtle weekend look. If you're feeling like making a statement, pair with some killer heels, neon colors, or a festive handbag. Just make sure to remember proportions and balances for a great casual, relaxed yet stunning look.
Play It Fun with Textures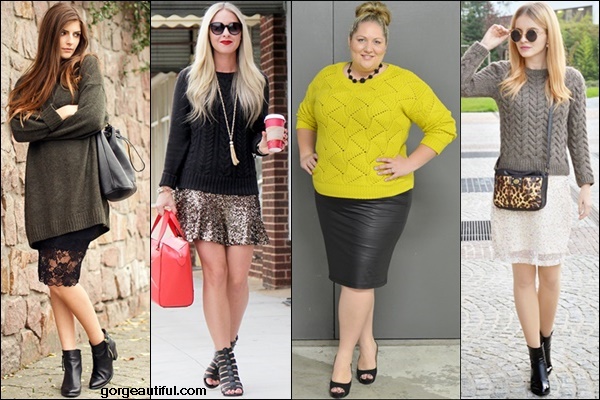 Comfy sweaters with fun patterns can always make you stand out from everyone else. But, how about styling your plain colored sweater? How can you make a simple one looks its best? Mixing two unlikely textures with one look is an easy way to quickly transform a plain sweater into something fabulous. Sweaters can have woven textures and embellishments, such as scalloping. Their styles can also be tightly woven or have a more open structure, such as the crochet style. So, mix and match your sweater texture with other texture such as leather, sequined, lace, or metallic. You can also upgrade your pairing with sparkle and fancy detailing. The best part of this look is that you can take it from the office to happy hour
Rock It Great with Prints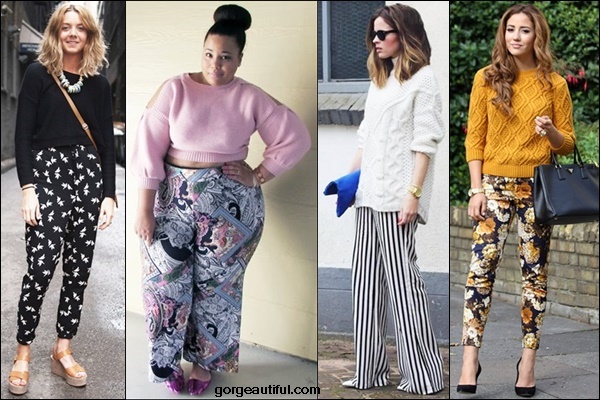 Not only plain sweater does looks fabulous with different textures, mixing-and-matching a plain sweater with prints can also be dazzling for your fun chilly days. Whether it's floral, paisley, stripe, tribal, or any other busy, vibrant prints, this trick is surely a fabulous way to create more variety in your outfits, giving your look an interesting depth which is definitely a must if you want to take a more individualistic and personal approach to dressing. For a streamlined look, carry the same color accent from your sweater to your bottom.
Be Instantly Chic in Monochromatic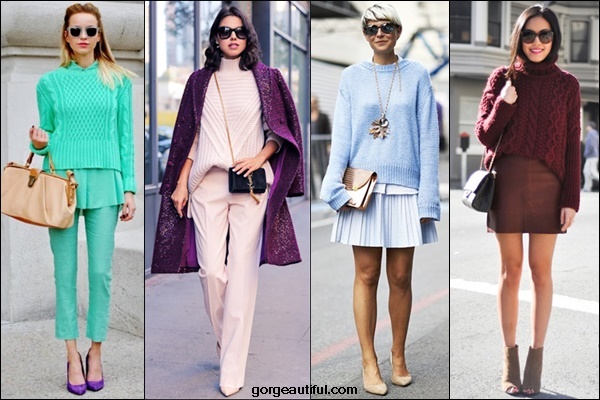 Crazy prints and funky patters step aside, it's time for monochromatic style, for muted colors, for pastels and dainty hues to rule this fun and colorful chilly seasons. This great monochromatic combo is always a winning look. Besides, it also carries a bit more class and sophistication to the whole appearance, especially if you choose for that tailored and structured combo. Just pick one of your favorite knit sweater, and match it with other fashion staple in similar color family – or as long as they both find commonality in the same color family. If you are still not sure, keep one of them subdued or bolder for less of an impact.
Go For Winter Whites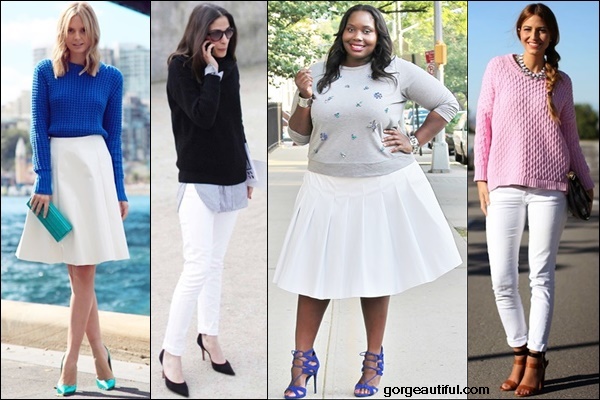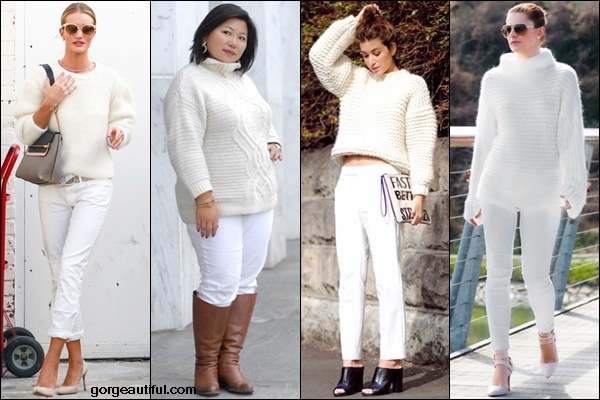 Want to style your simple sweater into something effortlessly chic? While everyone else resorts to black, why not go polar opposite and do the winter whites? Pair your sweater with whites, whether it goes for skirt, pants, or coat. Select rich fabrics with texture to make the combo looks even more fabulous. Dress it up with flirty heels. Or, if you have a nice and crisp white sweater, opt for all-white fashion trend. There's no secret trick to wearing all-white outfit – everyone can pull it off and look absolutely gorgeous. Learn "How to Wear Cool and Crisp All White Fashion Trends" for All Whites style ideas.
One thing that women love about sweaters is their versatility. Sweaters can be layered with other chic staples or simply worn on its own. And when it comes to pulling off this fabulous fall winter must have, if last season bold sweaters and crazy printed styles were massive, today it's more about pastels, plain colors, monochromatic sweaters, softer fabrics, muted colors (grey, whites, blues, pinks), with chunky, cable knit and fuzzy designs still running the show. Learn more style inspirations with the knit sweaters.
Echo the Sporty Chic Fun
What's not to love? It's a beautiful marriage of the sport and the fashion world. So, warm out the days and lend some edge to your casual bold sweater, and throw the winning combo of Sporty Chic style + comfort. The sporty-chic trend is all about a combination of sporty pieces like a baseball hat, sneakers, or even a pair of yoga pants with other chic pieces like skinny jeans, tank top, structured trench coat, and cozy knit sweater. Pull off your comfortable knit sweater and some tennis shoes or sneakers, and boom: You're socially acceptable. To make its best, make sure your Chic is more than your Sport. Add a bit of style with a statement necklace, trendy items, or bright colored pieces, and you're ready to rock the sporty-chic with a piece of sweater.
What Edgy Style Are You?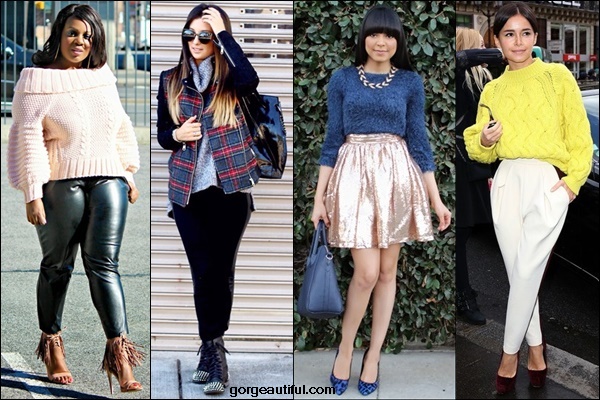 What edgy outfit iterations can you indulge in to take a break from the simple silhouettes that the knit sweater has been often associated with? Basically, dressing edgy shouldn't make you look like every girl out there. So, dress your knit sweater with attitude and find your own style with some unique mix-and match. You can always try cozy layers, making a cozy look by pairing a cowl neck chunky sweater with bomber jacket, skinnies, and studded high sneakers. A dressy chunky sweater – can be fuzzy or bright colored one – can also look fabulous when tuck in a cool, chic bottom like tapered trousers or metallic mini skirt. Or, you can start investing in an edgy sweater to be paired with leather pants and strappy fringed heels for giving off a modern, urban vibe.
Office Wear Polished Look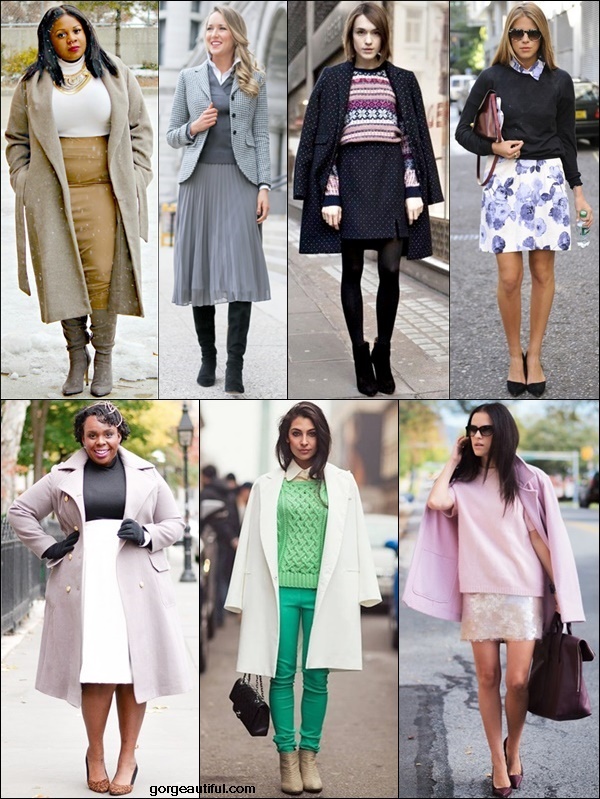 Your job is what you get dressed for five days a week. And every year when it's finally sweater weather, some might feel the sweater is too casual for the office and they'd rather go for cardigans or blazer layering, which are good but can end up being boring or old stylish. So, unless you work with strict dress code policies that say "office sweaters" as inappropriate, the sweater combo will update your look while making it feel more cozy but no less elegant. As a matter of fact, nowadays, a sleek knit sweater, though inherently less dressy than a blouse and blazer, is nonetheless a valid workwear contender – and not just for casual Fridays.
Just make sure you know a few things to keep in mind when looking for office appropriate sweater. First, avoid super clingy knits, you want it to be body skimming, not body hugging. Secondly, avoid bold patterns and keep the sweater with smaller, more delicate styles and plain colors. If you go for a patterned sweater, take into consideration black or dark neutral color to pair with. Third, depending on working environment, keep in mind the office when thinking about footwear or other statement pieces. If your office has a more casual vibe you can probably wear boots, or you may abuse some fun, dainty details. Learn "Office Wear Fashion Tips: What to Wear to Work from Formal to Casual" for some inspirations on how to wear sweaters in an office proof way for your fall winter's easiest outfit solutions
Flaunt It with Skirt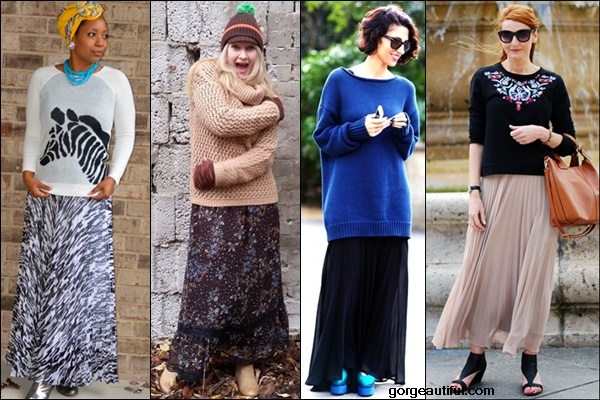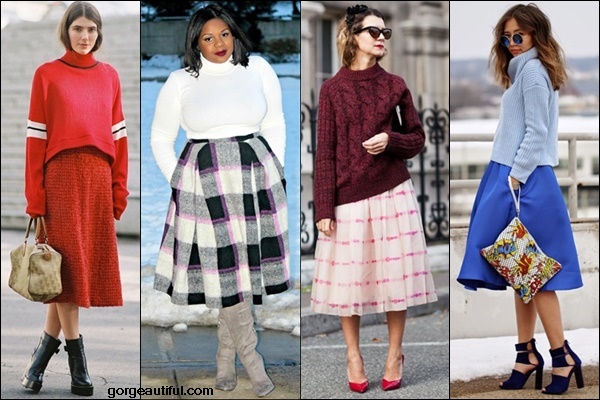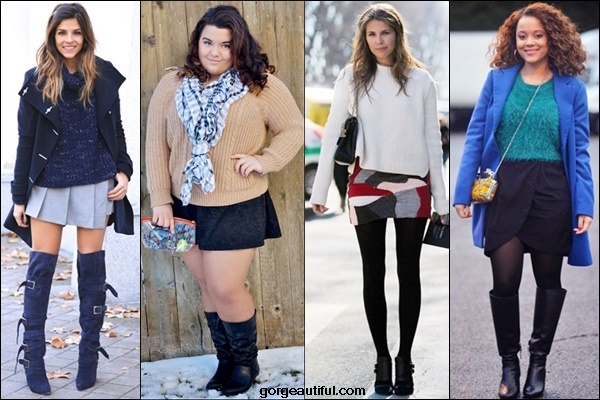 While skirts have always been trendy to create a chic look, the skirt and sweater set makes for the perfect in-between season uniform. From the minis, to full midi skirts, to long maxis, from grunge-inspired looks to polished outfits, there are many variations on the combination. Wearing these two pieces together with boots or your favorite heels will give you a trendy look for those fall winter days, no matter if you choose just a plain, an oversized, a cropped or a turtleneck sweater. Add some cool tights, layering, as well as some chic accessories like a winter hat or a scarf for laid-back ease and prep-inspired aesthetic
Chunky Knits + Shorts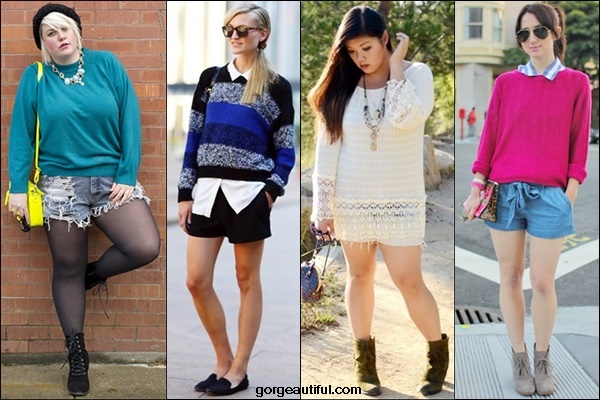 A sweater is for cold weather and shorts are for hot, this combo is like wearing a scarf with tank top, but somehow it makes sense, especially when the weather is flaky and days fluctuate from warm to rainy and cool. Some might think this is "silly", while others find it really cute and in style. Whether you opt for shorts paired with light-weighted sweater during the warmer days, or wear some tights under the shorts and go for layering for the chilly nights, the choices are really yours. To make the look casual and classy, class up your shorts wardrobe and find some that are neither too short nor too tight. Add with minimalist extras, like a small clutch, statement jewelry, and flat footwear such as sandals, sneakers, loafers, or boots.
Stick to A Pair of Boots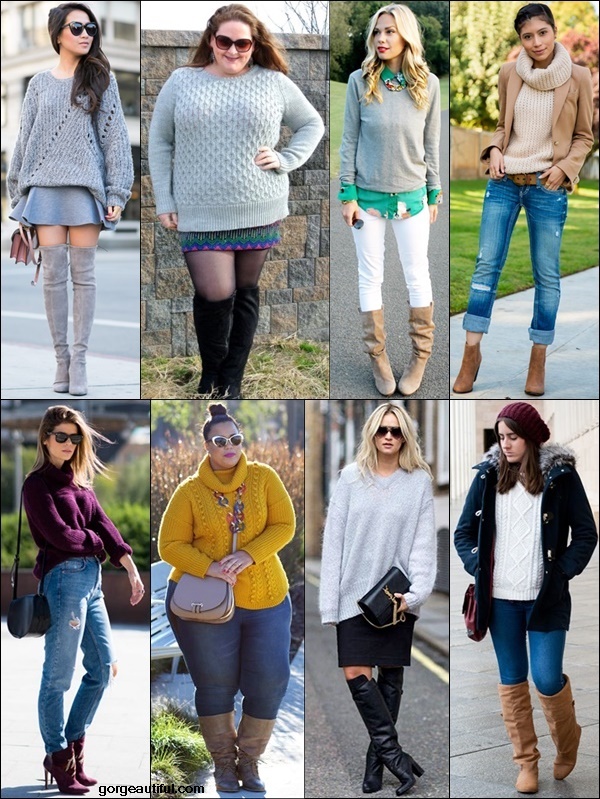 Sweaters and boots are the two most favorite fall winter must-haves for casual outfits, dressing up and work professionally. With the so many boot options available, including over the knee, flat, heel, wedge, pointed toe, ankle, etc., you'll never go wrong opting for a chunky sweater and boots for an instantly memorable combination. For a more dressed up flair, go for a chunky sweater with a mini skirt and knee-high booties. You could put together a pair of skinny denim and dressy booties, matched with a cozy sweater in interesting color for instant glamour that looks oh-so chic.
And, with equal ease, you can also dress down both casual boots and chunky sweater by pairing all them together for errands, on a casual date, walk along the park, or spending time with friends and family. Add layers including coat and jacket for an effortless classical style and comfort
Warm and Fabulous with Coat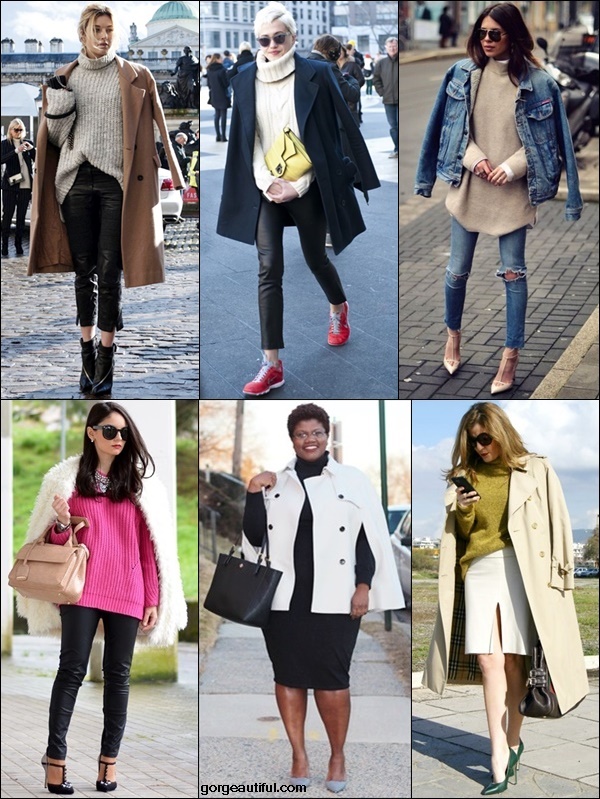 Alongside the chunky sweaters and boots, the variations of coat are also your absolute cold season wardrobe. No matter styles and cuts you choose – from a classic trench, to a glam furry coat, to a flattering cape – these fashion staples can always make your appearance warm and polished. Pair a solid chunky sweater with leather skinnies and an oversized coat for a cool and edgy outfit, or make a chunky sweater office-appropriate by tossing on your office attire with a classic coat and polished pumps. Dress up your outfit in a bright sweater, leather skinnies, and a fur coat combination, or dress it down by pairing basic sweater with denim pieces.
Leggings for Showing Off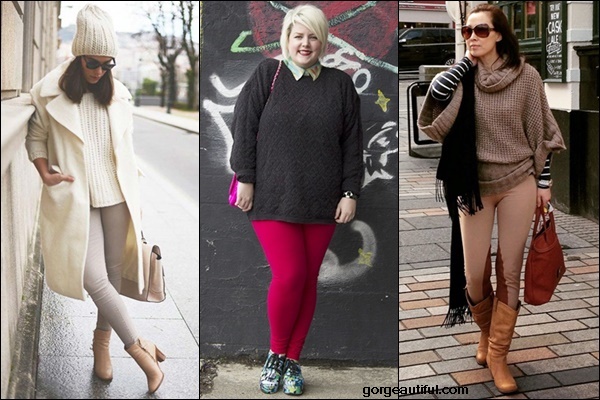 Leggings and tights are the fashion-forward items to permeate a knit chunky sweater with your personalized style. The balance between the tighter leggings and the bulky sweater makes for a great contrast, as you could go on for numerous style options from this sweater + legging outfit. Plus, with various legging styles of patterns and colors available out there, these leave you with enough choices to create fairly "new" styles every day. Think of color matching when using leggings. For example, wear bright leggings with a dark colored sweater for contrast, or even wear bright collared shirt underneath for an extra kick. For a more elegant, classy and polished look, go for monochromatic options.
Embrace the Trendy Culottes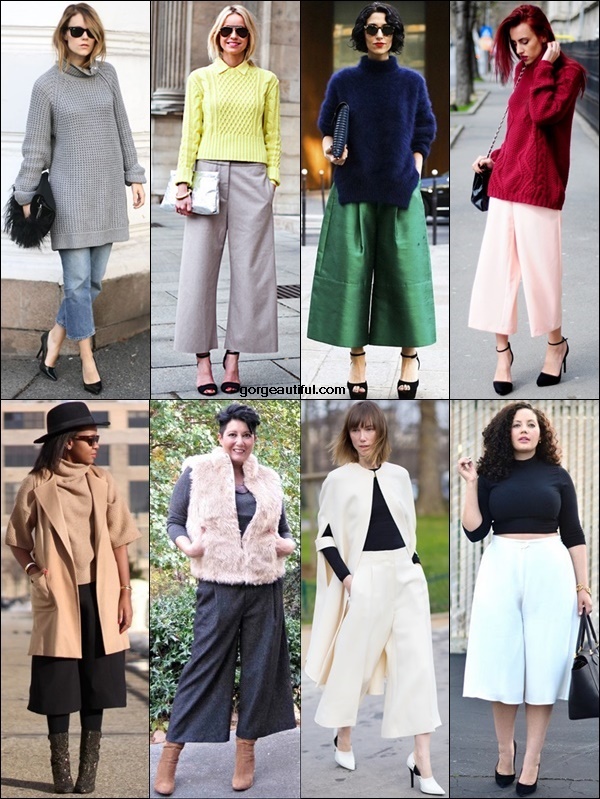 It's no secret that culottes are having a moment right now. From printed to solid colored, everyone seems to have jumped aboard the culottes train, making them an "It" silhouette for all seasons that you can have so much fun pairing them with your favorite chunky sweater. Team a pair of striking colored culottes with a fuzzy mono-tone sweater or a rich colored sweater with pastel shaded cropped pants – aka culottes to create those killer, edgy outfits. For a more minimalist and casual flair, abuse cropped pants in denim or classic hues and a neutral shaded knit sweater with relaxed fit and a high neckline. If it is not too cold, you will look amazing in sexy pumps, or for colder climates, select cozy socks with trendy boots
Fall Winter Sweater Style Inspirations
One of the many benefits of owning a chunky sweater is its versatility. With little to no effort, you can dress up your chunky sweater for a formal affair, or dress it down for casual errands. No matter your sizes and personal styles, knit chunky sweaters are the best fashion invention ever that you can rock for all different occasions in various different styles.
Whether the trousers are straight-leg, wide-leg, or skinny, whether you skirts are mini, midi or maxi length, whether you rock for shorts or leggings, different styles of sweater on top will set it off beautifully. Add a flirty pair of shoes and you're ready for virtually any casual activity from a movie to a walk in the park. You could even add a statement necklace, a pair of sheer tights, structured layers and booties for instant chic appeal.
Here are more and more fall winter style inspirations with a chunky knit sweater.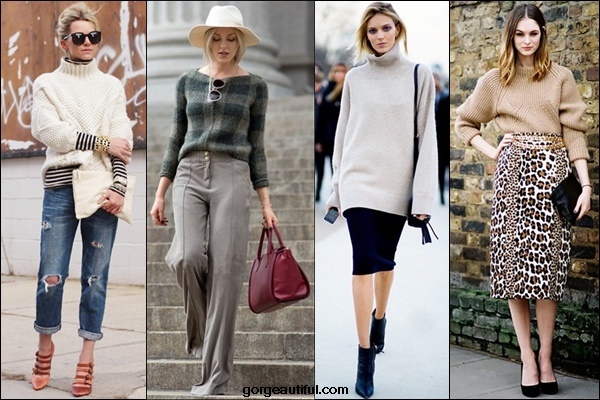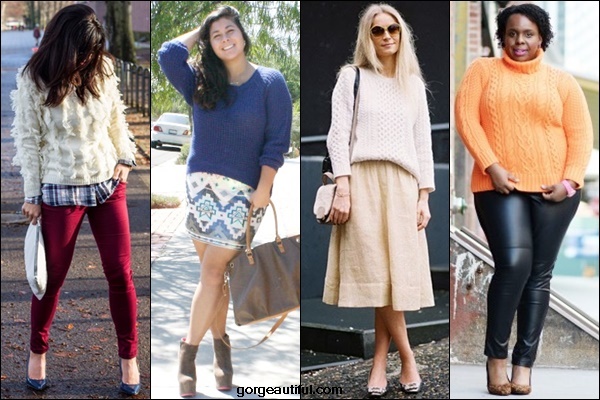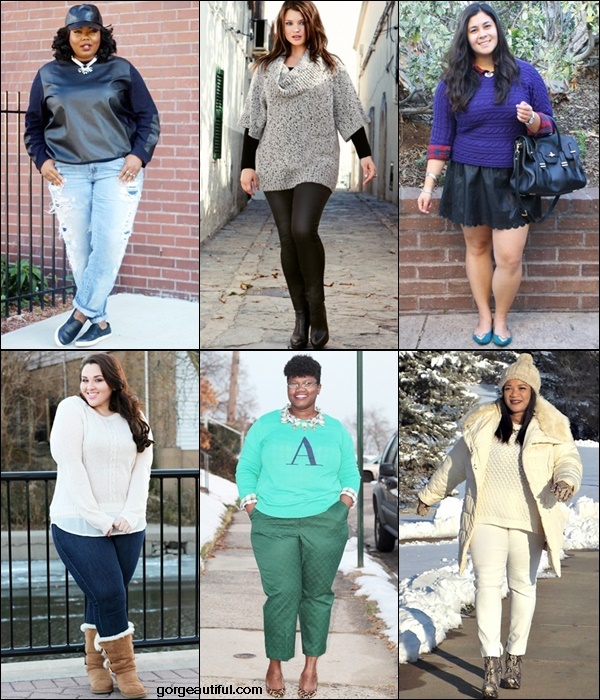 Picture source: chicisimo (Click each picture at chicisimo to get details of the outfit or to visit the blogger's site)