Work attire is a tricky subject. But in general, among all different types of working environment, there are three main types of "business dress" that you need to understand before we get into dressing for specific events. Although some organizations encourage employees to dress as well or better than their customers – especially for sales people and others that meet clients outside the office – basically the three types of dress codes are: Business Professional, Business Casual, and Casual Friday.
In continuing previous article "Office Wear Fashion Tips: What to Wear to Work from Formal to Casual (Part 1)", we've learnt that one of the best clues to company dress codes is what your boss wears. Ask yourself by observing your working environment. Does your female boss wear mostly skirt suits or does she rely on pantsuits? Does she wear hose or bare legs? Does she wear open-toed shoes or pumps?
Moreover, if you don't have a reliable female executive to observe, then trade on what the men are wearing. If they go with suits and ties, then your best option is to choose pant and skirt suits, or any outfits that include the most formal of business looks.
THREE TYPES OFFICE DRESS CODE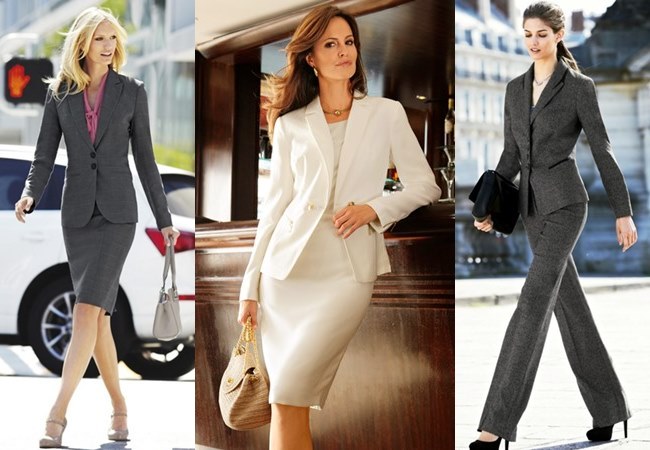 Business Professional Office Attire: It's the most conservative type of business wear which you'll be expected to wear in the office if you work in accounting, finance, law firm, banking, or other conservative industries. The outfit constitutes business suits (a matched skirt and blazer), pantsuits (matched pants and blazer), and dress (a matched dress and blazer). Closed-toe shoes, conservative blouses (always tucked-in), classic sheath dresses, hose, as well as groomed and sophisticated hair, jewelry and makeup. Check out some ideas for Formal or Professional Business Office Suit.
What to wear: Basically, in a formal business environment, the standard of dressing for men and women is a suit, a jacket and pants or a skirt, or a dress paired with appropriate accessories. Depending on your working environment, if your workplace is very conservative, pulling off a structured blazer is compulsory, whether it's paired with pants, a skirt, or a dress.
To achieve the look of business professional, think of classic suit in matching color. Your blazer should have the exact same color or same color family with the bottom of your outfit. Blazer should be able to be buttoned; shirts should be tucked-in; while solid neutral color – with no print – is a must. Opt for the most classic and timeless color, styles, and designs.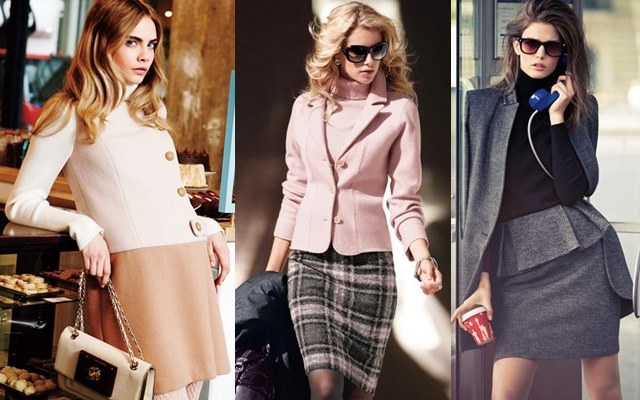 Business Casual Office Attire: It calls for a more relaxed version of Formal Professional look, but it doesn't mean you are actually going to be casual. It's basically called a semi-conservative business suits or smart business suits, which includes a shirt with a collar and/or a sweater (sleek jersey knits), dressy pants, pencil skirts, a moderate-length dress or midi-skirt as well as nice shoes for women. For this look, you are allowed to put your blazer away, or wear brighter shades (but not too bold), do some color-block, and wear some fashionable outfits. However, although it calls for a more casual outfits, try to avoid denim shirt as represents  a very casual appearance to your image.
What to wear: Slightly more casual or relaxed than Professional Business, dress code for a business casual work environment calls for easier, less conservative outfit to allow you to work comfortably in the workplace, yet, still project a professional image to yourself. For some conservative corporates, business casual can be considered as dressing in formal suit but in more colorful or brighter shades, or dressing in formal, trendier suit.
Depending on the work environment, to achieve the look of business casual, think of stylish outfit, yet still presenting a professional image. Peplum skirt can be an option instead of a basic pencil skirt. Classic suit in pastel or bright shades are great instead of the neutral ones. Shirt doesn't have to be tucked-in, and you can also wear a feminine strappy heels or even a pair of high-boots. In certain workplace, business casual outfits can also be considered with slouchy suit, tailored knit wear, simple cocktail dress, and trendy long skirt outfit.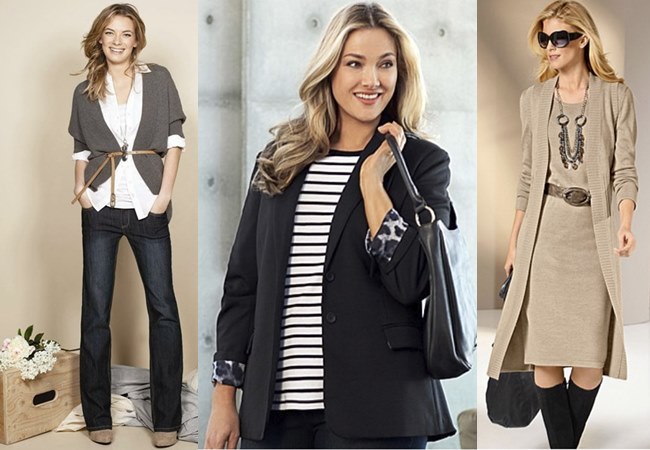 Casual Friday Office Attire: Depending on the business, technically, this is the most sophisticated, elegant attire you're probably wearing on your casual day-to-day look. This can mean anything from business casual instead of formal looks. With this type of office wear, you are allowed to wear busy prints, light-weight dress, cardigans, denim shirt, or even jeans in most elegant and sophisticated way.
What to wear: Do always remember that casual working outfits in this dress code should be differentiated between clothing for industry and manufacturing and clothing for the office. For example, clothing that works well for outdoor, casual, or athletic workplace such as the beach, yard work, dance clubs, sport centers, factories, etc. may not be appropriate for a business setting in the office. Sun dresses, casual capris, sporty shorts, dance club dresses, and number of clothing that reveals excessive cleavage, back, chest, feet, stomach or undergarments are examples of clothing not appropriate in a manufacturing work setting or office.
If you work in a casual business corporate, always consider to dress in a polished, sophisticated, yet casual way. The outfit should be pressed, clean, and never wrinkled. Torn, dirty, sloppy, or frayed clothing, as well as any clothing that has words, terms, tag lines, or graphics that may be offensive to other employees are unacceptable. Use common sense when wearing clothing that has words or pictures on it; people are easily offended by words and provocative images.
Depending on the work environment in the office, usually Fridays have been formally designated as a dress down day. On these days, jeans, sneakers, colorful dress with busier print, knit wear such as cardigan or vest, and a more casual approach to dressing, although never potentially offensive to others, are allowed.
Moreover, keep in mind that there's no dress code can cover all contingencies. Meaning, you still need to exert a certain amount of judgment in your choice of office wear which appropriate for your work environment. If you experience uncertainty about your working attire, ask your supervisor or Human Resources staff.
Lastly, check out some fabulous styles presented by fashion bloggers Mary Orton – The Classy Cubicle, featuring style ideas of office wear ready to follow for more fashion inspirations. Do please remember, because Mary works in a workplace that requires "business casual" dress code, some of her outfits seem too trendy and bright for a conservative work place. Make your own judgement whether her styles are appropriate for your working environment or not.