Putting together the perfect outdoor wedding guest dresses requires making smart decisions to ensure you are dressed appropriately to compliment the wedding's look and feel, while at the same time look classy and weather appropriate. Speaking of a garden wedding, there's something so delightful about this type of wedding. It's about bounding together anything outdoor – breezy, open air, and probably a little bit windy – with something that on the more relaxed side, which usually with elegant touches of whimsy.
Although garden wedding are usually considered a sprawling blooms, or at least to be associated with flowers, it doesn't always have to be floral dresses all the time. Not that there's anything wrong with it, because we all totally love flowers and we will never go wrong donning floral prints to a romantic venue such as garden wedding, but there's actually plenty of beautiful attire – beside floral prints – that feature sweet, feminine touches, as sophisticated and lovely as the setting. Take a look at some garden wedding guest dress ideas, along with a few easy tips about the event, to inspire your next afternoon party in the garden, whether you're petite, curvy, or skinny.
Garden Wedding Sets in Spring and Summer
When it comes to dressing for an outdoor occasion, one should remember that nature and the great outdoors are pivots for fashion inspiration. For example a garden wedding, this type of wedding always seem to be outside among everything that is blooming, ranging from low-key affairs at home in the backyard to elaborate spreads in large parks surrounded by lush gardens and fountains.
The theme usually focuses on nature beauty, botanical air, and whimsical atmosphere, pretty, romantic and usually very traditional. So naturally, the easiest way to fit in with the garden theme party is to wear feminine attire in botanical prints or in every natural shade that resembles the colors of a garden
Learn more through these articles for fashion ideas and tips related to wedding guest attire :
– Wedding Guest Attire: (Part 1)
– What to Wear to a Wedding : Shoes, Clutches and Jewelries (Part 1)
– Wedding Guest Dress Spring Summer 2015 from Various Labels
Whether you're petite, skinny, plus size or in between, there are always plenty of beautiful dresses for every figure, here are a few ideas.
Pretty Pastels
Outdoor Wedding Guest Dresses Ideas in Pastel for Plus Size, Skinny, and Petite Ladies
Though pastels are usually associated with spring, they can work all-year round, and look especially nice in a garden setting. As a matter of fact, candy colors or pastel can be considered as one of the most versatile colors for wedding guest attire, especially for a morning or afternoon venue, even if the invitation does not indicate a theme or the wedding's level of formality.
Depending on your personal style, if you think pastels are too pale or too sugary sweet for your taste, opt for a dress with chic detail or in beautiful silhouette to make your outlook more interesting and festive. You may also add a patterned clutch and some sophisticated heels to ground your outfit.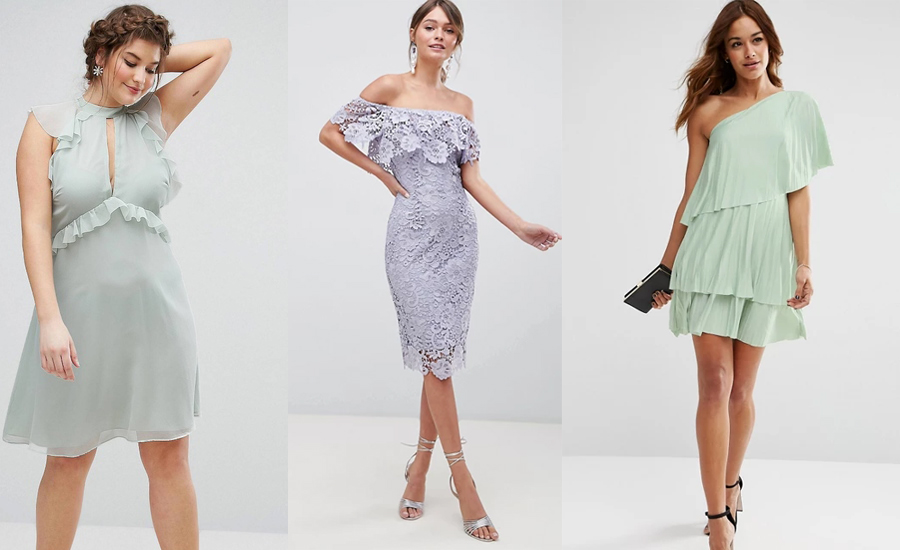 Bright Colors and Prints
Outdoor Wedding Guest Dresses Ideas in Vibrant Prints for Petite, Plus Size, and Skinny Women
If you're not a fan of looking too subtle and soft, weddings are actually the perfect time to don a colorful print. Plus, the garden weddings itself usually take place during bright season, so that you can take inspiration from your surroundings by pulling off an attire that is playful, fun, and bold. Or, for a safe look, you may opt for prints and colors according to the season – brights in Summer and pastels in Spring.
As for accessories and shoes when wearing a colorful dress, since you'll be letting all that beautiful color do the talking, go with neutral accessories – classic earrings, stacked bracelets, etc., and keep them to a minimum (only two or three pieces of dainty jewelry in one outfit). Think simple and subtle by reaching for nude or neutral colored heels. Just make sure everything are kept simple, yet refined.
Dresses shown above : ASOS PETITE Occasion One Shoulder Mini Dress in Placement Floral Print ($64.00) – Petite / Coast Plus Palm Print Full ($267.00) – Plus Size / Every Cloud Floral Hi Low Hem ($119.00) – Skinny
Garden Wedding Guest Dress Ideas in Bright Color for Skinny, Petite, and Plus Size Women
However, athough weddings are a great excuse for treating yourself to a fancy dress, avoid going too overboard and never upstage the bride. This is the bride's day, so you shouldn't compete with her by wearing a dress that grabs too much attention. Not to mention, strongly make sure you take note of the dress code and wedding's level of formality when deciding to go vibrant for a wedding, so that your outfit would fit right in with the event.
For example, when an invitation says "festive attire" that means the garden wedding will be a fun party, and the host wants guests to dress flirty and fashionably. So, it's a perfect time to wear a fancy, colorful dress, instead of the classic and modest one. And the same goes for the opposite, if the dress code says "dressy casual" or "informal", wearing vibrant colorful dress is definitely a big no no.
Dresses shown above : Skeena S Mini Dress in Watersnake Print with Flippy Hem ($222.00) – Skinny / ASOS PETITE SALON Lace Halter Pinny Midi Prom Dress ($135.00) – Petite / ASOS CURVE Mini Dress with Structured Scuba Ruffle ($72.00) – Plus Size
Lovely Lace
Garden Wedding Guest Dress Ideas with Lace for Plus Size, Skinny, and Petite Ladies
Other than floral prints, pastel colors, and delicate details like ruffle and pleat, lace is also a perfect choice for a wedding, and it's particularly romantic for a garden wedding. Obviously, colors of the lace and style of the dress you choose depends on the dress code of the nuptial itself.
Dresses shown above : Paper Dolls Plus All Over Lace Bardot Dress ($108.00) – Plus Size / Missguided Ruffle Lace Dress ($64.00) – Skinny / True Decadence Petite Allover Premium Lace Skater Dress With Fluted Hem ($190.00) – Petite
Showing Off The Shoulders
Show Off Your Shoulder at A Garden Wedding Party
Whether it's an off-the-shoulder, cold-shoulder, or halter neck, showing off your shoulders is all about boasting your inner beauty with just enough whimsy and glamour, making your outfit perfect for a garden wedding.
However, while you may be tempted to grab your prettiest open-shoulder dress, because you're attending an outdoor event, although the sun is shining and the weather seems to be perfect, you still want to check if the wedding takes place in a location where it may be windy – or chilly if it's in spring. If there's a chance for such scenario, wearing a longer or tighter fitting dress is always a good idea, so you won't be worrying about the wind and your modesty. Plus, you might also want to bring a warm shawl – or an extra layer that you can drape around your shoulders, in case there's a chill in the air.
Dresses shown above : ASOS CURVE Scuba Puff Sleeve Bardot ($76.00) – Plus Size / ASOS PETITE Bright Embellished Cut Out ($119.00) – Petite / Silver Bloom High Neck with Embellished Neck ($56.00) – Skinny
Flattering Style
Garden Wedding Guest Dress Ideas in Flattering Style for Plus Size, Petite, and Skinny Women
An outdoor wedding is a light, sunny, happy event, choked full with colors and beauty, so you never go wrong with dresses in flattering style. And obviously, wearing a girly, romantic dress in pink floral prints isn't the only way to look fabulous at a garden wedding. There are plenty of charming dresses you can opt for, including those with ruffles, cut-outs, gingham prints, asymmetrical silhouette, etc. If you notice any wrinkles on your dress when looking through the photos taken during the reception, you can order wedding photo retouching services to quickly fix this issue.
Dresses shown above : ASOS CURVE PREMIUM Sleeveless Broderie Skater Dress With Ruffle and Open Back ($95.00) – Plus Size / ASOS PETITE Textured Midi Porcelain Printed ($60.00) – Petite / ASOS Stripe Checked 80s One Shoulder Prom Dress ($119.00) – Skinny
Beautiful Midi
Midi Dress Ideas to Wear to A Garden Wedding Party
If you don't fancy a maxi dress for outdoor weddings to keep grass stains, while minis are just too short or revealing that make you uncomfortable to a wedding, you can get away with a midi or knee length dress if you prefer. Opt for a flattering dress that accentuates your best features, play with bright hues, floral prints, and exaggerated silhouettes in fresh colors. Basically an outdoor wedding is a light, sunny, happy event, so nothing gloomy and goth-like here. Bright or cheery prints are best, as well as colorful accessories to make your simple or muted dress looks more festive.
Dresses shown above : ASOS Bodice Seamed Bardot Prom Midi Dress ($135.00) – Skinny / Coast Plus La Hune Graphic Floral Printed Dress ($204.00) – Plus Size / Jarlo Petite Allover Lace Bandeau Midi Dress With Highlow Fishtail ($158.00) – Petite
Simple and Modest Wedding Guest Attire for Petite, Plus Size, and Skinny Ladies
Weddings are not always about a fancy affair. Nowadays, many couples like to opt for a more casual occasion and get married in their backyard because they want the wedding to be very small, low-key and super casual. Generally, casual means anything goes – but jeans, shorts and tank tops are probably not appropriate unless they're specifically noted as acceptable.
For the purposes of wedding wear, a pretty sundress, a skirt, and blouse or a casual maxi dress is your safe choice. Just remember to add some charm to your easy-breezy ensemble with fun prints and accessories. Not mention, don't also forget to bring sunglasses. At times you may be looking into the sun during the Ceremony. Also you don't want to be squinting or covering your face during photo time.
Dresses shown above : ASOS PETITE Gingham Smock Dress with Shirring Detail ($67.00) – Petite / ASOS CURVE Crochet Lace Scuba Bodycon ($95.00) – Plus Size / Oasis Premium Midi Skater Dress ($119.00) – Skinny
Garden Wedding Guest Dress Ideas in Floral Prints for Petite, Skinny, and Plus Size Women
As floral dress has always been one of the easiest dresses to choose for a garden wedding, you could go a couple of different ways when opting for a floral printed dress. Whether it's a flared dress with floral embroidery for feminine touch of whimsy, or sleek and elegant attire with small prints in neutral shade, or even a brighter florals with flattering cut and design, so long as they didn't look too tropical and beach-y – such as Hawaiian tropical prints for a beach or destination wedding, you are ready to go with the prints.
Dresses shown above : Little Mistress Petite Premium Embroidered Skater Dress ($111.00) – Petite / Warehouse Printed Pleated ($140.00) – Skinny / Paper Dolls Plus Bardot Printed Pencil Dress ($83.00) – Plus Size
Here another key-tips on how to dress for a garden wedding :
– Keep your makeup and hair style natural
– Keep your jewelries simple and elegant just like the rest of your outfit
– Keep in mind with the footwear – a pair of stilettos is great for special occasions, but with an outdoor wedding you have to think of how much grass you will be walking on. An easy solution is to wear a cute pair of sandal wedges.
Image Source : ASOS