Who says dressing a costume for Halloween is a waste of money since you might not be able to wear it again for the days after Halloween? Through this article I'm going to give you some quick Halloween costume ideas and example outfits to go with them. All of these Halloween DIY costumes can be built by thrift shopping, or going to look for specific items at any retail store. These costumes are super fun and easy while you still can sport each piece, do mix-and-match with other staples to update your regular outfits.
In continuing previous article "Easy and Stylish Halloween Costume Ideas from Your Closet (Part 1)" for ideas on how to create Halloween costume, here are another ten (or even eleven) more Halloween costume guides. So, if you haven't had a spare second to think about a costume, this is exactly why we put together a "straight from your closet- but still chic" without breaking the bank.
Source: Gorgeautiful Polyvore Halloween Collection
THE CAT BURGLAR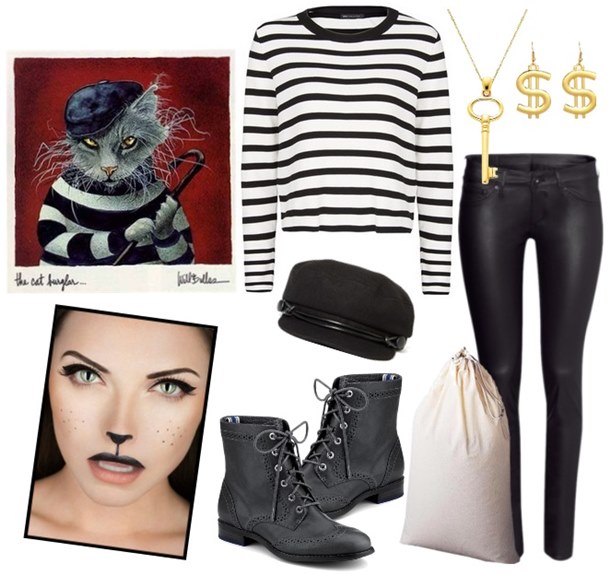 Usually, a striped black-and-white shirt and black skinnies are two general staples in every girl's closet. And it's even better if you have a pair of black coated skinnies to make the look appears more outstanding among the crowd. While cat costumes are adorable (pretty common and easy to create), the Cat Burglar adds the perfect twist of mystery and mischievousness to this traditional Halloween garb. Pair your shirt and skinnies with military boots and a black cap or beanie. Grab some shiny baubles off your dresser for a getup that will really steal the spotlight. Finally, take a laundry bag and fill it with lots of fun things for the party.
If you don't have a black-and-white striped shirt, follow a DIY tip for Waldo's costume (red-and-white striped shirt) which I mentioned at previous article. For the coated denim, I actually also have an article (check here) about coated denim along with its DIY tips. And to make the look even cuter, put a Kitty Cat make up to finish your getup.
Key Pieces: Black-and-white striped shirt + Black skinny pants + Black cap or beanie + Sporty boots or sneakers + Bling + Laundry bag for slinging over your shoulder
THE GIRL SLEUTH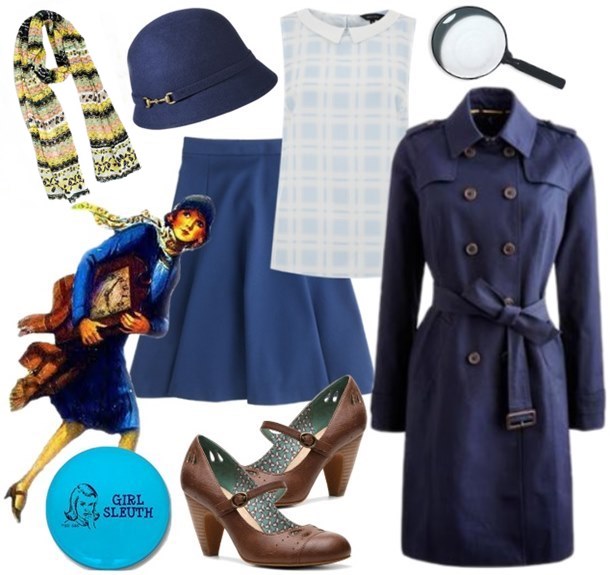 Channeling the chic detective Nancy Drew in monochromatic, preppy outfit is one of the easiest yet super stylish costumes for Halloween. A sleeveless top and a knee-length skirt will quickly create you looking like this girl sleuth, especially if you pair them with a trench and a cloche hat in similar color family. Finish your look with Mary Jane pumps or other comfortable low heels shoes, a printed scarf in different color to add dimension – tied around your neck, and a magnifying glass. And it looks like you're set, Nancy Drew!
Key Pieces: Monochromatic, preppy looking of a simple top, a knee-length A-line skirt, a coat, and cloche hat (or anything similar) + Printed scarf for a pop of color + Magnifying glass or flash light, or other easy typical detective tools such as small note book with pen, pocket watch, etc.
DAPHNE & VELMA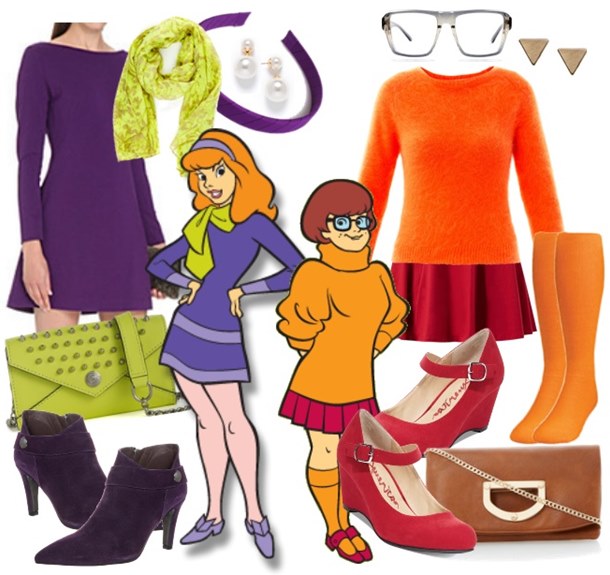 If you are going to attend the party with a female partner – sister or friend for example – channeling both Daphne Blake and Velma Dinkley from Scooby Doo are pretty simple, fun and also perfect for a colder autumn-y month of Halloween. Daphne and Velma are two easy costumes to put together. Plus, the great thing about duo and group costumes is that more people are likely to recognize your character. So it's even better if you could go with the whole gang where others following Shaggy and Fred.
To create Daphne's getup, you all know Daphne. Actually it's easier to find something that Daphne wears than what Velma wears. A lime scarf and head-to-toe purple everything – headband, dress and shoes – are basically all key pieces to replicate Daphne's character. You could also buy an orange mid-length wig to mimic her appearance, but obviously it's optional.
As for Velma, to get Velma's look, pair an orange sweater with a red skirt. Most people would go with a turtleneck sweater, but here, I think a regular crew neck will also work perfectly. Knee-highs in orange and a pair of thick-framed square or rectangle glasses are also essential. If you don't have straight bangs like Velma you could buy a wig, or put your own touch on the costume by creating your own nerdy hairstyle.
Key Pieces: Daphne >> Purple everything including headband, mini dress (best if long sleeves), and shoes + Lime green scarf
Key Pieces: Velma >> Orange sweater (best if turtleneck) + Red skirt (best if pleated skater skirt in maroon) + Knee-high socks in orange + Mary Jane pumps or other shoes in red/maroon + Thick rimmed square framed glasses
JUDY JETSON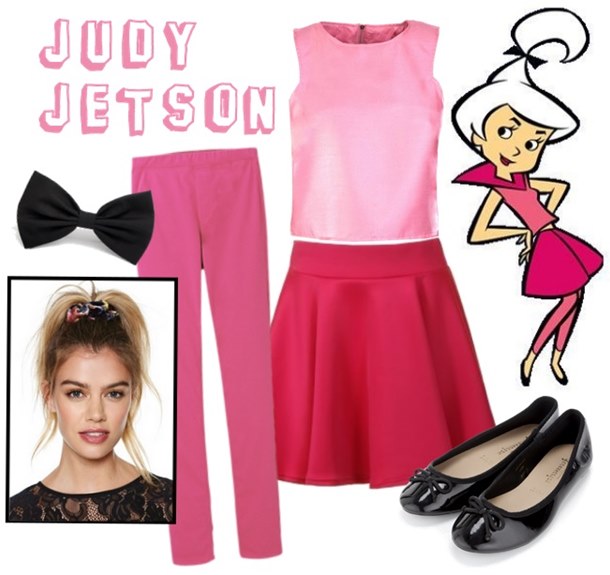 Judy Jetson is quite a cartoon cutie. And with her girly pink getup you are creating Halloween costume without a horror. Just because it's Halloween doesn't mean you have to be scary right? Neither does it mean you have to be overtly sexy. So, go retro space age and dress up like a Jetson with a lot of pink.
First, look for a pink sleeveless top. A blouse is actually more preferable than a t-shirt. Ideally it should have a collar that you can pop to copy her futuristic collar. But if you can't find anything with a collar, simply buy a piece of pink felt or thin cardboard, cut it into the shape of her collar, and attach it to your shirt. Or just leave your shirt collarless, I think that also works well to replicate her costume. Next, pair your top with mini skirt and leggings also in similar pink, along with basic black flats. For the hair, this costume will work best for blondes, but it's optional and still works although you are not blonde. Just get your hair up in a super high pony tail using a black bow.
Key Pieces: Pink items including top, skirt, and leggings + Black items including flats and hair bow
PIPPI LONGSTOCKING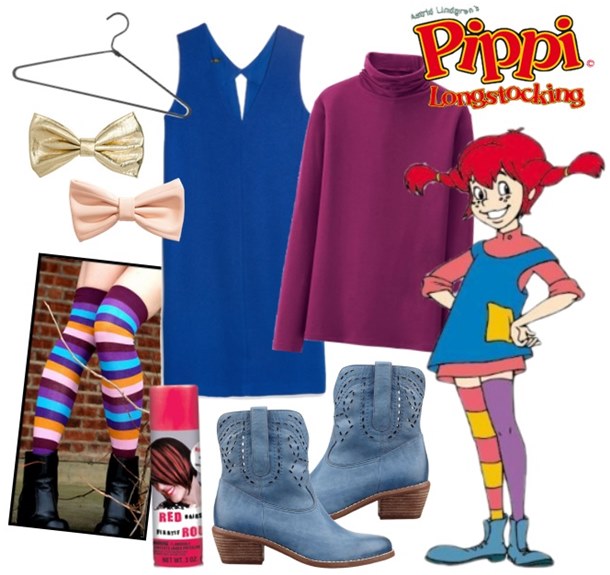 Most everybody loved Pippi Longstocking back in the day, and if you didn't, at least her costume is very fun and easy to replicate for the Halloween. All you have to do is mismatching items in your closet, you can grab whatever you have to put this costume together and make one outfit. Stripes, polka dots, and plaid are great for clashing. Do them all between your dress, sweater underneath, and knee-high socks.
The main components of this costume are the braids and freckles with mismatched clothing. To make the Pippi's 'do, just take a wire hanger, bend it upward for your pigtails, use some temporary red hairspray, and tie off the end with a hair bow elastic. Check out the video for a super easy hair tutorial. And for the finishing touch, dot your nose and cheeks with brown eyeliner to create some fake freckles.
JESSIE – TOY STORY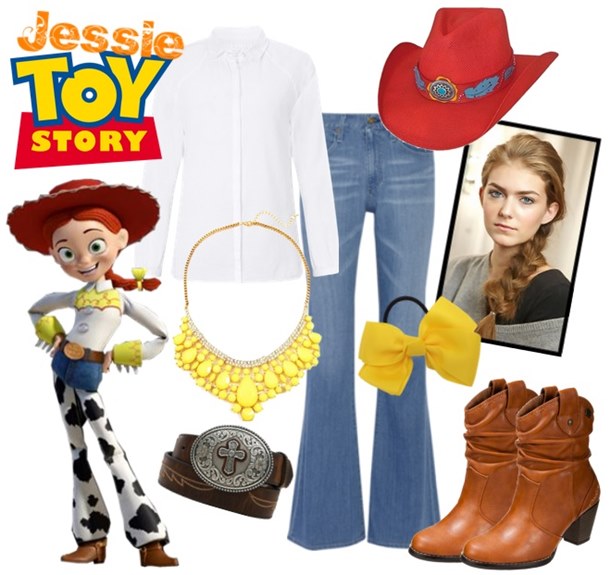 Channeling Jessie the Cowgirl from Toy Story can be really hard since there are some details on her outfit which you probably can't wear again as your regular clothing, such as the cow-leather pattern on her jeans and the yellow elements and red loopy designs on her white shirts. So I decided to create a Jessie's outfit in much simpler version.
How about wearing cowgirl costume in Jessie's way. Lucky if you already have some of those cowgirlish items including flared jeans, cowboy boots and hat, as well as a belt with big buckle. Those pieces are generally the main components of this costume. To mimic Jessie's wardrobe, add yellow statement necklace to create the yellow elements around the collar. You could also put some yellow details around the wrist such as big bangle, etc. (although I also think it's optional). Braid your hair, use some temporary red hairspray, and tie off the end with a yellow hair bow elastic.
Key Pieces: White long sleeves shirt + Flared denim pants + Boots (best if cowboy boots) + Cowboy hat + Yellow statement necklace + Leather belt with big buckle + Traditional braided hair using a yellow hair bow elastic
ESMERALDA – DISNEY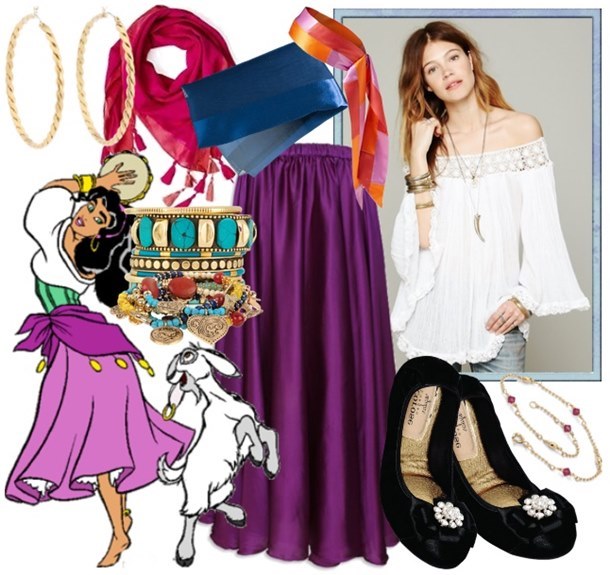 Now challenge yourselves to use things you already have around your home for this one interesting costume. This fortune teller's ensemble – Esmeralda from the Hunchback of Notre Dame – will be much easier to create if you are one of those boho-chic fashion lovers who already have most of the key pieces of this getup. Even though, in general, this costume is actually pretty simple as long as you have a loose white blouse and a maxi skirt.
To be Esmeralda, basically you are going to need three types of scarf (preferably in different sizes and exact colors like Esmeralda wears) which are a head scarf (in pink or similar), a waist warp (in purple or similar), and a long scarf (in teal or similar) to make a wide belt (like corset or bustier). If you already have a bustier or corset, that's even better.
Wear your blouse tucking-in into the skirt and secure you waist with long scarf under your bust. Wrap your waist with another scarf, wear head scarf, and finish the look with black ballerina or any other flats. Add plenty of jewelries such as gold hoop earrings, multi bracelets or ankle bracelets. You obviously don't need to bring a goat like the picture though, ha ha
Key Pieces: Loose white blouse (best if off-shoulder peasant blouse) + Maxi skirt (best if pleated and flowy) + Scarves in different sizes + Jewelries
KORRA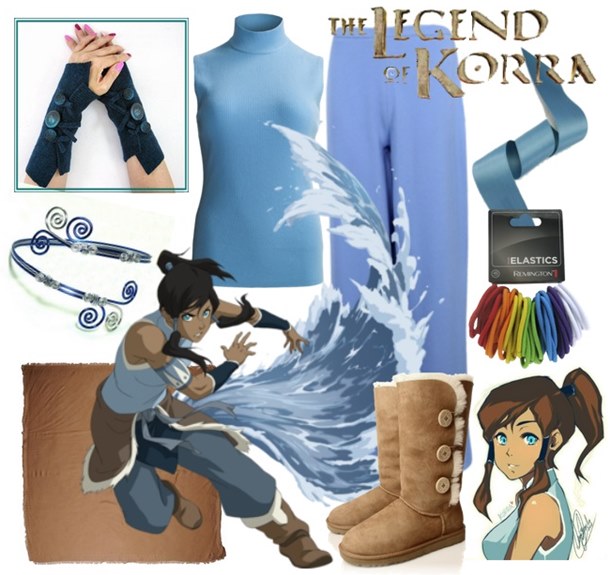 If you are a fan of Korra from Avatar: The Legend of Korra, this costume could be your best option to try for Halloween. Although it seems too complicated to create, actually this it's pretty simple as long as you have a turtleneck sleeveless shirt and palazzo pants – both in blue color. If you don't have any of them, you may find them easily at various online stores. A shearling boots is also one key piece of this outfit. As for Korra's accessories, yes, a little bit more effort is required here.
For the armbands, just simply follow her look by getting a pair of arm warmers and upper arm cuff. As for the thing around her waist, there are two items (blue in the front and brown in the back), and I just make it simple by choosing a brown square cloth (either scarf or any cloth), fold it in a triangle manner and tied each of the point to make a waist wrap. If you want to have more authentic look like Korra, check out these two links (here and here) for DIY project "the thing around her waist"
For the pony tail, you are going to need ribbon fabrics and elastic band to create ribbon wrapped ponytail – high one at the back and two front hair pieces. Check out the video below for hair tutorial.
Key Pieces: Blue pieces including a turtleneck sleeveless top and trousers + Shearling Boots + Brown cloth for the thing around waist + Arm warmers + Upper arm cuff + Hair accessories such as bobby pins, ribbon fabrics, and elastic bands.
MARILYN MONROE
What's more glamorous than dressing up as Marilyn Monroe? Virtually every woman would love to spend a night feeling like Marilyn Monroe, and this is your chance! Get a costume out of Marilyn Monroe's look in 'The Seven Year Itch' with very simple items inside your closet. All you really need is a white halter dress, a sexy pair of white strappy stilettos, blonde curls, matching accessories, and red lips. As for her curls, although plenty of Marilyn Monroe wigs can be found out there, they often look a little silly, I think it's a quite a waste to buy a wig. Instead, use a video tutorial to give your own hair a great 1950s vibe. Don't forget to have fun with fake eyelashes and bright red lips and even draw on her signature mole if you like.
Key Pieces: Little white dress (best if halter neck) + White stilettos (best if strappy) + Blonde Curl + Red Lips
TWIGGY
Everybody agrees that Twiggy is one of favorite fashion icons highly revered as a style goddess. And her look makes for an adorable and easy costume. Just follow one of her costume or just grab your favorite shift dress, some statement earrings, and Mary Jane shoes. If you want to create the outfit shown above, add white stockings into the look. Do some serious hair slicking to the side (a polished side-parted ponytail also works if you don't have a pixie haircut). But the most important part of this costume is to recreate her signature eyeliner makeup look. Draw on bold lines with liquid eyeliner and draw lashes on your lower lid. For a tutorial to get this look check out at the video below.
Key Pieces: Shift dress + Statement Earrings + Mary Jane pumps + Twiggy's makeup look