Halloween is right around the corner, whether you were invited to a Halloween party last minute and you don't have a costume, or you can't find the best one at all stores, don't push the panic button just yet, because chances are, you already own most of the essentials needed for an amazing, and downright creative, look. Check out these last minute Halloween costume DIY ideas that you can just grab from your closet. You can pull together an uber cute Halloween costume at no cost to you
Halloween costume doesn't mean you can't look fashionable. Sometimes at this party you don't feel pulling off a costume which you obviously can't wear again. You will want to wear some versatile items for other attire – besides Halloween – but still mimicking the iconic look of a famous character. Just be creative this Halloween and make your own costume from clothes you can actually use again.
SNOW WHITE
Channeling Snow White means you will have to find a cobalt, blue top and a mustard, yellow skirt inside your wardrobe – depending on how you want it to look, it can be a long or a short skirt. Plus, you will also need various red-colored accessories including the iconic bow headband that always appears in every Snow White's outfit. Although it's optional, you may also consider choosing additional accessories that are linked to Snow White, such as red apple necklace, black or red ballerina flats, clutch with picture of the seven dwarfs, the evil queen, etc.
Key Pieces: Cobalt (blue) top + Mustard (yellow) skirt + Red rose bow headband + Red accessories
MINNIE MOUSE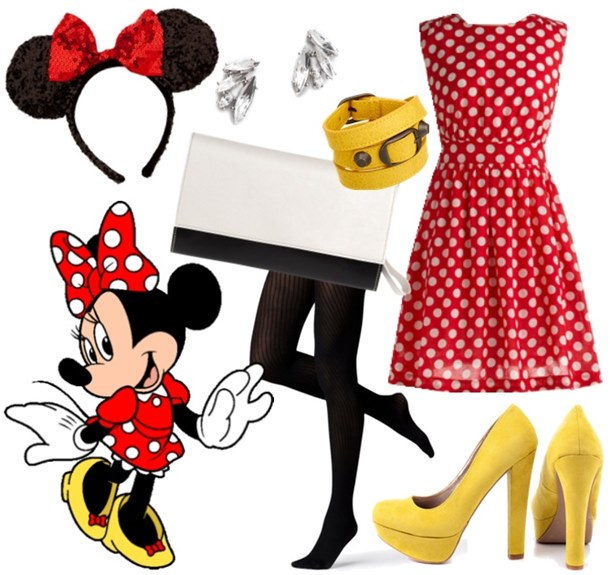 A distinctive red-and-white polka dotted attire and yellow footwear surely are Minnie Mouse's iconic style which is also super cute and easy to create. If you don't have anything in polka dot (especially red-and-white), just pick out anything black, white, and red from your closet to create Minnie's most common outfit. Sell the entire outfit with Minnie's ears headband then you are ready to look like this adorable Disney's character. Not to mention, Minnie's ears headband is also worth buying since it can be worn at many festive occasions including New Year's Eve, birthday party, Christmas party, and other events that require fun, playful, and cheerful outfit.
Key Pieces: Anything with red-and-white polka dot prints + Accessories with a touch of yellow or black + Minnie's ears headband
50's HOUSEWIFE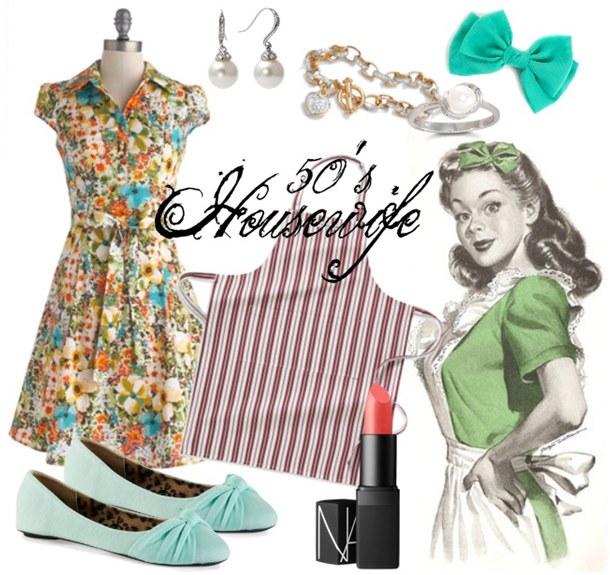 As full skirted dresses are coming back – especially if you are a fan of the classic 1950s-inspired style – channeling the typical '50s housewife can be your best option to showcase your favorite A-line full dress. Pair your dress with a cute apron and a matching earrings, necklace and bracelet jewelry set. Think pearls and dainty jewelries. Embrace the most girly, feminine side in you.
Key Pieces: Full skirted dress + Apron + Dainty, classic and feminine jewelries
MARY POPPINS
It's quite easy to create the Mary Poppins' fantastic outfit for a costume. Everybody pretty much has the foundation of this costume in the closet. The only things you would need to track down are the white gloves and black hat with flower details. If you can't find any carpet bag, opt for a regular handbag matched with your outfit, and fill your bag with lots of fun things to pull out at various parts of the evening.
Key Pieces: Coat (preferably long one) + Long skirt + White shirt + Chunky scarf + Black fedora hat with flowers + White gloves + Black booties (or any black shoes)
OLIVE OYL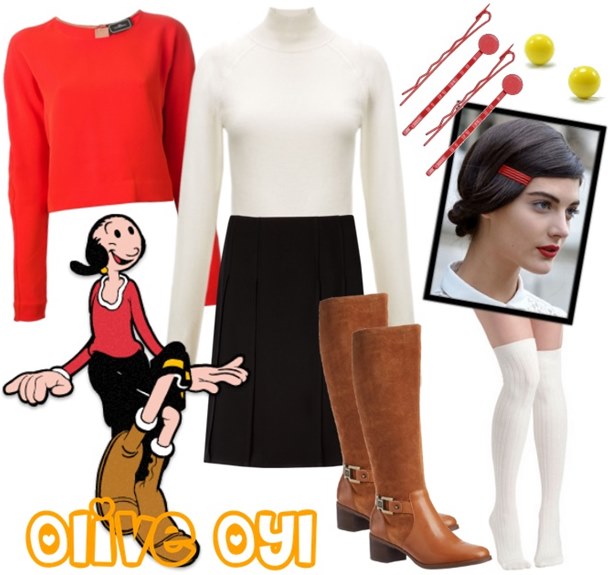 Dressing in Olive Oyl's outfit is about as easy as you can get. What you only need is a red top, black skirt, and a pair of brown shoes – which I prefer a classic mid-calf boots. There's also a little spot of white such as collar and socks. Be creative and take whatever stuff in your closet to resemble Olive Oyl's costume. You can wear white turtle-neck top underneath the red top, or pearl necklace to give white accents around neck area. As for white socks, it's up to you, depending on your preference wearing socks is optional. To top off the finished look, wear yellow earring studs, and create a simple, modern low hair bun with cute accessories like red bobby pins.
Key Pieces: Red top + Black skirt + Tall brown boots + A touch of white around collar, wrist, and shoes underneath
CHARLIE CHAPLIN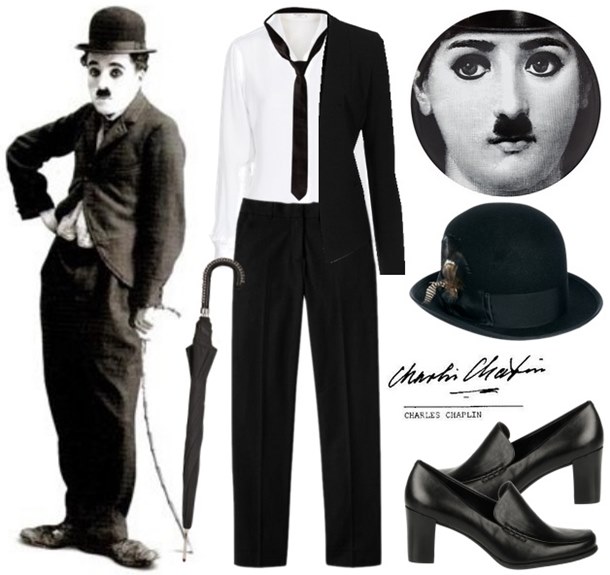 The easiest way to dress like Charlie Chaplin is to think black-and-white. And with a little eyeliner, you can have a mustache in no time. You can pull this easy costume off by only taking your white shirt, black blazer, black pantsuits, black conservative shoes, and black tie. To top off the look, put an eye make-up exactly like the picture shown – rounded looking eye with thick eyebrows. The bowler hat – or black fedora – is also a must to rock this look, and don't forget the umbrella – or cane.
Key Pieces: White shirt + Black staples including trousers, blazer, shoes, and hat + Black eyeliner for mustache + Black umbrella or cane
WHERE'S WALDO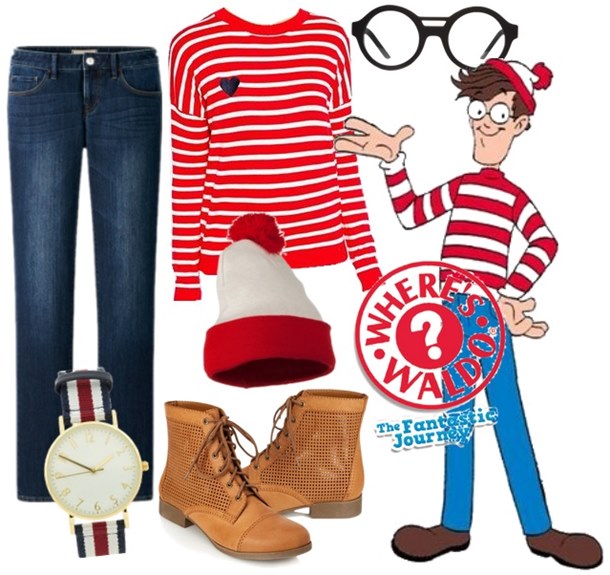 So what if Waldo is a guy? His iconic getup makes a great easy costume for anyone, especially those who love dressing casual. The Waldo's costume is super super easy consisting four simple items you probably already own. The pieces include red-and-white striped shirt which is a must for this costume, as well as a pair of jeans (or any bottom that is blue), a beanie in matching color, and black rimmed eye-glasses (preferably the round frame).
I chose brown ankle boots for the shoes to mimic the look of Waldo even more similar, but obviously the boots are optional that you can opt for any pair of shoes to suit you most. If you don't have a red-and-white striped shirt, you could buy red fabric paint and just paint stripes on any white shirt you're willing to sacrifice. Make sure to use tape for a neater finish. Same goes for the beanie.
Key Pieces: Red-and-white striped shirt + Blue-colored bottom + Beanie in matching color + Black-rimmed eyewear
SANDY – GREASE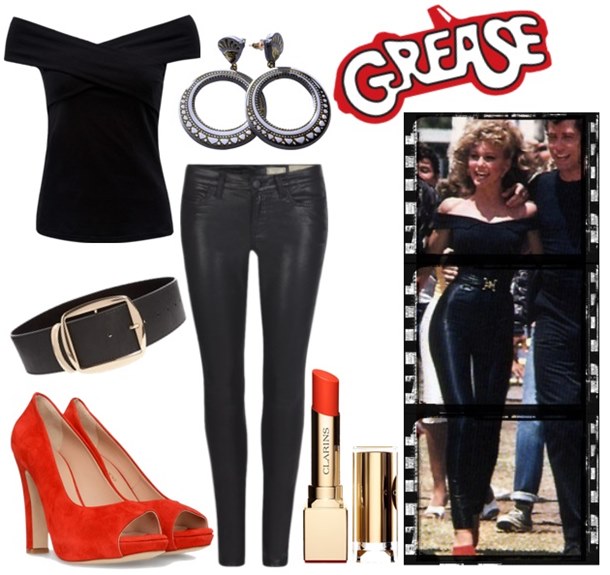 Another quick costume? Sandy Olsen from Grease is a great choice especially if you are a fan of rocky-chick fashion. To create the costume is pretty easy that you probably have most of these items in your closet. Just grab your tightest black pants, pair it with black tight top, and rock out with teased hair.
If you want to abuse more specific details of Sandy's getup, choose a pair of black leather pants (you will need to show shine here) and off-shoulder black tight top. Throw on a thick gold buckle black belt and vibrant pumps in dark coral red. Plus, you may as well sport a black moto-jacket and a pair of big hoop earrings. To complete the look, curl your hair in tight curls, wear bright red lipstick, and maybe put a cigarette behind your ear for an authentic bad Sandy look
Key Pieces: Black skinny pants (best if leather or shiny) + Black tight top (best if off-the-shoulder) + Vibrant red pumps (best if in dark coral red shade)
BETTY BOOP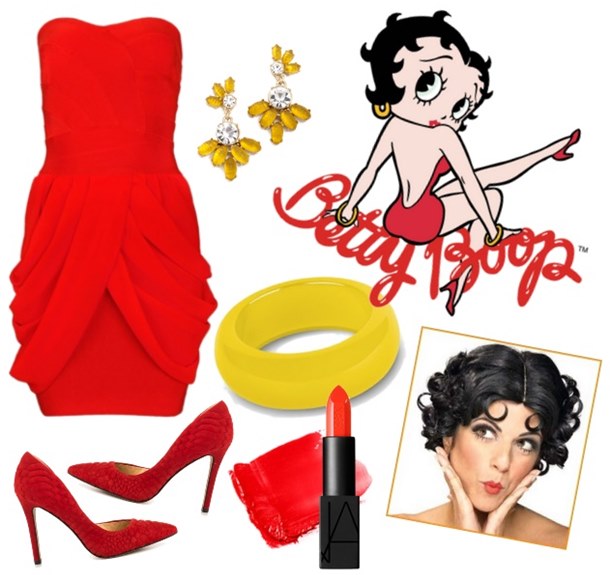 Who doesn't love some Betty Boop! She is classic, feminine, and sassy, much like a cartoon Marilyn Monroe. So, who wouldn't want to dress as this chic beauty for Halloween? All you have to do is finding a sexy little red dress in your closet (preferably tube dress) and a pair of red pointy pumps, which you can find almost anywhere. Head out to the costume shop for a black curly wig, or get your hair done like the picture shown. Wear yellow earrings and yellow bangle for jewelry then make yourself up with a red lip, fake lashes and super lined eyes.
Some people would love to wear a garter for this costume, but since I think garter is not a versatile piece to wear besides for this Halloween costume, I would consider this item as optional. But if you want the look with garter, you can buy the piece at a costume shop and glue a red heart onto it to replicate Betty's garter
Key Pieces: Little red dress (or LBD) + Red pointy pumps + Yellow bangle and earrings + Betty Boop's curly hair
POCAHONTAS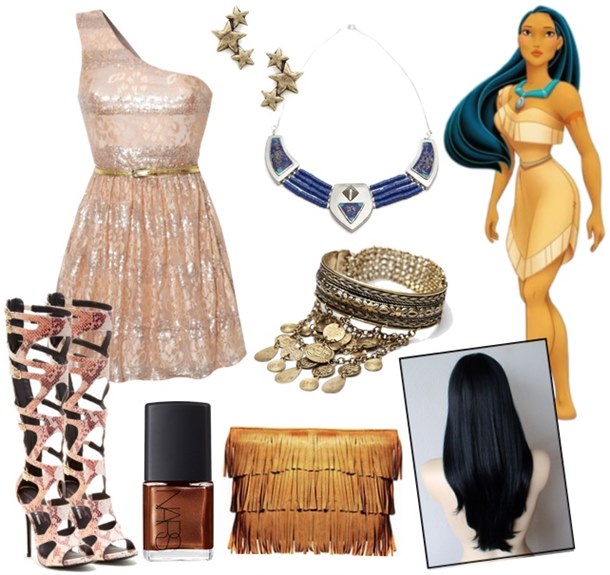 Channeling Pocahontas can be tricky since you might not be able to wear this Pocahontas' Native American cloth as your regular clothing. Like it or not, some people usually go to the costume shop and purchase the getup only for Halloween or other costume events. However, how about creating different version of Pocahontas? I picked the very dressy, yet super-sexy version of Pocahontas, which then appears to be a little hippy yet glamorous for the party.
Basically, key pieces of Pocahontas' costume are a mini dress in leather color family such as beige, brown, chocolate, cream, taupe, tan, etc. (even though the dress doesn't have to be made of leather) and a pair of bohemian footwear such as leather boots or gladiator sandals. Dig deep into your closet and see you if have these two items.
If you are type of person who dresses bohemian way, channeling Pocahontas would be much easier since you probably already have some matching accessories to the outfit. The accessories, for example, an arm cuff and statement necklace in blue or teal color are best idea to replicate Pocahontas' appearance. Let your hair fall down naturally or you can opt for a black, long, and sleek wig for a closer imitation to the character. Brush a bit of bronzer onto your cheeks, wear brown nail polish, and finish the look with a boho clutch.
Key Pieces: Mini dress (best if one-shoulder) + A pair of bohemian footwear + Bohemian accessories + Black long, sleek hairstyle
My purpose for writing this article is to present a few Halloween costumes that you can wear again as your regular clothing. It would be better and easier to think first of your personal style before choosing or purchasing specific items to create a costume. Thus you wouldn't end up buying something you won't wear besides for Halloween. As you can see, each character actually comes with their own fashion style – whether it's vintage, rocky-chick, bohemian, sexy and daring, boyish, chic and girly, or even casual.
Check out article "Easy and Fun Halloween Costume Ideas from Your Closet (Part 2)" for more ideas