In a wide variety of beautiful colors and patterns and fabrics, scarves are truly one of the most versatile wardrobe accessories to fashion with. It can be used to dress up and dress down, while depending on its fabrics, they are great to cover up under the sunshine, or to keep you warm during chilly days. Drape it, loop it, tie it! Tying scarves is simpler than it seems, and various attractive tying techniques are rather easy to learn. Here are lots and lots of styles you can do with a scarf for different occasions.
Ways to Tie a Scarf in Many Styles for Different Occasions
Prints and Colors
Although you don't necessarily follow the entire fashion trend, it can never go wrong if you purchase one or two scarves with patterns that are In right now. Trend of patterns and colors mostly never gets outdated, especially with the versatile function of the scarves itself that are just "right" to compliment and complete your look, no matter its prints, colors, and patterns. Here are the five trendiest patterns this 2013-2014.
Geometric Prints: This has been trendy for several seasons now. There is no need to stash your beloved geometric scarves just yet. Stripes, circles, squares, rectangles, and triangles, or even abstract, check, plaid, or those 60s and 70s retro geometric prints, as well as every wavy line or pixilated computer generated pattern has found their way onto an outfit. It's time to go back to geometry class and do your style with a scarf.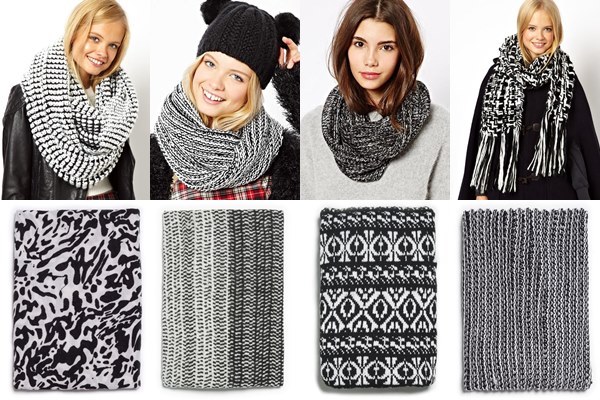 Monochromatic Prints: Black and white in any types of patterns and prints is so high this season. From floral to animalier prints, from simple to busy patterns, from geometric to brush stroke, as well as those dizzying patterns of optical illusions and linear prints. Opt for them, they all are fabulous.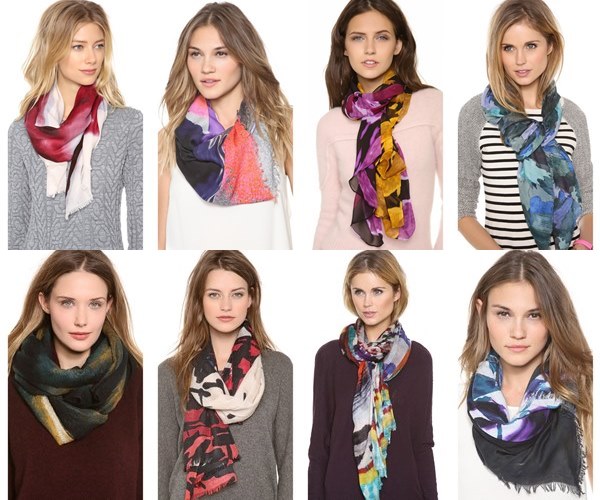 Artistic Prints: The idea of these prints is to deliver those painterly, brush stroke prints from a canvas to your scarf. As you can choose from many various images or drawings, as long as it feels artistic then you have done with them correctly.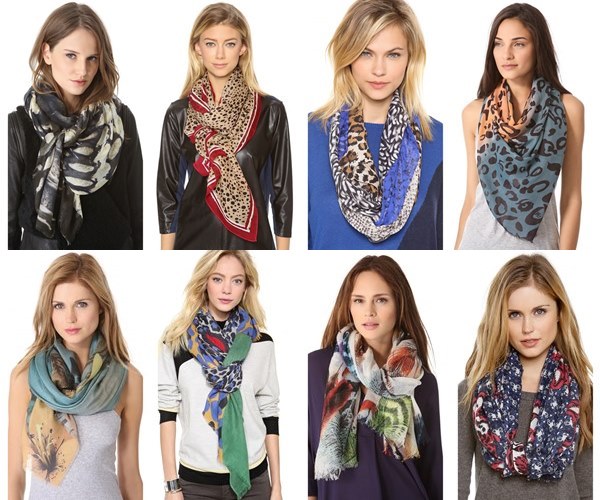 Animal Prints: Animal Prints: These prints are so timeless that you can go with them forever. You don't really need to stuck with only those animal's skin prints like leopard, zebra, or python, instead you have free of choices to combine with. Just opt for other alternatives like feather prints, tribal prints, or the stylish color-block mixed animal prints.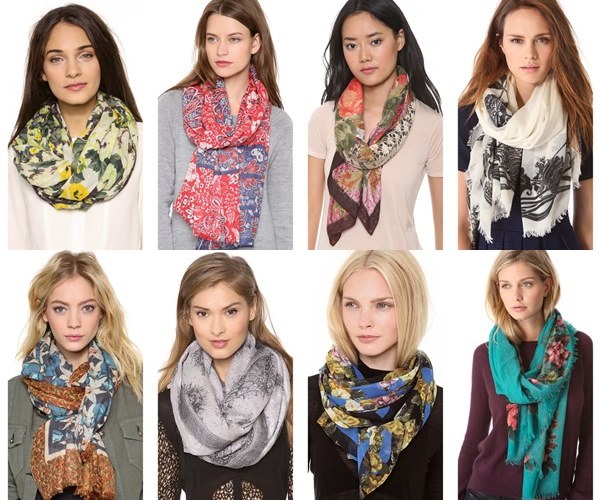 Floral Prints: Just like animalier, florals are also one of the classiest prints for all season. Think botanical instead of only type of flowers. Go with palm prints, leaves, petals, or trees. And since you are wearing a scarf – that you need to tie, make a knot, twist, etc. – by choosing the size of your scarf's print, you can also determine whether you want to show the entire prints or just part of it. Large rose print gives you the look just like you are wearing an abstract scarf, while the small one shows that you are sporting floral prints.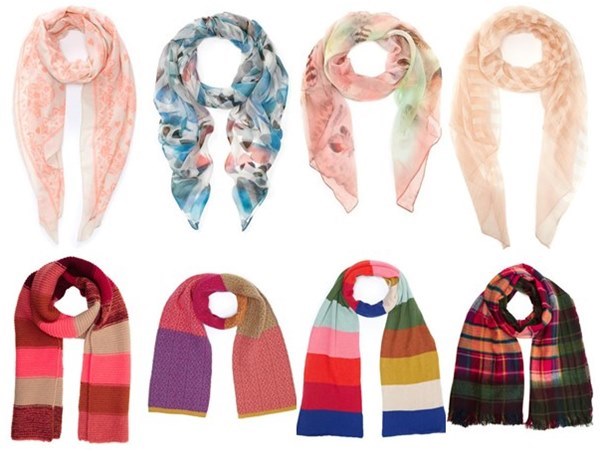 Bright Pastel: It's not too subtle because it's bright and it's not too vibrant because it's pastel. The idea is to have pretty, feminine colors and prints on your scarf. You can go with any prints and patterns – animalier, floral, geometric, abstract, gradation, etc. – and opt for prints with simple hues.
Styles and Fabrics
Other than different functions you can fashion with a scarf, there are also various types of fabric, shape, and style you can do with scarves. Generally, scarves come in mainly three different geometric shapes, which are square, rectangle and triangle. As there are inexhaustible usages of scarves there are similarly so many varieties of material used for making them that it would be. Take a look at these videos for styles and shapes of scarves you can pull off.
Moreover, scarves come in different types of material used to make them, to the function they serve, and to the kind of designing method employed, which can dictate if it is a scarf that should be worn during cold or warm months. Listed below are some of the various fabric materials and a quick description of each.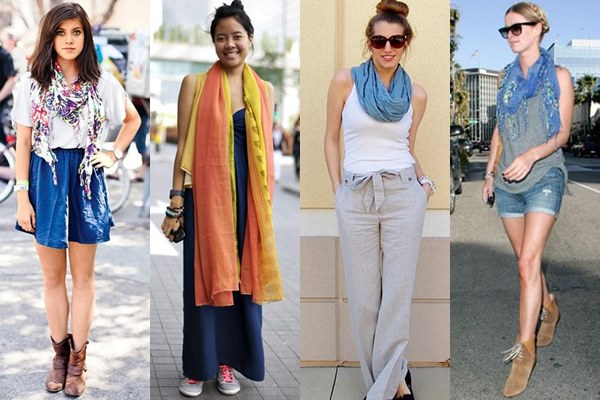 Scarves for hot days during Spring and Summer should be made from materials that are light and breathable, including:
Silk: A natural fiber made from the cocoons of the mulberry silkworm. Silk is delicate, light and airy, and can be either matte or shiny. This fabric has a smooth texture that feels great against the skin and drapes wonderfully.
Cotton: The most popular natural fiber in the world, made from the soft fibers of the cotton plant. The Woven cotton fabric is a wonderfully light, breathable and easy to take care.
Linen: Popular for its breathability, coolness, and freshness among other fabrics. It's made from flax plant fibers, and is known to be cool to the touch.
Chiffon: A sheer, lightweight woven fabric manufactured from silk, cotton, and other synthetic fibers. Chiffon scarves are stretchy and have a slightly rough feel
Satin: Typically has a glossy surface and a dull back. It's a shiny, delicate fabric that is woven from polyester or silk. Satin scarves differ in gloss, weight, and thickness.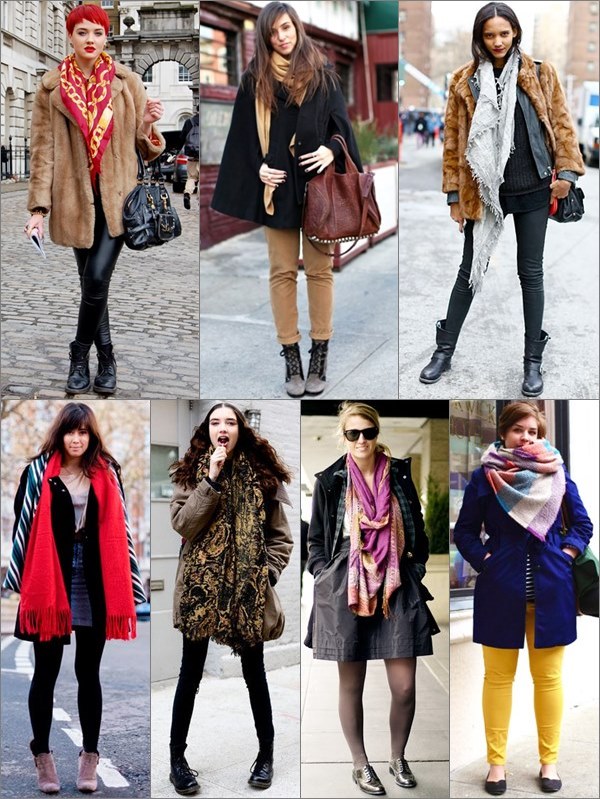 While scarves for Fall and Winter should deliver much warmth as well as comfort and softness, which includes:
Wool: A natural fiber that comes from various animals, the most common of which is sheep. It is known for its warmth and sheer versatility. The insulating properties of wool can even be used to keep cool; many desert peoples use thin wool scarves to keep out the heat of the midday sun.
Cashmere: Spun from the fleece of the Cashmere goat. This fabric is highly sought after because it is extremely lightweight, soft, and durable.
Pashmina: A type of fine cashmere wool from Himalayan Mountain Goat. This scarf is known for its softness, sheen, lightweight and warmth.
Acrylic: A synthetic fiber that is often used as a substitute for cashmere or wool. Scarves made by acrylic are considered as good as or even better than cashmere in softness, light weighted and appearance.
Jersey: A knitted stretch fabric that breathes and is light to the touch. It was originally made of wool, but is now commonly made from wool, cotton, and synthetic fibers. Its thickness dictates if it is best used in the summer or the winter.
Other than styles discovered from its materials, details of a scarf surely can also add lots of dimensions into your fashion statement. A chunky scarf, for example, offers an incredibly flattering and chic appearance during the chilly, winter days, while a sparkling metallic scarf with sequined details delivers those glam-rock styles perfect for a night out.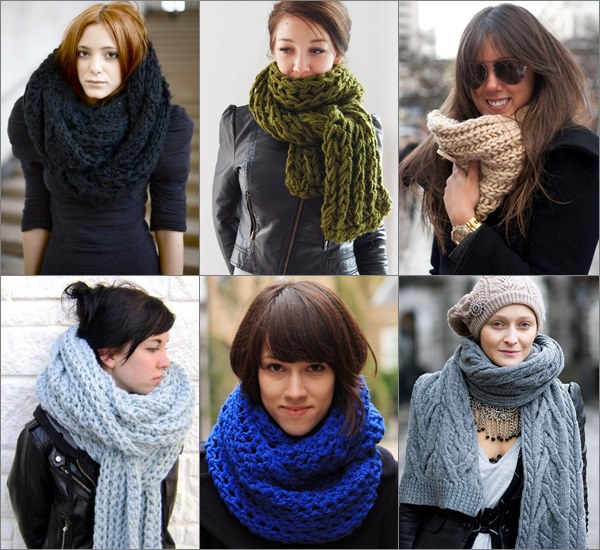 Learn ways to tie a scarf in many styles for different occasions "Ways to Tie a Scarf in Many Styles for Different Occasions (Part 2)"