With the weather still a little on the unpredictable side between winter and spring, figuring out what to wear is even more difficult when the weather goes from winter to spring in a matter of hours, especially when it comes to fashion and stylish outfit. Sometimes the season is lovely when you're dressing for mid-afternoon or selecting an outfit to wear to dinner, but to make it through the weird transitional period from chilly mornings to hot afternoons, there's just no other way rather than putting some layer.
Naturally, when it comes to layering in spring, it pays to consider warmth, but the overall look is less about keeping cozy, and more about wearing all your favorite new season staples at once. Take a look at some of layering essentials, which if you break out each piece of this outfit, they can easily each work on their own this spring.
1. The Power of Cropped Top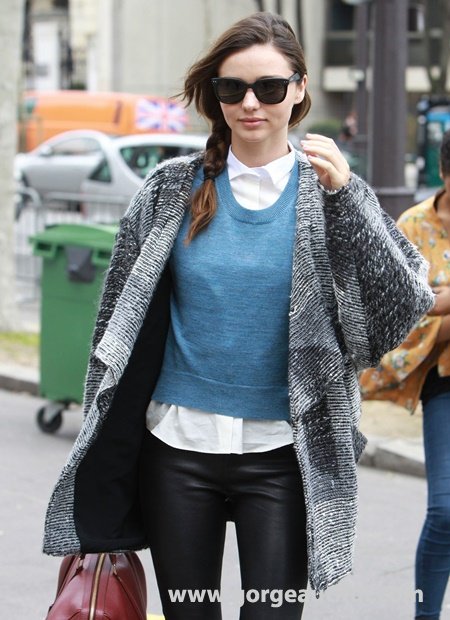 When it's freezing cold outside, layering is probably the first thing you feel like doing. And it can be easily done by treating a cropped top as a layering piece. Whether your figure is plus size or petite, layering with a cropped top is easy as all it took was only a slim-fit blouse – or even a peplum top – and a contrasting cropped top worn over the blouse to create more dimension. Pair the top combo with a pair of skinnies to create more streamlined silhouette. You can also wear the cropped top underneath other layering piece, such as long vest or jacket when the temperature is warmer, or make a combo of three layering pieces for a chillier day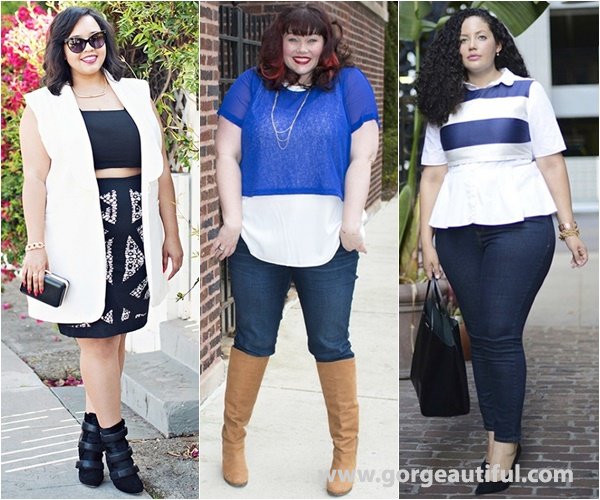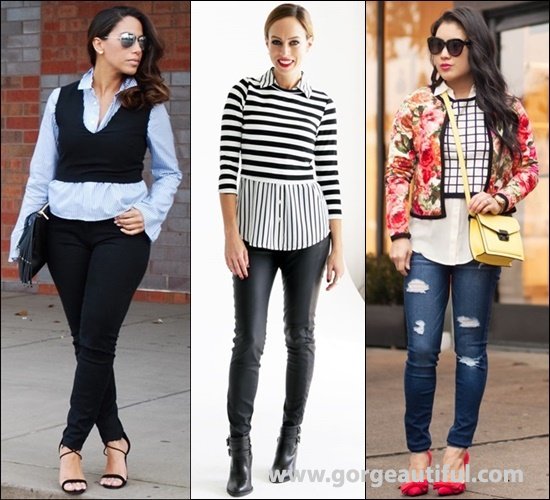 2. Oversized Sweater Over Dress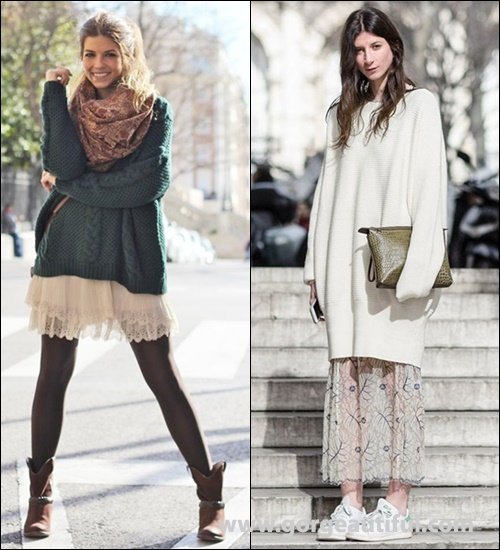 What we especially love about the cold day is that we can still bundle up in our favorite cozy oversized knitted sweaters looking warm and stylish. Speaking of an oversized sweater, if you thought you could only wear this sweater with skinny jeans, you might need to push your thinking today with this versatile garment. Try pulling off this staple with a dress – mini, maxi, a summer dress or a slip dress – underneath to keep it youthful, or get a little edgy and grunge touch when paired with boxy booties.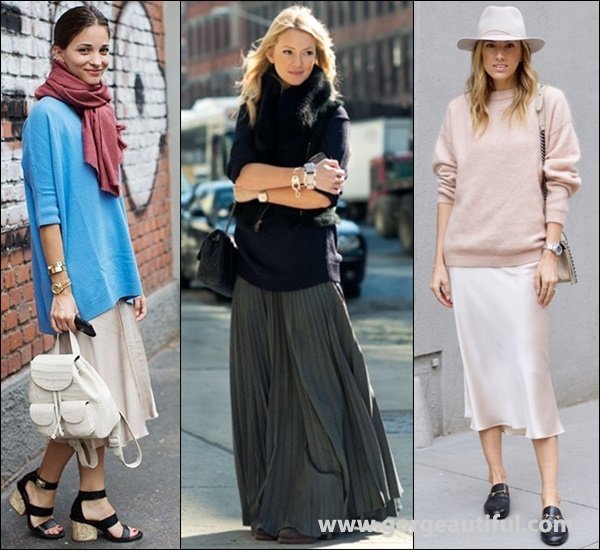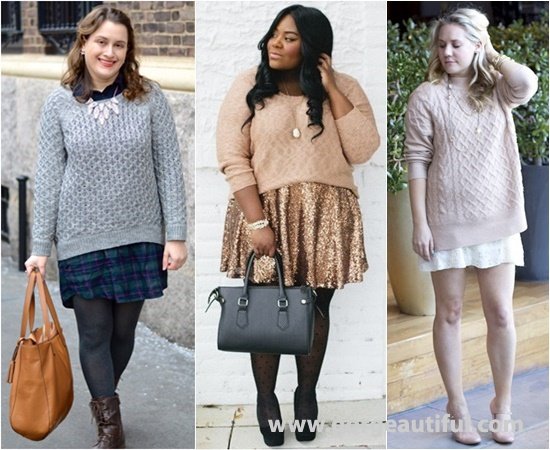 3. Tights Under Ripped Jeans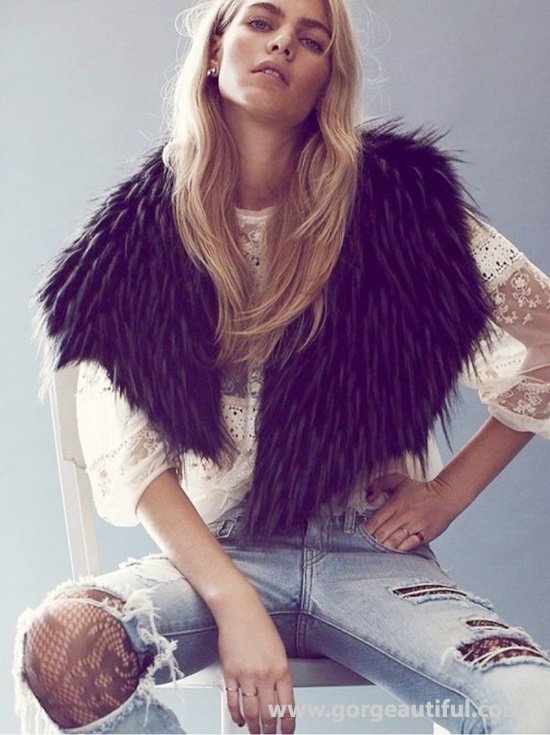 Whether you combine the pieces with mini skirt, dress, or shorts, sometimes pulling off a pair of tights can be boring, or even look too tacky when what you have is lace or fishnet stockings. Luckily, there's a way to combat this. To make your look different, yet more sexy and sophisticated, pair different kinds of tights – or stockings under ripped jeans. Whether going with a bolder approach by wearing busy printed tights, lace stockings, or a bright red pair under a darker wash, you can always inject more color, texture and print into your regular ripped denim. As for a more casual look, perhaps just a pair of opaque black ones under a light wash would do.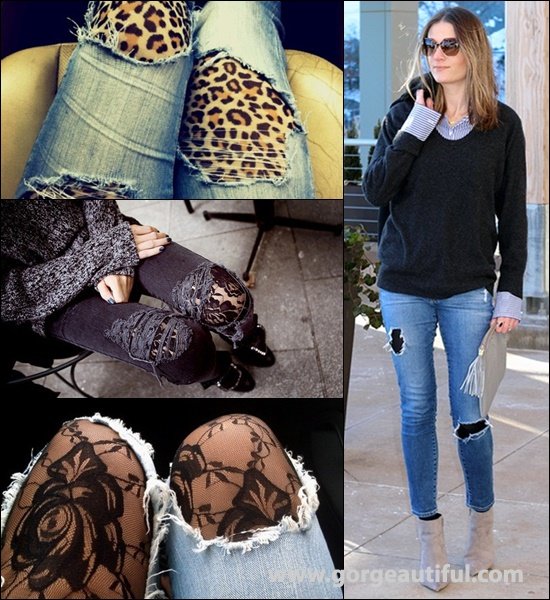 4. Layering with Overalls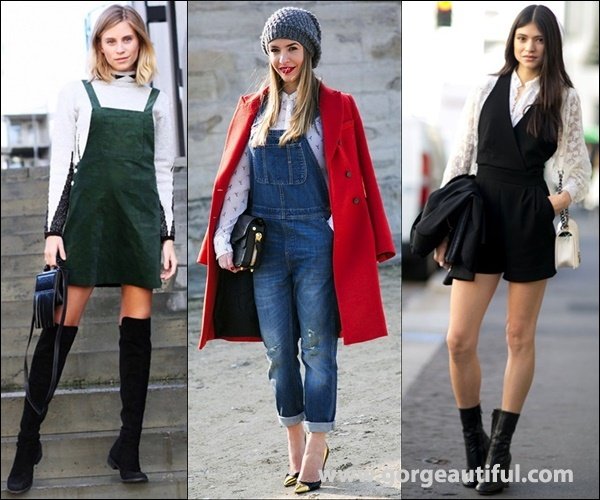 The '90s are having a moment, and overalls are back in full force. Not only during hot seasons, even in cold days we all like to keep our must-haves and beloved wardrobe essentials in rotation. The overalls. An off-duty staple, this stylish piece can be layered under or over everything from a sheer blouse to a turtleneck sweater. Roll up the pant legs, throw them on over a shirt, layer underneath oversized coat, or pair your romper with knee high boots, and you're ready for just about anything.
5. Denim Shirt Underneath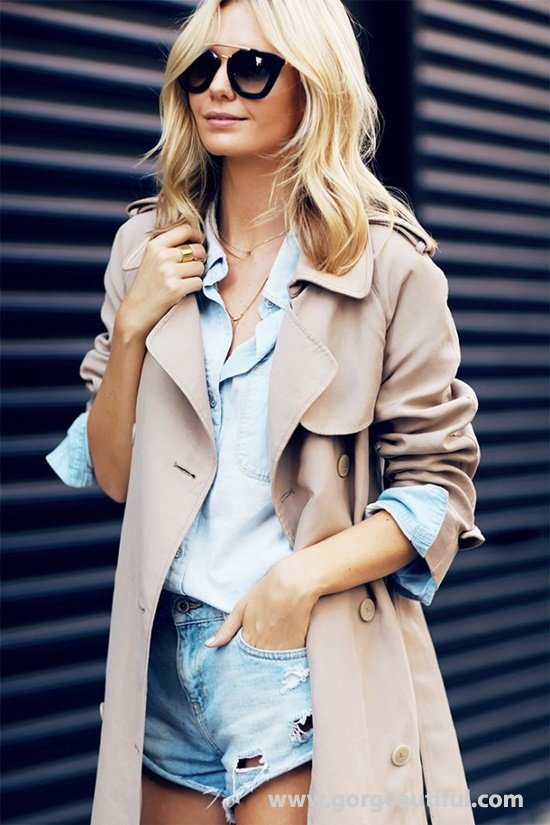 Although cotton denim isn't great at repelling wind or wetness, which are two major concerns in cold weather, the staple is still such a fabulous basic and unlike most items in our closet, it actually can work for all four seasons. During the cooler days, use your chambray as a go-to layering tool and find yourself layering it under all different kinds of sweaters, coats, jackets and cardigans. Or, you can also layer your denim shirt over warm blouse, such as knit tee, turtleneck shirt, or sweater dress. All in all, you really can do so much with a basic denim shirt. Check "How to Wear Denim Shirts in Various Fashionable Looks" for more fashion inspirations.
6. Summer Dress Layering Idea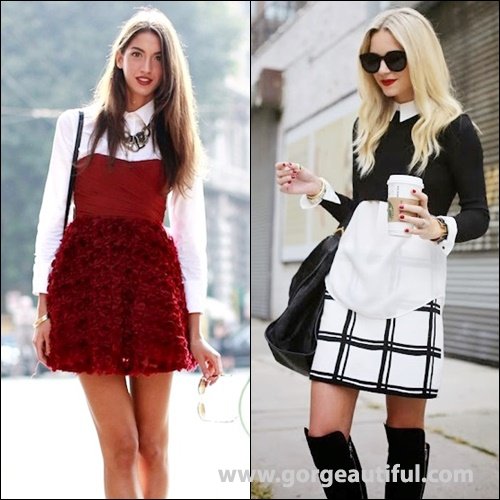 In the interest of not needing an entirely new wardrobe every time the season changes, we're always looking for new, creative ways to cold-days-proof our summer staples. When you see it's freezing cold outside, don't toss your summer dress just yet, but simply layering it with a shirt underneath. From a strapless cocktail dress to a formal office one, wearing a shirt (or a blouse or a tee) underneath your dress not only can make your outfit weather-appropriate, but also can transform your look entirely. You could definitely experiment however, mixing and matching even with three layers of a dress, a long shirt and a cropped top.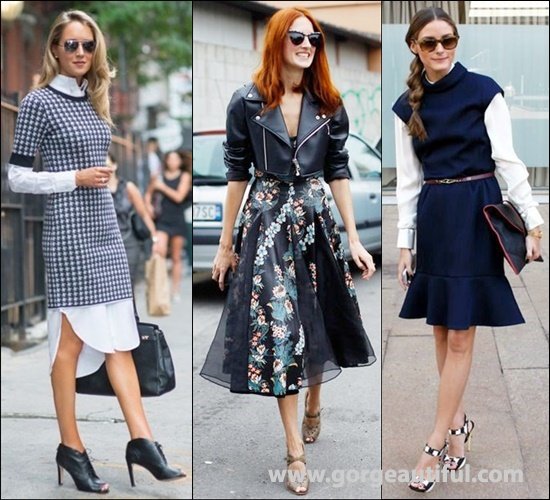 Take your knit dress the office by layering a long collared shirt or turtleneck underneath, and adding more daytime-appropriate shoes. Or you can toss a leather jacket on top of your floral dress for an extra layer to guard against a chilly office, and no one will think twice other than to compliment your amazing dress. It really is that simple.
7. The Three Layers for Spring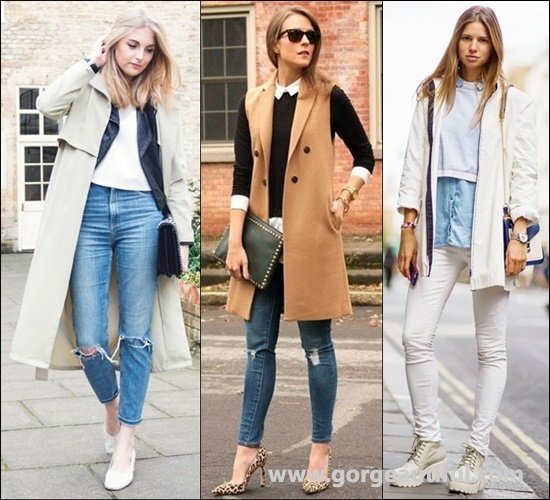 One easy trick to layer in cooler days of spring is mixing-and-matching lightweight layers with a maximum of three separates at one time, but be sure to avoid anything too bulky. This will ensure that you're always prepared no matter how indecisive spring weather may be. A simple shirt underneath a jacket and a coat can be a casual option for this three-layers outfit look, while a button-down shirt and knit shirt make for quite the classic combination when matched-up with stylish long vest. Throw in the versatile denim shirt underneath a sheer cropped top and bomber jacket, and pair the top combo with skinnies and chunky shoes of the season for a winning look.
8. Menswear Inspired Outfit
Take a cue from the boys this season. Experiment with different style and look, the menswear inspired outfit can be one option for the weird transitional period of spring. There are tons of choices of layering pieces out there to create cool, effortless, yet put-together androgynous good look, including tailored blazer suit, sharp-shouldered overcoat, bomber jacket, long waistcoat, leather moto jacket as well as tuxedo jacket. Choose fitted, not oversize, cuts. Think pinstripes, blazers, oxfords, tailored trousers, and brogues. And contrast seriously sharp tailoring with a chic, fun and feminine twist.
Team your crisp, white men's button-downs with a cropped cargo pants and sophisticated layering pieces like a masculine striped-moto jacket and oversized coat in matching look to create a little military chic to the mix. Add a pair of cool ankle booties and small clutch to keep your look as smart yet edgy as possible. To create a cool and comfortable weekend outfit, grab some baggy jeans and your partner's shirt as well as a pair of flattering menswear-inspired oxfords, put your hair up in a messy bun, wear your favorite sunnies and be all set. Jewelry-wise, add a statement necklace and you're done to have a great day.
9. Spring Layer with Off Shoulder Top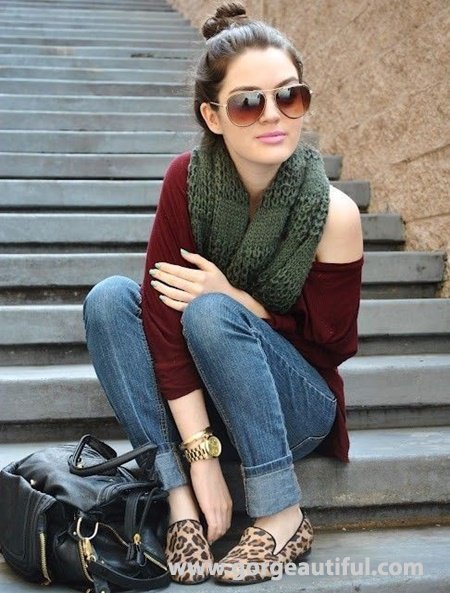 Exactly as the name implies, off the shoulder top can be easily styled effortlessly in the warm summer months but a bit trickier to style in cold weather. With tons of different kinds of tops out there, there are so many ways to incorporate this trend into your wardrobe. And just because these tops have a unique cut around the neckline, doesn't mean you can't layer them with your cold weather staples. For starter, you can opt for long-sleeved tops or those made of thick fabrics, and even though adding a jacket will cover up your shoulders, you will still be able to show the unique neckline of these tops. Or, you can always keep your shoulders warm with a cozy scarf, and you're ready to style on chillier days
10. Layering with Long Vest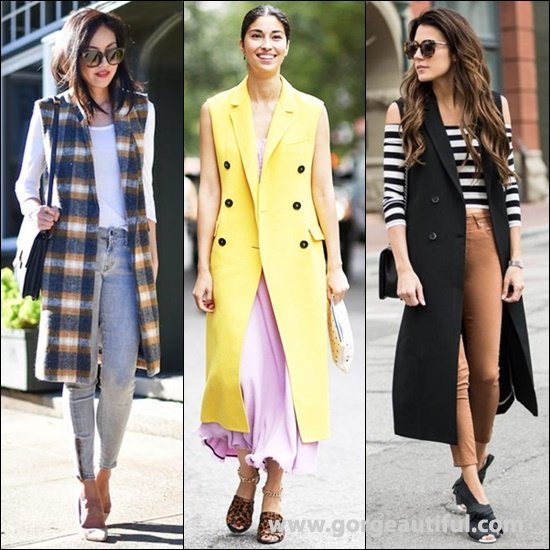 As layering is one of fashion's biggest blessings ever to make a look more eclectic, versatile, as well as to cover up without looking all bundled up, long sleeveless blazers, or vests or waist coats probably is the prime for transitional layering. Always keep your look fresh and light with spring colors and add one of these layering pieces to get you through the indecisive weather and can double as a hot going-out top.
Last but not least, over, under, inside, or out, the key to this transitional season is layers. Discover more on how to pulling off layering pieces "Layering Your Clothes : Easy Fashion Tips, Styles and Ideas" and get ready to reveal your style for spring.