Although this utilitarian work shirt has been a mainstay in the closets of cowboys for years, considered as a simple, even boring staple, several edgy denim shirts are now reinvented in more fashionable way, popping up everywhere in numerous styles, cuts, and price tags. In fact, its simplicity, flexibility, and versatility can indeed add those fabulous urban-styles that denim shirt has now became one of the must-haves in every woman's closet, perfect for all year round from summer to winter, day till night.
As a timeless, more casual fashion staple, the denim shirts are best suited either in sophisticated looks or simply in conservative and modest styles. It is usually used to create casual yet chic outfits or to make structured pieces look more relaxed. The secret is to wear it right, knowing how to combine with appropriate pieces to ensure that chic, stylish look.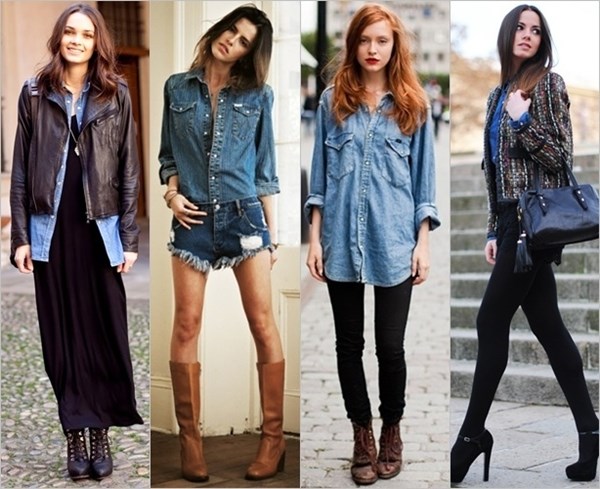 Denim Shirt Street Styles
Generally, street fashion of denim shirt has a visual message that this style doesn't always have to follow trends, but focus more on how to fashion based on each personal taste and body type, yet making it unique, full of personality. The key of its versatility is that denim always goes well with everything, as it brings a concept of postmodernism in the world of fashion, working on a combination of cultures, genres, languages and trends.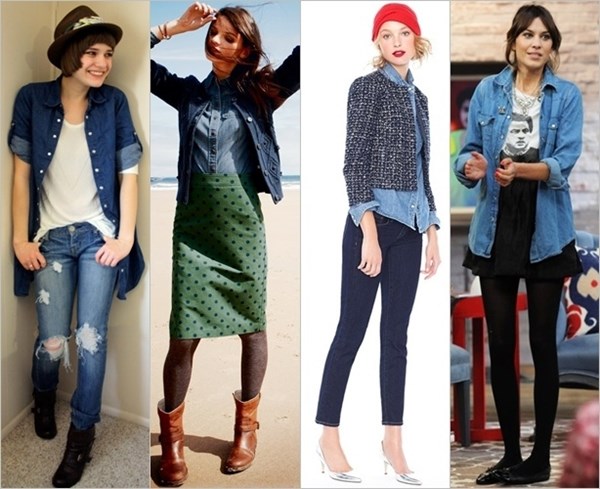 There are no fashion rules for wearing denim shirt. It's more on how you experience various styles to get what you want. And when you experience it a lot, you'll see that some styling tricks can really change the entire outlook, whether adding values or characters to the outfits. For example, knotting the bottom ends of the shirt for a casual sexy look, or folding the sleeves to get that relaxed day-to-day style.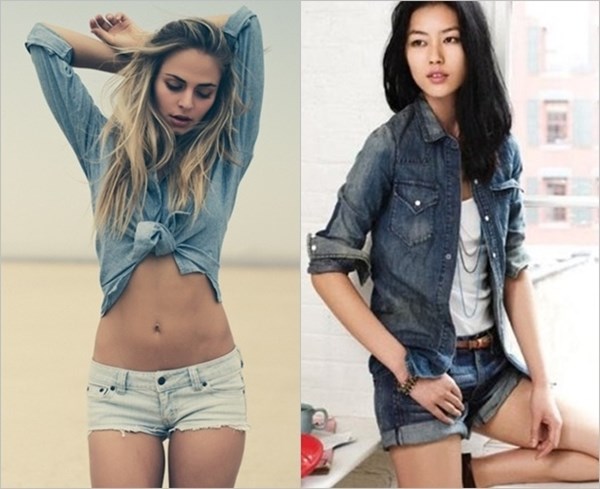 Choosing the right fabric of denim shirts can be tricky. For a flexible wearing, look for a shirt in a sturdy denim fabric with a slightly tailored silhouette. Choose a top that's fitted enough to tuck into a variety of bottoms, but loose enough to roll up the sleeves and knot at the waist. Avoid fabrics that are too thick so that you can wear it beneath other piece, yet still thick enough that you can also wear it as a jacket. Consider a lightweight chambray alternative for the steamy summer months. Check out some denim shirts to invest in.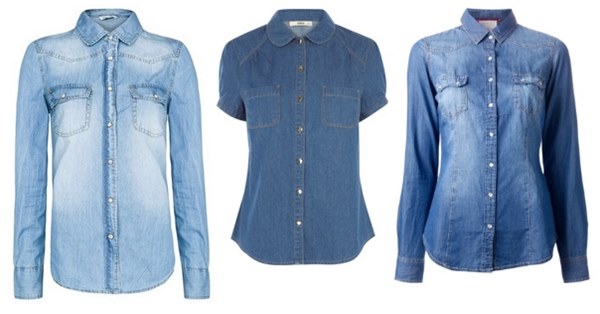 Left to Right : Light Wash Denim Shirt from MANGO – $25, Lizzy Denim Shirt from OASIS – $49, Stella Jean Long Sleeve Shirt from FARFETCH – $120
Ways to Wear a Denim Shirt
Ways on how denim shirt is worn, for example, front open or closed, can definitely bring a total different look. If you wear it front open, it suggests more comfortable and practical style to the wearer, while with a closed-buttoned shirt you create that tidy preppy style, especially if it's buttoned up to the collar.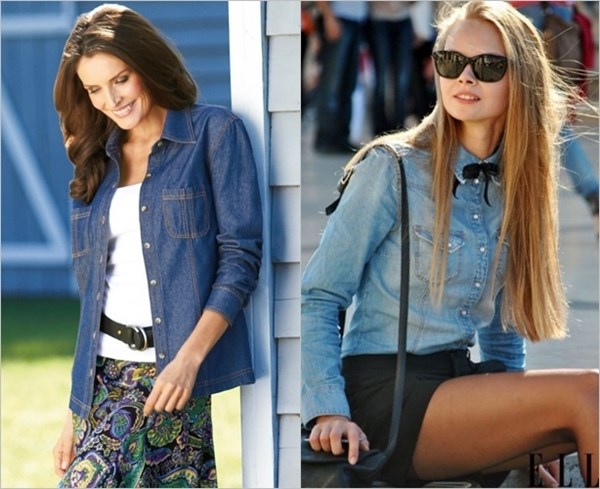 Remember that the ideal way to wear an open-button denim shirt is to wear something beneath your denim shirt like blouse or dress. Make sure it isn't bulky on top. Don't overdress. And think your denim shirt as a jacket. Moreover, denim is considered a neutral in the fashion world, so you can mix and match a variety of colors with it. For an edgier look, wear a sparkly metallic top beneath a light or medium-wash denim shirt and above dark wash jeans.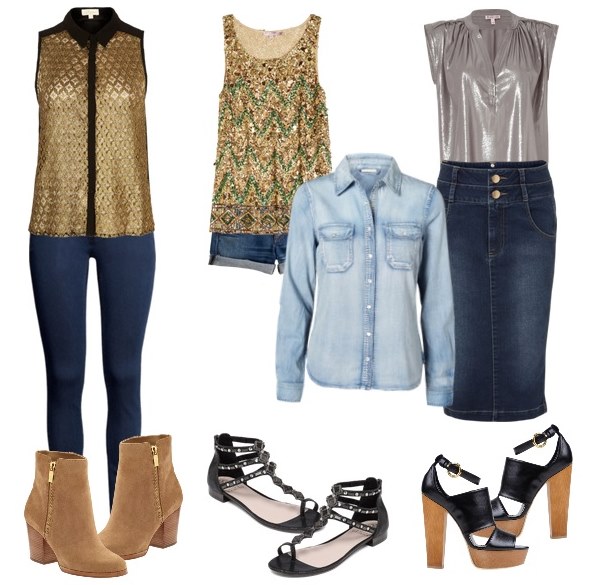 Combine with at least one chic piece so you don't look too casual. On the other hand, noted that wearing a denim piece with the same wash as your denim shirt can make your attire look monotonous, bland, and overly casual. So contrast the colors. Depending on your personal style, most people choose a strong contrast, the stronger the contrast, the better. If your shirt is light blue or white washed denim combine with a dark washed bottom and vice versa. Don't forget to cuff the sleeves for a modern look.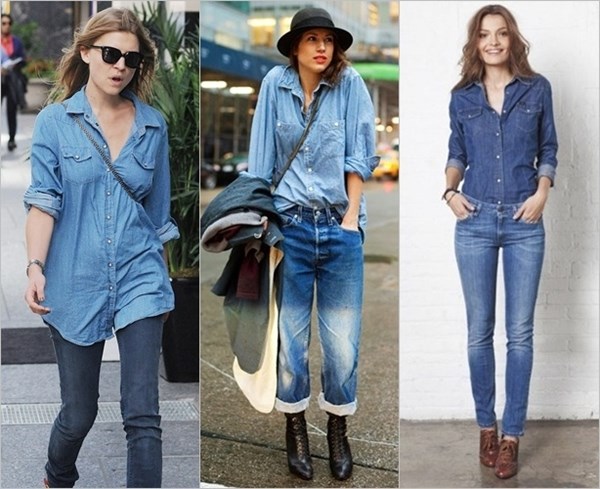 Know the Power of Accessories
One way to enhance the look is to invest in accessories. And when wearing a denim shirt, you can use closed-collars to accessorize the look, or scarves for an open-collar style. Simple metal jewelry, like gold or silver hoop earrings or bangle bracelets, can give your style a chic upgrade, while funky, chunky gems, on the other hand, can give off a more carefree appearance. Or, for a simpler look, wear a belt for marking the waist area. Plus, a scarf can also be a great accessory with denim shirt for winter.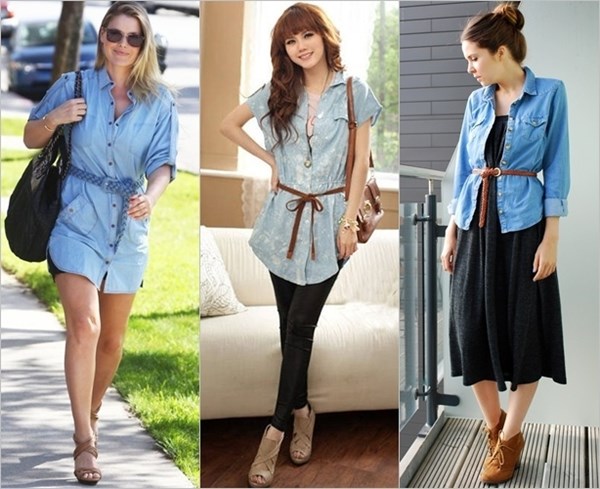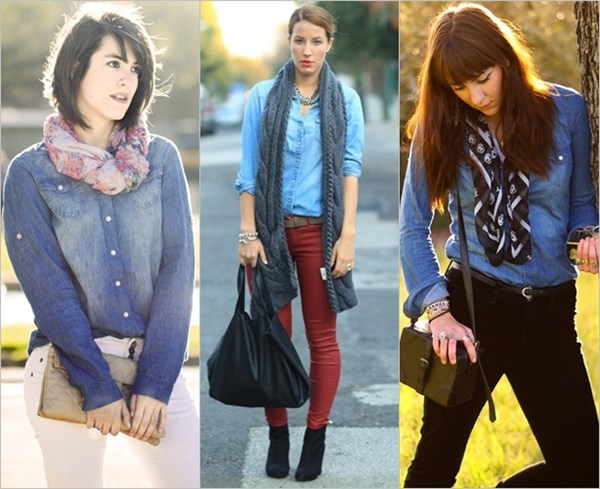 The Seasonal Trends
Denim shirts are definitely one of 'the' items for every season, and there are plenty of styles for wearing it right. It's pretty simple because you can wear a denim shirt practically with everything, just like jeans. Pair your denim shirt with a chic sleeveless shirt, mini dress, skirts, or shorts during the breezy summer days, or match it with thick layers such as knits, coats, cardigans and sweaters for a chilly winter day.