We've seen numerous ways to tie a scarf, and obviously by learning from those techniques, the results are lots of lots styles that we can fashion with just a single scarf. Match your scarf with a different kind of outfits, from casual to formal, from office wear to party dresses, from bohemian chic to rocky chick, or even paired with any kind of clothing in your wardrobe – skirts, dresses, skinnies, or coats. Definitely, a scarf is your best friend to add your simple look into an elegant fashion statement.
In continuing the previous article "Ways to Tie a Scarf in Many Styles for Different Occasions (Part 1)", here are numerous styles you can fashion with a scarf
First of all, scarves for full-figured women obviously have no differences from all scarves for non-plus size women. I'm a person who always believe all body shapes can pull off any kind of clothing whatever they want, as long as they have great taste and style, confidence and comfort in fashion. On the other hand, take it or leave it, there are actually some tips for wearing a scarf if you are a plus size woman.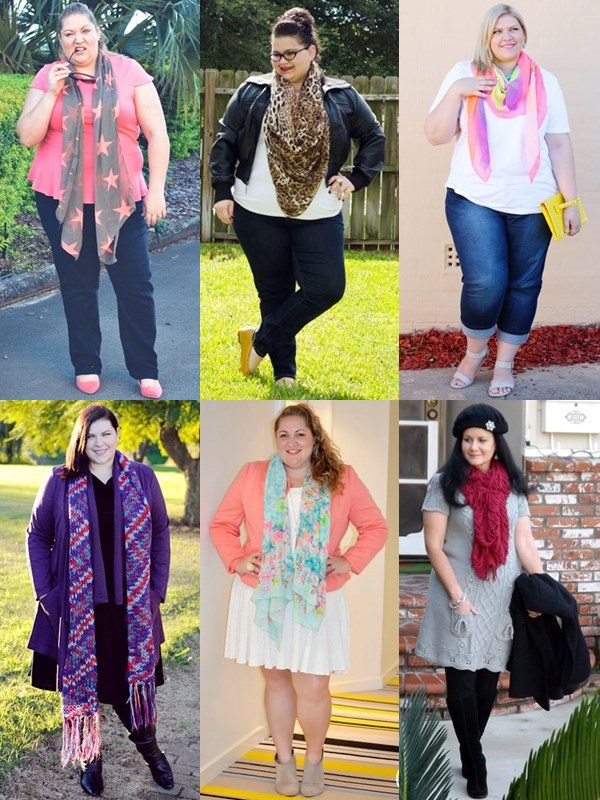 If you are a plus size or specifically a large-busted woman, the best trick to wearing a scarf is to visually create a vertical line. Everyone may notice that a giant, thick, oversized scarf is likely to add bulk and volume to this figure – or, really, any woman – especially if she also has a shorter neck and/or long and voluminous hair. So, stick to something lightweight and thin. The thinner it is, the larger it can be. Here, with a featherweight cashmere pashmina, you may still tie a scarf with a muffler looking styles without creating any bulky looks.
Moreover, bear in mind that some scarf-tying-techniques give a thinning and slimming effect. When a long scarf is worn draped down between your breasts — cascading between your chest, – the fabric actually "cuts" your torso in half and gives you a different texture to break the "canvas". This gives some architecture to your body — anybody — and that makes you look thinner.
Think simple. Wearing a scarf with a simple loose knot with the ends hanging loosely down also works best for full-chested figure. The longer the scarf the better. Or you may also wrap the ends evenly around your neck and throw one end over your shoulder. If all else fails and you want something just extremely simple, just wrap a beautiful scarf around your neck and let the ends hang loose. An advice worth thinking, if your scarf has busy, bold, and large prints then wear it simple, or do it vice versa.
A Scarf For Every Occasion
With so many opportunities for scarf styling ahead, sure you can wear a scarf with practically anything. Wear it with office wear for a charming look in your work days, or pair a scarf with your fabulous evening dress for a more elegant party wear. For summer, add a chic summer statement even more stylish with a scarf, or wear coat and scarf to give you the perfect warmth and a definite showstopper that will last for winters to come. From skinny jeans to various skirts different knots of a scarf have come to throw around your necks.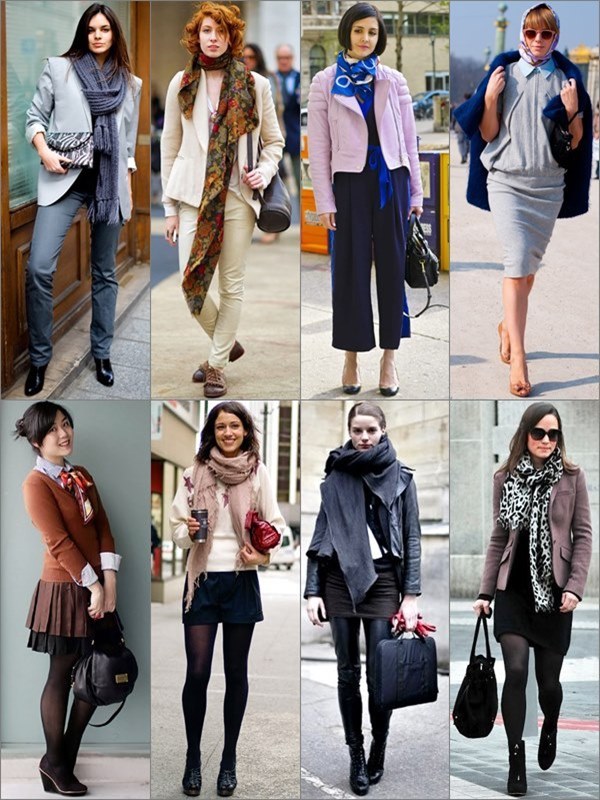 Update your boring, conservative office wear into sophisticated and fashionable attire, yet still looks professional. Tie a scarf with a simple knot and pair it with suit in color combination to give a touch of elegance. Or tie a scarf bow for a cute, preppy appearance, or wear it as a headwear for those classy European styles.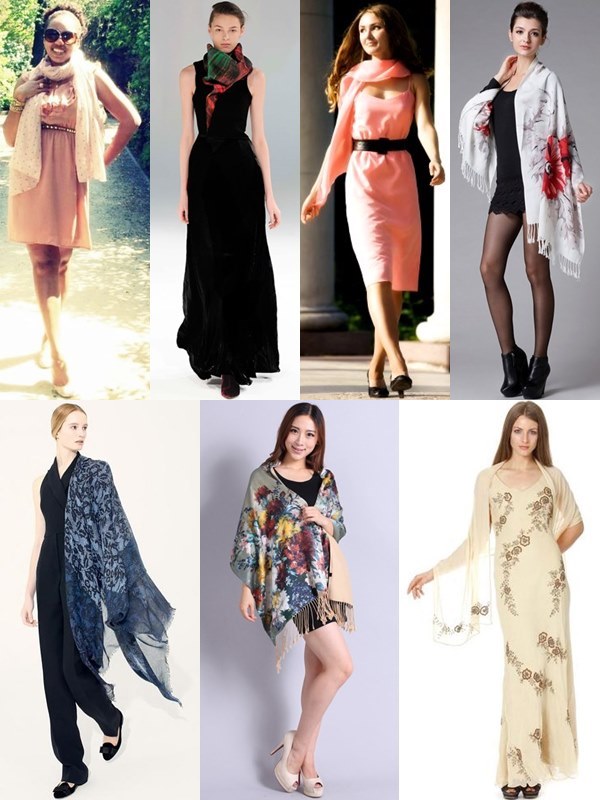 Imagine wearing a beautiful evening shawl or wrap to dinner or a special night out. Either wearing it as a wrap or as a neckwear, compliment your dress with a glamour stylish look of a scarf. From dramatic velvet, soft and warm cashmere, sheer and romantic wrap, crochet shawl, lace or to beautiful pastel shawls, make sure your scarf's colors go nicely with your party dress. For evening affairs, go for scarves with embellishments like beads and sequins. The glitter effect will contribute to the elegance of your outfit.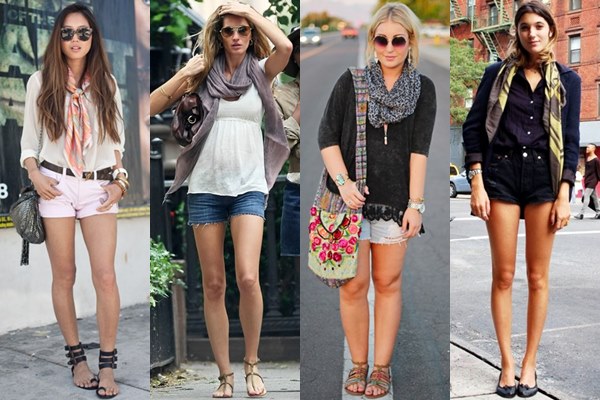 If you think scarves are much more than a winter accessory, then you really have to change this idea away. Instead, you will see that scarf is such a wonderful accessory that can be worn all year round, no matter what the temperatures are. Pair it with your summer outfit including shorts, then you have the perfect look to rock this summer's music festivals or just for hanging out with friends under the bright sunny days. Enjoy the outfit and have fun with your scarf.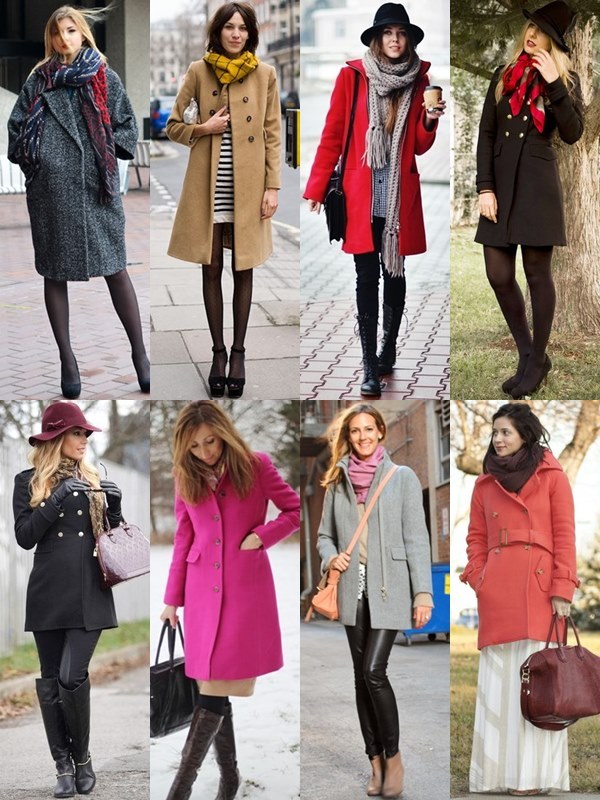 On cold winter days, select a fine wool or cashmere scarf for warmth, and have your scarf worn inside around your neck, or draped to fall in front of the coat. Layer a long scarf inside a coat or jacket and let the ends hang straight down, or you can try many styles of tying technique.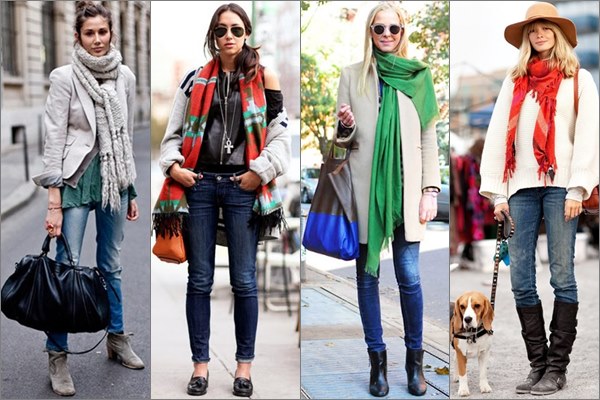 For day to day casual wear, a scarf with skinny jeans and a stylish shirt – it can be a plain shirt with a snug fit, with layer such as blazer or coat, or even with a loose sweatshirt – can be a very alluring look. Just add heels, boots, or pumps and a handbag, and you can be off to an afternoon with your friends.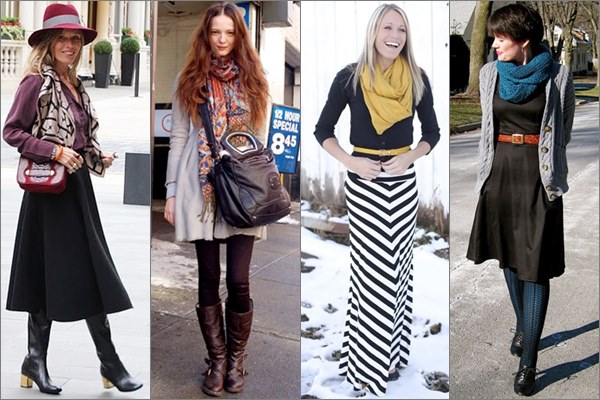 The maxi skirt is certainly not a new trend. So don't forget to style your scarf with this timeless fashion staple, from pencil skirt to fuller skirt to midi skirt. Pair the colors and patterns accordingly, or you can do with color blocking or print mixing. Polished the look with other accessories including belt and hat for adding a finishing touch to the outfit.
A Scarf For Every Style
Not only that you can fashion a scarf for different occasions, as a matter of fact, scarves are so extremely versatile that you can also wear it for every personal style. Do it in bohemian look for those hippies fashion fans, or make your scarf trendy paired with a chic rocky chick styles. Even you can wear your scarf as a striking detail featuring a little pop of color in your outfit. Or, if you are muslim, scarves are surely your number one wardrobe essential to cover your head. Take a look at these various styles you can go with scarves.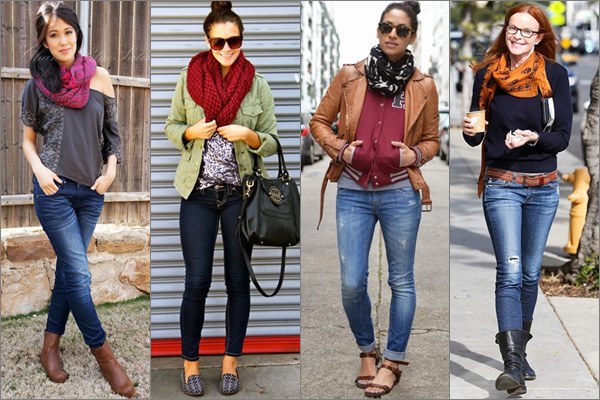 Leave no ends of your scarf draping to fall in front of your outfit – which for some people might be annoying or distracting. Choose the muffler-knotting styles for a simpler, easier, and cleaner look by wrapping your scarf around as a neck-wrap. Take one end of a wide scarf and place it on your shoulder. Take one corner from the other end and make a little knot on one shoulder. Leave the last corner free to give the triangle look or tuck the ends underneath.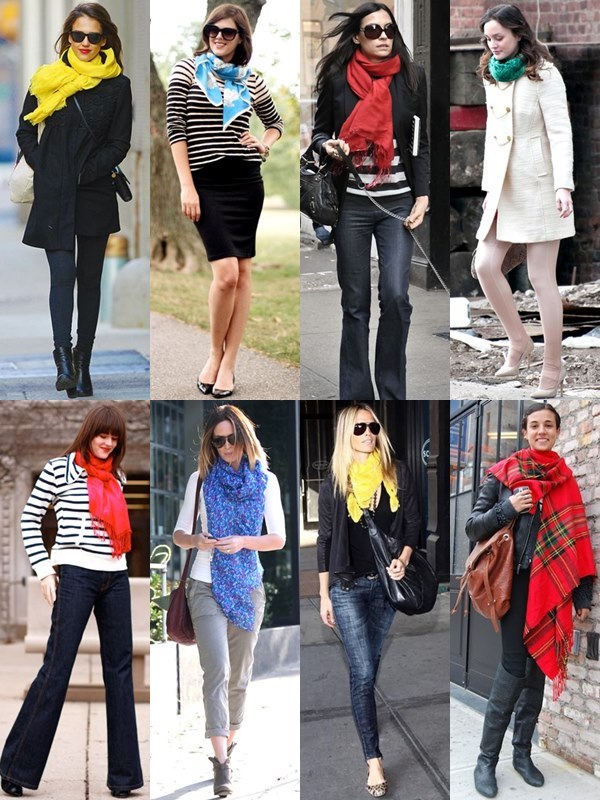 Rock your bright-colored scarf for giving those pop of color effect into your outfit. Opt for outfit in basic shades and strike the neutrals by adding a splash of warmth and color from the scarf. Fabulous and versatile, such scarf is ideal for layering throughout the season, while the spunky color will quickly transform your day, and the day of those who see you.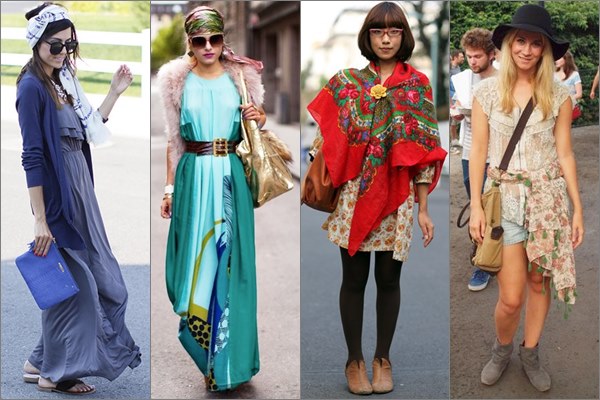 The bohemian is definitely a trend that's easy to wrap your head around with head scarves. Whether you choose a fun print or a solid neutral, these flattering accents give your look boho-inspired flair. Wrap your summery scarf around your forehead for a breezy, cool statement, or push it back headband-style for a polished, fuss-free look. As for other styles, seduce your large vintage-bohemian pashmina as a wrap and add a brooch for cute detail, or even you can wear your lightweight scarf as a belt to compliment that free-spirited movement of boho.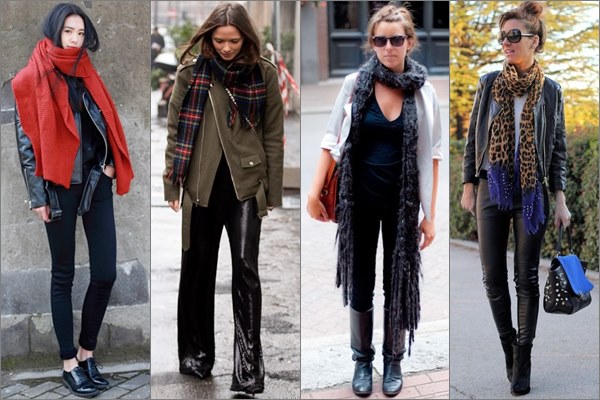 If you fancy looking sexy but rebellious, or want to style in those rock and roll glams with a scarf? Don your scarf the rock chick look. Experiment with chunky scarves, or scarves that have wild, dark rocky shades and prints. A bomber leather jacket and skinnies in dark color is a perfect match with your bright scarf, while dark-shaded leggings and boots give your outfit that extra edge. Pair your skull-printed scarf with gloomy outfit to complete the rocky vibe, or with bright attire for a more girly look. Or you may as well wear a scarf with military jacket to get the rocker look perfectly.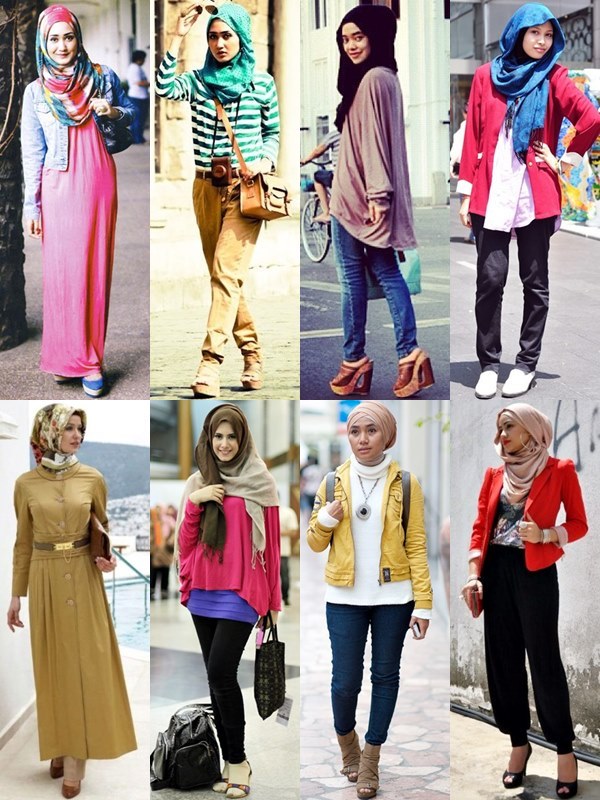 For muslims, scarves or pashminas really are their best friend in fashion to cover their head. A hijab can be worn in so many trendy or traditional ways. And the styles are amazingly gorgeous. Scarves are a great way to add character, color and coziness to their look. Even I notice their fashions are truly unique, slightly bohemian, especially in those bright, full-printed scarves.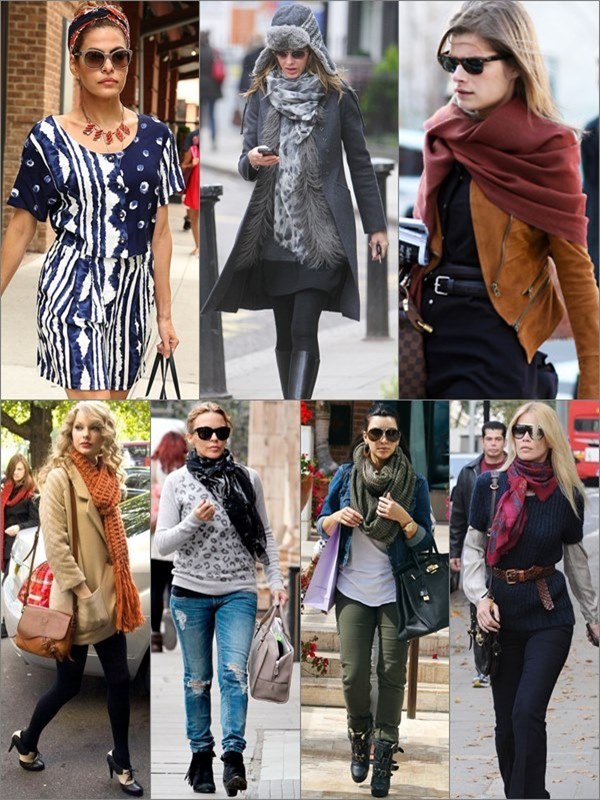 Last but not least, take a look at these great scarf street styles fashioned by celebrities for more and more inspirations to try.