A scarf or shawl is definitely one main essential item in your closet. Knotted, looped, tied, or wrapped, scarves are so versatile and beautiful that easily worn many different ways, suits to any style, works well in any season, even for any occasion. Sure, you could just wrap it around your neck, but there's a zillion ways to tie one, ranging from obvious to elaborate — each changing up your outfit without too much effort. Learn some practical ways and styles of wearing a scarf and where to shop this season.
Designed in plenty of textures, colors, and patterns, as well as made of various fabrics, we can deepen their allure to up-trend our look by the way we wear them, and by knowing the best styles fit to our needs. Additionally, most of us know that a single scarf can add glamour and elegance to any outfit, enhancing the style quotient of the wearer, from the simple knot of the business woman to the charm of a starlet, and in just seconds, one scarf can easily transform a professional woman into a sexy lady.
Many techniques of wearing scarf or shawl are featured everywhere, and here I share a great, cute video by Wendylookbook, who has done great efforts in her blog, making her one of a style icons with lots of fashion ideas. Just check out her site and enjoy her fashion style. Plus, also take a look at more scarf tying ideas easy to follow.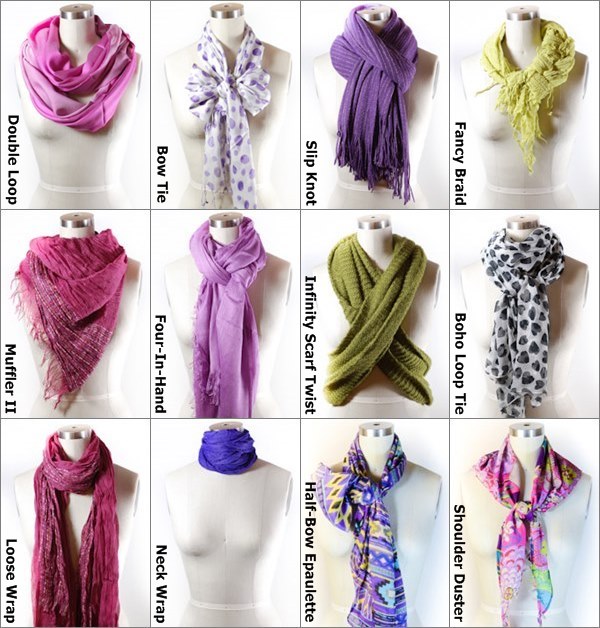 Draping, folding, tossing, twisting, or circling a scarf or shawl around neck are some techniques given to make tremendous difference to your overall look from casual to formal, from functional to fabulous. This versatile fashion item is not used only for regular neckwear, but a scarf can also be worn at other part of your body with other variant styles. Besides neckwear, discover a lot of cool ways you can use a scarf.
As Headband: Start by folding the scarf as thin as you want the head band to be width-wise, and place the middle of the scarf on top of your head. Tie the ends at the back of your nape below the hair once or twice and adjust at crown. Wear some modern casual outfit to go along with the look.
As Bandana: Protect your hair from sun and dust while going out by donning something stylish and ethnic. Fold a square scarf diagonally until one end meets the other – making a large triangle – then place the middle of the scarf on top of your head. Bring the middle of the longest side to the middle of the forehead so that the pointed end is towards the back of the head. Hold. Tie the ends at the back of your nape below the hair in a single or double knot. Adjust on forehead so that the scarf lies where you want it.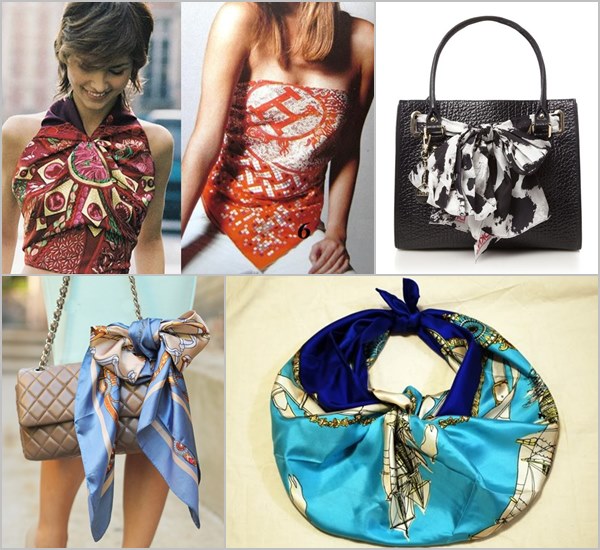 As Top: Create your own bandeau or halter top wrapping your torso by folding a square scarf into a large triangle. To make a bandeau top, place the middle in front and tie both ends at the back, while for the halter top, tie the two ends of the triangle around your neck, then tie the tails around your waist.
As Purse Tie: When you think your outfit is boring and too "ordinary", spice it up with a touch of bright scarf tied around your purse. Just for a change add an extra look today!
As Hobo Bag: Or transform your square scarf into a unique Hobo Bag simply by tying knots on each corner until you have a large triangle, then tying two other knots together to form straps and a pouch.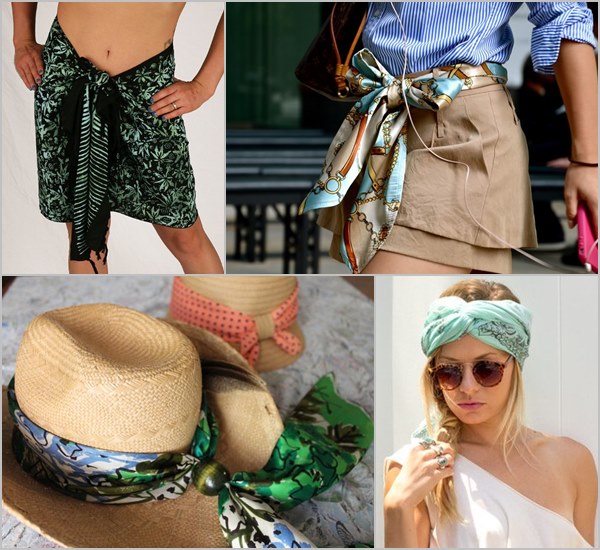 As Skirt: Fold your scarf into a triangle and wrap it around your waist or hips. Tie the two ends to secure it, making it like a sarong.
As Belt: Upgrade your stylish look with a chic scarf belt by tying a long, thin scarf around your waist. Tuck it into were you belt nearly goes, then make a cute bow/ribbon knot for a more girly look, and place the knot at one side of your body.
All in all, start taking your square scarf, and wear it as a halter or bandeau top on a hot breathless day. Turn it into a slimming sarong and stroll to the beach, or toss a scarf around your waist for the perfect belt, or even jazz up your hat with a new hat band, or wear the scarf as a headband. All are yours! Just free yourself and be stylish.
Learn many styles of scarf different from its colors, prints, and fabrics "Ways to Tie a Scarf in Many Styles for Different Occasions (Part 1)"