It's never been easy to put together cute outfits during the dog days of summer. Between the heat and the desire to do a whole lot of nothing, fashion can often take a back seat from June to August. So, instead of just trying to figure out how to not sweat through your clothes and justify flip-flops, start looking through tons of sites and blogs filled with inspiring street style fashions. Check out these outfit ideas to copy now, making everything possible to look stylish and be comfortable during the summer
In continuing previous article "Ten Fabulous Summer Outfit Ideas Street Style Fashion (Part 1)" Let's see more and more ideas of fantastic wardrobe to choose for every summer days. Keep in mind that some of these looks aren't groundbreaking, but they're extremely thoughtful, cool examples of how to put pieces together to create outfits that are stylish by using things you might already have.
MONOCHROMATIC PINK CANDY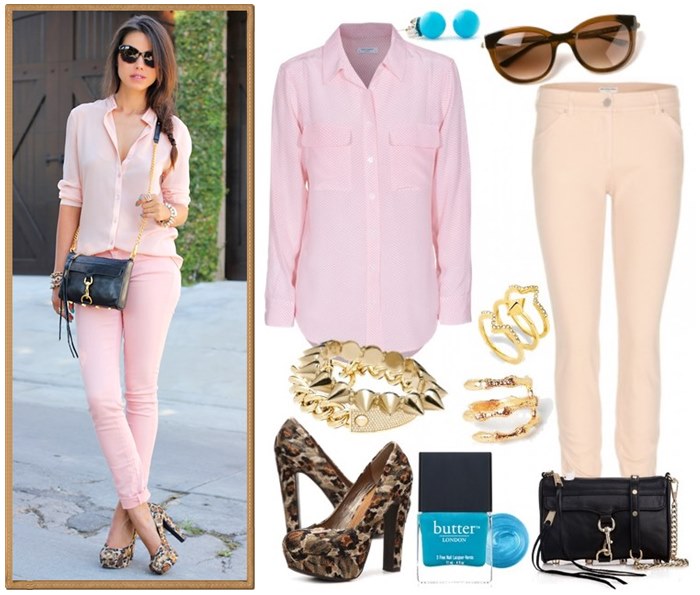 The best thing about the pastel trend is how you can pick your most favorite shade and wear it with whatever silhouette flatters you. A monochromatic soft pastel hue can cheer your days up in every season including spring and summer, or even fall and winter. Looking gorgeous and very summer-y, the statements are super easy to follow whether you want to go head to toe in solid pastel or give a little touch of prints like how Annabelle did with her sparkling animal print pumps.
BEIGE CREAM AND GOLD COLOR GRADIENT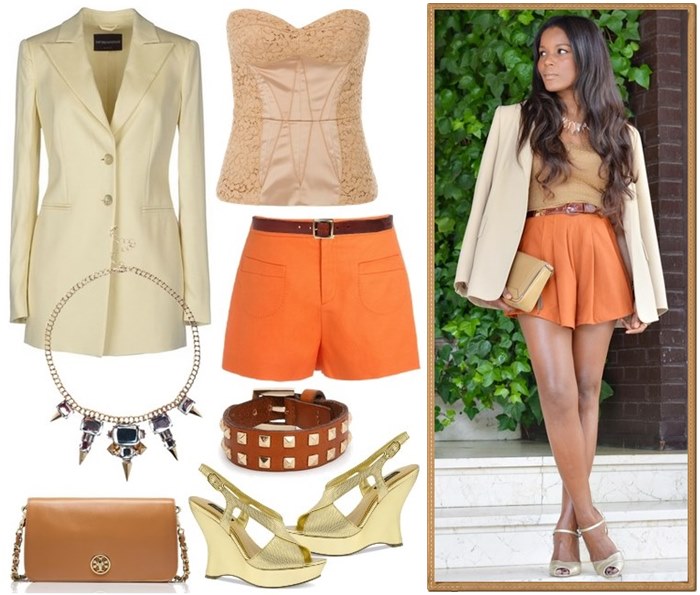 Silvia did an amazing job with her outfit here, which is perfect for some cocktail or formal daytime events. Or depending on your working environment, you may as well choose this attire for a Friday office wear. The look is gorgeous especially to Silvia's tanned skin as it highlights her skin tone really well. The orange shorts are high-waisted and flared perfect for those with pear body shape or bottom heavy, while the gradient palette of brown, beige, orange, and gold is also very charming, looking pretty basic yet so refreshing for every summer days. If the days are too hot for a blazer, you can skip the outerwear and leave your shorts matched with a fitted top like tube top, bustier, cami, or sleeveless blouse. Then finish the look with a chic statement necklace
CLASSY CHIC CROP TOP WITH PENCIL SKIRT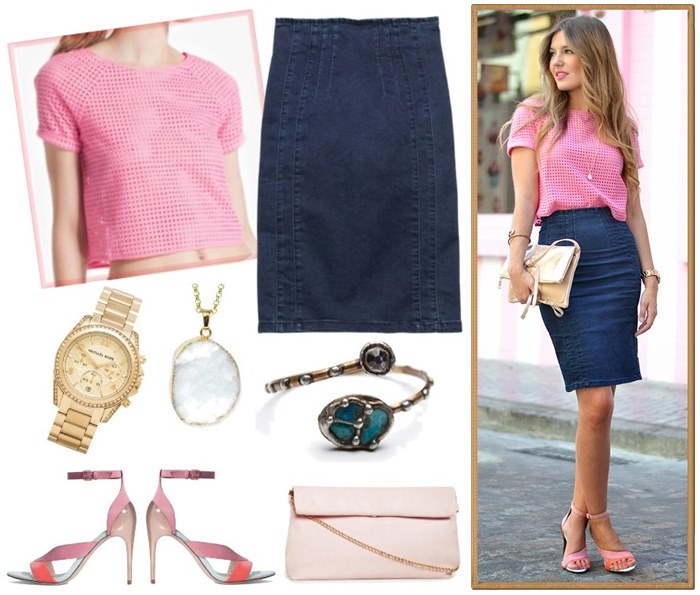 Another feminine look for a breezy summer day, which is so simple yet it looks fabulous with a great color combination and some interesting pieces. I personally love the crop top, which is a very gorgeous top with sweet pink color, and Helena said it really has a very cool fabric perfect for the day. You don't need to think much to create this combo. It basically consists only a few of versatile pieces you can find in your closet. Or just take a challenge to venture out to find your most favorite staples, the most unique and interesting ones – including colors, details, or patterns, and make a good balanced mix-and-match one to another. Here in the picture, Helena opted for a pink crop top, midi denim skirt, basic shiny necklace, handmade bracelet, handbag in a golden pink tone, and a pair of colorful strappy heels in pink, coral red and light blue. Now, you can do your own! It's totally easy.
BLUE AND WHITE BOHEMIAN ETHNIC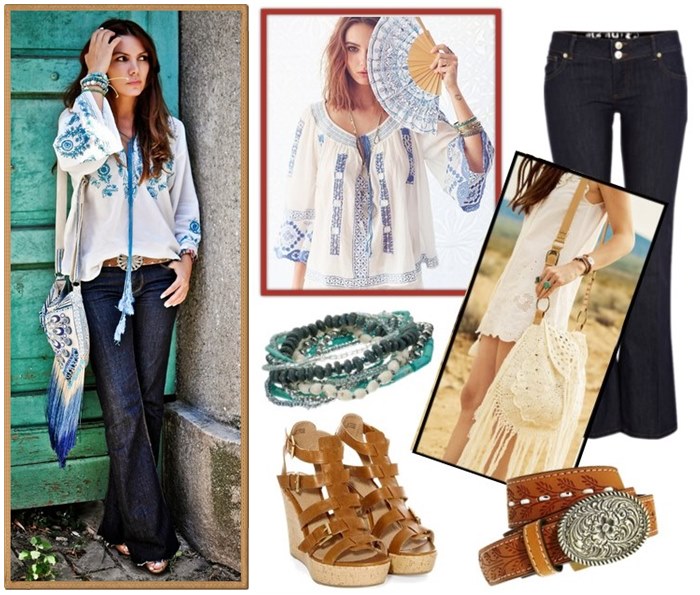 Taking inspiration from the bohemian look can be one of the most favorite summer outfits to follow. With the right mix, you can achieve a chic bohemian style and look stunning without evoking any signs of sloppy hippie vibe. Take a look how gorgeous Simona put her staples one to another to create a perfect bohemian chic. One thing for sure about styling bohemian way is that you need to opt for some unique, one-of-a-kind pieces among the basics. I can't find Simona's peasant blouse and fringed, beaded bag – because most items are limited stock – so I chose other ideas similar to what Simona worn. Besides, if you want to do bohemian, always try to be different and don't follow other style with exactly the same items.
FLORAL ROCKY CHIC MAXI DRESS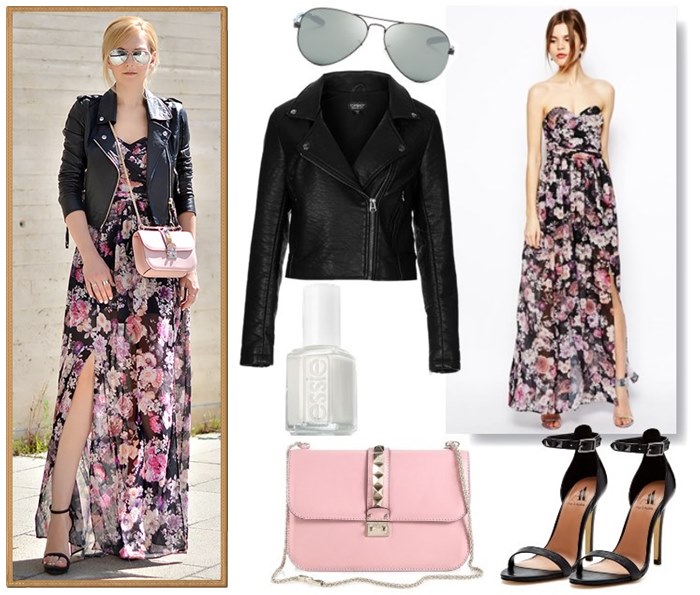 A little bit of rock n roll, mixed with bohemian flower, mixed with the edgy of urban look, it looks like Henar is all set for summer as she combined her stunning outfit at perfect balance. She shows a gorgeous mixed look that is mannish yet very girly by using a touch of floral prints and pastel. Her black moto jacket matched really well with the mirrored aviator giving a look of a rock chick, while her flowy maxi dress in flower print screams the season brightness along with those feminine strappy heels and dusty rose handbag. Pretty!!!
Here are other outfit set ideas through this link for different occasions, seasons, and body shapes