Whether you're spring breaking or have your eye on the summer time on the beach, now is the perfect time to get your swimsuit staple in check. From wild patterns to figure-flattering cuts, from classic and elegant to unconventional designs, the swimwear lines for spring summer 2015 bright have been offered with glory. In the women's arsenal summer swimsuits 2015 there were many interesting techniques to broadcast their own mood. Choose the ones you like and start to prepare now
In continuing previous article "Swimwear Spring Summer 2015 Trends – from Classic to Fantastic (Part 1)", while one pieces continue to evolve and along with classic black-and-white elements that were very consistent choices amongst the collections, the eclectic selection of silhouettes will ensure there will be something for every taste. Check out the following for another few great trends to keep in mind when you start shopping for a new swimsuit.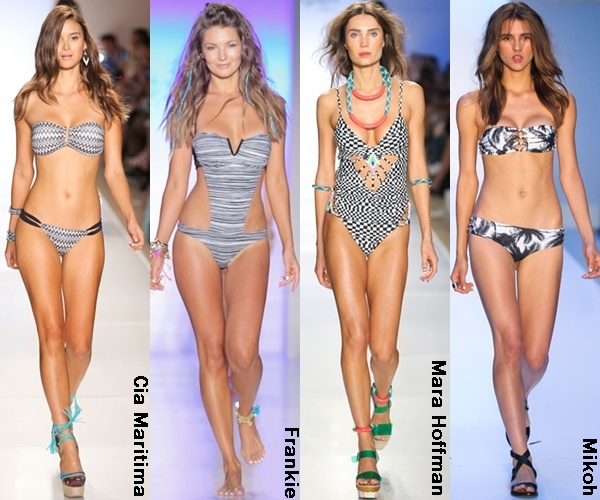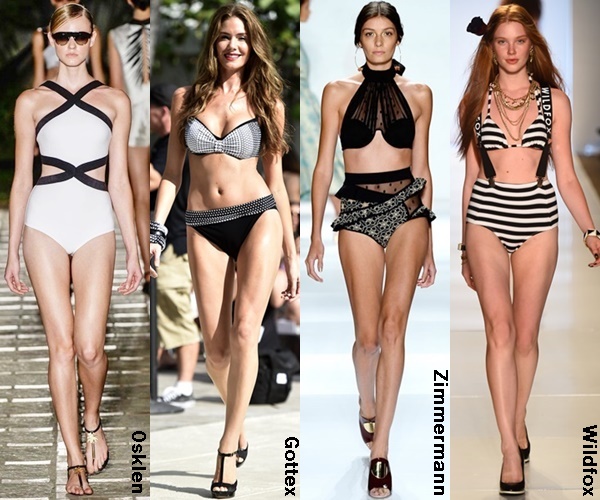 8. Timeless Black and White Swimwear
Forever classic and versatile, minimalist monochromatic black-and-white swimwear is an old timer and forever excising in the fashion, and has been one of the most popular over the last several years. Whether it's printed – from stripes, ginghams, and zigzags to polka dots and florals – or in solid black and white, or you could even combine a monochrome separate with a printed one, all in all, a vast range of monochrome designs are among the best and the most trustworthy spring summer 2015 swimwear trends.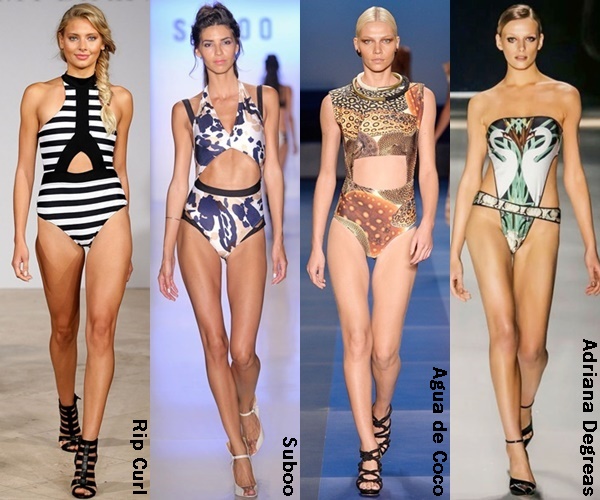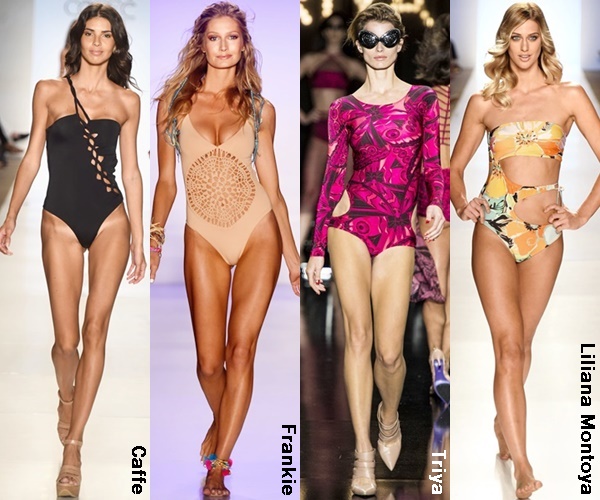 9. Caged and Cut Out Swimsuit
Caged or cut-out one piece are one of the hottest trends that we've been talking about for months now While many designers played with a fast range of materials, designs, colors and patterns to make their swimwear creations unique and outstanding, many others went for creative slits and cut-outs – in front, on the neckline, or on the side of the creation – boosting the drama and seductiveness of its designs. This year, the trend isn't limited only for one piece swimsuits but a range of cut-out bikinis are also delivered to create a sweet and alluring look that is fashionable yet perfect for any activity out in the sun.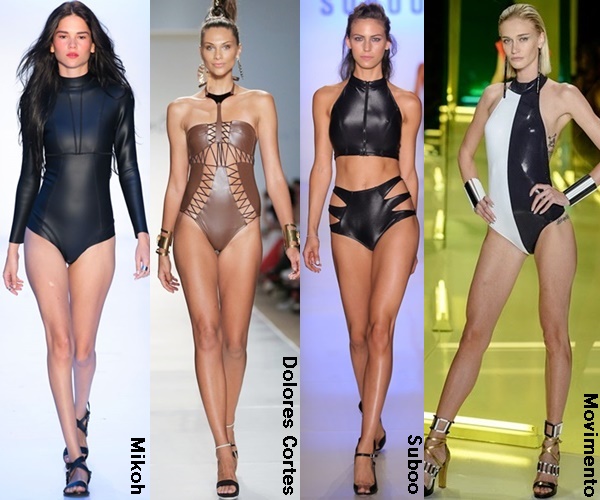 10. Fierce Leather Swimwear
There is nothing sleeker and edgier than one of a kind leather-like swimwear for your summer beach loving. Looking so unique and unconventional, whether it comes in classic or more contemporary designs, leather swimwear is just the thing you need for the perfect good-girl-gone-bad look. And with a dramatic cut-outs take on the creation, it adds just the right amount of sass, ready to make jaws drop and hearts beat faster. Fierce!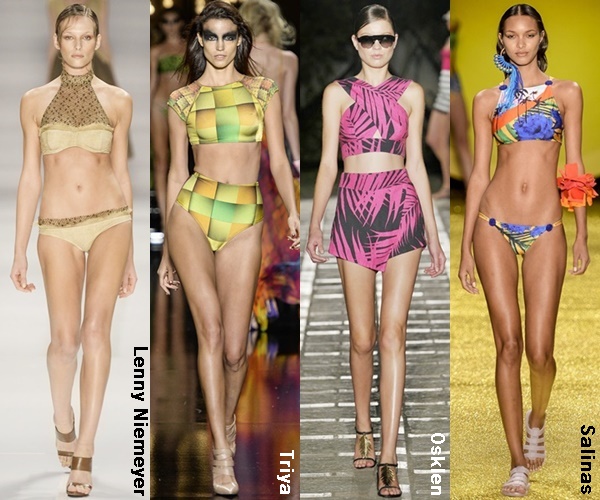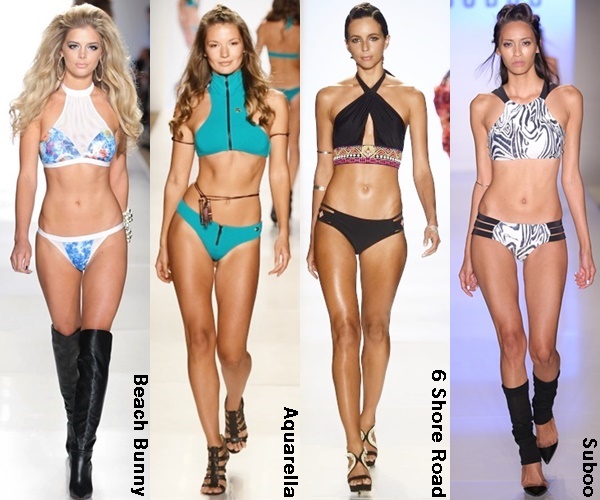 11. Crop Top Bikini Styles
Following the athletic-inspired swimwear trend for this 2015 season, a new interesting trend also comes up with a crop top bikini style – pretty much like a bralette top – that is the go-to option for the girl who seeks a trendy top as well as perfect support and comfort she would expect from a sporty-style bra. Such pieces look ultimately cute, sweet and innocent that is fashionable yet perfect for any activity out in the sun.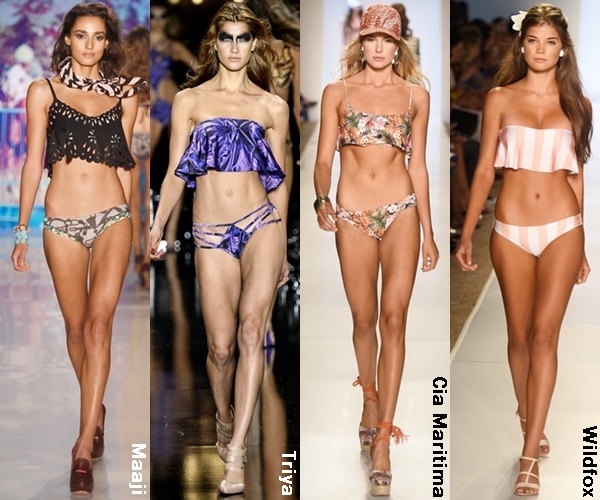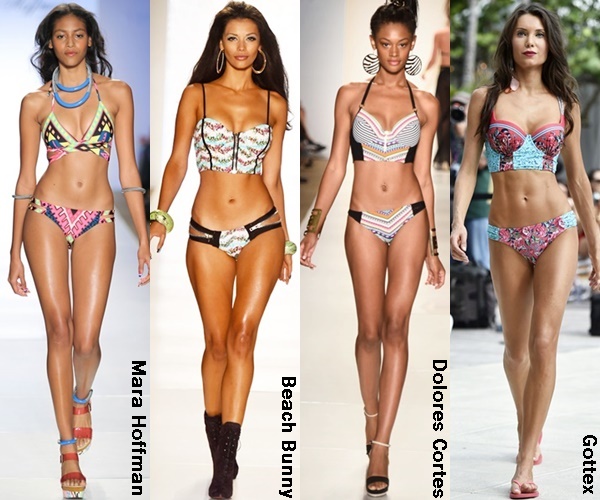 12. Long-line and Flounce Bikini Tops
Adding a bit of girly vibe, cute long-line and fluttering flounce bikini tops are packed for the new season with lots of innocence and cuteness. Whether it comes with cut-outs or other details, both shapes offer an amazing benefit of covering up a little more of the rib drift, resulting in an elongated torso. These two bikini forms also look and feel both maximum comfortable and unique also bearing slight motifs of retro fashion.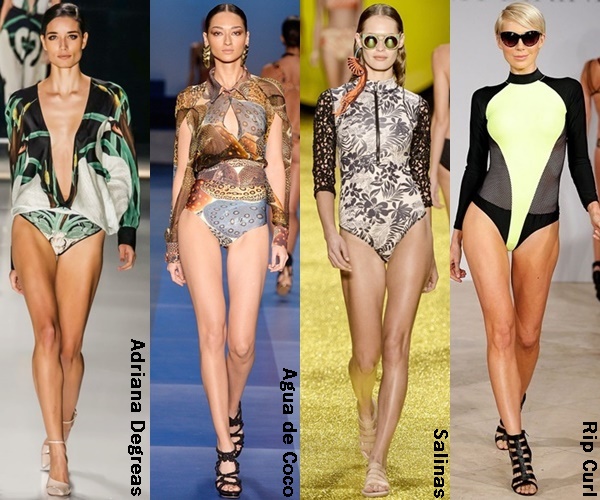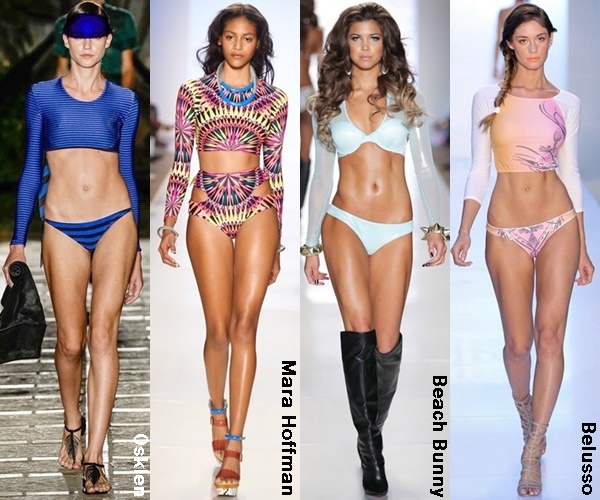 13. Long-Sleeved Swimwear
Available both as one-pieces and stylish separates, whether you want to go with a sporty chic surfer staple, flirty sheer cropped top or brightly printed one for a more dramatic appearance, or even if you opt for an absolutely dressy and sophisticated statement featuring chiffon motifs, a range of long-sleeved swimwear comes as innovation and totally exclusive. These styles are just so retro that combined with the chic modern flair, perfectly dedicated for those who choose an ultimate swimwear style piece when glamorously lounging at the pool.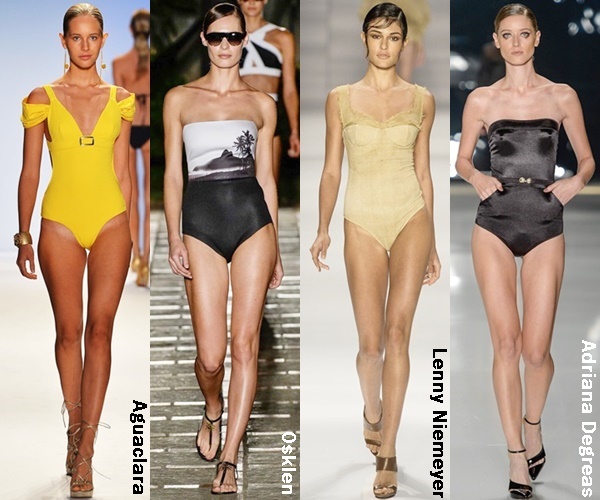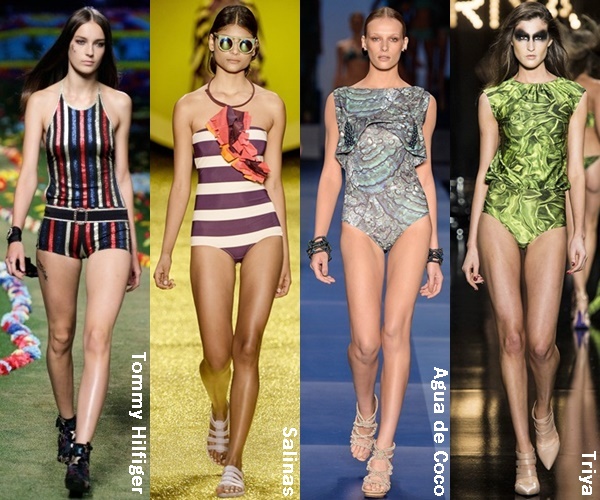 14. Classic One-Piece Swimsuit
A Simple, traditional design of one-piece swimwear doesn't have to be boring to make you look stunning among the crowd. In fact, this option is among the best and the most trustworthy Spring Summer 2015 swimwear trends, if you can pick a one-piece with sleek and classy style or those that come in natural, sophisticated print. Forget about complicated details, dramatic colorful options, and vibrant prints – cut-outs, ruffles, fringes, complex patterns, etc. Just go for minimalist yet stylish option and get ready to turn some heads.
Drawing heavily from inspirations in nature and art, glams and luxury, as well as contemporary and modern cuts, swimwear designers presented the big variety of options available for next fun swimwear season. So update your beach drawer and get ready to make waves in style this summer!