Inspired by the colorful striking looks of the 80s, vibrant-hued mirrored sunglasses have been one of fashion's biggest style trends, spotted on style mavens worldwide. With eye-catching reflecting lenses, these sunnies are the easiest way to add a pop of color with a bit of a futuristic vibe, definitely make a strong statement and offer a great way to incorporate color to your look. If you're clueless as to how you can wear the mirrored sunglasses, here are some fabulous looks you can steal for inspiration.
We love bright sunglasses as the weather warms up, and these edgy lenses are surprisingly versatile featuring classic style that grounds the otherwise crazy colors of the lenses. From monochromatic to oil-slick effects, varieties of mirrored sunglasses spread out offering sizzling-hot look of classic frames including aviators, wayfarer, cat eye and round glasses, mixed with materials and designs that are completely modern and hip.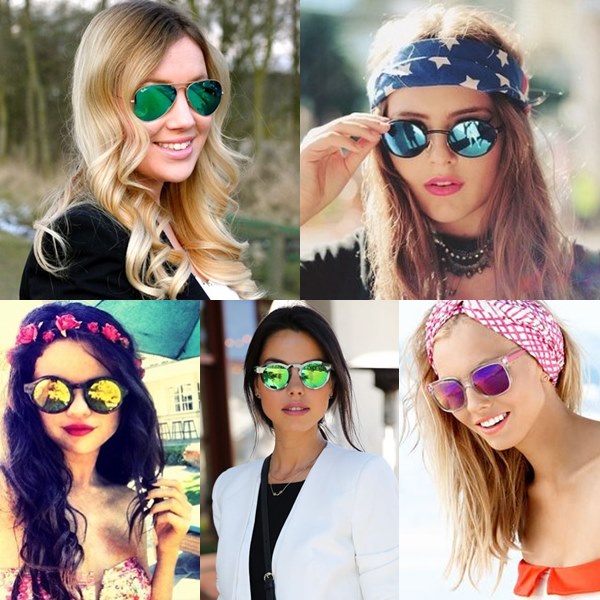 Being incredibly versatile for many occasions, mirrored sunnies are fabulous to match with almost every outfit for your day-to-day wearing. If you are afraid with the vibrancy brought by these, the key to easily wearing the mirrored sunglasses is to:
a. Match the color of the frame to your necklace or scarf; or
b. Match the color of the mirrored lens with your overall outfit color scheme; or
c. Wear the mirrored sunglasses with neutral outfits like black, white, grey or denim.
d. Make sure you opt for sunnies that don't look you just pulled them out of a garage sale box; and
e. Make sure the rest of your outfit is well put-together;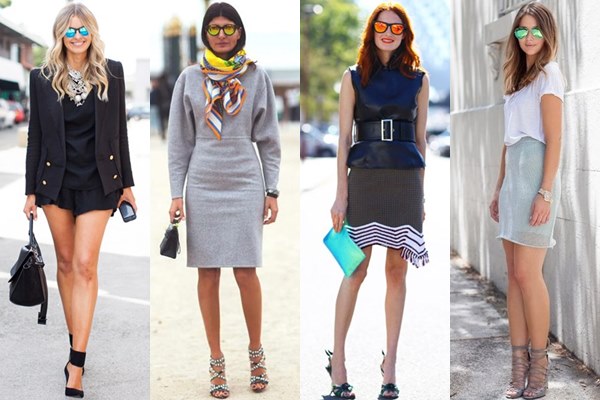 Generally, since the style selection comes through in the choice of frame design and the color of your mirrored sunglasses lenses, if you want to stay subtle with your look, choose pieces with frame best suited to your personal style. And opt for glasses within your wardrobe to pick up the color elements in the lenses, or select a more basic palette and let your frames do all the talking.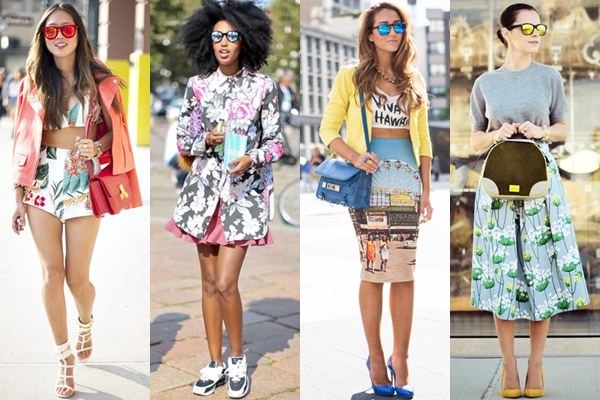 If you want to go super striking and bold, don't be afraid to mix patterns, textures or color pops when throwing on a pair of mirrored lenses as they provide more dimension to your look. Do print and texture mixing correctly so that you can achieve that elegant, chic look. Check out article "How to Mix n Match Prints and Textures in Outfits" for more styling tips and ideas
Last but not least, here are the four most favorite frames with mirrored lens including Wayfarer, Round Shapes, Cat Eye, and Aviator. Take a look at some style ideas best paired with these sunnies, and noted that all frames evoke the same classic-meets-edgy styles so that you can pull off whatever frames you love to wear with different outfits.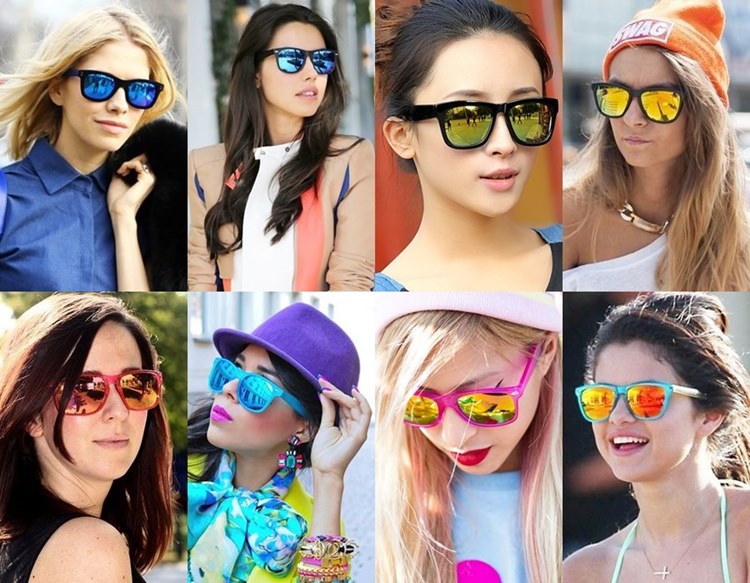 Wayfarer: The style is all about bright and flashy color version of the timeless classic wayfarer. Whether you want to go basic with black frames and cool vibrant reflective color lenses, or try something dazzling with colored frames contrasting or matching with the lenses for a little vibe of colorblock, you definitely can't go wrong with a classic wayfarer.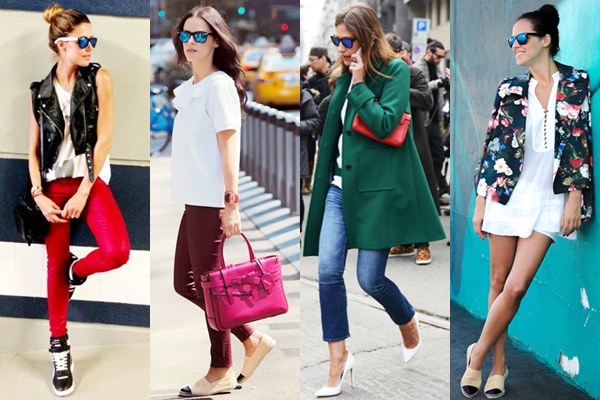 The basic frames of these glasses offer versatility easy to pair with different attire's look for many different occasions. Plus, this is also a go-to for every face shape and size. From rocky-chic with leather vest and skinnies to floral girly ensemble to casual wearing to formal outfits with coats and heels, you can do all the look with exactly the same mirror wayfarer for adding a little pop of comic.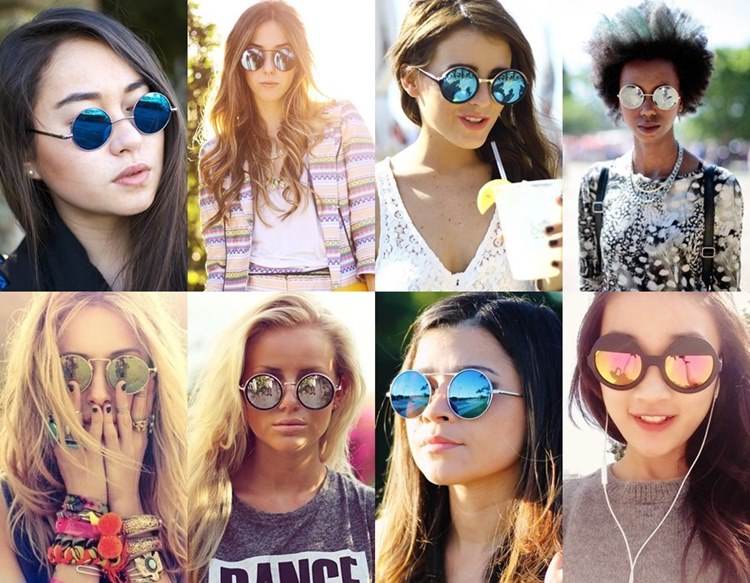 Round Shapes: Evoking the look of John Lennon-esque with his iconic round glasses, wearing the shape of these sunnies can be super chic creating such a fun, free-spirited yet classy appearance that sometimes can also appears a bit bohemian. While the lenses are always round, the frames can be small or large, skinny or thick, solid or clear, matte or shiny, and metal or plastic.Just do the fun !!
Just like other classic-inspired frames featured in this article, mirrored round sunglasses are also easy to pair with many different outfits – even outfits that are relatively conservative and ladylike – creating an extra modern and cool style. Throw on a pair of these frames to boost that youthful, super cute style, whether you opt for super cute small frames or go all-out for bug-eye styles, you're sure to add a sixties kick to all your stylish daytime looks.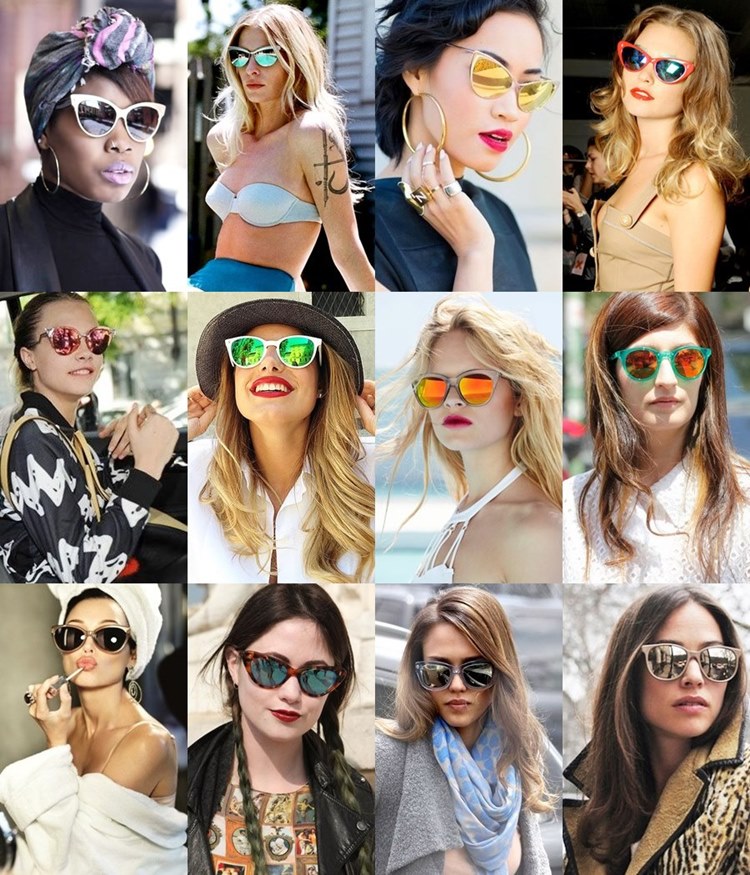 Cat Eye: While wayfarer suggests basic, timeless shape for a classier, simpler look, and round frames provide ultra-cute, chic styles with a little boho touch, the cat eye sunglasses, on the other hand, add a feminine touch of glam and vintage to your look, rooted from the late 50s to early 60s fashion. Categorized by upswept angles and retro frames, these sunnies add instant glamour to your ensemble making the look even more feminine yet futuristic.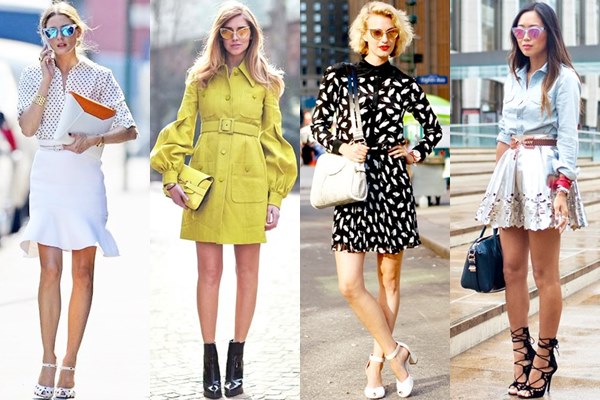 Opt for an elegant sleek style and create that subtle juxtaposition by combining these sunnies with something opposite from the eyewear's vintage design. Or you can take a bolder approach by wearing striking mirror cat eye sunglasses with an outfit that has clean, modern lines and colors, or go classier with feminine outfits to boost the retro vibe even more.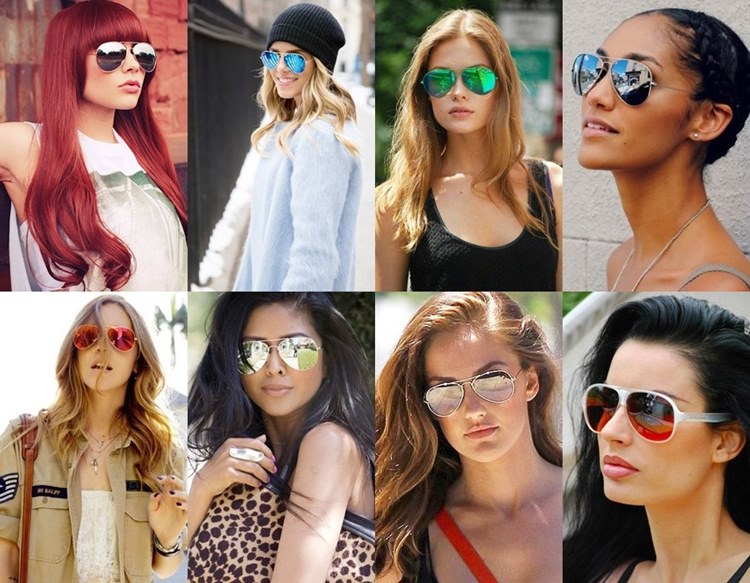 Aviator: Unlike cat eyes that scream such feminine, glamorous vibe with its design, aviator sunglasses suggest sportier, boyish styles, resembling the look of glasses worn by military or pilot. Though aviator sunglasses are originally worn by men, they also fit for women creating girl-power statement between boyish-meets-girlish.
Usually, classic aviators have a thin, metal frame and reflective or smoked lenses, although nowadays, aviators are spreading in various frames materials and sizes – thick or thin, metal or plastic, matte or metallic, oversized or regular size – The large lenses were designed to block the sun from all angles and look good on every modern-day Maverick.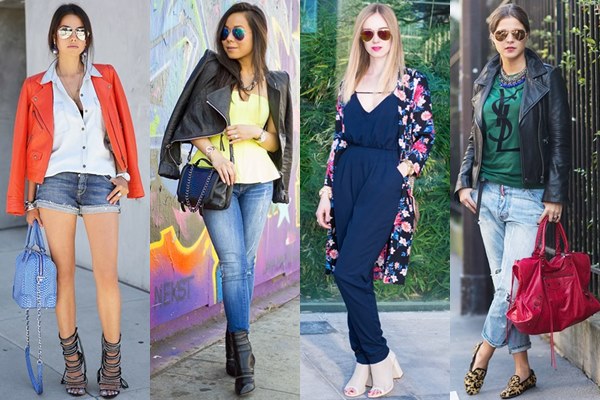 Go for those super cool boyish looks – including rocky chic, military-inspired, and sweet sporty – by wearing aviator sunnies to create the mannish look even stronger. Add a little touch of girly pieces such as floral prints, peplum, and bright colors to balance the finishing look.
Take a look at some fabulous street style fashion ideas of mirror sunglasses, showcasing how different the statement can be, changing from ordinary to stunning only by pulling off a pair of mirrored sunnies.  Just keep the rest of your ensemble sleek if you look for an easier and safer style.