You have plans for a special night out but don't have a thing to wear. For the curvicious ladies, finding a plus-size dress is easy, but choosing one that fits and flatters is a bit tricky. Whether you're looking for something to wear for casual date night or a timeless LBD for a special occasion, choosing the right dress will not only flatter your figure and make you look amazing, but it will also increase your confidence and make you the belle of any ball. Learn 10 valuable tips to make the dress shopping quicker and easier.
Style tips for plus size women can cover anything from wearing the right underwear to choosing with the right silhouette to mixing it up with accessories. For general plus size fashion tips, learn "Fashion Tips and Style If You are Plus Size" or other styling ideas through tag "Plus Size Fashion". Exclusively for plus size dresses, ladies, a dress can be your best friend! All you need is confidence and you will be the prettiest.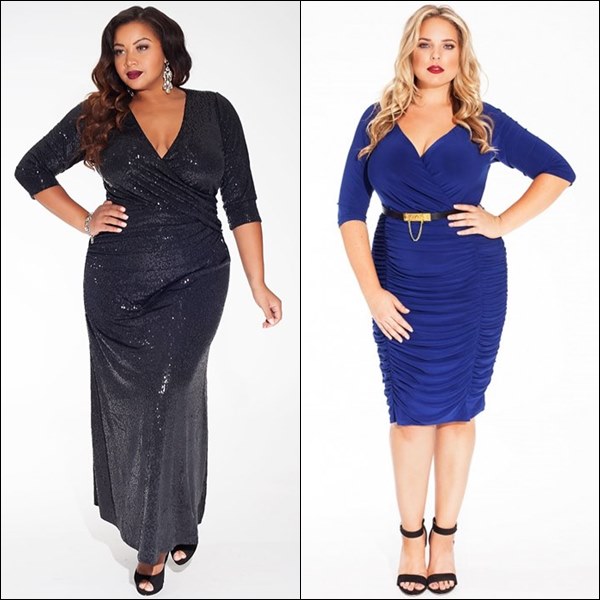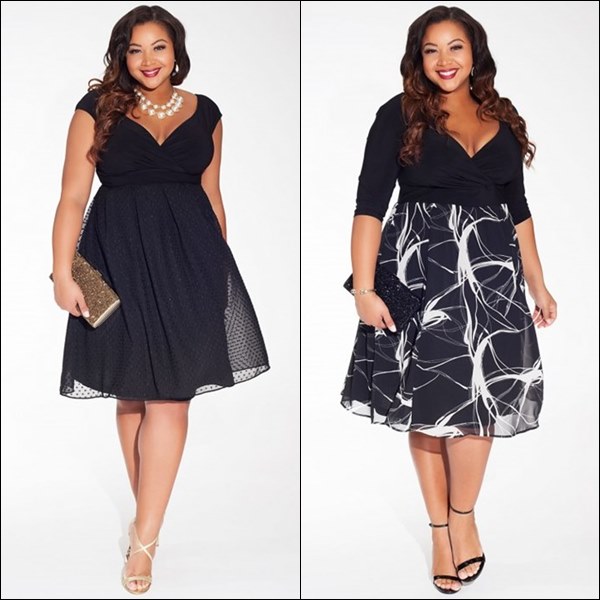 Plus Size Dress 2014 by IGIGI : Angelica Gown in Noir Luxe ($358) / Ambrosia Dress in Midnight Navy ($168) / Adelle Dress in Noir Dot ($168) / Kelly Dress in Marble Noir ($168)
1. Women are Beautiful in Every Shape
One of the most important style tips – and probably the easiest one – for plus size women is to know and to dress their body shape, and yes all body shapes are beautiful. On the other hand, sometimes we realize that our shape is not exactly the same like the four general body types – such as apple, pear, rectangle, or round shape – that sometimes women's shape can be in between. Learn these tips from IGIGI to dress for your shape, how to figure out your shape, and what to wear to accentuate certain body parts.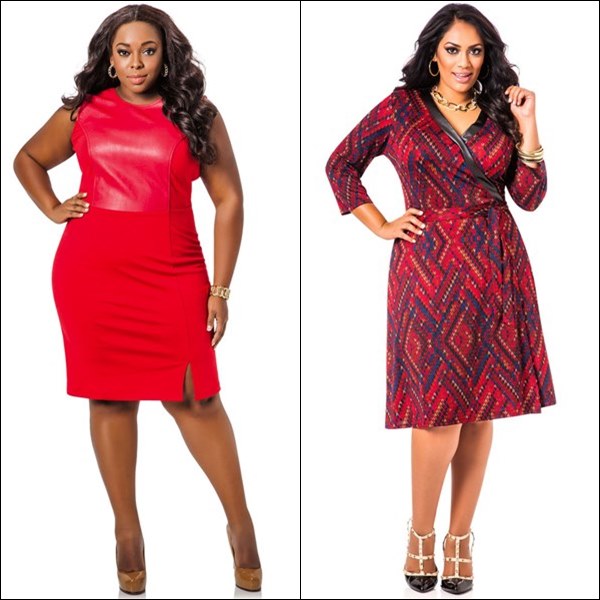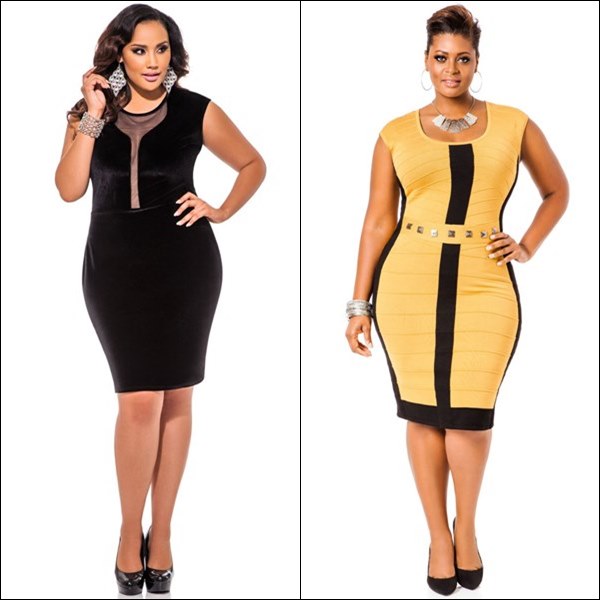 Plus Size Dress 2014 by Ashley Stewart : Pleather and Ponte Princess Seam Dress ($49.50) / Pleather Trimmed Chevron Patterned Wrap Top Dress ($49.50) / Velvet Sheath Dress with Mesh Neckline ($69.50) / Colorblock Bodycon Sweater Dress ($59.50)
2. Find a Dress that Creates Waist
Even for women of all shapes, they love to show off an hourglass silhouette to get that curvy womanly look. And, if you want to accentuate your curve even more, opt for a dress that creates waist at your smallest part which often right below the bust line.
Fit-and-flare dress and bodycon that hit right at the knee are universally flattering and feminine on plus-size women. If you are blessed with a natural waist, emphasize it. If you don't have much of a waist, create a faux waist by cinching in the smallest part of your silhouette, either through the cut of the dress, or by accessorizing, or by wearing the right undergarments.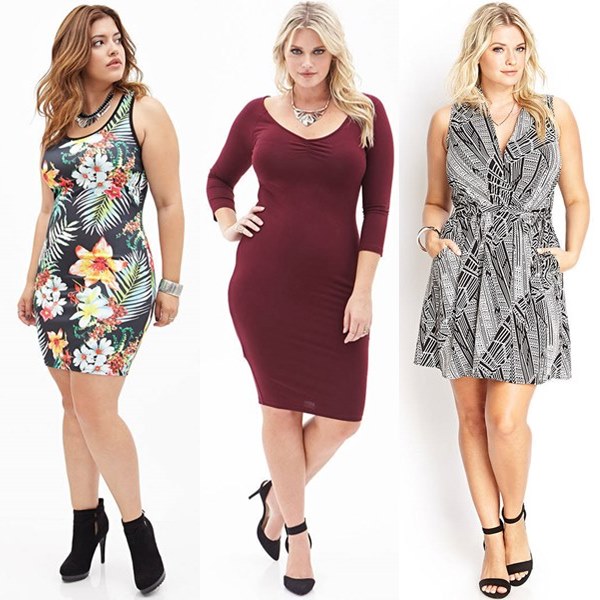 Plus Size Dress 2014 by Forever 21+ : Tropical Floral Bodycon Dress ($22.80) / Ruched Pencil Dress ($15.80) / Abstract Cutout Surplice Dress ($27.80)
3. Opt for a Dress that Fits
Dresses that are too big can actually make you look larger and sloppy, while those that are too small can make you look uncomfortable. Everybody knows that, so always opt for a dress that is your true size best fit to your shape.
However, since clothing sizes can vary greatly depending on the store or brand, take a range of sizes when you go shopping and choose for what fits best, no matter what the size says. And don't be afraid to wear fitted or figure hugging outfits, as these can emphasize your figure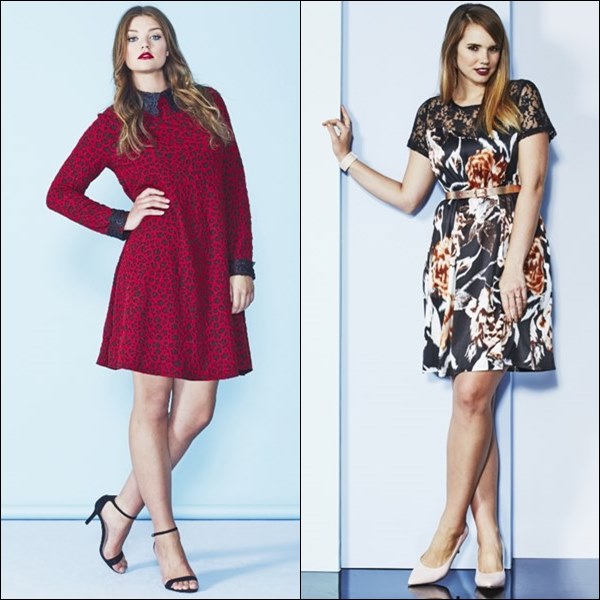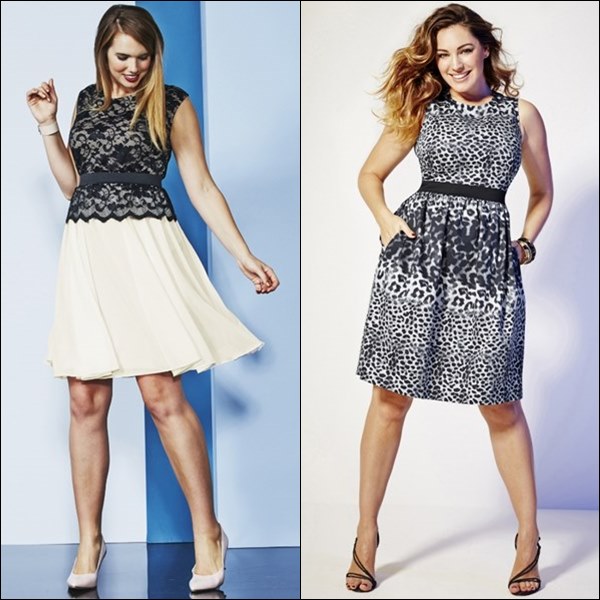 Plus Size Dress 2014 by Simply Be : AX Paris Leopard Jacquard Swing Dress ($64.95) / Lace Top Skater Dress Floral ($39.95) / Lace & Mesh Dress ($99.95) / Kelly Brook Print Dress ($99.95)
4. Pick Comfortable Style
Fashion is all about how to dress your body shape with your style to make you feel comfortable, stylish, and confident. Stick to your personal styles and find the most suitable outfit (or dress) that you really like to wear. Buy dresses that you love and fit well so you can wear them right now. Do know that every trend is not made for everybody. Make sure the dress you choose compliment your curves and accentuate the positives.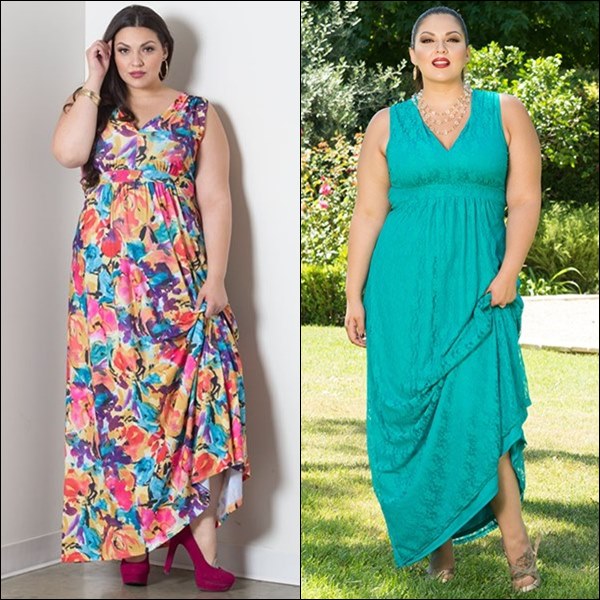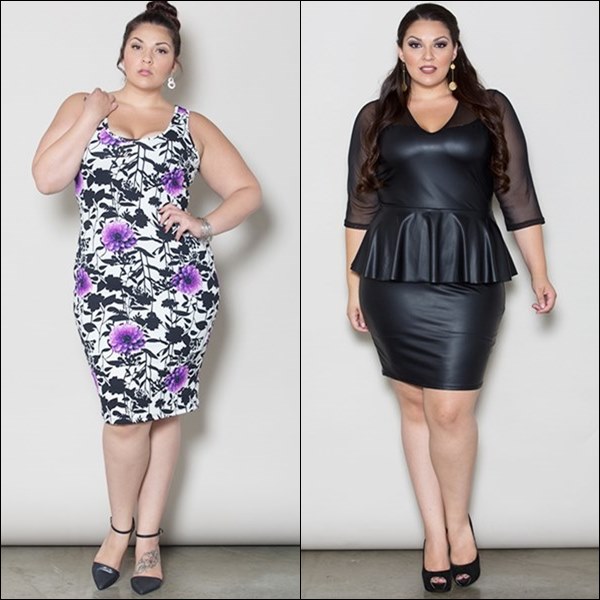 Plus Size Dress 2014 by Sealed With a Kiss : Eloise Maxi Dress ($79.90) / Elsa Lace Maxi Dress ($79.90) / Cassie Tank Dress ($54.90) / Fallon Peplum Dress ($69.90)
5. Emphasize Your Assets
Find and decide on the feature you want to emphasize. It may be your toned legs, killer curves, or décolletage. Some plus size women feel that because they are big in some places, they are "not allowed" to show off their best parts. This is nonsense! You can just show off your great legs by picking a dress that hits right above or at the knee, while peplum dress can accentuate your hourglass silhouette. V-neck is also a great choice if you want to emphasize your nice collarbone and bust-line. The most flattering necklines for the plus size woman are the V-neck, the sweetheart neckline, and the scoop neckline.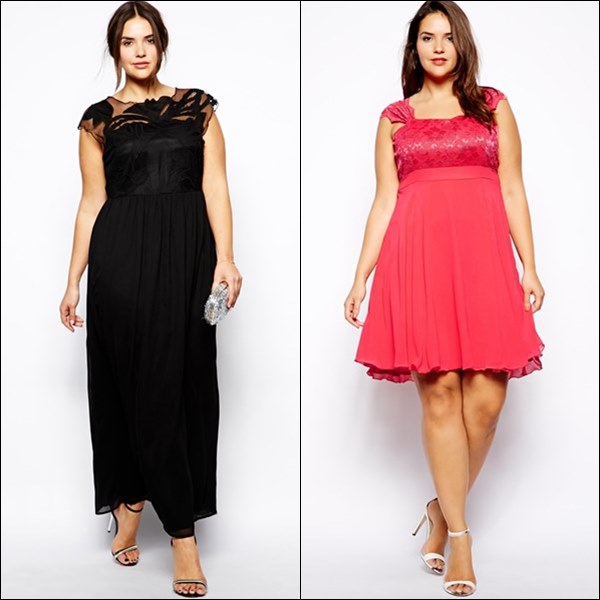 Plus Size Dress 2014 by ASOS Curve : Forever Unique Plus Embellished Maxi Dress ($521.13) / ASOS CURVE Exclusive Dress With Ruffles In Longer Length ($85.28) / Gothic Maxi Dress ($189.50) / Lipstick Boutique Plus Lace Bodice Skater Dress ($123.18)
6. Choose High-quality Fabric
Especially for finding the right dresses that flatter, those with flowing fabrics that drape around the body work best for curvier women. Investing in a dress that made from more structured, high quality fabrics can also be a choice.Think about a soft satin, silk, or cotton dress that have less give and are more structured. Steer clear of stiff fabrics, although fitted bodices can also be very flattering if the skirt is fuller.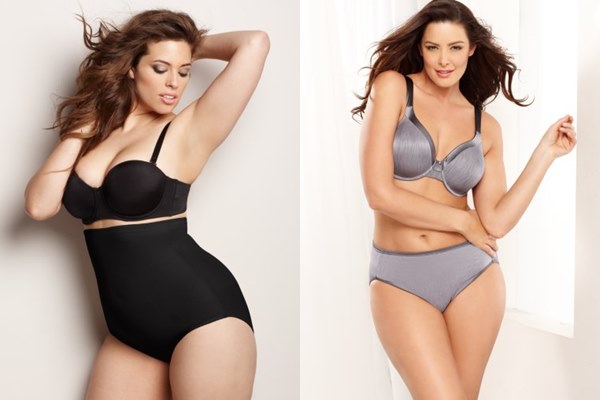 Plus Size Underwear by Macy's
7. Find the Right Undergarment
Even an amazing, fabulous dress can look worse because you don't wear the proper foundations. Undergarments are very important for women with curves. If you choose well-fitting, smooth underwear and bras – especially supportive bra – your dress will sit and look better. So, do not skimp on them. Make sure to always wear the right undergarment – whether bra, panties, or bodysuits – perfectly fit and comfortable to your frame.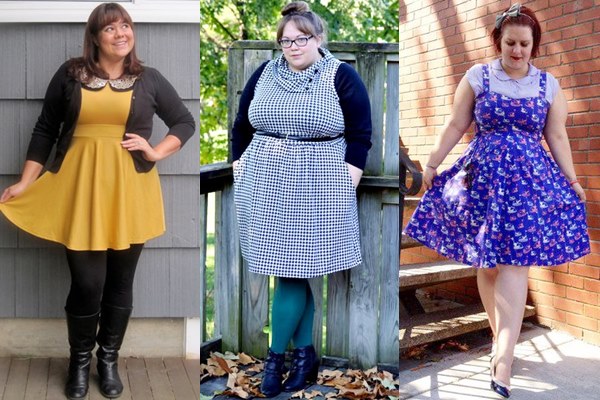 Plus Size Dresses Style Ideas from Modcloth
8. Play up with Accessories
Jewelry, scarves, bags, shoes, tights, and layering are those types of accessories that can make a great outfit. Really make sure you don't go on style without them. These fashion pieces will create so many different styles to your outfit. Make your basic dresses move with the trends by splurging a bit more on must-have accessories. You can go rocky, feminine, elegant, polished or casual only by adding the right accessories. Choose bold accessories and you'll be sure to make a statement. Make sure to do everything in balance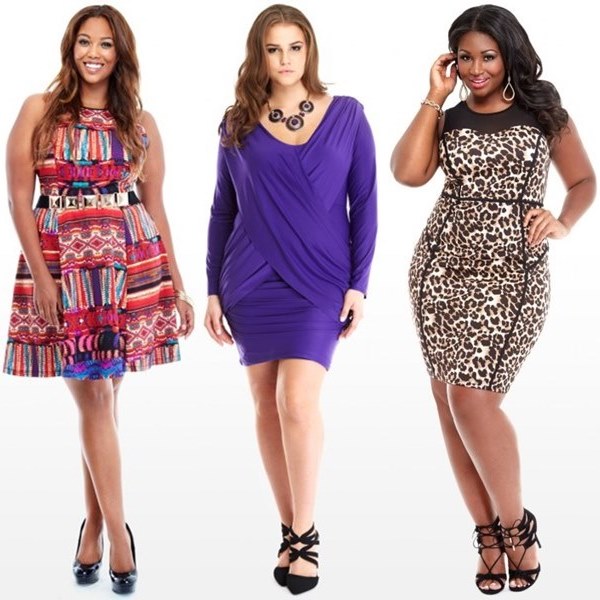 Plus Size Dress 2014 by Fashion to Figure : Sofia Flare Dress ($34.50) / Cross the Runway Ruched Dress ($38.50) / Leopard Print Dress With Piping ($36.50)
9. Colors and Prints are Fabulous
Yes, black is slimming and great to hide problem areas, but don't be afraid with colors and prints. Don't be boring by only wearing those plain, neutral shades. Make sure you add pop of color into every outfit. Or even you can choose those colored and printed dress since these two elements are great to create such cheerful look and make you stand out.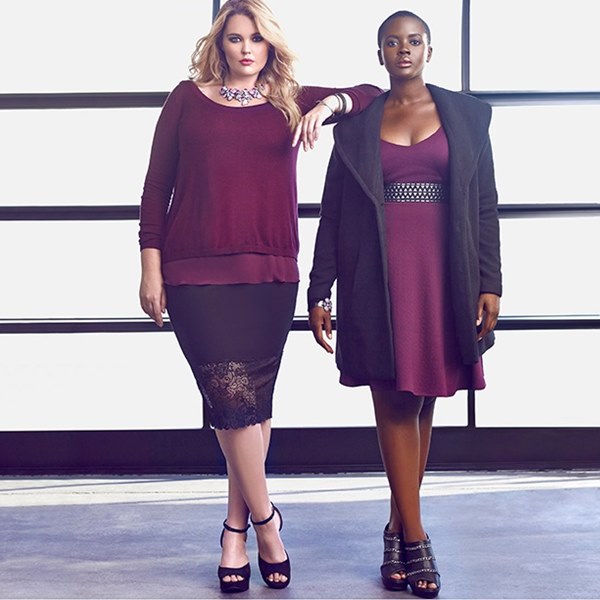 Plus Size Fashion 2014 by Torrid
10. It's all about Self Confidence and Self Love
Finally, we've all heard fashion dos and don'ts – especially for plus sizes – such as say no to bright colors or horizontal stripes that only make you look wider etc. Some people swear by it while others tend to think it's a myth. Here, I probably won't ask you to either follow or break the rules, but I'll ask you to choose what works best for you. Because when it comes to style, everything 100% depends on your self-confidence and self-love
Knowing how to enjoy living and dressing with comfort and confidence is much more important rather than thinking whether you should follow or break the rules. If you feel good dressing with those rules, go for it. If you think they are oppressing, leave it. Just do what best and look good in you, all choices are yours and no one should take that away, because definitely fashion should provide enjoyment and not the other way around.