Colder weather is getting closer by the day. Why do so many bloggers and street stylers in love with cold weather? It's quite simple, it's the variety of clothes you can wear, including number of fabulous winter coats and jackets you can start to invest in. And when it comes to finding the new outerwear for fall and winter, there are some crucial shopping tips to follow for full-figured ladies. Check out these three must-know tricks for coat shopping, along with ideas of top stores for Plus Size Winter Coats and Jackets.
Depending on your personal style, budget, and body shape, here are three must-follow tips for curvy women:
First of all, always pay attention to the store's size chart and make sure you choose a proper fit. It's important to choose coat with the right fit to flatter your figure. Get a longer hem, so that it doesn't roll up when you sit down. Cross your arms in front of you and give yourself a hug, your coat should feel comfortable across your back.
Secondly, make sure there's enough room for layering for at least 2-3 layers underneath. Wear layers when trying a new coat such as a sweater or knits to ensure that your jacket will be able to keep you warm and fit
Third, look for the belted one for enhancing your curvy figure. Remember that a well-placed belt can do wonders for your outfit and the same rings true for coats. Not only is this extremely flattering on all shapes and sizes, but a well-placed belt will help define your waistline amongst all those cold-weather layers.
For more general and detailed tips and tricks, learn "How to Wear Plus Size Coats Fit and Fabulous".
Now let's take a look at these cool plus size jackets and coats ideas from 12 popular stores that can be worn at the office and even casually.
Addition Elle
Embrace the chill by something classy yet edgy to get that perfect touch of tough girl glam. Featuring two pieces of outerwear such as a sleek and elegant shawl cardigan and black bouclé trench jacket, Addition Elle features chic extra edgy details on the pieces including faux leather patch pockets and belt (on the cardigan) or tough belted cuffs (on the trench)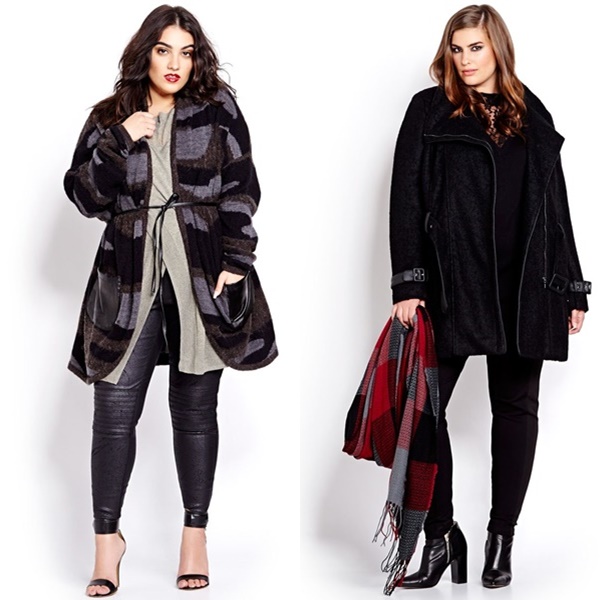 Anna Scholz
More feminine than Addition Elle's collection, yet still looking classy and trendy for making a statement, Anna Scholz offers a mustard Faux Fur Boyfriend coat that come with a delicate rose impression running through the soft and luxurious faux fur. Another item is a soft and thick boucle boyfriend coat in unique shade of baby pink with a light blue combination, creating an almost spot like print.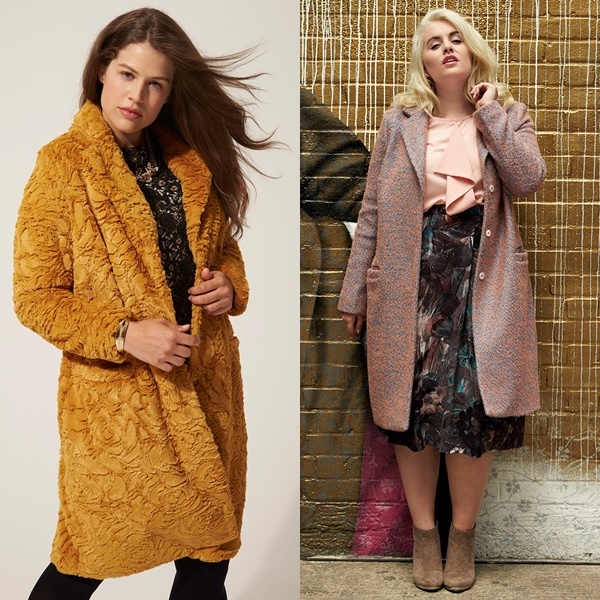 Ashley Stewart
While for those who want to embrace that super bold and stunning style update, Ashley Stewart comes with three unexpected layering including a leather motorcycle jacket in deep fuchsia featuring striped mesh panels and a slick fitted silhouette, a must-have fur vest to add an extra wow factor into your chic outfit, as well as an edgy leather jacket with fur collar for a more touch of luxe and glam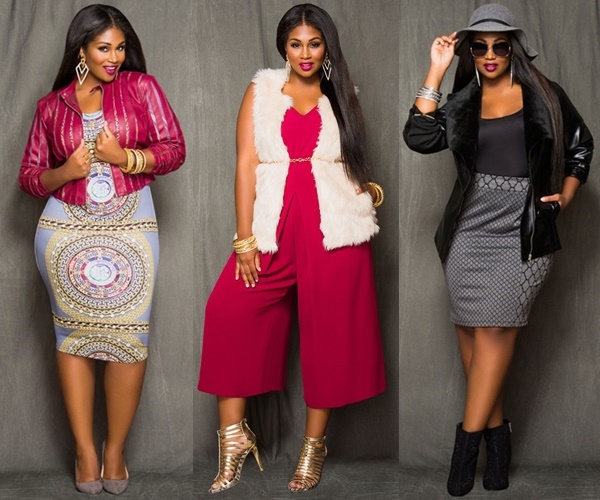 ASOS
Looking for a plus size fur coat to embrace this Fall Winter 2016 super-fur trend? ASOS delivers such coat number featuring a lightweight shaggy colored fur coat for your trendy look, a deep apricot colored midi coat with fur collar to update your cozy and sleek autumn-y outfit, as well as a super fluffy vintage fur coat that scream the 70's boho-chic perfectly.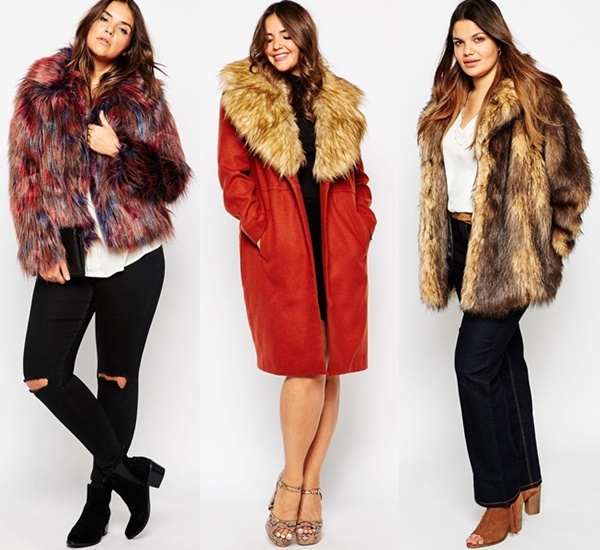 Elena Mirò
If you're looking for a high-quality coat with classic style that never go out of style, or if you plan to wear your coat for several seasons as one winter-essential staple, Elena Mirò can be the option as the designer proposes several lines of fabulous, classic, and high quality long and trench coat with elegant cuts and details. The selections might be more expensive yet they're amazingly gorgeous and versatile enough for your super polished winter look.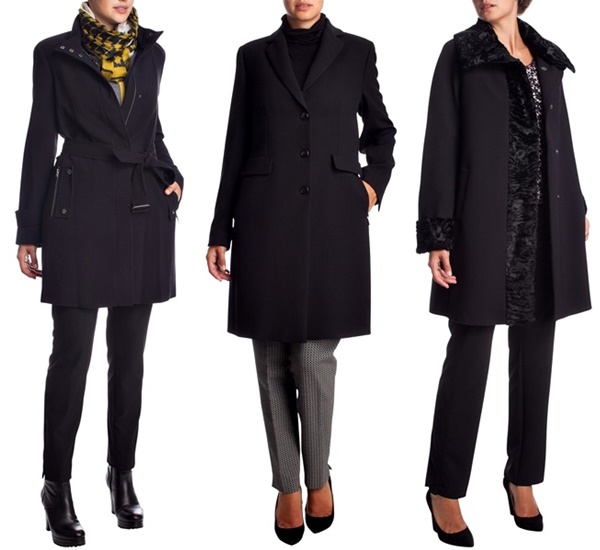 ELOQUII
More fashionable plus size coats are featured by Eloquii to keep your cold season outfit sleek and stylish. Among the favorites, there's a lovely sleeveless coat in pretty blush pink that gives extra trendy vibe to your soft autumn-y look, while a chunky tie waist coat and an ultra-flattering fit-and-flare one with dramatic necktie detail are the definition of warm and cozy for your winter options. These pieces sure can be dressed up or down, styled over a crisp work sheath for the office or over simple jeans and a plaid sweater.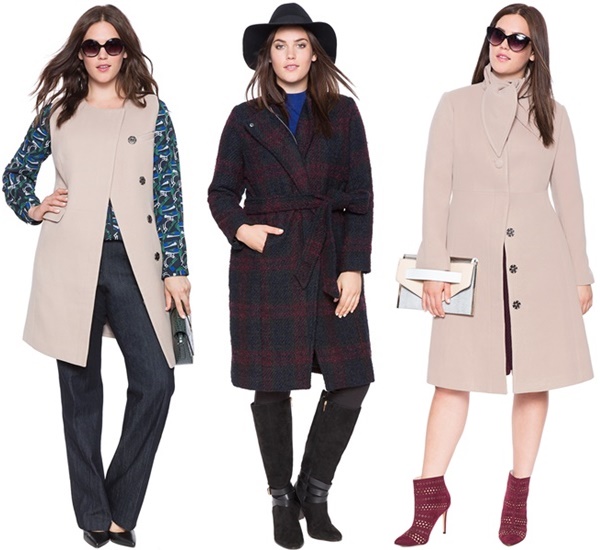 Forever21
For a more casual option, Forever21 gives a selection of affordable coats and jackets featuring a chiffon-layered moto jacket that effortlessly blends edgy and femme styles, an edgy leather-sleeved jacket that's sharp enough for day wear but sleek enough for nighttime, as well as a high-slit longline vest for a versatile yet sleek looking from the office to downtown with ease.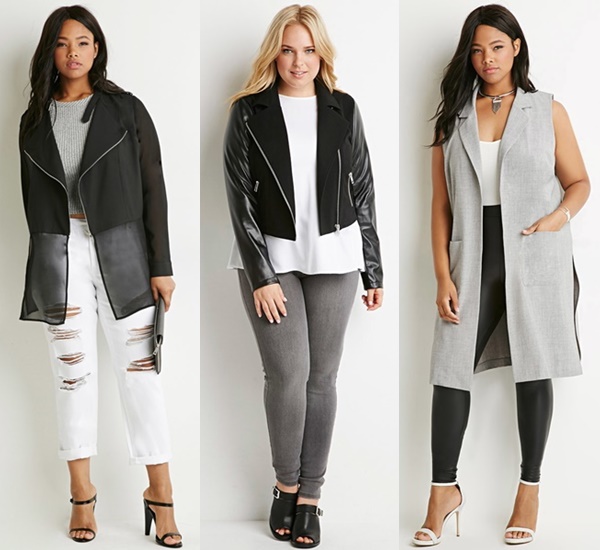 Lane Bryant
From a diamond quilted moto jacket in classic scarlet, to casual and lightweight plaid coat, to feminine belted moto vest in light pink, to stunning leopard coat for that super fierce style, Lane Bryant presents several modern options of plus size coats and jackets, to add just the right touch of warmth for fabulous chilly days for any different occasion.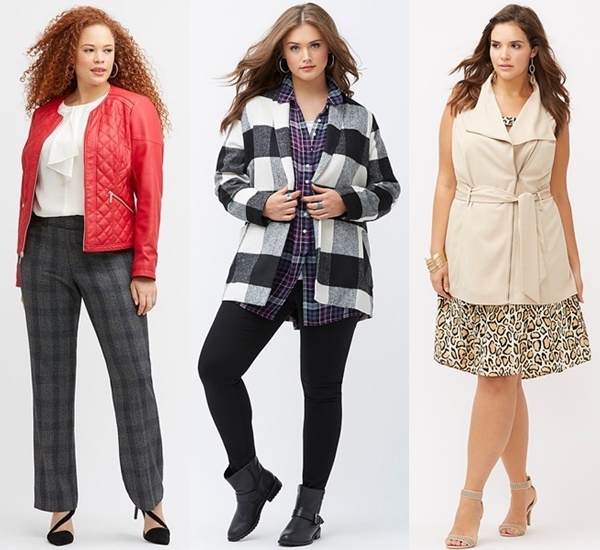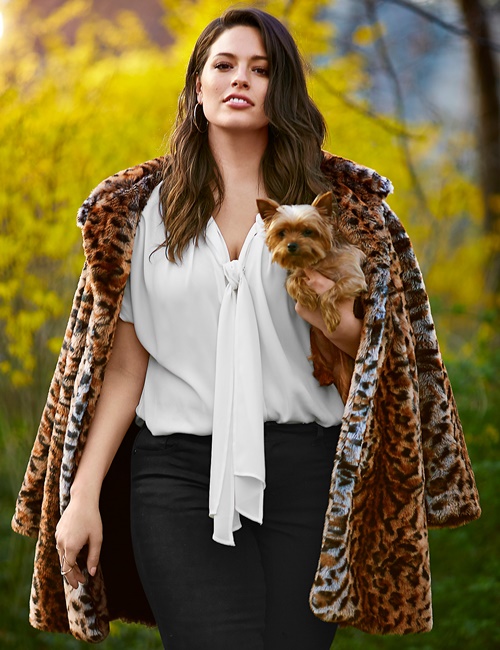 Marina Rinaldi
Another designer plus size coat line-ups are featured by Marina Rinaldi, showcasing a luxurious coat in suede sheepskin and fur with wide shawl collar, a cape-style jacket in cool mustard color with three-quarter-length sleeves, as well as a mantle-style coat in brushed alpaca with wide shawl collar for that classic and elegant winter look. Depending on your personal choice, if you are one of those who feel guilty wearing a genuine fur coat, these pieces, of course, might not be your options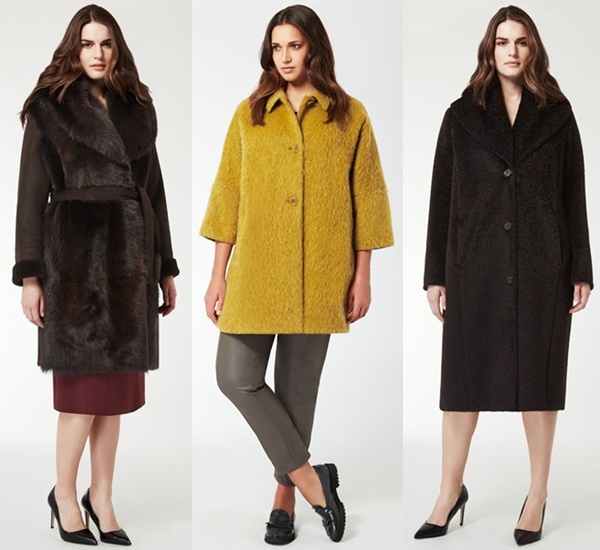 MISSGUIDED
Fix up and look sharp in Missguided's fierce collection of coats and jackets. From a deconstructed sleeveless jacket when you want to look sharp and on the fashion pulse, to a premium quality cape blazer to up your strong and confident fashion game and to work those curves in style, everything is all about added a touch of tailoring magic to your outwear. And finally get a chic oxblood fur gilet to give your evening wear a dramatic update.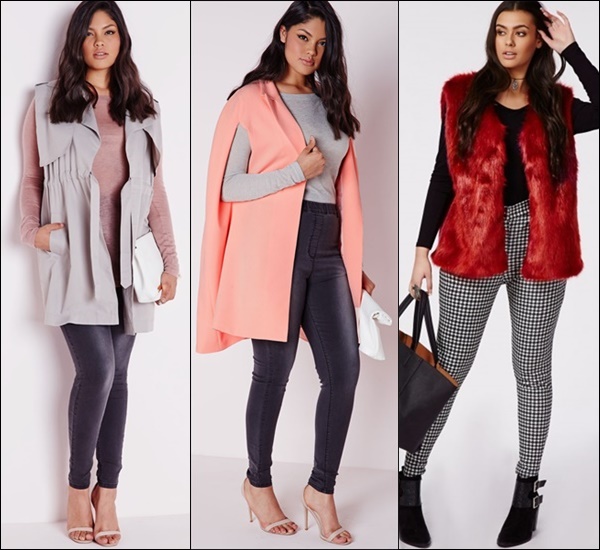 NAVABI
As for Navabi's coat and jacket collection, here you'll find some warmer coats to keep you snug in the winter and some more lightweight coats to keep the chill off for the rest of the year. From true statement pieces with unique detail and flattering design, to the luxurious ones with comfortable fabric that feels soft to your skin, the styles are varied from trendy to classic with a twist of modern styles, colors, and patterns.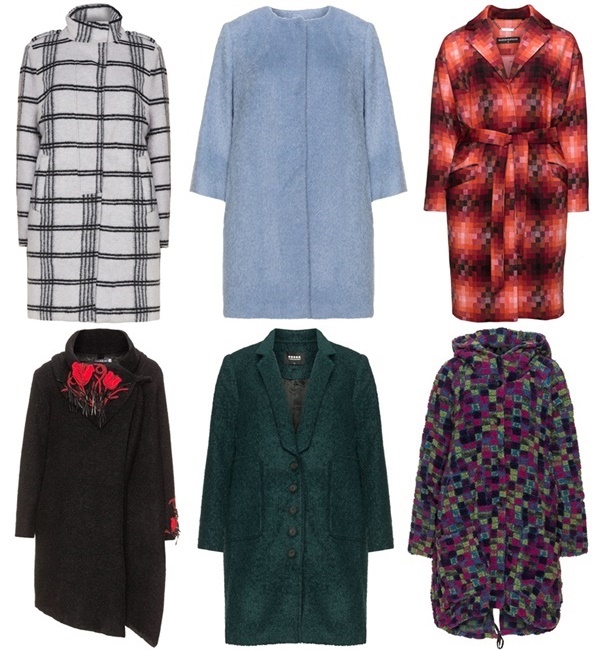 Simply be
And finally is Simply Be, a plus size label with numerous range of latest fashion clothing including coat and jacket for cold days. With great options to choose from – various different styles, different cuts, and different fabrics – Simply Be is definitely your best option to pick winter coat and jacket best suited to your figure and styles.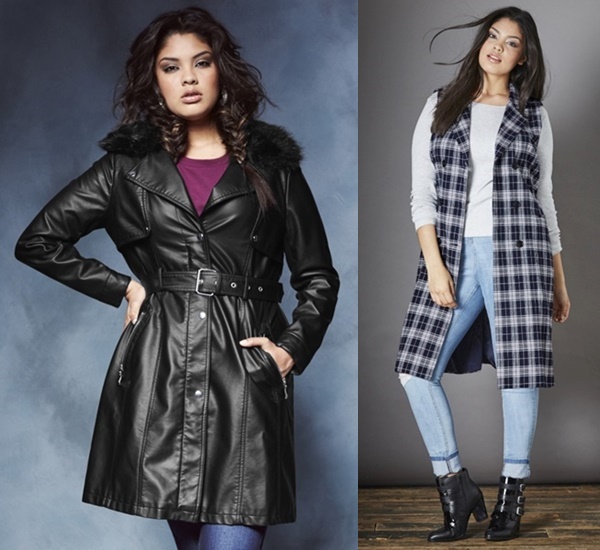 Among the loved ones, you can find a fur-trimmed PU coat that is the perfect longline update to the classic biker jacket for that rocky-chic glam, as well as a unique sleeveless trench in a soft plain for your ultimate autumn update and to embrace the sleeveless trench trend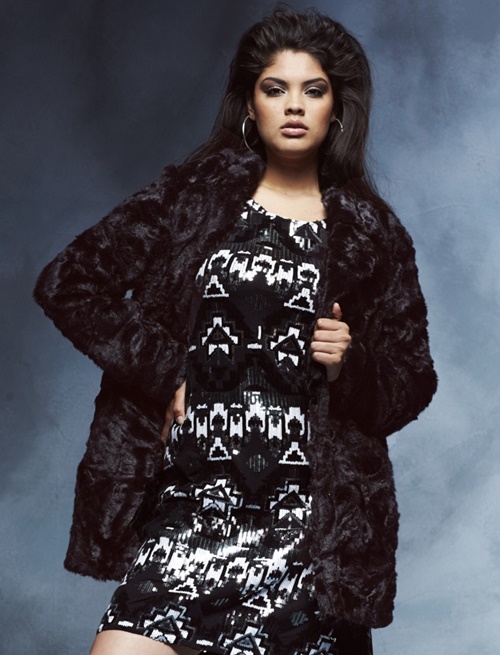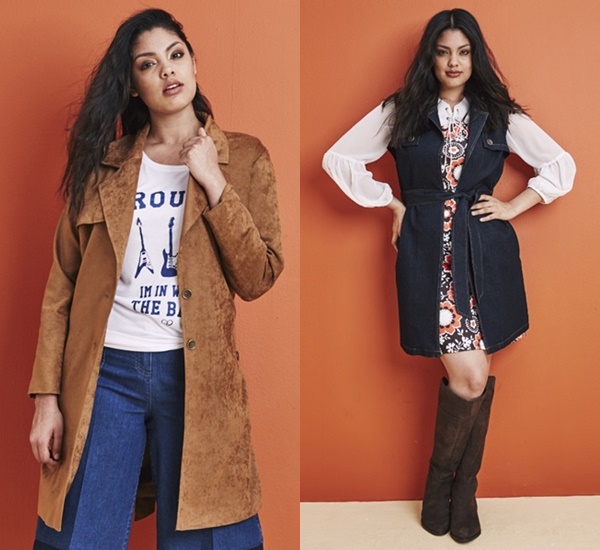 From fur to denim to suede fabric, all are perfect for layering up this fall winter season with a right amount of styles. Find the perfect plus size winter coat that suits your style