oks at your New Year's Eve celebration.
No matter what kind of soiree you're attending, no matter what types of glam you wish to present, from classic smokey eye for a more natural look to super dramatic and sexy sparkly touch, using everything from glitter to crystals, false lashes, and some serious liquid liner, NYE is the night for that flawless face and impeccable makeup. Just make sure you don't have to worry about touch-ups, smeary face makeup, or smudgy eyes during the night. For makeup that stays put all night during your New Year's celebration, consider these valuable makeup tips that will let you have fun without stressing over touch-ups.
Primer and Waterproof Makeup
First of all, it's important to think of these two important makeups – even though you don't wear these items daily. Applying primer lays the groundwork for long-lasting makeup, as the silicone in the primer allows the pigment from your makeup to stick. While waterproof makeup prevents smudging eyeliner and running makeup, making it stays in place even during a swim in the pool
EYES
Make sure to set your eyes with eyelid primer before applying all those sparkling shadows. The primer will keep your eye shadow in place, absorb any oils, and prevent creasing. Plus, primer can get your shadow to pop. Choose primer in neutral shade – skin toned color or a bit lighter, then shadow your eyes with those fabulous colors you like.
Follow it up by lining your eyes with eyeliner. For doing this, opt for a liquid or gel liner over a pencil for a line that won't disappear. One of the best makeup tips is to choose a smudge-resistant eyeliner.
As for lashes, make sure your mascara is waterproof. But before applying it, lightly dust a translucent powder over the tops of your lashes to give your lashes more sensual effect as well to make the mascara last longer. Also heat up your eyelash curler before you curl your lashes to give them a more permanent hold. Just wave a hair dryer over your curler before using it, and be careful when applying.
FACE
Just like eye makeup, think of the primer first. Apply a foundation primer to your skin before adding any foundation to make sure it doesn't slide off. Don't forget to use a concealer to hide blemishes, and touch up everything with a translucent powder when finished to preserve your work
Keep a healthy, natural glow on your cheeks. Apply highlighter or bronzer to the apples of your cheeks, the bridge of your nose, and around the hairline to create the ultimate faux glow. Then apply a little blush for bringing life back to your skin. Bronzer and blush are a great way to achieve a pretty flush that won't disappear. Opt for natural light pink blush if you want to go subtle, or deep pink hue for a dramatic touch. Here is a video for tip on how to apply bronzer and blush.
Not to forget, the best tips for doing NYE makeup faster and cleaner is to do your eyes first, then face. Since eye makeup for New Year's Eve tends to be dramatic and bold, the works mostly end up being messy with smudging mascara or flakes of eye shadow. Save some time by doing your eyes first, then clean up the surrounding area before applying your foundation
LIPS
To avoid your lip color from flaking off, make sure your lips are moisturized. Apply lip moisturizer at the beginning of your routine to make sure it is absorbed before it's time to apply any color. Don't forget to use a lip liner to fill your lips for a nice base, and make sure your bright lipstick lasts all night by dabbing powder over a tissue to set it.
One more tip, since your eyes are somewhat dramatic for the event, make sure your lip color is subtle. Opt for a natural, soft pink color. However, there's no rules really – do whatever you feel looks best. Keep reading to see more makeup videos to create each look.
Touch-Ups
Although you really don't need to bring many makeup items and tools for the night, there are still some essentials you better have on hand for any necessary touch-ups. Those are a powder compact or blotting sheets, lipstick, concealer for quick fixes and touch-ups, lash glue especially if you're wearing false lashes, and, most importantly, a makeup setting spray. Investing in a makeup setting spray is one of the best makeup tips as it can ensure that your face stays flawless without having to touch it up.
EYE MAKEUP IDEAS
Especially for the eyes, among all beautiful eye makeup styles I've collected, there are three most popular, outstanding New Year's Eve makeup styles to give you some divine inspiration, which including the smokey eye, cut crease, and the natural look with colored, winged eyeliner.
Fabulous Smokey Eyes
Obviously there are plenty styles and colors of smokey eyes that you can blend two to three colors for making those super glamorous eye looks. Do it elegantly with classic smokey look, or add glitters for those sparkling frosty touches or make it in dramatic Arabic-inspired look for a more exotic vibe. Here are three videos for fabulous smokey eye styles.
Dramatic Cut Crease
Nothing completes talking about dramatic and edgy eye makeup without including a cut crease look. The tips are pretty easy, and you definitely will get that eye-catching and altogether sexy look that embodies the glitz of New Year's Eve. See the video below for the tip.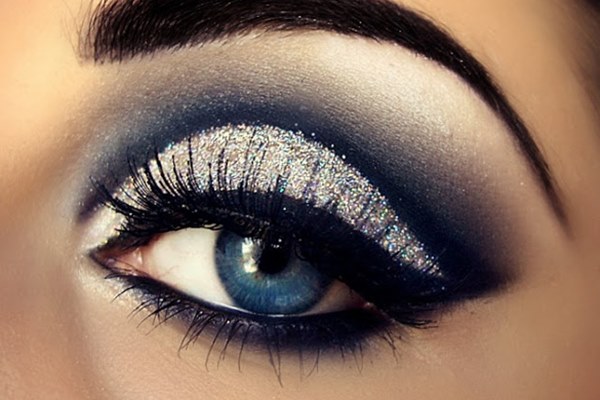 https://www.youtube.com/watch?v=fqiKvSnaXOQ
Natural Look with Pop of Color
If you wish for a more natural look in neutral tones but at the same want to spice up your eyes with surprising pop of colors without being too overtly dramatic, try swapping your usual black or brown eyeliner for colored eyeliner and make it into a wing shape. Take a look at the two videos below for great techniques on how to use a liquid liner.and how to wing it.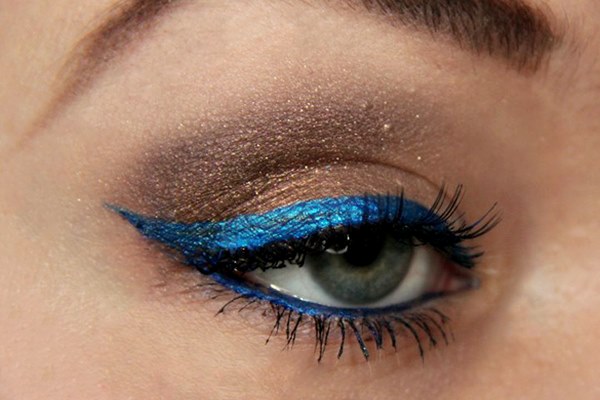 Now see these pictures, celebrity's makeup looks, and videos with super dramatic eye makeup and glamour sparks for more and more New Year's Eve makeup inspirations.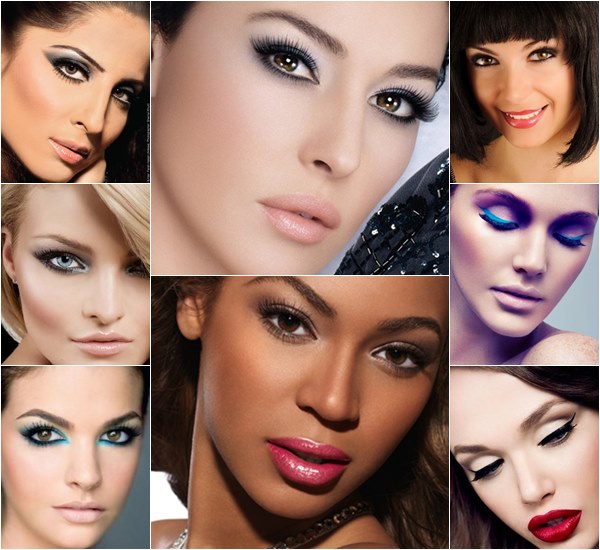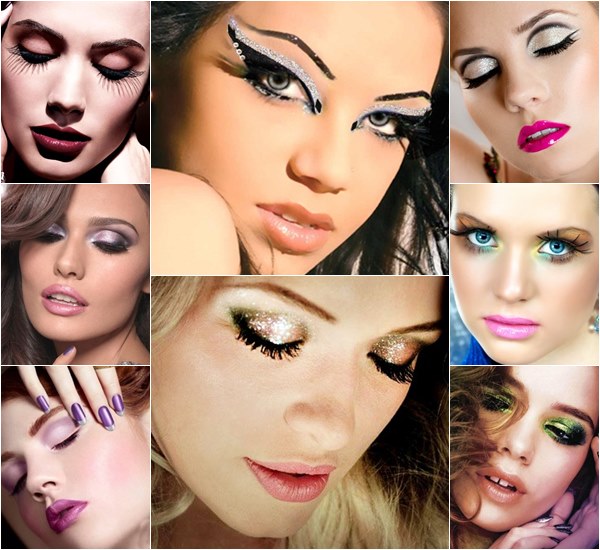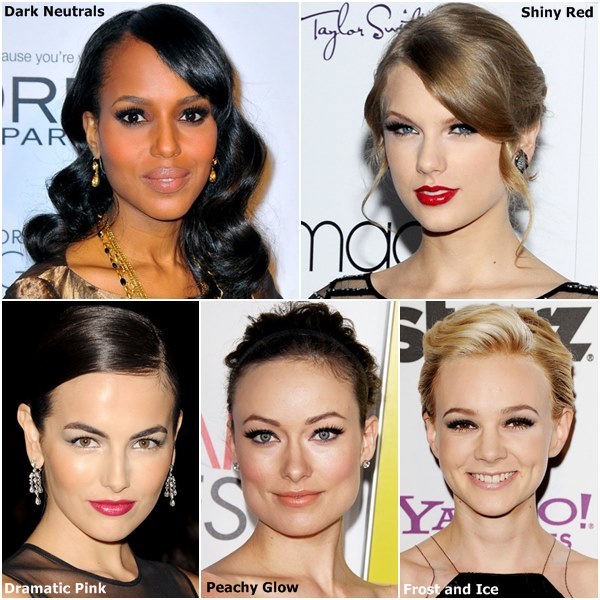 Finally, after ensuring you can get your makeup to last longer for the night, finding plenty inspirations for your eye makeup looks. Let's take a look the next article "New Year's Eve Makeup and Hairstyle Tips (Part 2)" for a little more inspiration of makeup with pairing hairstyle looks.