From sexy smokey eye to glitzy cut-crease to colored eyeliner, let's spark New Year's Eve celebration with a fresh, bright, and bold makeup paired with outstanding, beautiful hairstyles. Touchable lengths, playful updos, sexy side swept locks, or even with hair embellishment, all are the party hairstyles to rock this New Year's Eve. No matter what your plans are, if you're looking to spice up your style this party season, take a look at these hairstyle ideas for a little inspiration.
Continuing previous article "New Year's Eve Makeup and Hairstyle Tips (Part 1)", now let's do some styles with your hair. On New Year's Eve, you pretty much can do whatever you want with it. Just think of glamour in most elegant way, and do your hairstyle balancing the outfit, makeup and jewelry.
PREPARATION
First things first! Just like anything in life, preparation is always the key to minimize any New Year's Eve head-to-toe fashion disaster. As for your hairstyle, whether you plan on wearing it down or up, you need to prepare it right to create that whole polished and perfect look. Here are some tips to follow:
1. Choose a hairstyle that is not only comfortable for you, but compliments your outfit. Make sure to cut or color your hair a few days before your New Year's Eve party, so that if you don't like the outcome of either, at least you'll have a few days to recover and come up with a solution.
2. Know the formality of the occasion. A black-tie, cocktail, or casual event, your hairstyle comes to add all of those dazzling effects into your look. If your dress has a high neck-line or if you have some killer jewelry to show off – a bold statement necklace, stunning earrings, and even a beaded neckline – try a high sock bun or a cute fish tail braid. If you're looking for something with a little more wow, add a hair accessory or headband. If wearing your hair up isn't your thing, the perfect curl never fails. Or, wear hair down with loose, natural curls for a more casual look.
3. Consider using proper hair care products when styling your hair on New Year's Eve. Whether sleek, wavy, or with volumes, you will want your hairstyle to stay long-lasting till the end of the party. There are products created for these purposes and will help maintain your look all night.
4. Don't forget small essentials to carry on hand – travel-sized products that will fit in your clutch – and make sure you bring your hairspray, a comb, extra Bobby pins, and a rubber band for any possible touch ups.
Now, check out these major festive hairstyle ideas to rock as you ring in 2014.
Celebrity's Hairstyles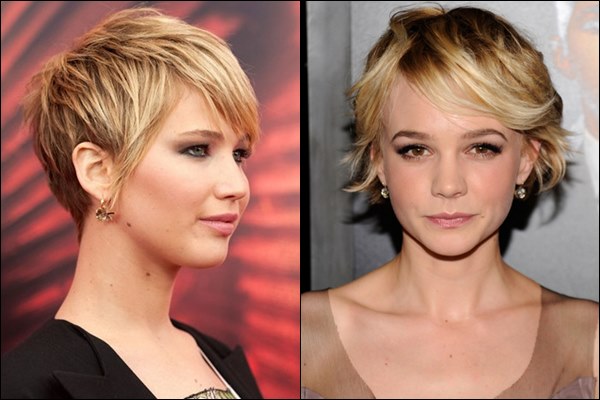 If you want your short hair to stay simple, yet sweet without doing much of this and that, follow what Jennifer Lawrence and Carey Mulligan do with their hair. Both styles are naturally beautiful, modern, and straight-up cool. Jennifer's dramatic pixie haircut looks elegant and super trendy, as for Carey, her swoop style looks modern with twisted ends and bangs that create texture. Pair these looks with a classic, shimmery smokey eye to achieve that natural, chic yet adorable looking style.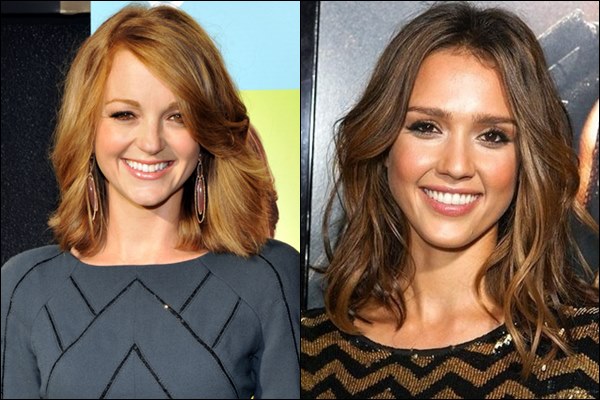 Another natural yet fabulous hairstyle for NYE is to have an effortless, easy-looking hair do. Jayma Mays' full-bodied hairstyle looks super-sexy and the side-part keeps it looking fresh, while Jessica Alba's off-duty style looks so appealing with that messy-looking style. Copy Jessica's look using dry shampoo to fluff up the roots, sea salt spray to tousle, and a flatiron to polish the ends.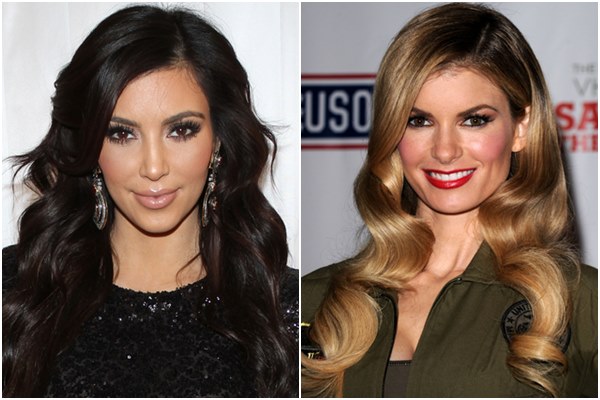 For a more glamorous look, give waves to your shiny long hair. Kim Kardashian's soft waves are the perfect hairstyle for the occasions as they'll also work for any occasion. And if you want to have that Marisa Miller's retro waves a try. Throw your hair up in some large velcro rollers, blast them with a dryer for five minutes, then let them loose and brush through the waves. Polish both looks with a red lip for luxurious vibe or nude and subtle hue for a more simple touch. With this va-va-va-voom hair, you'll get kissed at midnight. Check out this video on how to have that sexy waves easy and fast.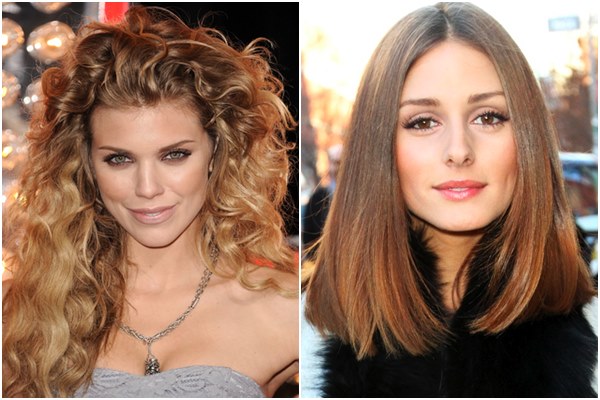 Straight or curly, both are best to choose for any celebration, which give off that free-spirit vibe that the guys go crazy for. The choices pretty much depend on your personal style and hair texture. If you want to make the most of curly hair like AnnaLynne McCord, apply a frizz-fighting lotion and a curl-enhancing mousse, then use your fingers to gently shape curls to desired fullness. While Olivia Palermo's straight hair showcases a perfect elegant, classy look that you can follow by parting your hair equally. A center part is most dramatic when hair is worn straight and sleek. Start when hair is soaking wet, and blow dry until completely dry. Then, use gel to secure the front or bangs in place.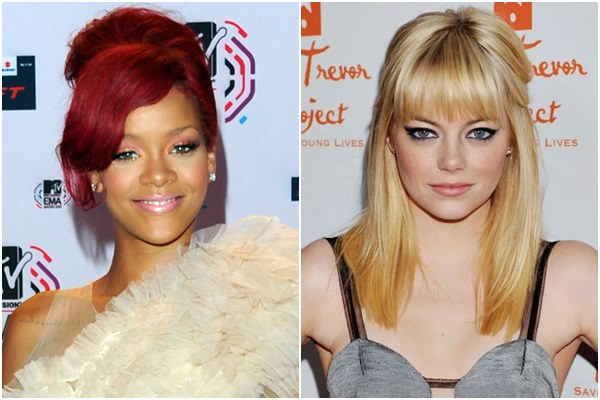 Lastly, it's the classic updo, which is one of the most popular hairstyles to glam the New Year's Eve. Either you want to have that Rihanna's bumped updo or Emma Stone's half-updo, both are great that women of all ages can't get away with this look. As Emma adds an extra credit with her retro cat-eye liner like the Spiderman cutie, Rihanna gives the classic bouffant a modern spin that looks both pretty and edgy. Take a look at this video for technique – simple and easy – on how to do a Bouffant, Brigitte Bardot look. Or see how Gwen Stefani rocks a bouffant look, and Selena Gomez dons a trendy bouffant ponytail.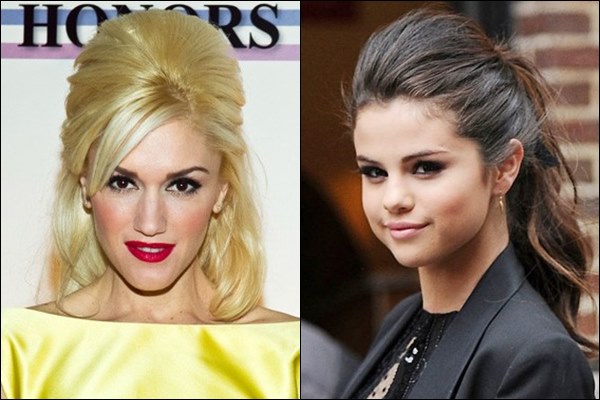 New Year's Eve Hairstyle Ideas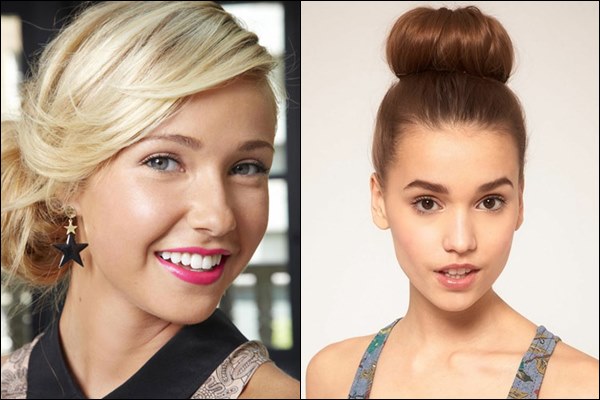 Adorable Bun
For a cutie, super sleek effect, try having a bun. Pretty side-swept bun or donut bun – loose or tight – both look definitely adorable for the event. To have knotted side-swept bun, pull hair all the way over to the side, and tie it into a low ponytail securing with an elastic hair band. Twist and pin small pieces of the pony to create a pretty bun, loosely drape the front section to frame your face, then pin into the bun. As for donut bun, brush your hair back into a high, tight pony, then pull the tail through a sock or spongy ring and cover it with hair.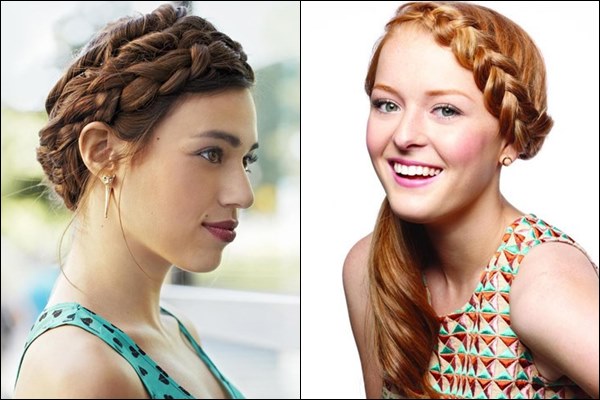 Cute Plait and Braids
Have your look sweet and feminine with these braided styles. Both look super intricate, but it's actually so easy to create. Basically, all you need to do is braid your hair and twist the section around your head. You can start braiding from a deep side part in your hair then cross it into the other side – secure the end of the braid with an elastic band and cover it with a small piece of hair – or you can make four braided sections, wrap each section around your head and pin in place making it like a crown.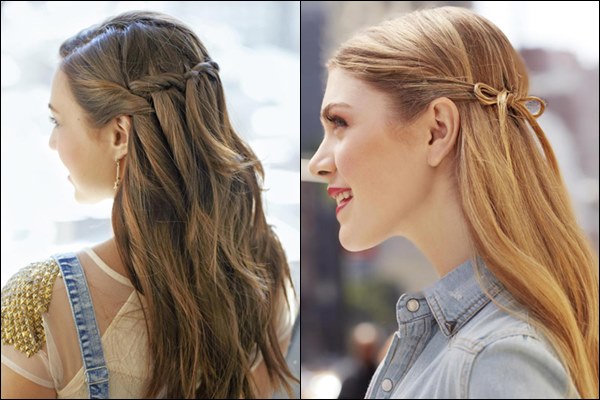 Simple Knots
Having a bow knot or waterfall knots of your loose hair back is pretty simple. Make sure to apply mousse to wet hair and to add texture, and then blow-dry your hair. Twist two small pieces of hair back and tie them in a bow or make your hair into a simple waterfall braid. Here is a video for bun, plait, and knot ideas.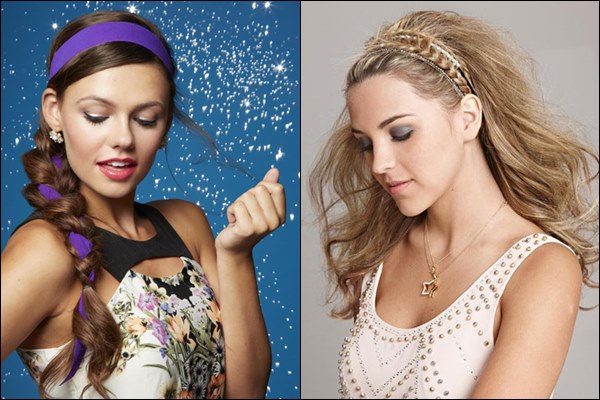 Pretty Headband and Accessories
Wearing a headband or hair accessory can be an option for easy and quick hair styling. Take your jeweled headband or wear a long ribbon to wrap like a headband to create those eye-catching and fabulous hair looks. Gold hair accessories are perfect for instantly transforming hair into a party-ready style. Not to mention, think of a hair extension too for enhancing a more festive and glamorous vibe. Watch this video and I think it's amazing.
Last but not least, check out more ideas of hair styling, as well as videos for head-to-toe New Year's Eve ready. Let's get for the party and start creating your entire look polished and fabulous. Happy New Year Ladies =)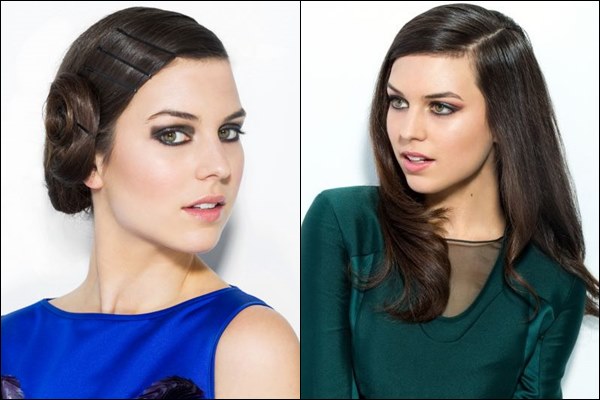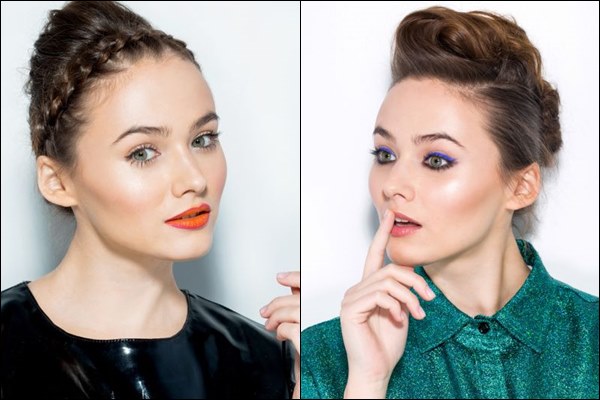 Find techniques on how to do these stunning hairstyles at Refinery29 (here and here)