In just a few days we'll celebrate the arrival of a new year. And nobody would deny the New Year's Eve dress is just as important as your plans for the night. Just like other special occasions like Christmas or wedding ceremonies, the New Year's Eve is surely among them that sometimes we are required to don an outstanding outfit to give us that flattering look, yet also offering a great comfort and flexibility. See some of these perfect New Year's Eve dresses guaranteed to get you smooched at midnight.
When attending the New Year's Eve, obviously there are plenty to prepare, which at the same time giving you much freedom to fashion best for your personal styles. Started from dresses, shoes, accessories, to make up, basically, the main idea of this party's dress code is to don in glamorous, sparkling attire. So, freely choose for some glitz and wonderful luxe dresses, but, of course, you still have options to invest in those easy and simple yet super trendy outfits.
Depending on the formality of the event, find the suitable dress best for the occasion. If the party goes formal and super glamour, bet on luxurious long gown with sparkling details, but remember to always keep it in balance. If the dress code asks for a semi-formal, cocktail attire, you may choose those with knee-length or above the knee cocktail dress with shiny sequins, or just go simple. Here's the 2014 trend for New Year's Eve dresses you can try on.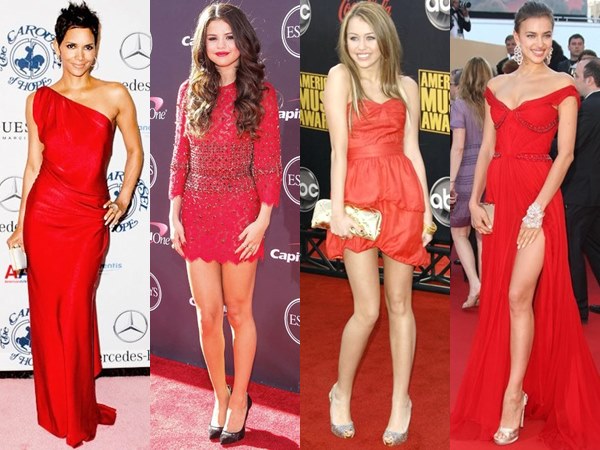 Red Dresses: The brightness and boldness of red color can definitely make you stand out from the crowd. And New Year's Eve is a perfect time to get all the attention with stunning red dress. Depending on your personal taste, you can choose any type of dresses, from a simple red dress to a seductive red designer dress for showing off your passionate side. Opt for one that has embellishment for more outstanding effect. Pair it with neutral heels and long luscious locks to enhance the sex appeal.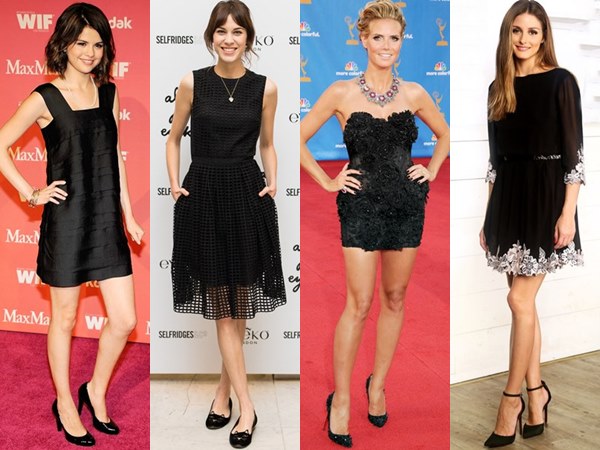 Little Black Dresses: Nothing can compete with the timeless little black dress in term of classiness. This LBD can range from classic to edgy, and it definitely looks great for the evening party. Plus, it takes minimal effort to style a little black dress since you can really pair it with anything from neutral colors to patters to loud sequins, from simple fabrics to luxe shiny ones like satin or silk. Check out the video below, showing you five ways to wear a very simple LBD and transform it into outstanding outfit for New Year Eve's. It's an old video, but the styles are fabulous and still work perfectly for the upcoming 2014 party.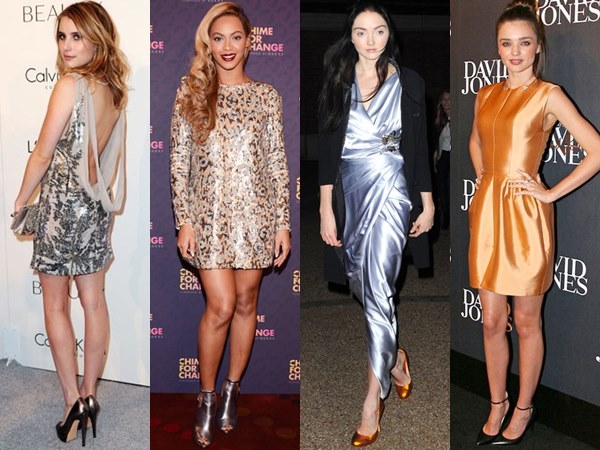 Metallic Bling: Glam the classic gold and silver and bring the New Year's Eve in most glistening way. Metallics will be huge in 2014 so why not be an early adopter? Opt for a metallic dress that has details on it including embroideries or glitter. You don't have wear dress that fully metallic resembling tin foil, instead put layers and accessories to give more edgy look. Or, you may just pull off some metallic accessories to your chic dress for bringing a splash of cheerful glitz.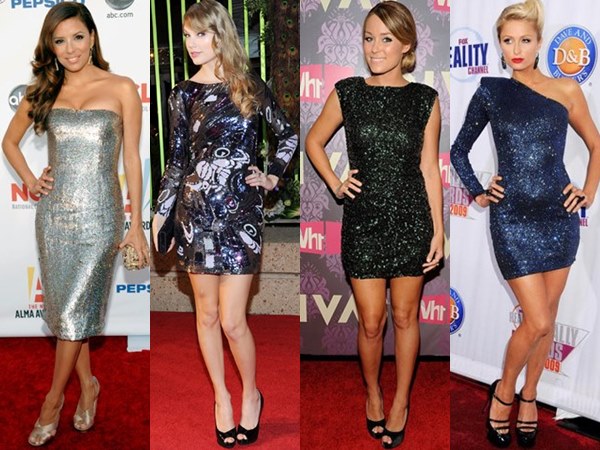 Super Glitz Sequins: Just like the trends of metallic dresses, sequins can easily draw all attention on you during the festive evening. Not to mention, these details are the quintessential option to ring the New Year's Eve embellishment, as there is something about sequins that magically creates a new year full of glamour and happiness. Look around for a style you like and pick which details you want to include in your unique frock.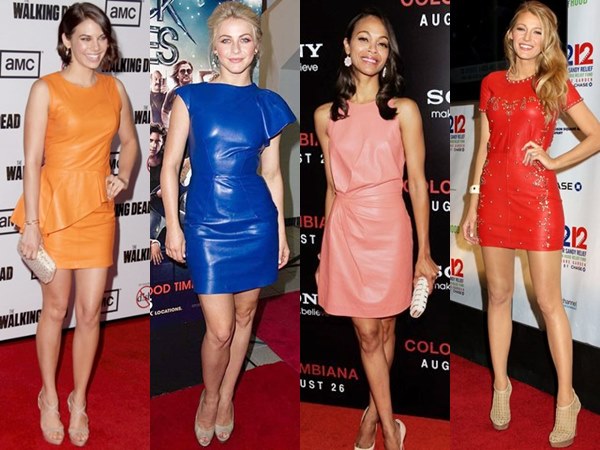 Leather Flattering: Channel your inner rock minx in luxe leather ensembles. From punk-inspired to scene stealing, wear leather and wear it in a multitude of colors. This outfit can be a tricky look to pull off since leather mostly evokes casual, subtle, and less sparkling vibe, which probably just making you look disappear in middle of the party. So the trick is to opt for outstanding, eye-catching leather staples in bright, punchy color or in stunning look to create those glamorous effects. Choose for dresses in flattering silhouettes to show off the leather itself.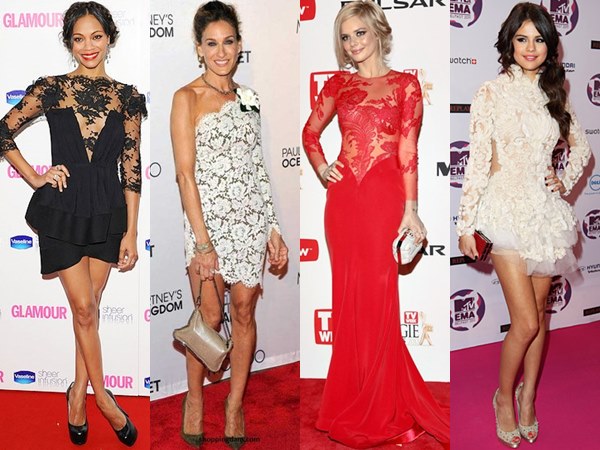 Lace Delicate: For those who aim to look romantic and feminine, a lace dress will do the job. A little bit of lace, a little bit of seductive detailing and a little bit more of classiness, definitely you can have all from lace dresses. Plus, a little lace can dress up any ball-drop outfit, adding a flirty element to an elegant. Vibrant colors or classic shades, or even with a little touch of sequins and metallic applique for more sparkling effects, lace dresses can be so much fun.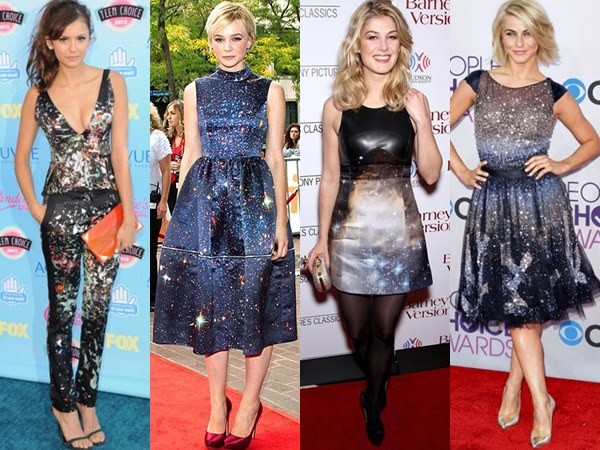 Dramatic Galaxy Prints: Take your New Year's Eve to the galaxy far far away. Strike the night with one of these patterns and see how you stand out among others. Add another blings – such as sequin clutches or shoes, shining jewelries or accessories – to give more and more sparkling effect already brought by your attire.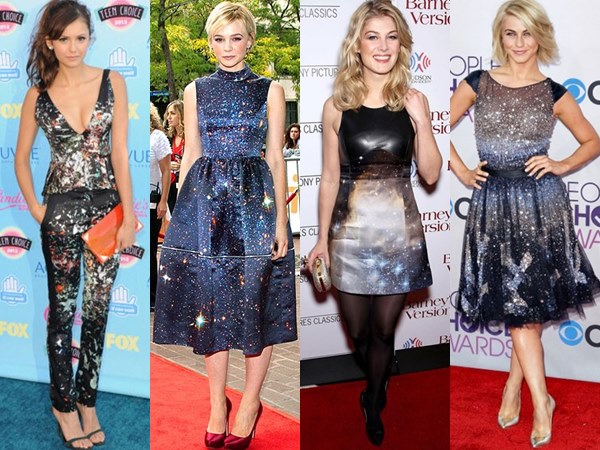 Continue the article to "What to wear: New Year's Eve 2014 Outfit Trends and Ideas (Part 2)" for more style trends NYE 2014