Mirrored lens, rounded, extra-large or sculpture-like, ombré frames, acetate semi-sheer frames, mannish style, vintage-inspired and edgy silhouettes, the latest trends in sunglasses for Spring Summer 2014 have officially arrived to protect our sensitive skin and eyes from UV rays, and there are plenty of styles for everyone. Spotted during various extravagant and sizzling fashion shows, here are the most popular 2014 sunglasses trends one by one, which perfectly suits almost all the face shapes.
Not very different from those Spring Summer 2013 sunglasses trends, this year's trend comes with various designs with a little playful yet elegant look. Lenses cut in half, arches that frame the eyes or architectural frames that develop into whirlwinds or get oversized. Here are the most popular Spring Summer 2014 sunglasses trends according to the shapes and colors, available there for any style and preference.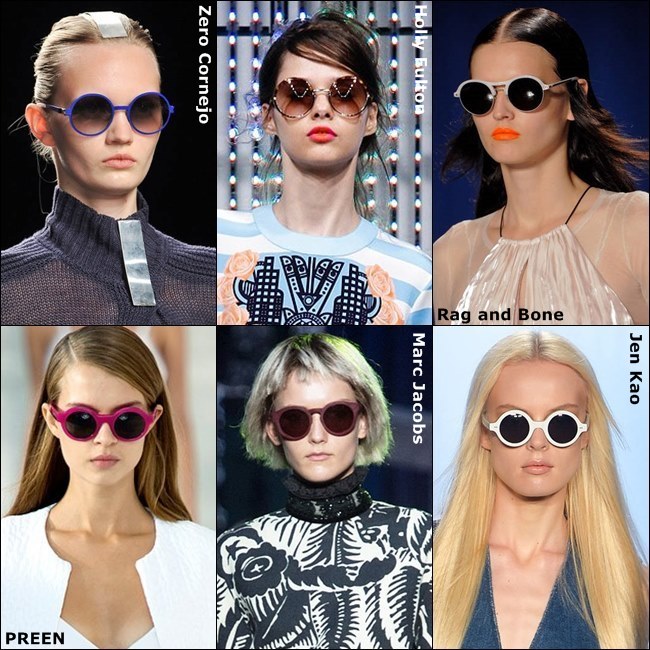 Rounded Frames: Sunglasses with rounded shapes have been quite popular recently, introducing a huge variety of silhouettes, from extravagantly oversized to chic and minimalist styles with some retro finishes. You have many colors to choose from, from dark black to the more romantic rose, so it's time to get yourself a pair.Thus, we can find some examples of such shapes in the fashion shows of Zero Cornejo, Holly Fulton, Rag & Bone, Preen, Marc Jacobs, and Jen Kao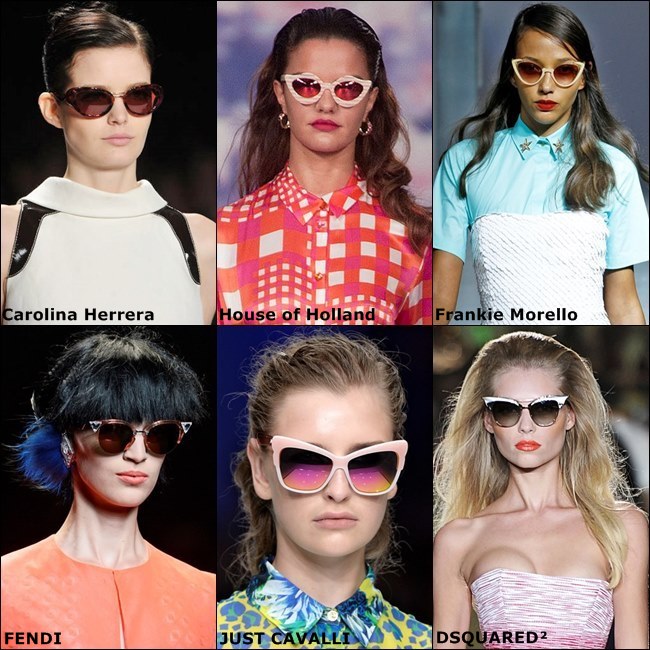 The Classic Cat Eye: These vintage-inspired, the cat eye sunnies are very much popular in women for their bold colors and cat eyes like shape, offering a unique look and style for the ladies to match with their fashion appeal. The most eye-catching looks were found while watching the fashion shows of Carolina Herrera, House of Holland, Frankie Morello, Fendi, Just Cavalli, and Dsquared². Whether you go for white, brown, mirrored lens, or stay with the classical black, the cat-eye sunglasses are a big trend this summer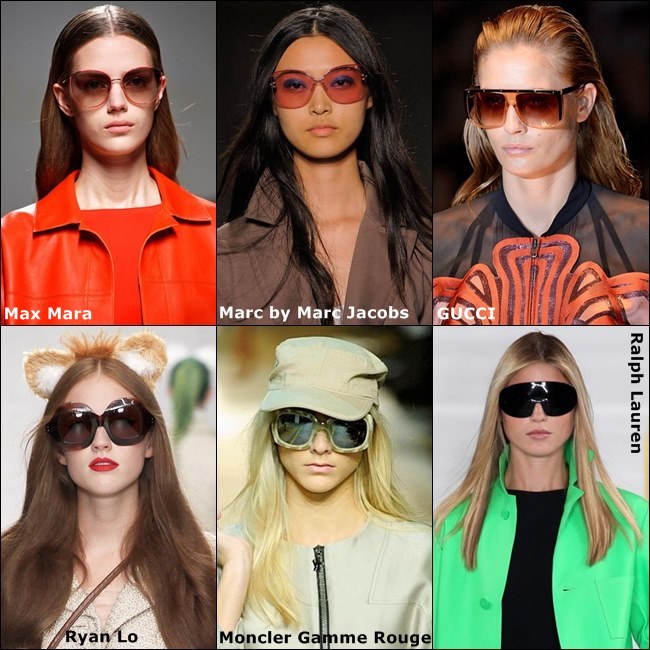 Oversized Frames: The drive for oversized silhouettes has been described as characteristic not only for the garments of 2014 shows, but also for eyewear details. The oversized, acetate made semi-circular square sunglasses are a fashion statement, especially in their thick frames version. Thus, the oversized, yet no less chic sunglasses are what can be observed as natural accompaniment to classy looks for very many designers' collections, such are Max Mara, Marc by Marc Jacobs, Gucci, Ryan Lo, Moncler Gamme Rouge, and Ralph Lauren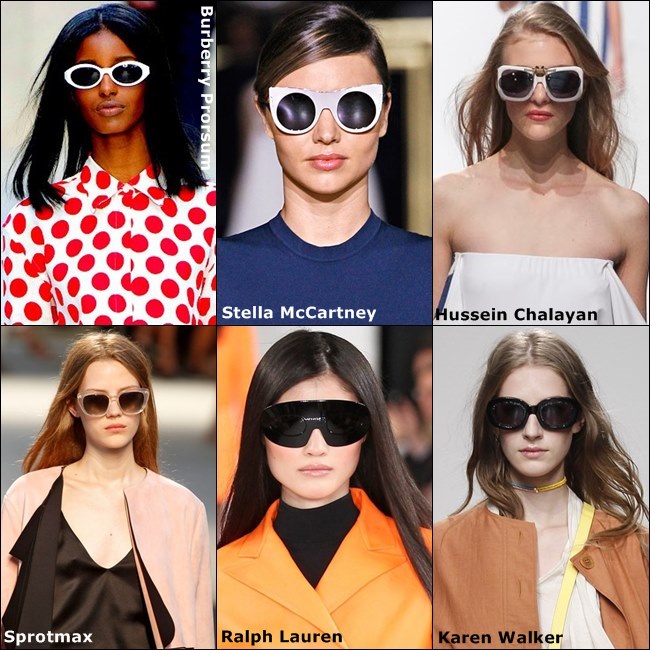 Thick Frames: Super thick and super retro, these bold frames showcasing a very spectacular drive for thick and expressive sunglass frames are another spectacular style concerning these seasons' trends, which most often having some extravagant shapes and overall classy looks. Burberry Prorsum, Stella McCartney, Hussein Chalayan, Sportmax, Ralph Lauren, and Karen Walker fashion shows were the best exemplifications for this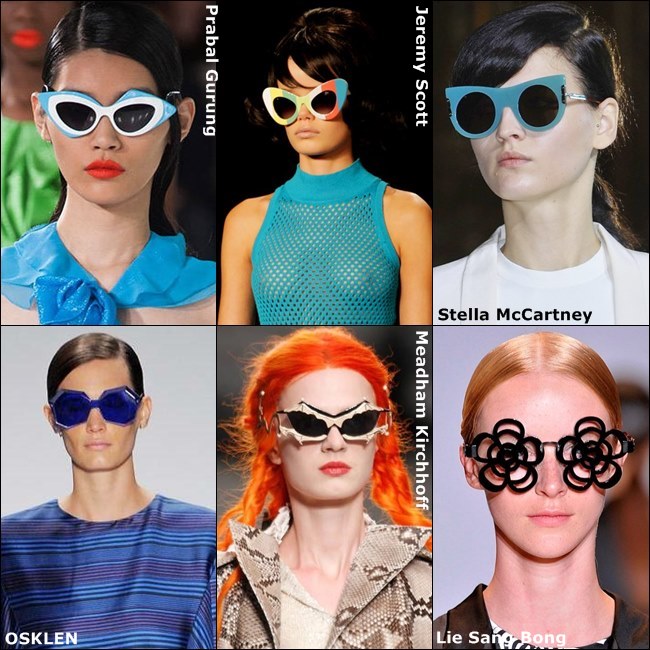 Outstanding Shapes: Just like its clothing trend for this 2014, geometrical and unique fun shapes are a huge trend this summer, and the sunglasses are part of it. Even the cat-eye has a bigger, bolder, edgier version. Apart from the general oversized and thick framed looks, there were also such options, which were different from all the rest and at the same time innovatively classy and desirable. If you want to go for that WOW factor and let your classic aviators at home, choose a fun-shaped pair of sunglasses. Such were the options suggested by Prabal Gurung, Jeremy Scott, Stella McCartney, Osklen, Meadham Kirchhoff, and Lie Sang Bong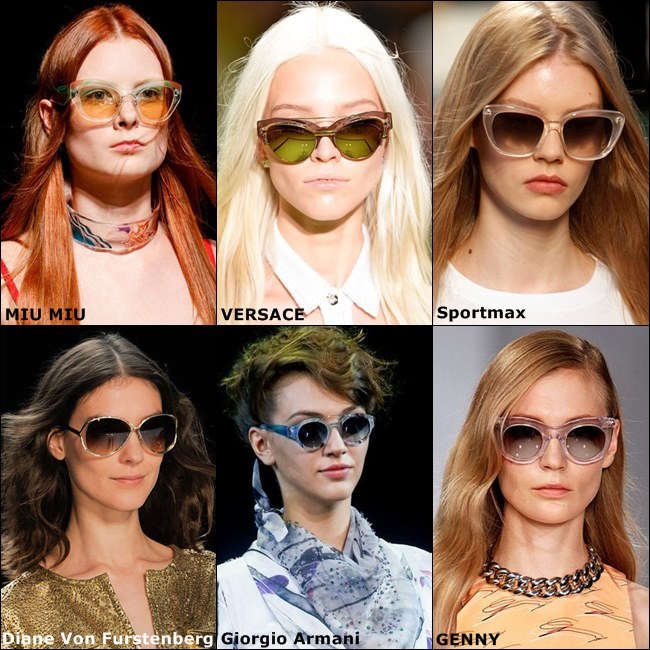 Clear Frames: It doesn't get any cooler or lovelier than clear sunnies frames. The white or light-coloured rim is one of the women's sunglasses fashion trends 2014. While the variety of shapes creates such an elegant, retro statement the piping on the frame makes you think of pop-art comics. With a more rounded or cat eye shape, colored frames or a metallic detail, these sunglasses add that vintage effect to your look. Such were the options suggested by Miu Miu, Versace, Sportmax, Diane von Furstenberg, Giorgio Armani, and Genny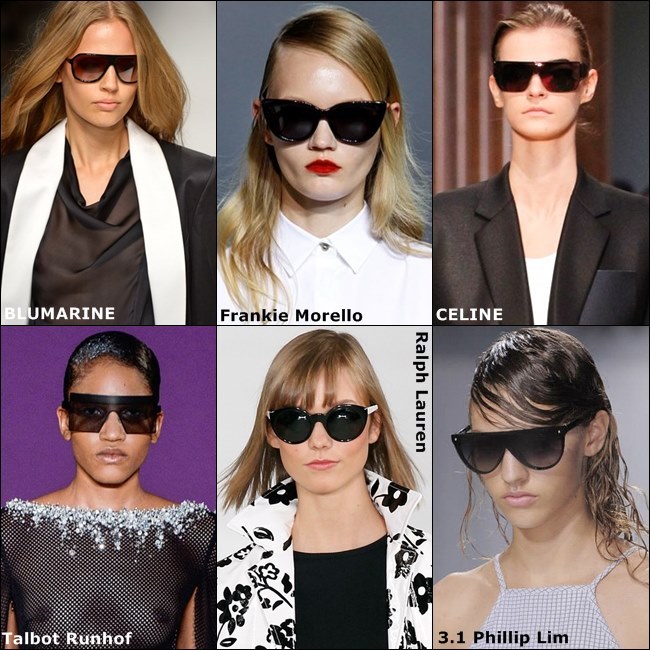 All Black Sunnies: Speaking of color variations, among those playful sunnies with colors, prints, and details, we see there are still super classic all-black sunnies featured for 2014. Starting from glasses with super dark appearance to the ones with a bit sheer-black lens, these glasses are always a popular choice among males and females as a must-have fashion statement. We can note them as being one of the most popular and trendy looks, observed with the shows of Blumarine, Frankie Morello, Celine, Talbot Runhof, Ralph Lauren, and 3.1 Phillip Lim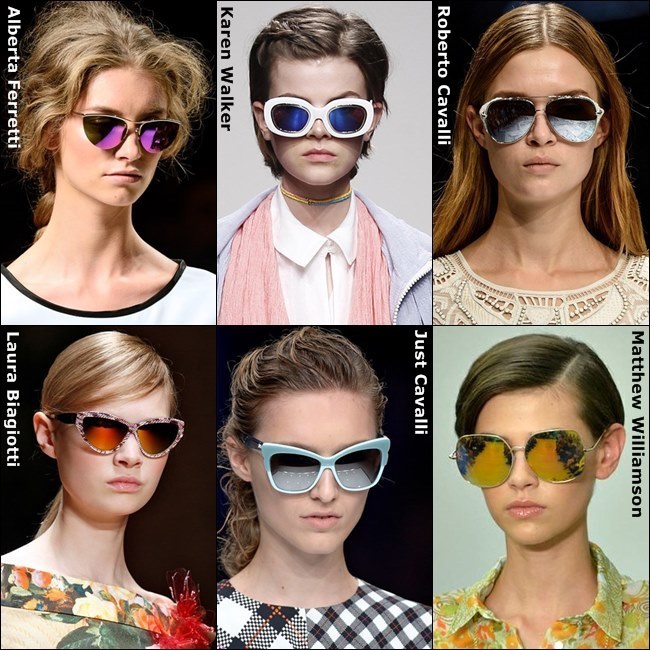 Mirrored Lens: Another popular trend for the eyewear 2014 is the iridescent solutions for matching them individually with the garments, adding a little splash of color and shine to the outfit. Featuring a dazzling array of all-color sunglasses, having spectacular geometric shapes and going well with each garment separately, the mirrored glasses are not only more fun and colored, but we have to admit, they also look so good. Such drives can be particularly observed with the looks offered by Alberta Ferretti, Karen Walker, Roberto Cavalli, Laura Biagiotti, Just Cavalli, and Matthew Williamson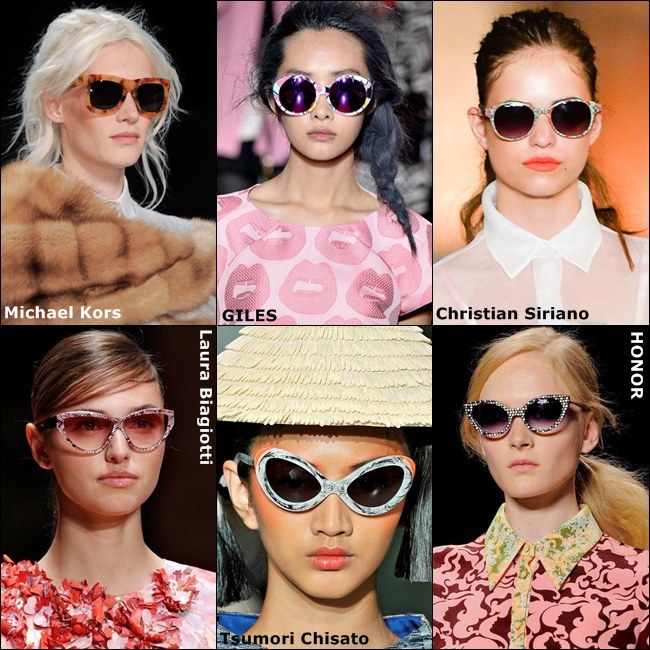 Prints on Frames: A classic pair of sunglasses couldn't be trendier with printed or patterned frames. Whether the sunnies go with floral, artsy, tortoiseshell, or retro prints, this 2014 eyewear trend is going to be creative and innovative, characterized by the newly emerging fresh drives of eye-catching and cool looks. Looking through the options of Michael Kors, Giles, Christian Siriano, Laura Biagiotti, Tsumori Chisato, and Honor, the main purpose and the result of colorful frames is to create such combos between the colorful prints of the frames and the darker shades of the glasses.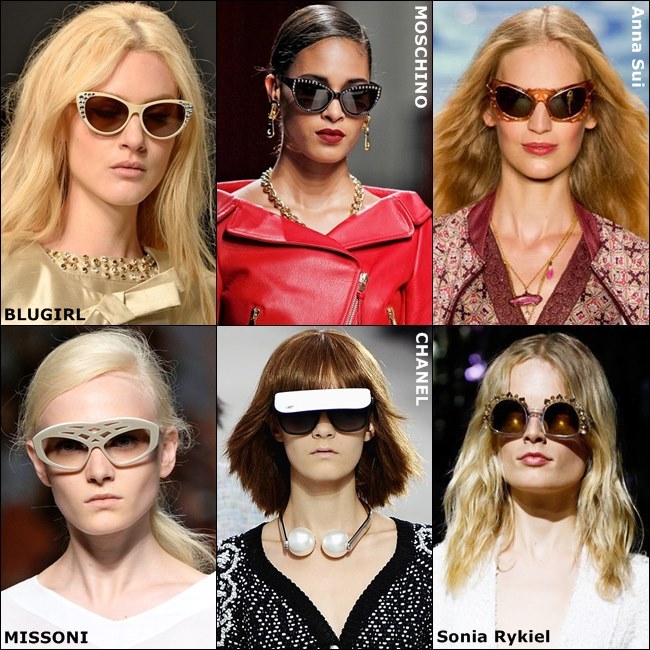 Glasses with Details: The essence of 2014 trend is creating the creative looks with the help of number of interesting eyewear detailing. This gave the designers the opportunity to experiment with shapes and shades, involving inspirations from retro touches, creative innovations, and some modernized traditional looks. From dainty sparkling beads evoking that vibe of retro look to additional striking visor for more sporty styles to crafted frame creating a unique shape to the entire look, these options do exist and we can definitely see some good examples used for what is called the sporty glamour, retro elegance, and edgy futuristic. Blugirl, Moschino, Anna Sui, Missoni, Chanel, and Sonia Rykiel are among such examples.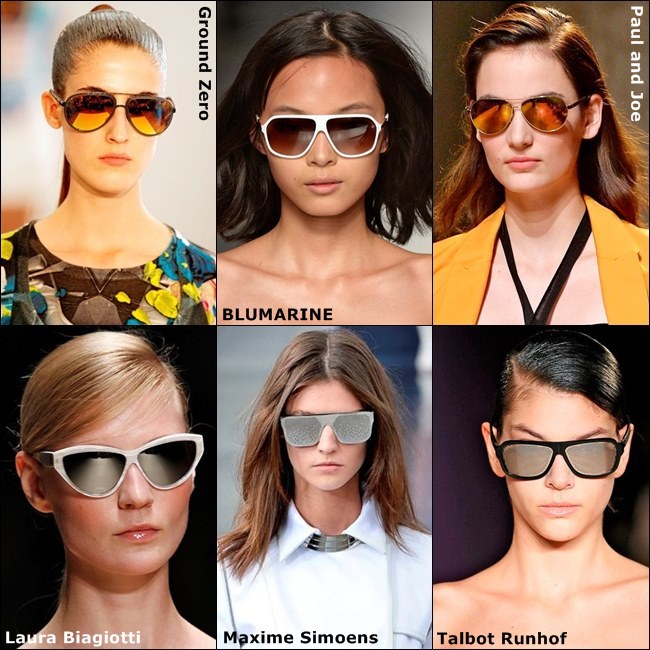 Modern Classic: Nothing classier yet super modern rather than the cool mirrored aviators. Fabulously presented at runways of Paul & Joe, Blumarine, and Ground Zero, these aviator sunnies were on the list of the best sunglasses for your summer and you really can't go wrong wearing this classic shape. As for glasses with other classic shapes such as square and cat eye frames, combined with novelty lenses trait a super edgy look that add fun to every occasion, to the days presented by the names of Laura Biagiotti, Maxime Simoens, and Talbot Runhof.