During the most anticipated season of the year, sure that the bright summer's heat, sunshine, and beaches are things we've always been waiting for, which tt the same time, varieties of fun and colorful summer essentials from designers' collections are also ready to please more and more, teasing us with their incredibly flattering and gorgeous designs.
Speaking of sunshine and summer bright, a girl definitely can never have enough pairs of sunglasses to fashion all day long. And if you are one of those who on the hunt for new and styling sunglasses for the next bright season, you will be amazed by the parade of Spring Summer 2013 sunglasses, which proposed in lots of cool, chic, and fun designs for you to complement your fabulous summer looks.
Let's see what will be the trendiest sunnies for the next Spring Summer 2013, started from rounded and retro shapes, to oversized and decorated frames, to mirror and protective glasses, along with striking pieces with colorful, embellished and printed frames. Here are the must-haves of sunnies to inspire you: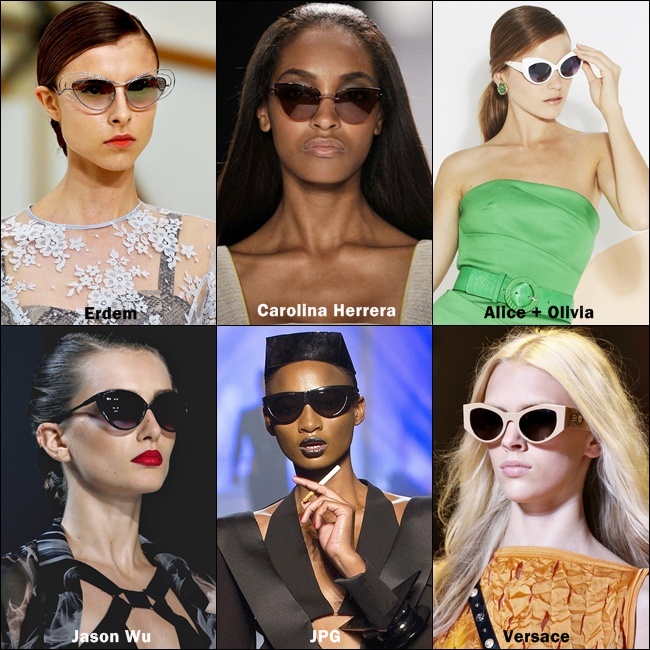 Cat Eye Shape – As one of the most classic fashion eyewear from the 50's and 60's, cat eye glasses are still continuing its trend. In variety designs presented with embellishments and colors, this classic shape has acquired a completely new interpretation of the original that add another glam feel about them. Wear them with bright red lips to feel like a true diva, and these glasses are great for those who want to opt for feminine and romantic styles.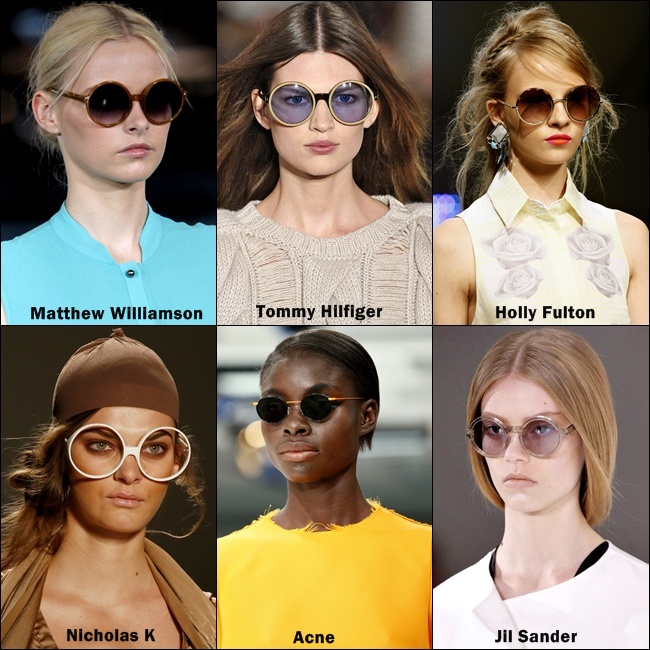 Round Shape – Although this shape features a very simple design, the rounded-circular glasses turn to be incredibly flattering perfect for those who love to fashion in more daring, bohemian-retro looks. Among them, these sunnies can be different in colors with lighter or darker shades, or vary in size whether in small, medium or large. However, even though this shape sure to make a statement during the days, at the same time it's also hard to pull off. So, try different sizes and shades to choose the ones that will flatter you.
Rectangular Shape – Glasses with square and thick frames are ideal for the rounded face shape to give more harmonious look by minimizing volume to the face. This shape remains classic and elegance, great to enhance a mature sophisticated look, or to give a touch of luxury. Wear them whether in two-toned or bold shades, as well in oversized or in much slimmer frames.
Bold and Dramatic Shape – Evoking the spirit of joyful summer, striking eyewear that is among the must-haves for the upcoming season is sunglasses with bold, dramatic, and unconventional shapes. They are truly whimsical and eye-grabbing, a bit futuristic and super cool, which can be found in different bright colors and two-toned frames. However, these glasses are sure more suitable for the youth, since they leave much funkier look to the wearer. If you wear odd-shaped glasses, think about balance of your look because this accessory will be the main accent of your outfit. These glasses also look great with sleek ponytails.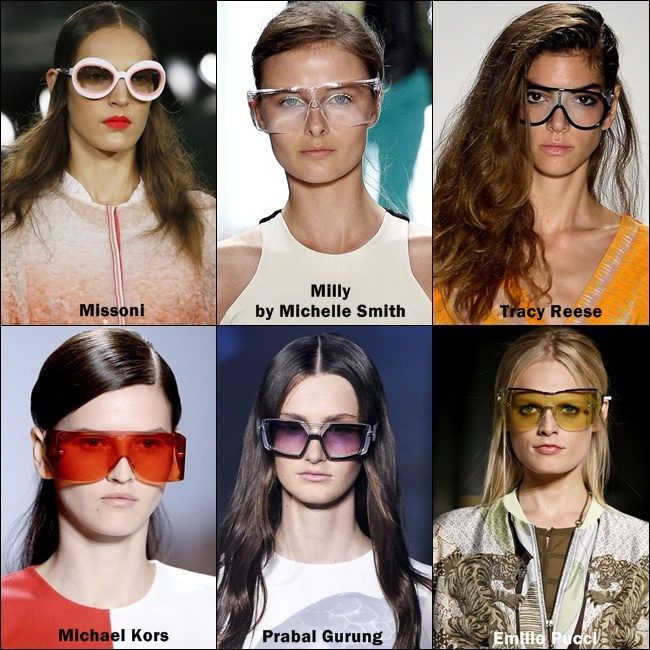 Casual and Sporty Style – Another fabulous eyewear shapes that are a big hit the upcoming season is frames that look like protective glasses. They are quite casual, yet amazingly stylish, and are suitable for sporty style clothing or for urban wear. Some can be found in oversized-Aviator shape, or in goggle eyewear styles, while shades are mostly proposed in bold hues for more dramatic looks. Pair them with semi-formal structured outfit to achieve the classy urban look and sporty elegance.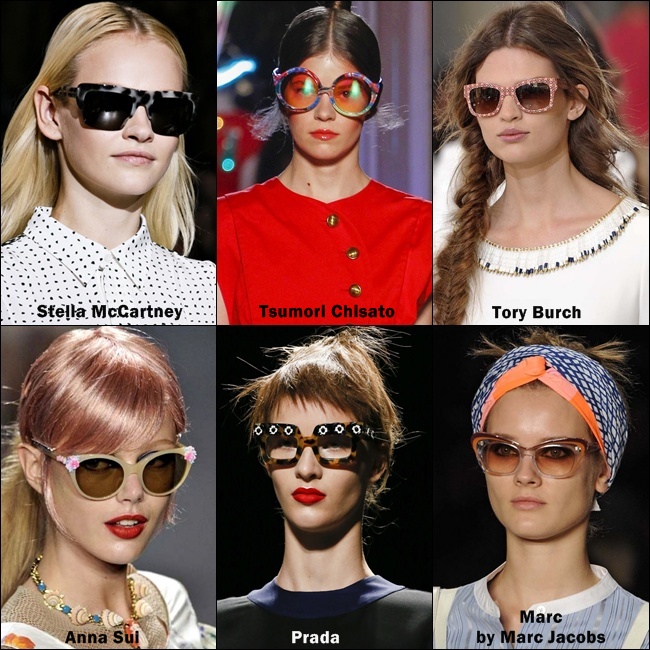 Playfully Decorated Glasses – Adorned with plastic flowers, printed in bold, summery and vibrant patterns, or embellished with metallic appliqués, a parade of decorated sunnies are definitely one of the hottest trend this summer. Approach the cheerful season with these glasses and play the look with colors, frames and shines. Depending on the ornaments, these fashion pieces are great for any different outdoor occasions to compliment a smooth touch of fabulous. Wear them with metallic ornaments to achieve powerful urban vibe, or with the floral ones for a more feminine look.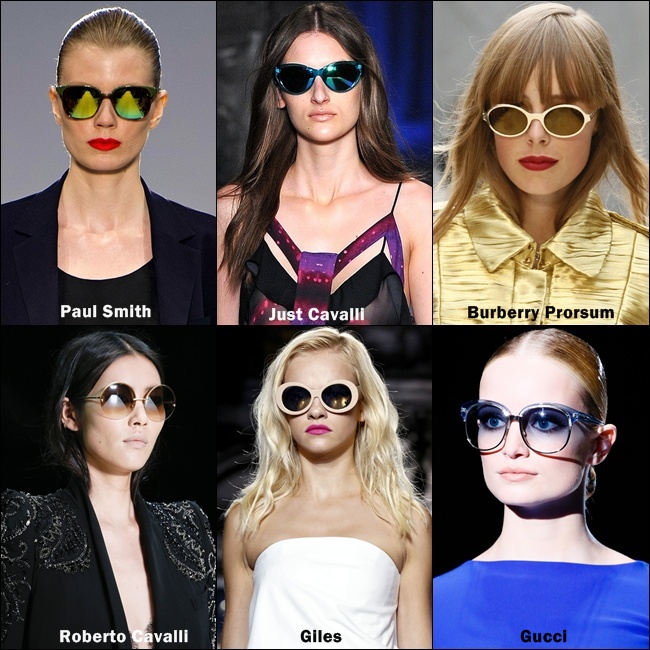 Gradient and Mirror Glasses – After metallic have already done successfully in shoes, bags, clothes and jewelries all over the spring summer runways, fashion sunglasses also got a touch of metallic by presenting gradient mirror glasses in colorful glossy tones. Bet on models with golden or silver mirror glasses, or in aviator shape resembling the American cop's sunglasses style. Clear glasses with a slight gradient tint are also gorgeous, through which people can easily view the gleam in your eyes. Moreover, one good aspect of these mirror glasses is that they have better eye protection than other glasses, while as well ensure such a modern and sophisticated style.
Lastly, other than those trends mentioned before, some Aviator pilot styles are still viewed here and there that mainly designed with plastic frames, while for the timeless classic and elegance, white, thick frames and Turtle shell frames are still among the favorites.
Now that you know everything about the most wanted sunglasses, just go and look for them, and ensure your style is on the right path to enjoy the delights of summer.