Inspired by the hippie fashions with the past due 1960's along with 1970's, today, Bohemian Fashion Style is becoming more of a state of mind rather than just a fashion trend that will eventually fade in time. As a matter of fact, fashion of bohemian, or "boho" or perhaps "boho chic", is now considered as a way to express and connect ourselves with culture and nature.
Not only that it represents our fashion up close and personal with nature and culture, the bohemian style also refers to a state of mind that is individual, romantic, feminine, with free-spirited hearth that combine with all funky elements and exotic zing of fashion in a rugged and effortless way. Although it mostly features some aspects of hippie kind of clothing with its lengthy, moving clothing and relaxed aesthetic, the style actually has more spirit than being a Gypsy hippie.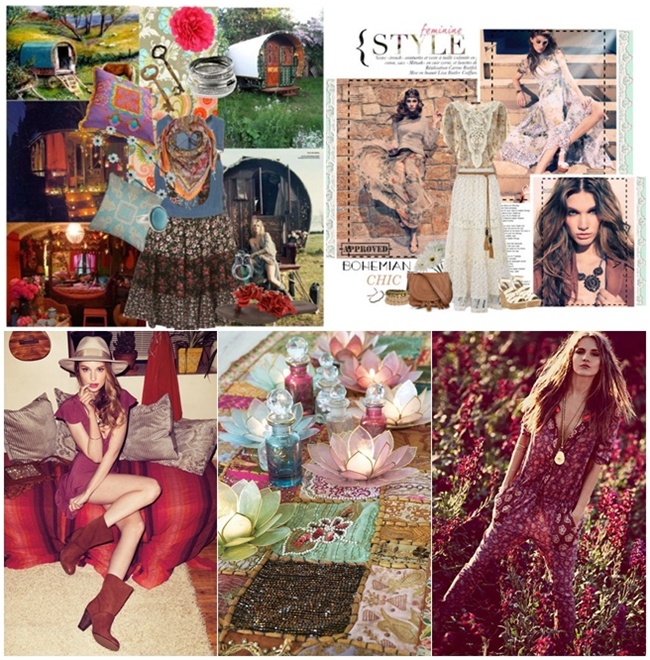 Most importantly, dressing in Bohemian style is actually all about finding out who you are and what you like that allows you to experiment, take risks, and have fun in fashion. Basically, a Bohemian is a person who lives and acts by a different set of conventional rules and practices than the average person. With this style, you are truly permitted to be daring with glam, glitter and rock, or infuse some ethnic-inspired details with all tribal, vintage and retro vibes.
However, being free to express yourself in fashion doesn't mean you can be crazy doing the mix and match unaccordingly. And there's a thin line that puts some fashion-forward thinkers onto the best dressed list, and the worst dress category. Meaning, you are still need to be careful in mixing and matching heavy prints or patterns, and remember to always think about balance. Follow this guide to achieve your personal Bohemian Style.
What Outfit to Wear for Bohemian Style

Since the aura of this fashion style is to express ourselves as a free person, you really need to wear something that gives you a perfect comfort, confidence, and individuality. Following or copying outfits from iconic bohemian stars are useless and pretty much denying the spirit of the style itself, so start to develop your own way of looking at fashion. It's true that bohemian style may be described as a trend with certain looks to follow, but above all, the style is really all about following your own inspirations.
To do the boho-chic doesn't always mean you have to pull off those sheer floral billowy skirts, or beaded flip flops, or lots of ethnic accessories. Some people might find this style synonymous with freely peasant tops such as wide boat-neck shirts, maxi dress, kaftans, or perhaps bohemian dresses. But beyond those iconic bohemian pieces, the most important aspect is all about individuality, meaning that you have to embrace your truly own personal style and express it through your fashion choices.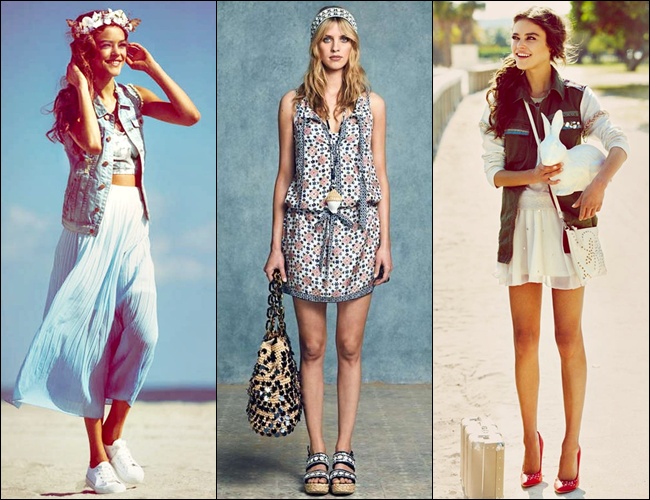 Use your best creativity and imagination in mixing and matching your outfits. Explore pieces in your wardrobe and pair each of them tastefully. For example, try pairing your lovely white pleated-midi skirt with a retro crop top and denim vest, as well as sneakers and floral hair-crown for a touch of feminine-sporty combination. Or you may try matching your white sheer skirt with biker jacket, red pointy heels, and beaded cross-body bag to enhance grown-up yet youthful fabulous look.
If you like vintage, bring your grandma's floral shirts or dresses back to life then go with lacy skirt or cardigan, paired with classic suede and flat ankle-boots to complement the look. Feminine-rocky boho-chic can be reached by giving a fresh twist of ethnic bustier underneath sheer-tight top, blended well together with pleated mini skirt, black studded fedora and ankle boots.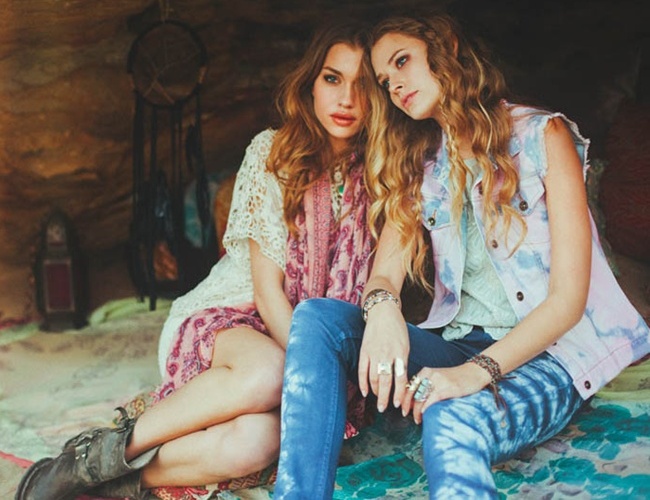 Or if you want to be casual in boho, sneakers or distressed looking ankle boots can be another alternative to look for, and matched them with shift dress, lacy cardigan or denim vest, skinny jeans, and casual top. You may as well play with prints and colors such as washed tie-dye prints, tribal, floral, or lots of other options. All in all, the possibilities in bohemian style are truly endless.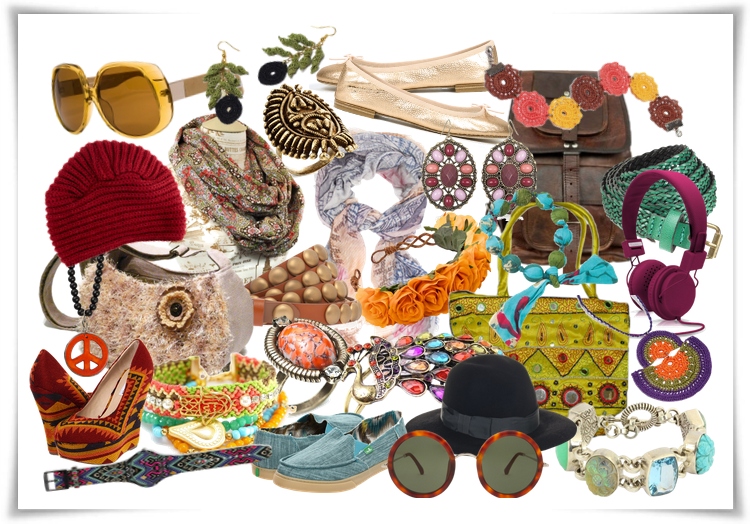 What accessories to match
In the world of boho-chic, accessories and details take the main part of this look. Search, browse, or look for any accessories you love from any place or store you feel like buying. Express yourself with affordable pieces, and remember that Bohemian Style doesn't have to be expensive. The difference between someone simple and someone with a bohemian sense of style is in the accessories and details of the outfits. Even today, many women love to experiment their fabulous DIY project to make one-of-a-kind fashion items.
Here with the accessories, you can just instantly transform a pair of skinnies and a cropped shirt into a boho outfit with a rainbow hobo bag, ethnic lacy scarf, beaded necklace, multiple bangle bracelets or charms, ankle-knee gladiator sandals and so on. From long and layered necklaces, fringed cross-body bag, knitted vest, berets and head scarves, belts, moccasins, cowboy boots, leggings, ballerina flats, platform shoes, and sequined vests. It's all about the small things.
How to be Bohemian
Remember that fashioning in a true bohemian style can't be instantly built by only following the trend. There are some points to acknowledge if you want to stay true dressing in this style without changing into somebody else. It's all about you and how you think "out of the box" from any fashion rules, yet still focusing on the aesthetic of your style. Here are words to remember in boho-chic:
1. The style is as much about comfort as self-expression. Comfort of your outfits is mostly based on what fabrics and designs you wear. Usually, the bohemian dressers will choose simple and practical designs without losing any fashionable aspect of the entire look. Light and natural materials for easy care and long lasting wear are mostly used, which also allow your skin to breathe, such as cotton, gauze, wool and leather. However, to represent the spirit of nature evoked by this style, try to choose a synthetics or patent leather, instead of the genuine ones.
2. Know about your body, your style, and the outfits. Since bohemian look is all about decorating and accessorizing the entire appearance, bet on any detailing options including embroideries, sequins, fringes, frills, beads, laces, braids, trims, etc. Do not be afraid to pile on the jewelry, whether it's an ethnic piece like beaded or knitted earrings, or a natural one like fresh flower crown. Just do any details according to your taste and make yourself gorgeous in your own way.
However, be careful not to put too many accessories into the style, since you are also required to express a sense of freedom reflecting to your outfits. The movement of a bohemian outfit – especially a Bohemian dress – should be fluid and graceful. Also take time to note what noise does your jewelry makes when you move.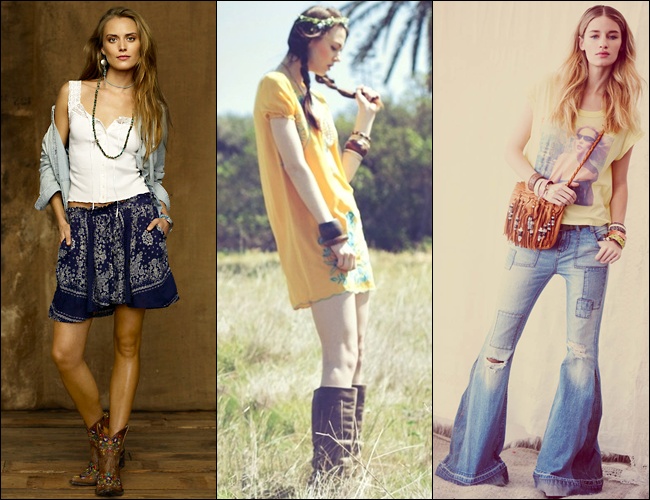 3. It's not only about bright colors and graphic prints. We all know that Gypsy or Nomadic vibes dominated most of the bohemian looks in every fashion spot. But, bohemian style is actually not all about being bright and colorful with lots of heavy prints mixing together. A simpler bohemian can be achieved by using dramatic one-tone items, or even by applying subtler neutral shades like beige, sunny yellow, midnight blue, white or other earthy tones. More importantly, it is the cut and fabric that, above all, create a Bohemian feel.
4. Fashion your style with love, honesty and passion. Depending on your personal taste, never let anyone dictate what best to wear in you. Only be true to yourself and unafraid of expressing what is inside you. It is that element of sincerity that makes the Bohemian look so delightful. Never create an outfit without love, especially to yourself. Don't wear any piece that is not perfectly necessary to the look you are trying to project. Often the most successful Bohemian styles are, in their way, the cleanest and the simplest.
5. Enjoying, exploring, hunting, and experimenting. With all the love and passion you are doing into your style, always look for any unique items you are crazy to wear. Try shopping at ethnic or vintage stores if you are looking to create a truly Bohemian style. And if you must buy things at department store or even designer Bohemian pieces, look for items with originality. Steer away from gimmicky, cliché pieces. Last but not least, do thrift shops fashions, flea markets fashions, and fashion magazines to get yourself inspired
Take a little sneak peak at the images below or through gallery for more inspiration to get gorgeous and stunning in Bohemian style. Let's try transforming your favorite skinnies, palazzos, hot pants and shorts, crop tops, etc, from regular-basic looking into an eccentric bohemian fabs.