Knee high boots are a great fashion statement and are truly all winter's hottest trend in shoes. As a matter of fact, because this style of boot provides some extra coverage and warmth, one of the best things about cooler weather is the appearance of women's knee high boots. Whether classic or edgy, casual or dressy, flat or heeled, knee-high boots are totally wearable no matter your height, and they will add some edge to your outfit. So ladies, this winter is definitely the perfect time to try out a pair.
Compared to other styles of boots, knee high boots are boots that rise up a few inches above your knees or right a few inches underneath your knees. They are typically tight around the calf of the leg and ankle, which can make big calves appear slimmer; cover lower leg flaws; and keep your legs warm, all while looking incredibly chic. A knee high boot can be made out of synthetic rubber, suede, leather, or various other materials. There are slip-on knee high boots as well as those that lace up or buckle.
Although rise boots come in a ton of different varieties, generally these boots are meant to accentuate the leg. So, wear bottoms that work with your boots to elongate your leg, and I personally think you better avoid baring too much skin above the knee when wearing these boots. Too much skin exposure with a tall boot can wreck your style. Here are few tips to get the perfect pair of boots for any figure: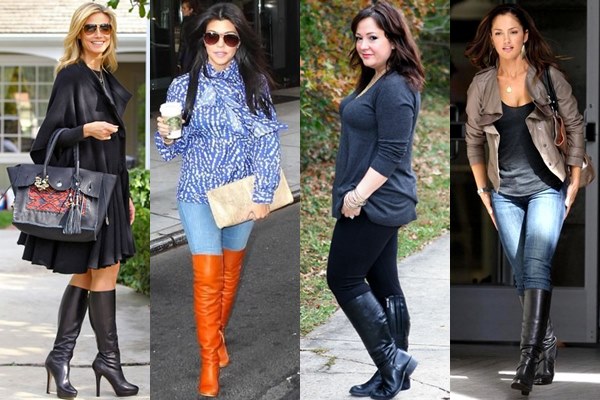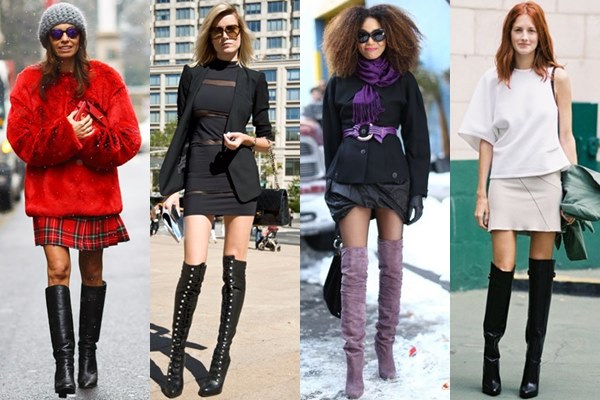 Consider your calves: It's important that the boot doesn't gape too much. Make sure your boots fit snugly and comfortably around your leg. If you have thick, athletic or curvy legs, opt for sleek wide-calf styles in neutral shades to make your calves look slimmer. Stretchy, slouchy, or zippered styles are a great bet. On the other hand, if your calves are thin, choose boots with a bit of structure or bulk to it, such as western, riding, grunge or utilitarian boots, cowboy or slouchy boots, or wedge boots are also good choices, as well as boots with details like buckles, studs, etc.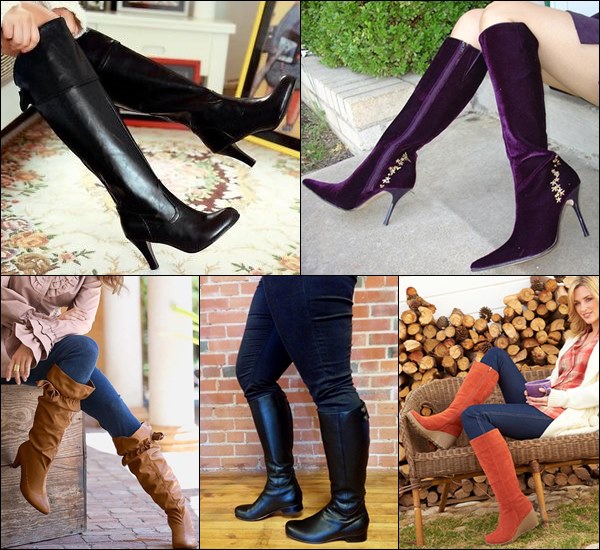 Consider your figure's height: Know that colors, height of heels, and shape of toes have more to do with what your silhouette will look like than the actual height of the knee high boots. So, play around with different colors and styles of heel and toe – high heels or low heels, rounded toe or pointed toe to achieve the silhouette you want. For example, if you are looking to elongate your legs, a pair of pointed black stiletto boots would add length. A narrow wedge knee high boot is better for more visual balance if your calves are thick, while chunkier heels are also good for heavier legs as they can make your leg appear slimmer. As for women with thinner calves should stay away from knee high boots with skinny, sharp heels.
Consider the occasions: Different styles of boots provide different formality of each occasion. In general, slouchy and cowboy styles are more casual, while luxurious leather or suede boots, heeled or flat, provide a more formal option, especially if the boots come with luxe details and prints
Once again, knee high boots are one of the most versatile footwear items you can have in your wardrobe, as they can look classy, chic, sophisticated, and much more. On top of all that, they can be paired with everything from jeans to skirts to dresses. Here are a few trendy ways to wear knee high boots: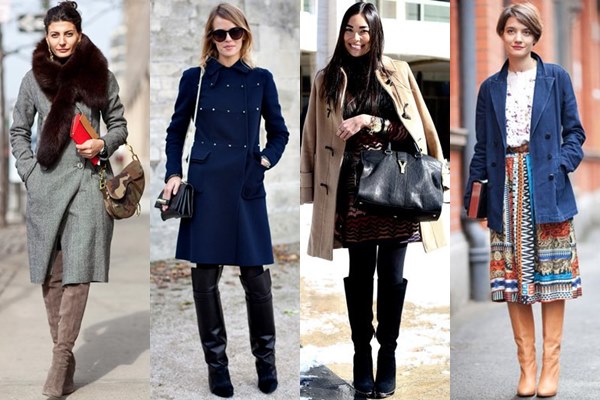 Knee High Boots for an Office Look
To update an elegant professional look with knee boots, opt for boots with classy and simple styles as well as in basic colors. Choose an appropriate business outfit, such as a skirt that hits just below the knee or at the knee. If your skirt is on the shorter side, add tights for a sleeker, more conservative look. Pair the bottom with matching top that works for the office look, including a simple fitted blouse with blazer or pea coat.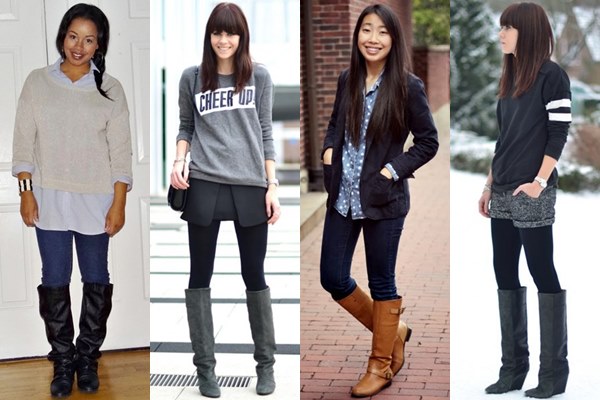 Knee High Boots for a College Look
Easy ad simple, casual and comfortable outfits are the most appropriate ones for college, and a pair of low-heeled knee-high boots is definitely one best choice for that, especially during cold days. For hip coverage, consider pairing your boots with a longer top or tunic, or wear a tall pair of socks underneath for a very "model off duty" look. Skinny jeans are also great for college. Or, you may as well go with shorts and chic mini shifts with leggings or tights.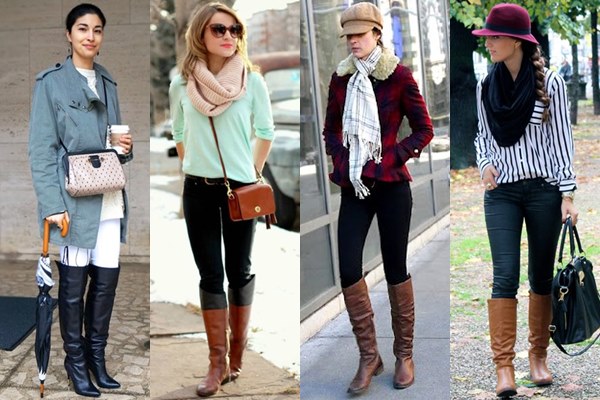 Knee High Boots for an Equestrian Look
Obviously, knee-high boots scream such a strong elegant equestrian look, which is basically the epitome of high-class casual. Take your classy and casual outfits such as skinny bottom pants – including skinny jeans or leggings – and fitted blazer (or other outerwear) over a chic top, and match them with a pair of sleek knee-high boots to reach the full equestrian look. Accessories such as pearls or diamond studs add to the overall look.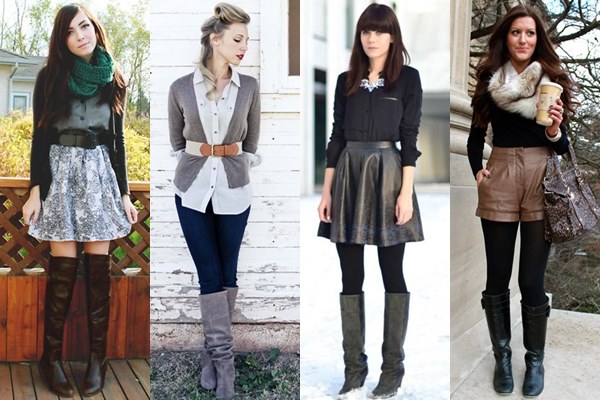 Knee High Boots for a Preppy Look
Almost similar to the equestrian looks, preppy styles evoke casual-elegant and classy fashion. Pick up some classic staples and style your fashion in neat and clean attitude. The core of this style is made up of clean lines, high-quality textiles, close fits, and modest cuts. A pair of knee-high boots in classic designs, combined with mini A-line skirt or tailored shorts with tights are great to achieve this sophisticated statement. Finish the look with polished top and accessory for a flashier look.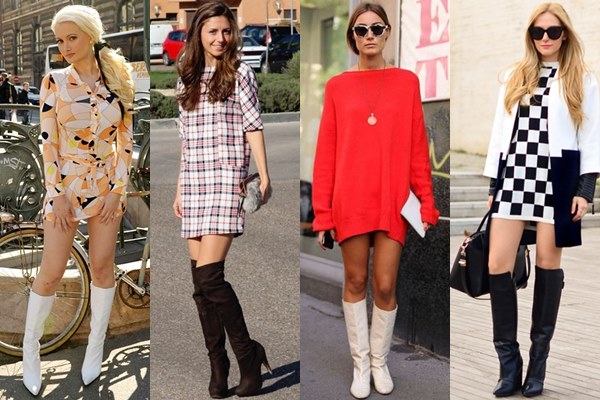 Knee High Boots for a Retro Look
To reach a chic retro look, bet on styles of Andy Warhol and Twiggy – known with her cute simple shift with tall boots – Simply pick out a mini dress in vintage prints, and combine it with a pair of white knee high boots for a classy retro look. To top off the attire, add a hobo bag or clutch and hoop or chunky vintage earrings.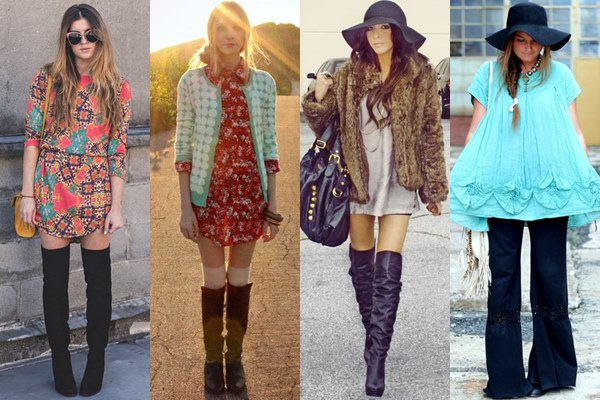 Knee High Boots for a Bohemian Look
Advance the bohemian styles with lightweight, colorful dresses, or chic knitted cardigan over loose shirts worn as mini dress. Style your knee-boots with a tall pair of socks underneath to enhance those chic boho looks. For a dressier vibe, combine a simple shift with faux fur coat to get a little urban-hippy style. Or even you may pair with wide-leg pants – although your boots won't be the main focus here – to achieve the real hippies-looking fabs.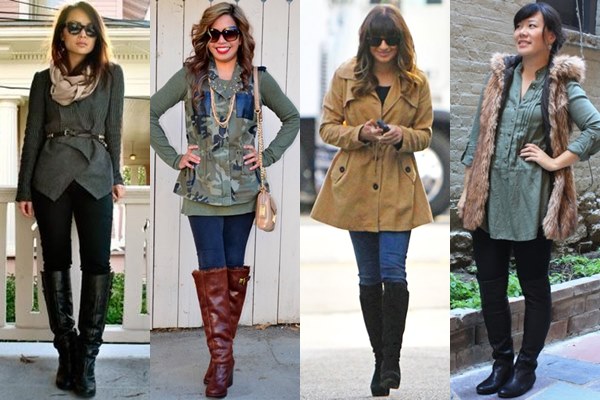 Knee High Boots for a Military Look
A pair of knee-high boots is so versatile that you can wear them almost every style. Sport the military elegance by donning classic trench coat in neutral shades with military-inspired outfits – it can be a simple blouse in olive, or any army-printed statement. You don't have to style in head-to-toe army outfits just to achieve this look. A trench and a pea coat have already been great pieces to accentuate the look, along with pieces in army-looking shades like navy blue, white, brown, black, and olive.
Find out more about knee-high boots on "What to Wear with Knee-high Boots this Fall 2013"