As one of the wardrobe basics that you should have in your closet, a denim shirt is totally easy to wear and it looks fabulous in any outfit. It is symbol of timeless classic, and if you know how to dress up denim shirts you'll be sorted for nearly all occasions. To stay conservative and put-together for class or work, throw an on-trend tuxedo jacket over your shirt, and if you want to go for a girly look, a denim top looks great with soft maxi and floral skirts. Learn some current ways to wear the denim shirt.
With these versatile pieces, you can mix the casual with special, transforming one basic staple into a stunning edgy look, from casual to sporty to formal, for daytime wearing or night out.  Take a look at some style inspirations below, showcasing one denim shirt – STELLA JEAN  long sleeve shirt ($116) from FARFETCH.COM – matched into fifteen fresh outfits.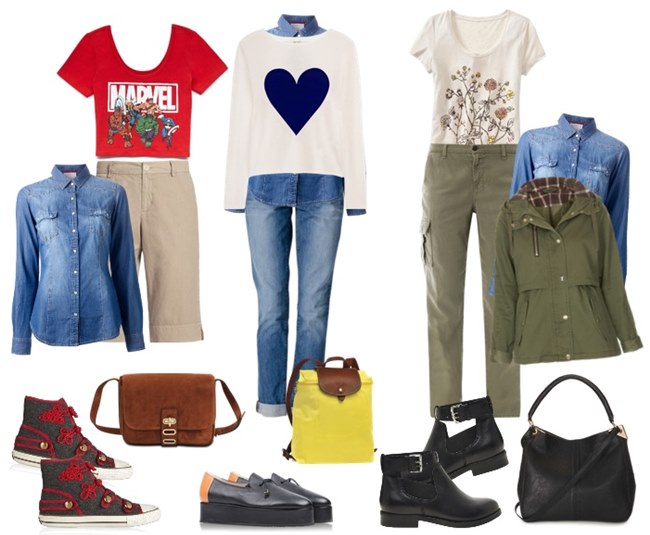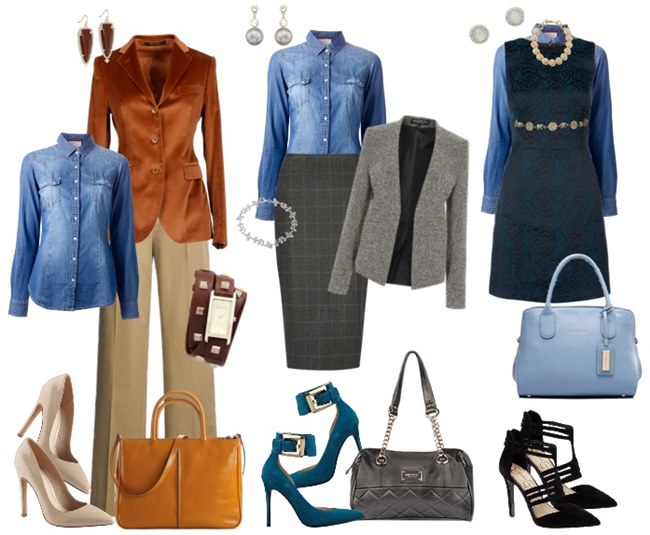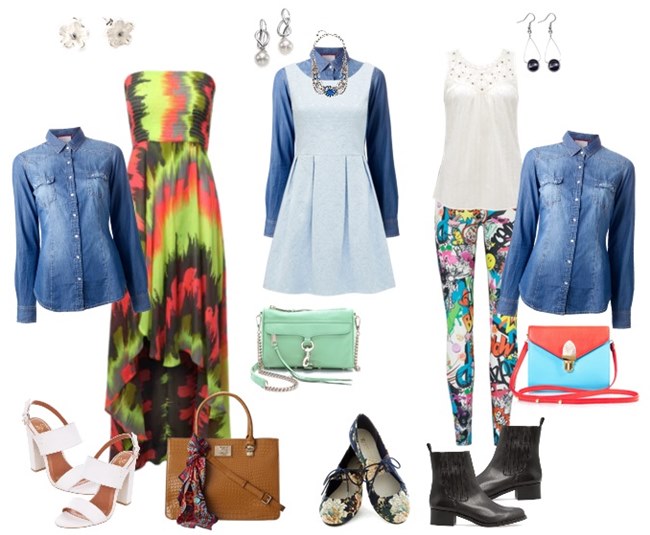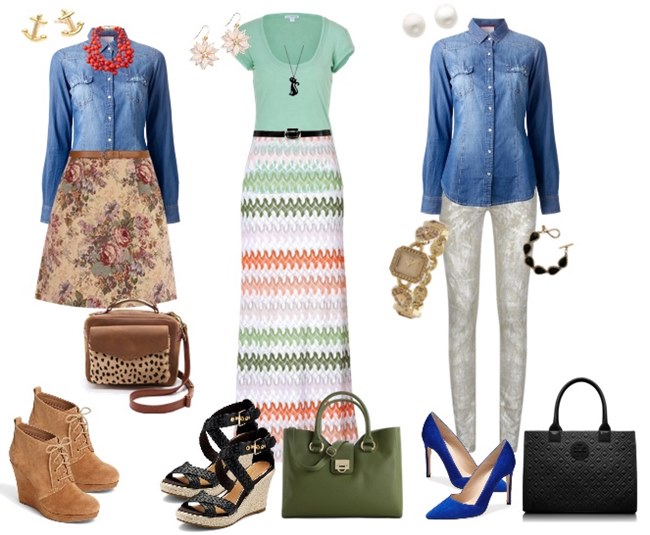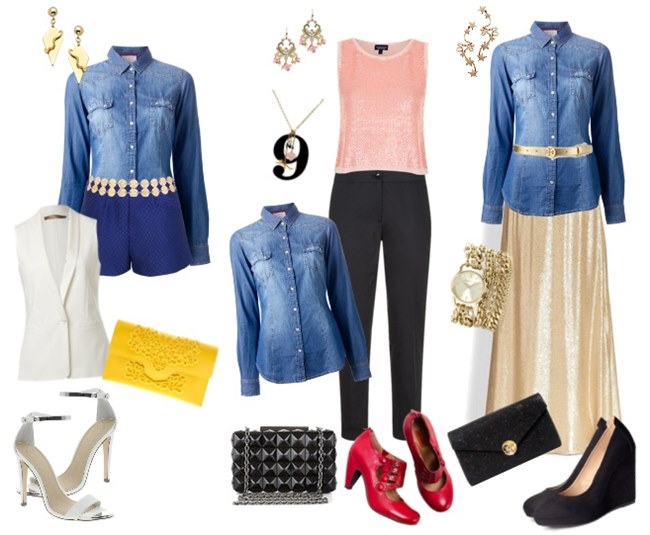 Like anything denim, it's a casual piece, so it looks better with classic or sophisticated items. There are four ways you can don a denim shirt, and pair it with any fashion staples in your wardrobe.
DENIM SHIRT WITH SKIRT
Although denim shirts don't evoke femininity compared to skirts – especially long skirts –, but the simplicity and classy attitude presented by denim give an interesting contrast between feminine and elegance. Bohemian style maxi skirts with heavy prints, for example, work especially well when matched with a clean, non-distressed denim shirt. Specifically for maxi skirts, since these skirts tend to be loose-flowing, they generally work best with fitted denim shirts or loose denim shirts that are belted around the waist to create form.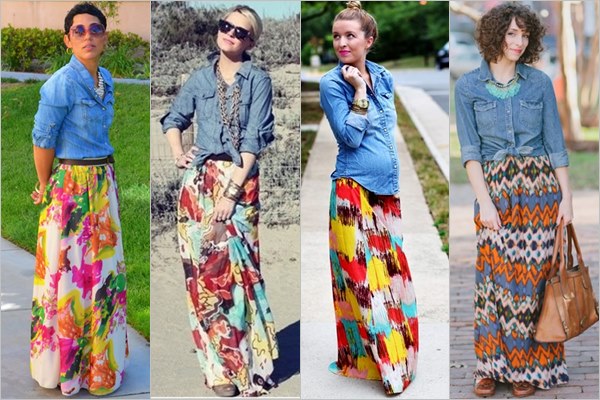 Not only bold patterns, prints and colors that can be balanced out by the classic denim shirts, textures and fabrics like lace, leather, satin, etc. can also be match with a denim shirt to create the multi-textured look with various kinds of jewelry including silver and gold, bangles and cuffs. Basically, use your denim shirt to tone down any bold and vibrant look of colorful, patterned or sophisticated skirt.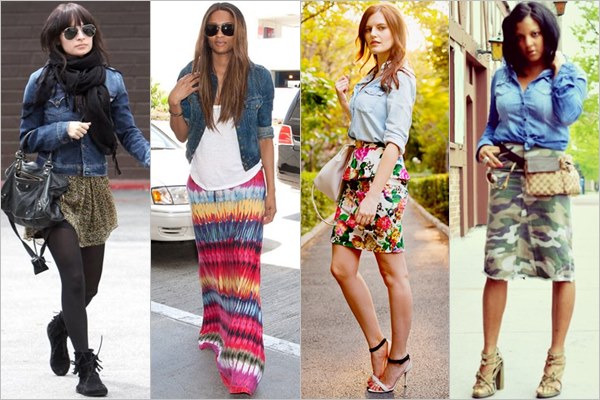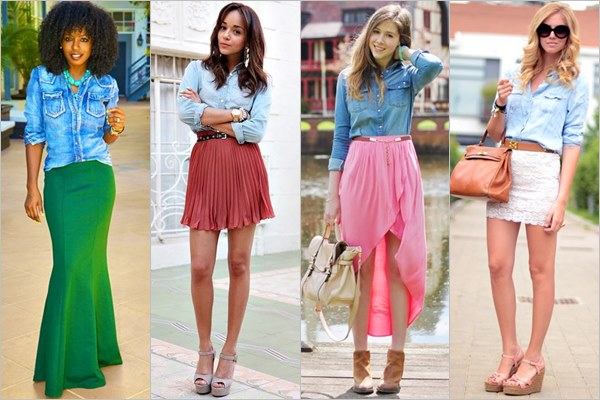 When choosing for tighter-fitting mini skirts and knee-length skirts, think eclectic and eccentric, mix and match to play off that surprisingly feminine look. And if it's really flatter your shape, you could even try a light long skirt, midi tutu-style skirt, or even mini ruffled skirt to create a more noticeable feminine edge, leave a light-wash button denim shirt open and wear a soft white or plain pastel beneath it.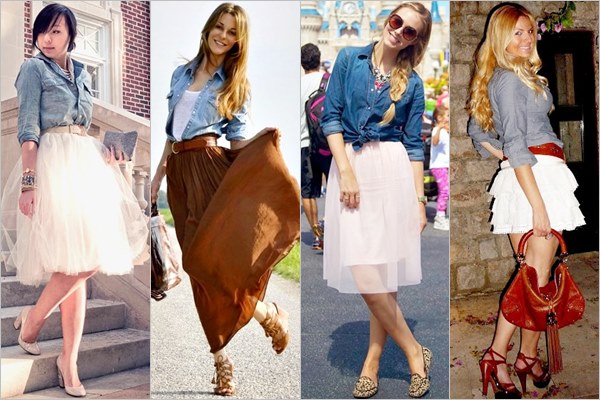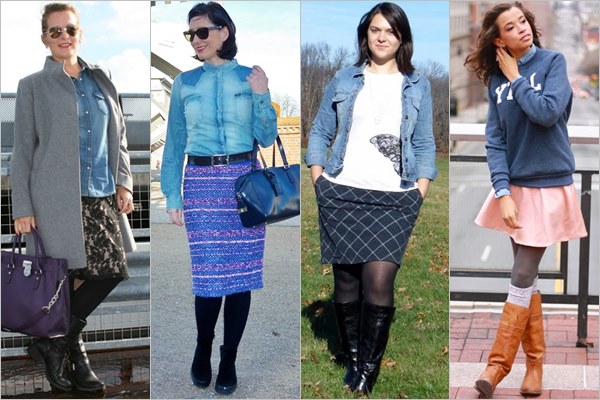 When it comes to winter fashion, or you want to pair your denim shirt outfits during a chilly day, opt for skirt made from heavy material and match it with a denim skirt, along with layers head-to-toe, including leggings, outerwear, and fashion boots. The skirt can look casual, like a cargo khaki skirt, or it can be a little dressier, like a wool or twill skirt. For a chic twist, throw a colored or patterned blazer over your shirt or tie a fashion scarf around your neck.
DENIM SHIRT WITH PANTS
There are numerous ways you can do with a denim shirt and pants. You can pair your denim shirt with classic trousers, cropped pants, skinnies, boyfriend jeans, flare pants, leather pants, or even with leggings. You can also wear your shirt open-buttoned, over other top, or tucked in. All in all, a denim shirt really has the ability to turn a regular outfit into something chicer and trendier.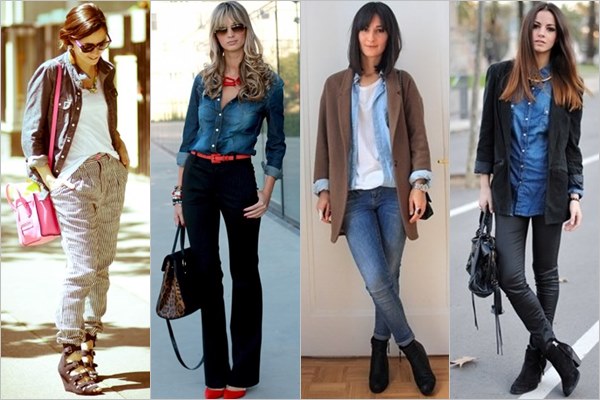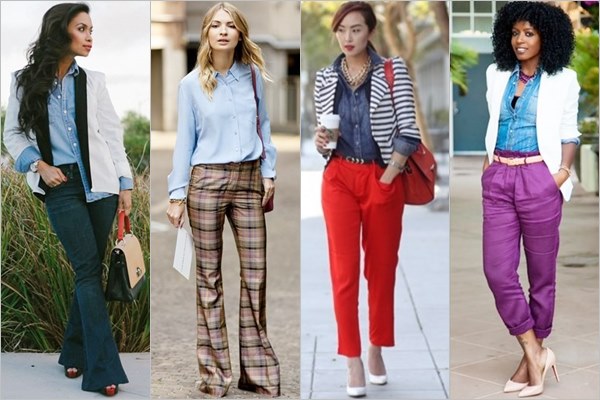 To create a classy business casual look, for example, opt for tailored trousers or suit pants, and create a bit of interest to the top half of your outfit by layering your denim shirt under a tailored or structured. Finish the look off with closed-toe heels or flats and simple jewelry. If you want to add a little edgy look just pop on a pair of fitted cropped pants. Choose a pair of pants in a neutral color for a more classic look. Make sure the denim shirt is tucked in and for a bit of extra polish, add a slim patent belt to the look.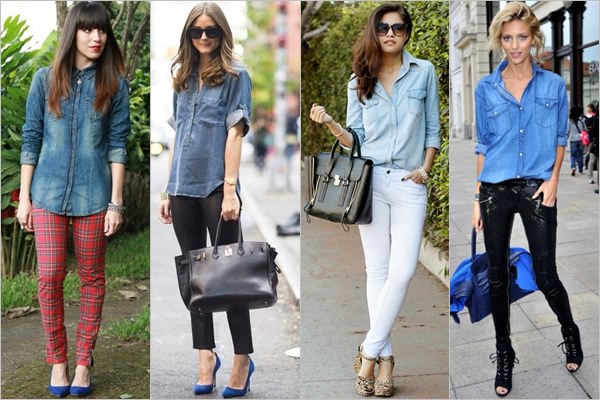 If you want to look more casual yet still dressy and chic, pair a denim shirt with fitted pants such as skinny or leather pants to create an edgy, rock-n-roll atmosphere. Make sure to find just the right size and cut of fitted pants. Additionally, because denim shirt is slouchy, tucking the loose shirt is a really great way for bigger busted ladies to accentuate their form.
And to achieve that classy rocker chic look, accessorize funk with simplicity, either to choose a fringy purse or lace up shoe, or go minimal with jewelry such as beaded bracelets or tiered necklaces. But do not try it all together. Think balance and elegance. This is supposed to be very edgy but also effortless.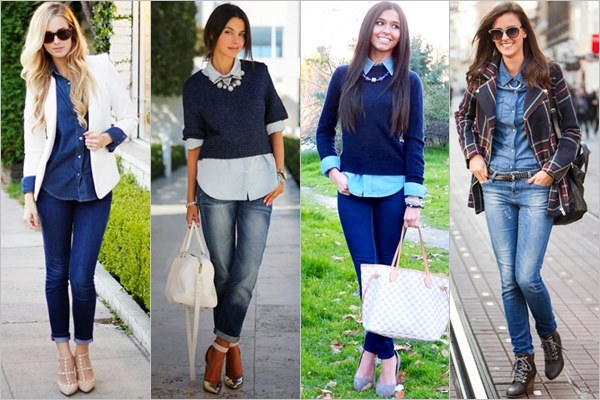 As for denim on denim outfits, either with skinnies or boyfriend jeans, make sure to draw a balanced look between the top and bottom half of the outfits by combining a dark wash with a light wash. Or you can tie the look together by throwing a layer such as fitted blazer or jacket over your denim shirt. This way, the jacket is the focal point of your outfit and the denim shirt acts as a bit of an unexpected twist.
On the other hand, if you still want to wear denim bottoms but aren't too fond of the typical blue denim on denim look, that tends to make you look like 'a dive of denim', try colored jeans as a cheeky option. Colored jeans are must-haves right now and when it comes to how to dress up a denim shirt they're an easy option.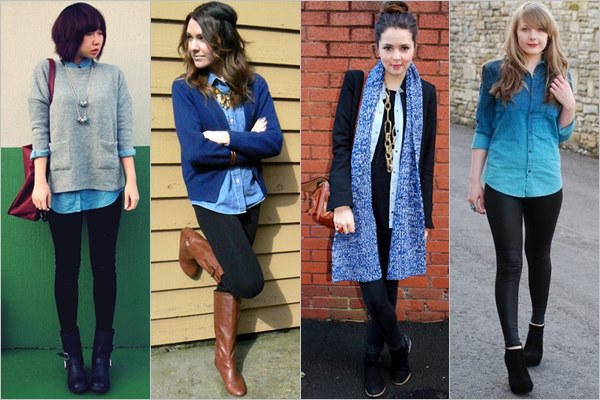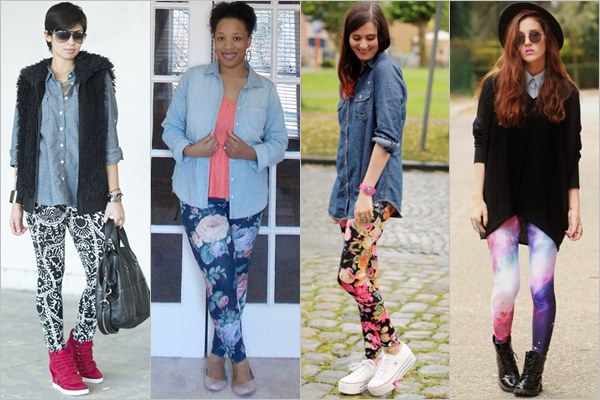 If your shirt is long enough that sits below/at the rear or the mid-thigh, try pairing your denim shirt with leggings. This type of hosiery can create a look that is both casual and edgy. Black leggings make the look relaxed, but you could also try a print legging for a funkier twist. However, the cut of the shirt is important. The fit for the oversized button-up should be loose no matter what your body shape is. For bustier broads, make sure the fit grazes your torso.
DENIM SHIRT WITH SHORTS
Since denim is a fairly simple material, you can usually get away with wearing a loud print on your shorts, but make sure to streamline your look with the louder prints if your denim is too simple. The busier or bolder your pant, the simpler the denim should be. On the other hand, that doesn't mean you can't make statement with the details! If the shorts have a super busy print, the denim should be simple in wash but, it could have funky pockets or buttons to play off the pattern. Finish the look and modernize it with crisp metals in clean, strong lines.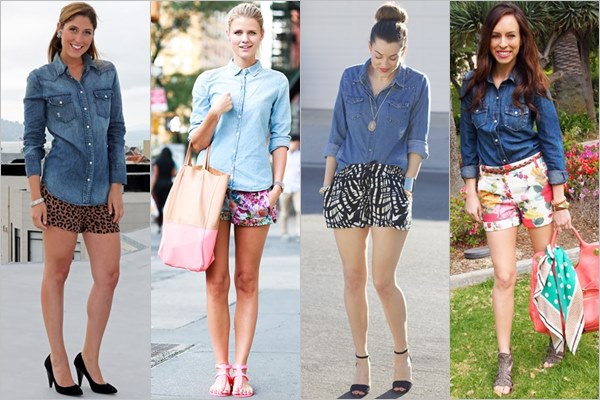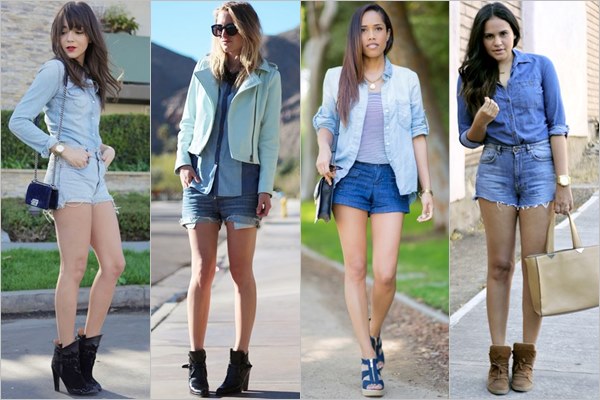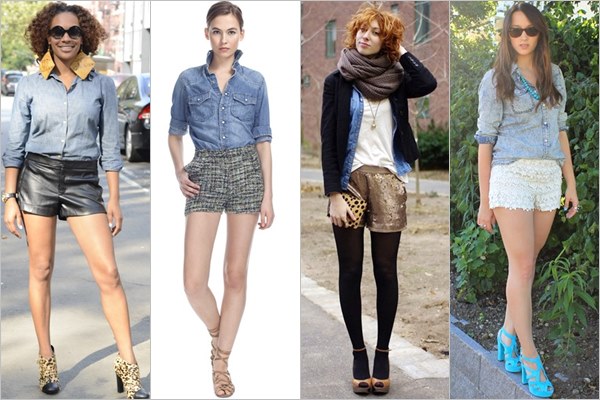 There are many styles of shorts you can pair with a denim shirt. Opt for each of them to create a different look, such as a slim-fit denim button up or a higher-waist short and tuck your shirt for a very collegiate look. This combo is more about texture than anything else. You can also wear sheer tights to keep the look simplified. Play with the contrasting textures like crushed velvet shorts, tweed, etc.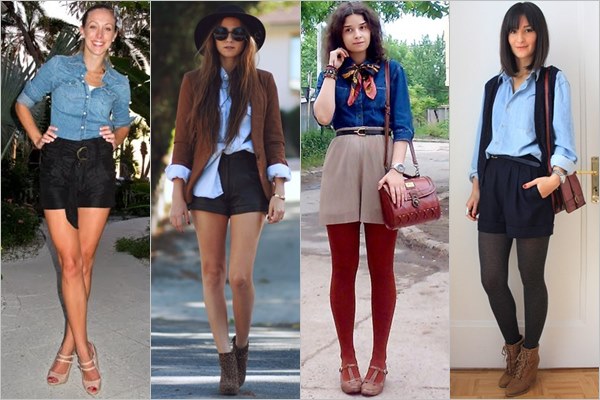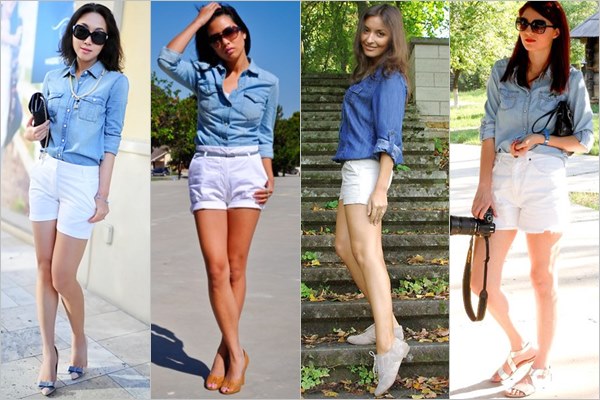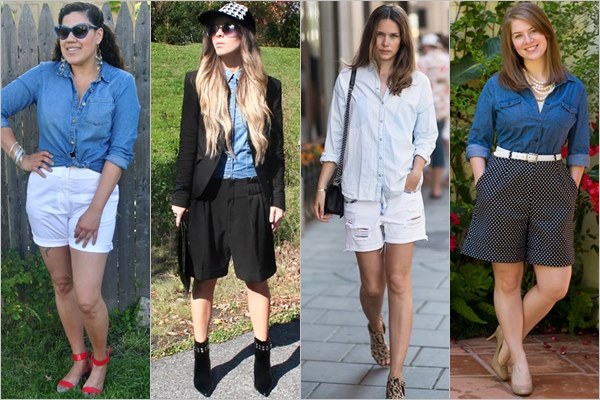 Besides the classic black or blue which mostly paired with denim shirt, a clean color like white also works well with just about any wash of denim. But because it gives off an air of crispness, it tends to work better with clean-cut denim shirts that are not distressed. As for loose cotton Bermuda pants, try a more fitted denim shirt. For snug Bermuda pants or fitted white shorts, a slightly looser denim shirt may be in order.
DENIM SHIRT WITH DRESSES
This is similar to the idea of putting a "menswear blazer" over a super-girly dress. The looks are super polished, chic and fresh, especially for the next summer fun.  You just want to make sure the proportions are balanced and you don't over-style. For example, if you opt for a loose flowing maxi dress, match it with a loose denim shirt tied into a knot around your waist, or add structure and go for a more fitted-look with the button-up or jacket.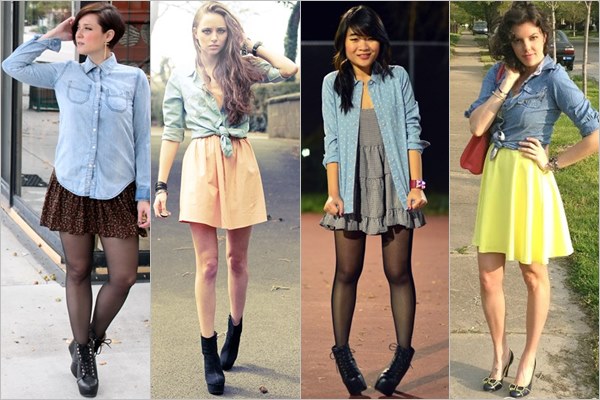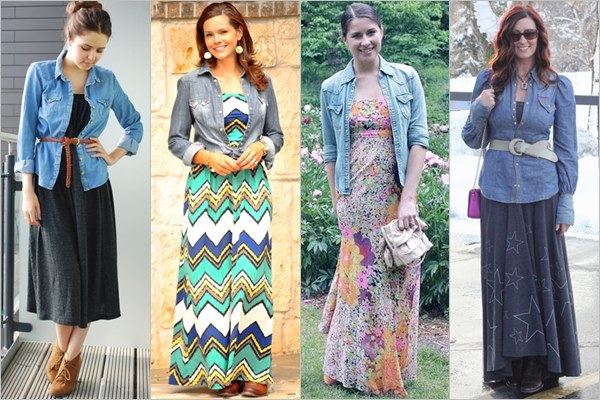 For a shorter sundress, instead of going with a heavy blazer over a dress, try a shorter cropped shirt left open and worn as a jacket. Pick a denim button up to relax the look. As for summer, light washes work best for this since the lightness creates a more spring- or summer-appropriate feeling
Continue the article "How to Fashion Denim Shirts on Different Occasions (Part 2)" to see more styles to wear with a denim shirt