When travelling for business, you probably have a lot of things that you need to keep safe. Thus, you must select the best bag based on what you'll be carrying and how long you'll be travelling.
Depending on your needs, this article will look at some business travel bags that you may want to consider for your next business trip.
Suit Travel Bags
As a professional, you need to look your best in a meeting. Thus, your suit needs to be clean and wrinkle-free. To protect your business clothes from dirt and wrinkles when travelling, you may consider using a suit travel bag.
A suit travel bag will allow you to transport your suit safely from one location to another, helping ensure that your suits are presentable in your next meeting. If you're looking to carry your suit in a stylish bag, then choose this brown leather garment bag from Vonbaer.com. Bags of this type will enable you to carry your suits without worries, leaving them crease-free, ready to wear, and always in good condition.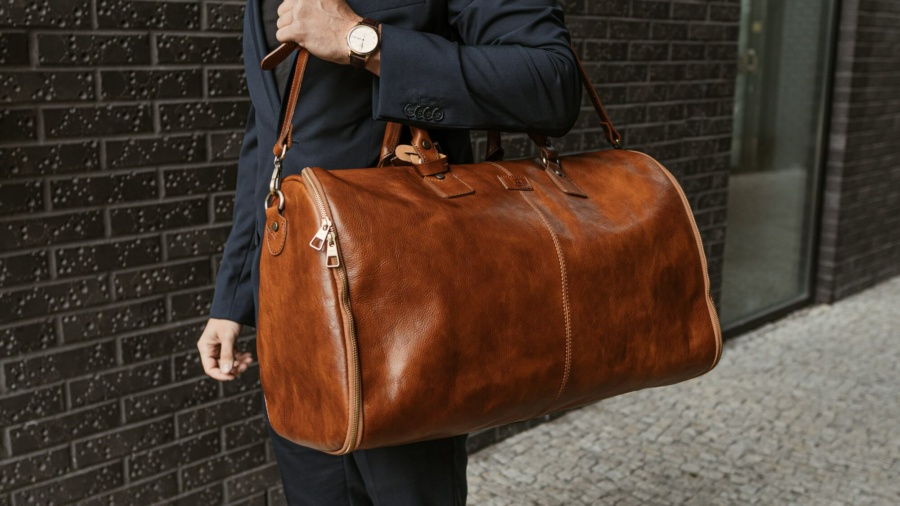 Travel Backpack 
Backpacks are simple and practical. They make it possible for you to easily access your belongings. There are two types of backpacks: traditional backpacks and wheeled backpacks.
Traditional backpacks can fit perfectly under your seat or overhead luggage compartment when travelling by bus, train, or plane. So, if you're going on a day business trip, they're ideal because they can hold a pair of clothes, toiletries, and your gadgets.
In addition, most traditional backpacks have organizers that allow you to organize your belongings according to what they are. They're also lightweight and easy to transport because the weight is distributed evenly throughout your body when you wear the bag.
Like a traditional backpack, a wheeled backpack allows you to carry your belongings conveniently; the only difference is that you can wheel them around when you're tired of carrying them on your shoulders. They're also perfectly fine even when wearing a suit, as this type of backpack will help you avoid creasing on your clothes.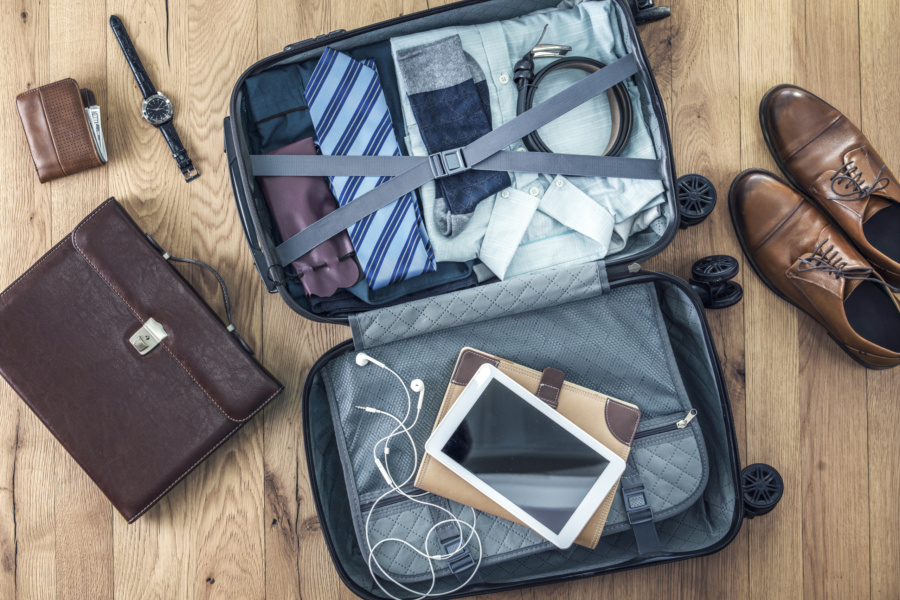 Briefcase
Imagine walking into a meeting with a briefcase in your hand; it gives you a professional appearance and makes you feel confident. With a leather shoe, matching leather belt, and a leather briefcase, you'll look like you're ready to take on the world.
A briefcase enables you to transport your documents in a safe and organized manner during a business trip. Because your documents will not mix with your other belongings, the chances of misplacing them are low. Also, if the briefcase you chose has compartments, it'll protect your gadgets from bumps.
In addition, a briefcase will most likely go with any outfit and will surely complete your look. It is also easy to carry without messing your suit or business clothes. Thus, a briefcase is an excellent choice for day-to-day business travel.
Messenger Bag
Messenger bags can also be referred to as courier bags. This type of bag has a strap that you can wear across your body when carrying it, which makes it easy to bring and allows you to secure your belongings.
Messenger bags also have enough room for your belongings if you're only travelling for a day or a short period of time. It can accommodate your documents and laptop. Thus, they come in handy when running errands or going to a business meeting.
In addition, messenger bags also go well with any office clothes. You won't have to worry about looking stylish while travelling for business matters.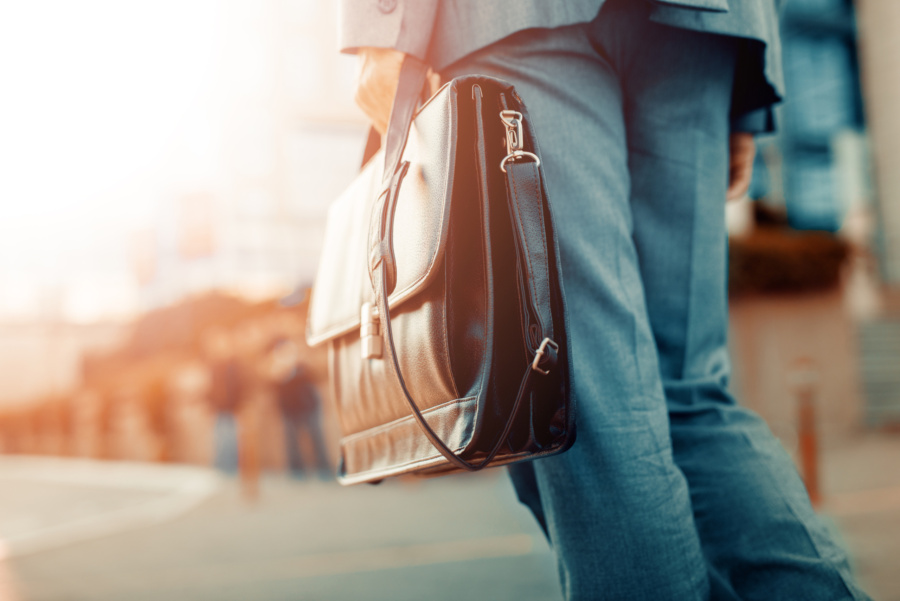 Travel Tote Bag
A travel tote bag is ideal for those who do not want to carry a handbag and another bag on the side. It allows you to carry all of your essentials for a short trip, such as a wallet, change of clothes, electronic devices, and even snacks.
This type of bag is also perfect if you're a light packer. It's simple to transport because you can wear it on your shoulder or hold it in your hands.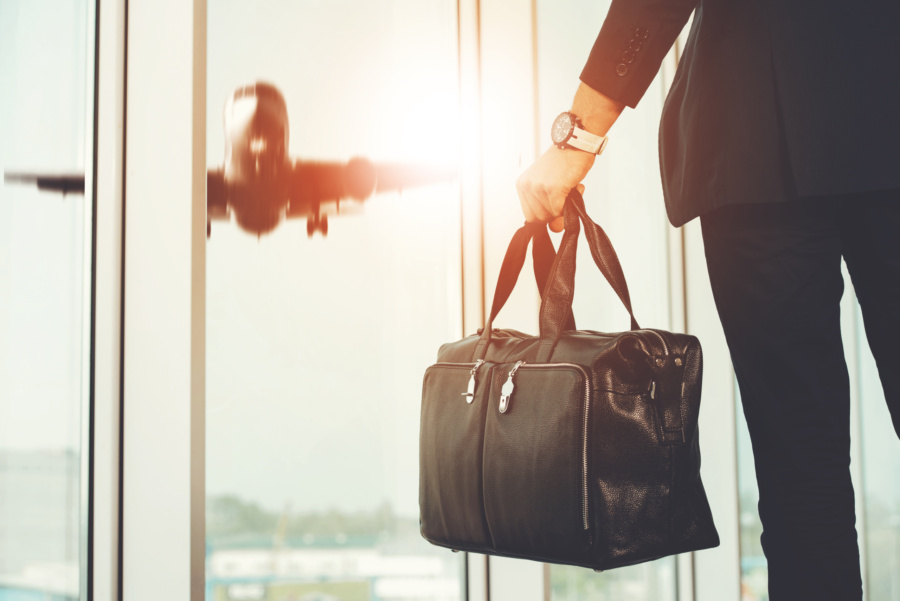 Duffel Bag
Duffel bags can simplify your life by allowing you to pack all of your essentials in a single bag. They can be carried on the shoulder or in the hands, making them easy to bring when you're travelling for work. Aside from the fact that you can choose a water-resistant duffel bag, this type of bag is also fashionable, which is perfect if you want to match your bag with your suit.
In addition, duffel bags are also available with wheels, which is convenient for those who do not like carrying a lot of weight on their shoulders.
Rolling Bag
Are you going on a long trip and want to carry everything in one bag? Then rolling luggage is the perfect travel bag for you. As a rolling bag is usually spacious, it enables you to conveniently transport your clothing, shoes, gadgets, and documents.
You also won't have to worry about carrying too much weight because you'll be rolling the bag around. You can also use it to transport files or project papers without having to stress about them getting damaged. Thus, rolling bags are ideal for both long and short business trips.
Hardside Bag
The name implies that hardside bags have a hard shell on the outside and are long-lasting. Like rolling bags, they can be used to transport clothes and other items without having to worry about carrying too much weight.
In addition, a hardside bag will ensure your belongings are protected inside the bag. It'll also shield your clothes and other items from inclement weather, making this type of bag ideal to bring during your business trips anywhere in the world.
Laptop Bag
If you want to bring your laptop with you all the time to ensure it is safe, you may consider a laptop bag when going on a business trip. A laptop bag allows you to carry your devices if your bigger bag needs to be in a baggage compartment. Thus, you can access your gadgets any time, which is beneficial if you need to communicate with someone while travelling.
In addition, a laptop bag is lightweight and portable, meaning you can take it with you anywhere during your business trip.
Conclusion 
Regardless of whether you're a light, heavy, or well-organized packer, this article has given you some insights into which bag suits you best for your business trip. If you're unsure about which travel bag to buy or bring, you can always refer to this article.