December marks the arrival of the longest night of the year, so it's no surprise that women all around the world choose this month for celebrations that light up the seemingly endless days of gloom. Whether you're celebrating New Year's Eve or any party throughout the year, trying to figure out what to wear to a party is always a challenge. Check out how these twelve beautiful plus size bloggers inspire you and shop their closet to create a festive look, and try it yourself now.
Continuing the article "Follow These 12 Plus Size Bloggers Rocking Their Party Outfits (Part 1)", here another six fabulous bloggers to steal from
Hailey Mcconnell – Discourse of a Divine Diva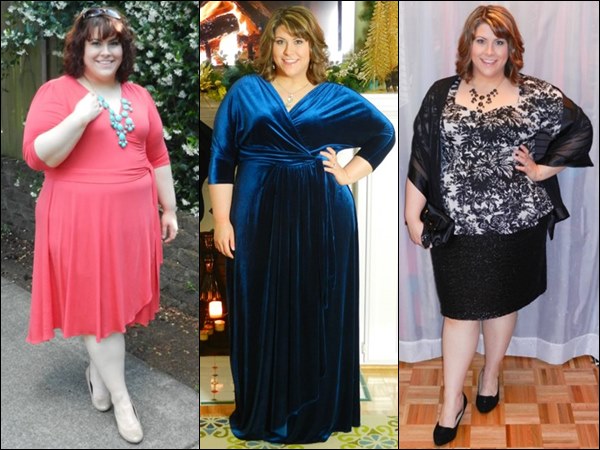 Hailey of Discourse of a Divine Diva shines with her fabulous lifestyle blog passionate about plus size fashion and self-acceptance. She got her blog completed by adding useful tips of flavorful recipes, beauty product reviews, crafts and DIY, and more. As for her party style ideas, she shows three of her inspirational outfits, including one for afternoon semi-formal wedding guest dress, one with luxury velvet gown for NYE or the Christmas Eve, and another one is for several fancy, easy parties such as an office party, a nice dinner or date, etc.
The first picture shows Hailey in her beautiful coral wrap dress from Kiyonna. The color is lovely and sure wrap dresses are very versatile that can be dressed up or down just by changing your shoes and accessories. For her evening out, Hailey paired the dress with a turquoise statement necklace, making the look extremely gorgeous.
At the second picture, Hailey looks amazingly fabulous in a wrapped luxe dress also from Kiyonna. According to Hailey, the dress is spectacular in person and it's also super comfortable with its best fitting wrap silhouette, while its gathered waist and shoulder create a beautiful drape in the comfortably stretchy velvet. It truly inspires opulence, glitz, elegance, and romance.
Finally is the third look of Hailey featuring fancy outfit for casual holiday gatherings. Hailey paired her cute toile print peplum top with a black sequin pencil skirt, added with matching accessories including a smaller bubble necklace over statement earrings, black clutch with sequin bow, sheer pinstriped wrap, and black velvet wedges to complete the look. Everything is so well coordinated, especially the necklace that looks super chic to pair with peplum top with its sweetheart neckline.
Katharina "Katha Strophe" – Kathastrophal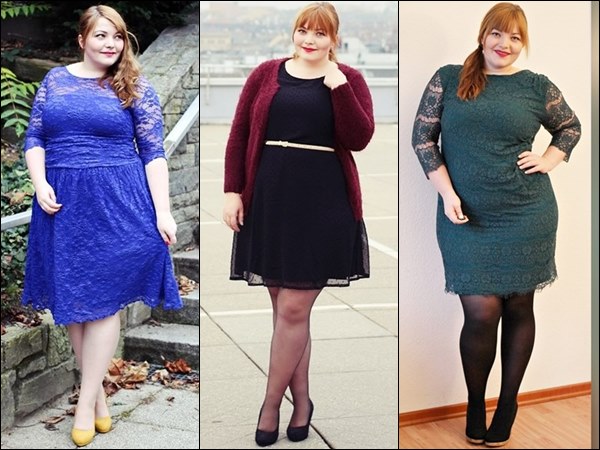 Katharina is a German plus size blogger who I think always keeps her fashion sweet and lovely. Everything she wears shows that she is indeed a lovely, sweet girl. Laces, floral prints, soft colors, and classy styles appear frequently inside her blog. For the party outfits, I specially chose how Katha styles her lacy dresses and LBD.
At the first picture, Katha smartly matched her beautiful blue lace dress with yellow pumps to make the blue of the dress pop, and she also added the dress with black cardigan to give accent. Another lovely lace dress is also featured at the third picture, featuring Katha in subtle teal lace dress perfect for any party apparel in winter.
The second picture shows Katha in cute LBD made of chiffon with small dots. She paired the dress with a wine-red, fuzzy cardigan, a bright golden belt, black pumps and sheer tights to make the look even more polished.
Kristine Thompson – Trendy Curvy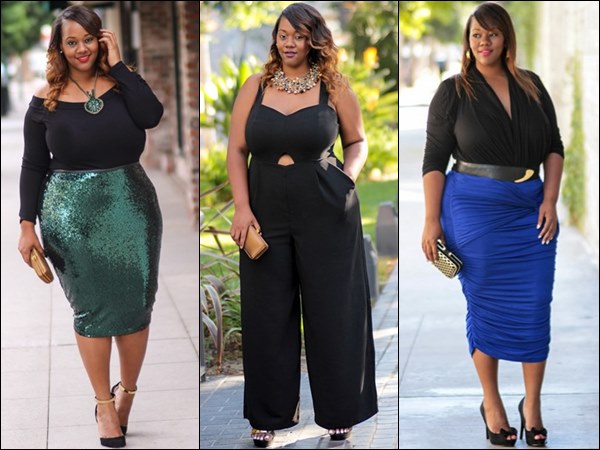 Her sense of fashion is always bold, trendy, and fashionable. She loves wearing pieces in bright colors, glitters or heavy prints. As what Kristine said in her blog, she shows how curvy women can be just as stylish and fabulous as everyone else, that being plus size doesn't mean that you cannot take current fashion trends and make them work for you.
For her party look, I chose three of her fabulous outfits with vibrant pencil skirt. At the first picture, Kristine wore festive green sequin skirt that is perfect for the holidays. She paired the skirt with classic black and gold pairing including a Bardot top, pointy heels, clutch and statement necklace. She also gave tip saying "Although sequins may seem limiting, it actually can be versatile, pairing it with black, as I did, a white collared shirt or even a green top to make a monochromatic look. Either way you style it, you are sure to be the best dressed at the party."
Another pencil skirt style is featured at the second picture where Kristine wore a bright blue pencil skirt with front ruched detailing. The skirt was paired with a lovely black draped top to match the ruched detail on the skirt. And to create a more festive look, she added gold and black accessories including golden box clutch, belt and bold earrings, while her black open-toe pumps with bow detail give additional stylish look into the outfit.
At the third picture, I love how Kristine dressed her black Brenda jumpsuit from Monif C. that features a trendy bustier style top with a keyhole detail at the front. I think Kristine looks modern and very stunning as she added the jumpsuit with a colorful, tribal-style statement necklace.
Elizabeth Anne McGraw McGuffin – With Wonder and Whimsy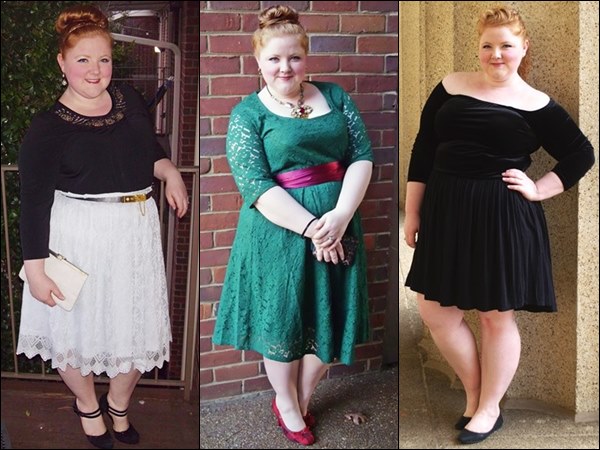 Being one favorite plus size blogger, I do really love how Liz fills her blog with a sense of whimsy and wonder. Not only does she share her fabulous sense of plus size fashion, Liz also explores various ideas of travel, cooking, crafting, and the arts. Check out how she infuses her party look with a little more romantic and feminine touch.
For the holiday party outfit (first picture), Liz played with two of her favorite holiday trends including wintry pastels and black with gold accents. She actually wore a long swing top which she tucked into a midi skirt that comes with scallop hem lace details. Then she completed the look with a black and gold skinny belt, cute drop earrings, white snakeskin clutch, and black strappy suede pump. She also created a cute high bun updo that definitely will make you feel beautiful and earns you compliments.
Another party dress choice is shown at the second picture featuring Liz in a chic wintergreen lace frock from SWAK. To make the look even classier, Liz added a little pop of color by combining the beautiful green color with bright fuchsia shade of ribbon belt, low-heeled pumps, and striking stone necklace.
At the third picture, Liz went for a simple style as she picked a sexy velvet off-the-shoulder top and paired it with a classic pleated skirt. She kept the look simple – with no jewelries added into the outfit – to keep the focus on the gorgeous velvet top. The result is, you'll get an elegant all-black ensemble that looks both sexy and smart, sophisticated and sultry, feminine and fierce.
Marie Denee – The Curvy Fashionista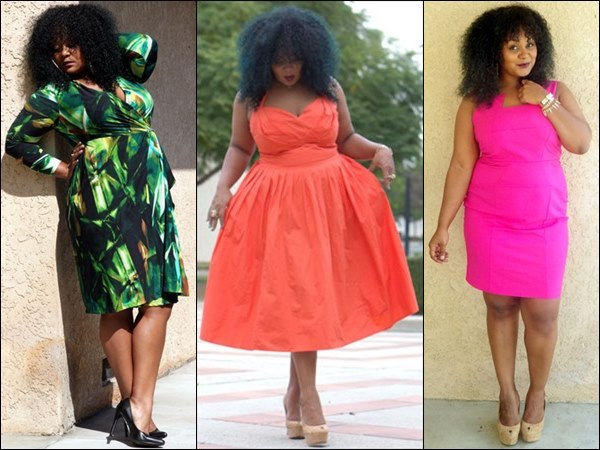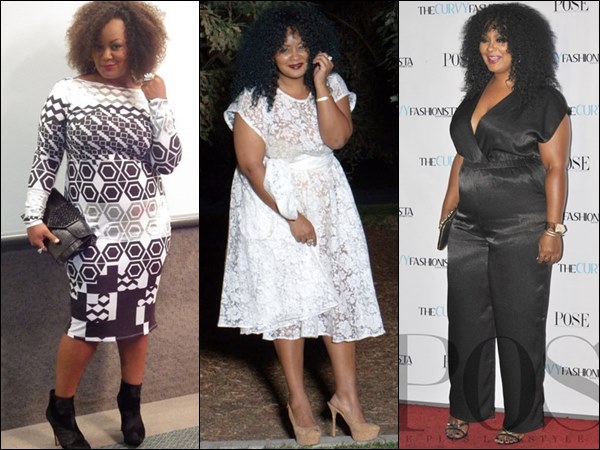 Denee is definitely one of my best plus size bloggers, not only because she has similar name to my name (Haha) but also because her blog is TRULY inspiring filled with numerous great fashion trends, tips and outfit ideas for plus size ladies. Throughout her blog, Denee provides a comprehensive guide to dressing to impress – plugging us with plus size designers; giving us first looks at upcoming collections; connecting us with other plus size bloggers; and serving us frame-appropriate takes on this season's trends.
Since I love Denee so much, I decided to add six styles of her party look in this article. As you can see, Denee always knows how to break all of the pre-existing fashion rules for plus size women, how to explore the world of fashion perfect for her figure with fully confident attitude. Like what she said to StyleWatch magazine "I think [the key] is finding a rule to break: No prints. No horizontals. No body-hugging. No loud colors. No arms. No Legs. Find a rule and own it!"
Not to mention, her sense of fashion is just SIMPLY AMAZING. So, whether you want to go with bright color, heavy prints, figure hugging, sheer pieces, or a jumpsuit, check out her fabulous styles and get inspired
Thamarr Guerrier – Musings of a Curvy Lady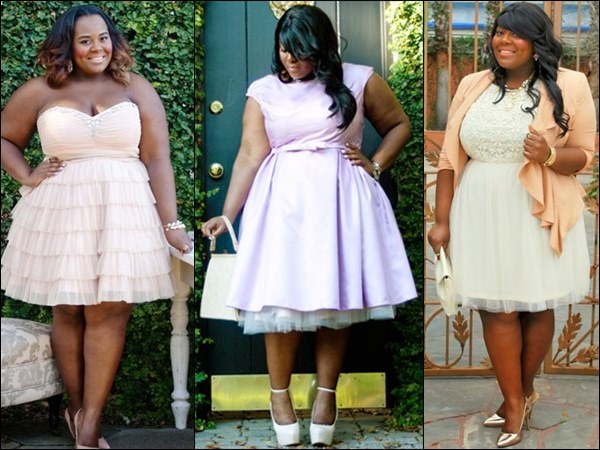 Being an outstanding Parisian fashionista, Guerrier surely has a dynamic approach to colors, fashionable styles, feminine and elegance. She dares you to try those out-of-the-box colors, fashion with true style that has no size. For her party looks, I chose styles of Guerrier in her beautiful full-skirted dress that I think is worthy of a spotlight.
In creating a photo shoot for a celebration theme named "tea parties and tulle" (picture 1), Guerrier looks lovely and romantic in her embellished strapless dress. The dress features pretty sweetheart neckline trimmed with stone applique, as well as a beautiful tiered skirt made of tulle. To complete her feminine look, she matched the dress with satin pointy pumps in similar colors, along with a few cute jewelries such as pearly charm bracelet, golden drop earrings, and dainty rings.
At the second picture, Guerrier smartly paired her classic fit-and-flare dress with tutu-skirt that is worn as petticoat. She looks feminine as always, which she paired her outfit with white colors such as her ankle-strap platform, small box tote bag, and a set of diamond jewelries including cluster earrings, charm bracelet, and simple statement necklace.
As for the third picture, Guerrier donned a beautiful prom dress with crotchet bodice and tulle skirt in ivory. She added the dress with a cute coral blazer to give more modern touch into her outfit. Then to approach the feminine look, she simply finished it with metallic copper pumps, and leather clutch, along with pretty jewelries such as statement necklace, multi bracelet, and cluster earrings.
Finally, I hope you all like this article and love the bloggers who consistently offer serious outfit inspiration, no matter what your size. Click through their link to check them out! And don't forget to check these articles about plus size bloggers related to fashion, styles, and clothing. Have a great day =))