For the month of December everyone has parties coming up, from Christmas to New Year's Eve, from office parties even to a wedding party, but then you find yourself stuck having no idea what to wear. Do you get super-dressy, dressy, or semi-causal? Different type of venues has its own dress code to wear depending on where the party is held. Check out these stunning twelve plus size bloggers showcasing their perfect party looks for your style inspirations to keep looking stylish and fabulous.
Allison Mcgevna – Inside Allie's World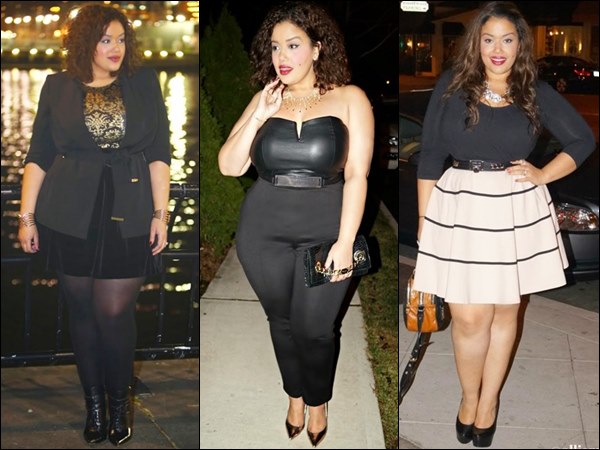 Being one most popular plus size bloggers and models, Allison Mcgevna shows us how she styles her party and night out outfits pretty and totally stylish. She mixed materials between a velvet skirt and foil print crop top at the first picture, then added a jacket over for a bit more conservative look.
At second picture, she wore a classic stylish jumpsuit – with leather detailing and a sweetheart neckline – to get the feel of glam for the party yet totally comfortable to pull off. As she said in her blog "Jumpsuits give you the comfort of pants, but still look totally chic. It would be a perfect option for NYE"
At the third picture, Allison smartly dressed down a chic fit-and-flare mini dress by putting a black shirt over the dress, which she tied at the waist and covered with a belt. This outfit will be a perfect style for your sweet night out or date.
Callie Thorpe – From the corners of the Curve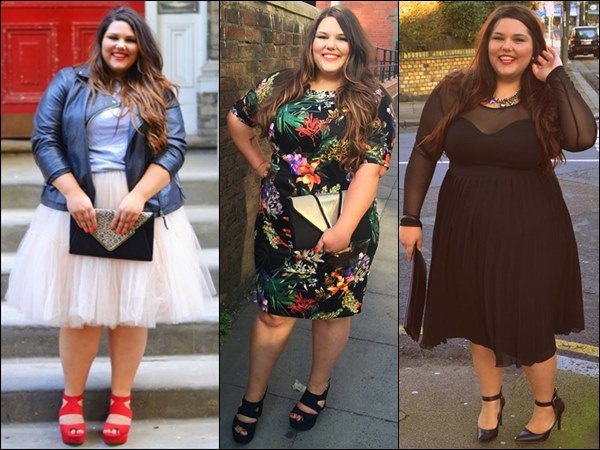 Callie Thorpe is really an inspirational plus size blogger. She shares her thought on how to feel body shame free, to have self-confidence and what it means to find peace with yourself. She styles herself in a bit more casual way – yet looking really chic and comfortable. For a casual party occasion, once she wore a tutu skirt (1st picture), then paired it with tee (which you can change by wearing a dressier blouse) as well as leather jacket. She added red chunky strappy heels and leopard printed clutch for a more festive look.
At the second picture, Callie donned a gorgeous tropical print body con, and she looks absolutely stunning as she paired the dress with gold clutch and black platform heels, it's a perfect style idea for evening out or dinner with friends.
While the third picture shows how Callie dressed for a NYE as she paired a black sweetheart meshed bodysuit with a pleated midi-skirt. She then completed the look with strappy pointed court shoes, black large clutch, and statement necklace.
CeCe Olisa – Plus Size Princess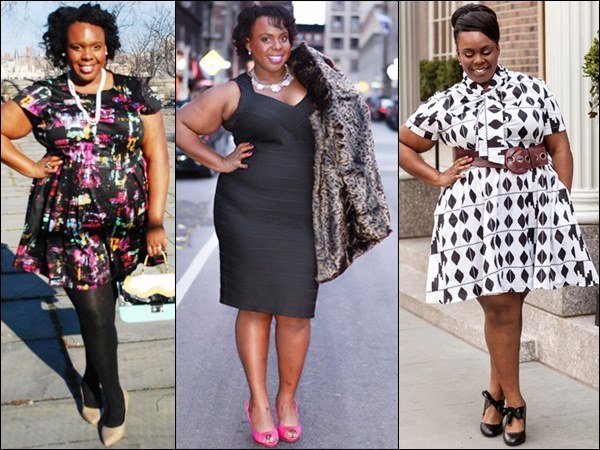 Cece Olisa is another fabulous plus size lifestyle innovator who explores fitness, dating and fashion from the plus size perspective. She loves to dress bold and printed outfits and never shy away from anything she wears. For a night party look (second picture), Cece wore sexy LBD with fur coat over it, paired with bright pink open-toe heels to give a cute splash of color, as well as statement necklace to compliment the look even more glamorous.
At the first and third pictures, she donned her printed dress perfect for any semi-formal party (1st picture), or for morning wedding as a guest (3rd picture). She also dressed up the look with accessories such as, clutch, necklace, or festive heels for a great party ensemble
Chantè B. – Everything Curvy and Chic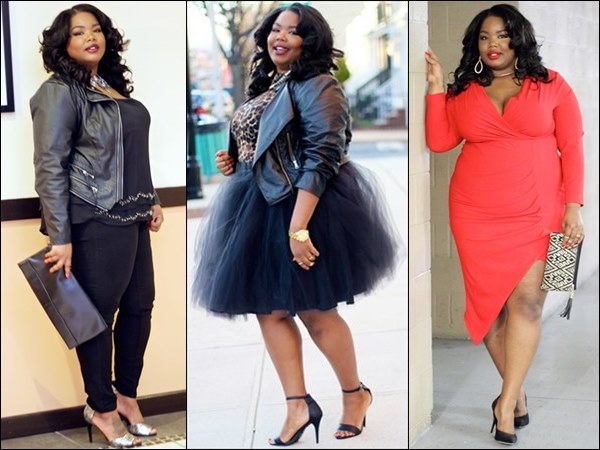 Chantè B. always knows how to get people attention especially for the way she puts her outfits together. Her styles are always elegant, flattering, and lovely to look at, perfectly well combined between one staple to others. Especially for the NYE, Chantè donned three fabulous options for the occasion – from casual to cocktail – including a pair of stretch jeggings and dressy top, tutu skirt and leopard print tee, as well as a fabulous bright red dress with a gathered crossover long sleeve top and a deep-V neckline.
At the first picture, she paired black jeggings and a cute little blouse featuring rhinestone detail, then added a moto jacket over for a bit more rock-chic look. To make her black attire more attractive, she played up with a little sparkle and bold statement pieces including necklace, ring, and silver, glittery heels. The result is a cute casual chic look, perfect for a house party, or any semi-formal party.
While the third picture shows how she styled a gorgeously sexy red dress which is a great option for a special occasion, the second picture features Chantè pairing a chic tutu skirt with leopard top to add a little sass into her outfit. She also wore a moto jacket to give a little curvy shape around her waist, along with chic strappy heels and golden accessories. This look is totally fun, flirty and so girly perfect for a night out on the town with your girls.
Georgina Grogan – She Might Be Loved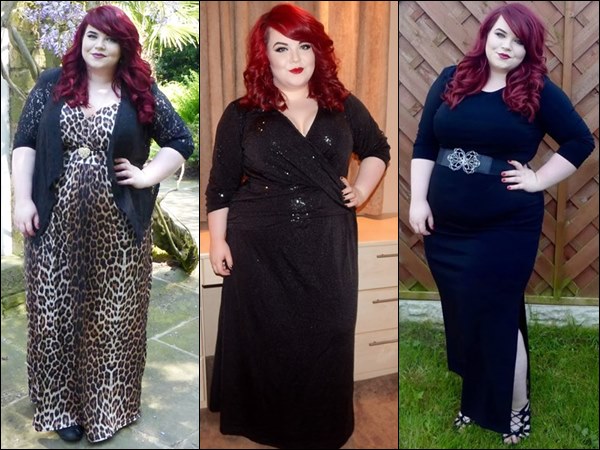 The beautiful Georgina Grogan, known as the lovely girl who runs She Might Be Loved blog is one of everybody's all-time favorite blogger. Her daytime makeup is always flawless and her styles are super-pretty and feminine. Recently her blog won 'Best Fashion Blog' at the Plus Size Awards 2014. And here I picked some of her stunning party styles – exclusively the ones with her in maxi dress.
Whether to choose maxi dress with sequin detail, leopard print, or simply just an elegant black maxi dress with slit, there's always a way to look fabulous and glamour. You may opt for dress with 3/4 sleeves so that no cardigan, shrug or shawl is needed, or you can cover your summer dress with a beautiful lace cardigan for to make the look more festive. Add a cute belt to create waist and play up with statement jewelry to complete the look.
Giorgia Marino – Morbida La Vita
Being a famous Italian plus size blogger and model, Giorgia shares her thought and tips on plus size fashion, beauty, and health, and how to have self-esteem and self-acceptance toward her figure. She also shows her fabulous party looks, which most of them are pretty easy and comfortable to wear yet incredibly elegant and sweet.
At the first picture, she wore a long sleeved burgundy dress with sweetheart neckline and wrap accent around the waist. Simple and chic she added the look with chunky heels for a more conservative look, ready for any afternoon cocktail events or wedding party.
At the second picture, Giorgia chose a cute red chiffon waist dress perfect for a night out on town with the girls. The long chiffon sleeves add a classy and elegant touch, as she teamed up the dress with a pair of stunning snake leather strappy heels to complete the look.
While the third picture features Giorgia dressing a classic black summer maxi dress, perfectly paired with golden elements such as statement necklace and pointy court shoes. Black and gold is always a great choice for party attire.
Continue through article "Follow These 12 Plus Size Bloggers Rocking Their Party Outfits (Part 2)" for more party look plus size ideas and inspirations.
Not to forget, check out more articles about plus size bloggers related to fashion, styles, and clothing. Have a great day =))