Some people mostly in fashion industry likely to claim that being skinny is better than having too curvy silhouette, as they create such image that many girls nowadays dream about having a skinny and tall figure as the supermodels on runway. On the other hand, fashion stylists also say that even though many trends look great on skinny figures there are still some key items every skinny woman should invest in and some fashion no-no's that are best avoided.
Truly that most women are never satisfied when looking in the mirror that they can spend so much time in thinking about the attire to dress up in. Whether they were naturally born too tall, too short, too fat, or too skinny, lists of "how to wear" and "what to wear" can go on till forever. And although there are many practical advices for other body types, we cannot find so many useful fashion tips for skinny figure.
So, take a look at some fashion tips for skinny girls to achieve a gorgeous result when looking in the mirror.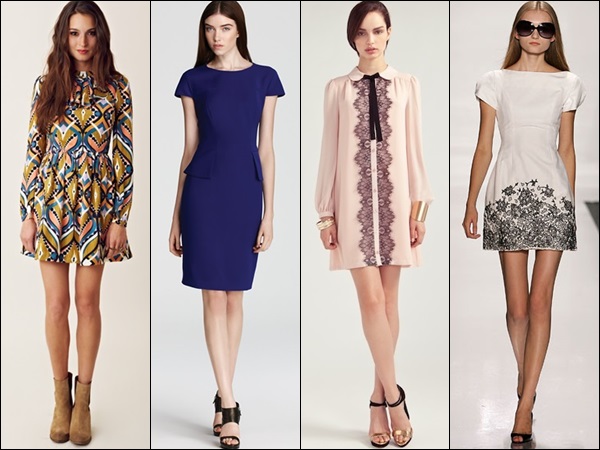 Dresses best for skinny women as you can try those peplums, babydolls, straight-cut dresses, and shifts for adding curves and volumes
The Right Cut
Focusing on how to create curves and volume is the main goal for skinny girls when fashioning their attires. You need to create curves where you want them, or to add a balanced weight to the entire look. Here, you can dare to wear very tight close cuts or longer, a slight hugging dress, or bigger cuts to make you look wider. Nowadays, there are a number of designs that specialize in creating perfect slim size cuts with feminine curves places exactly where they are desirable.
Sleeves and Necklines for skinny women
Dresses and tops with volume on shoulder and hips are great for thin women to create the illusion of curves between waist, bust and hips. You can add curves with an empire-waist dress, peplum style dresses and tops, or you can make fuller silhouette with shift dresses or baby-doll style clothes, although sometimes baby-dolls can also create a visual shorter look.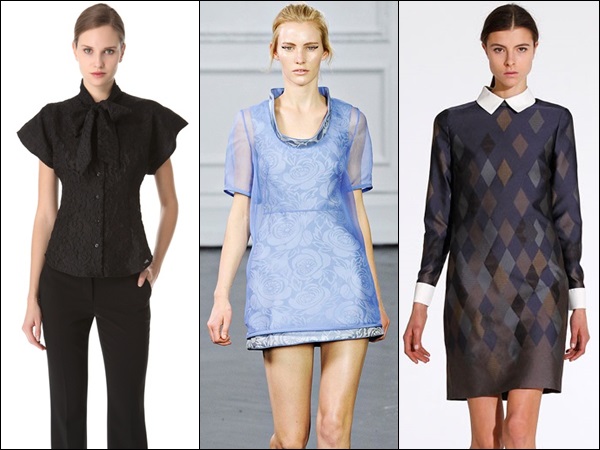 Sleeves: If you want to hide your scrawny arms, opt for shirts with volume sleeve to create wider look and to balance your silhouette. Batwing sleeves are also great for adding some additional shape, while long sleeve tops are great for disguising thin upper arms.
Draw attention away from the upper half of your body by investing in bright shoes, trousers or skirts, and hide your arm by pairing a long-sleeve top with a bomber jacket or waterfall blazer. Tucking in shirts can also make your hips look wider which will make your legs look better too.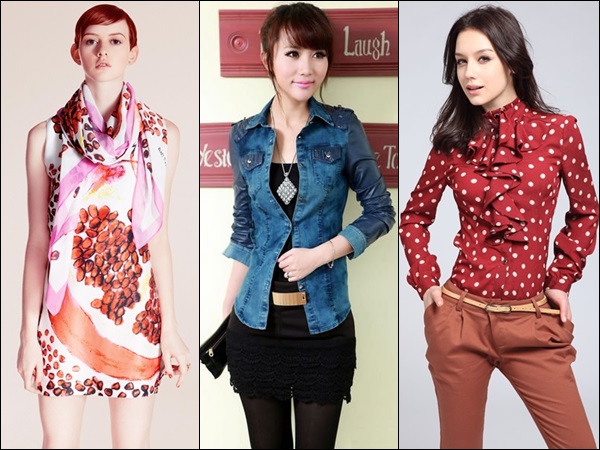 Busts: To fill out the bust area, opt for shirts or dresses that feature heavy prints and colors, as well as details like pleats, ruffles, twists, knots, or ruching at the bodice. If you have a flat bust, opt for a dress with sequins, jewels, or a bow near the collar area to help out your bust. Draping at the neckline can be a very flattering style for small-busted figures, so avoid very deep cleavage such as V-neckline and play fairly with the chest. You may as well wear tops and dresses with ruffled necklines or play with collar that is high and chunky including the turtle neck, high cowl-neck, or mandarin collars.
Layering is also a great way to create dimension around the bust area. Abuse chunky clothes and play with all details, layers, prints, and colors accordingly. But don't exaggerate. The goal is to add volume with balance, not to attract people attention with something tacky!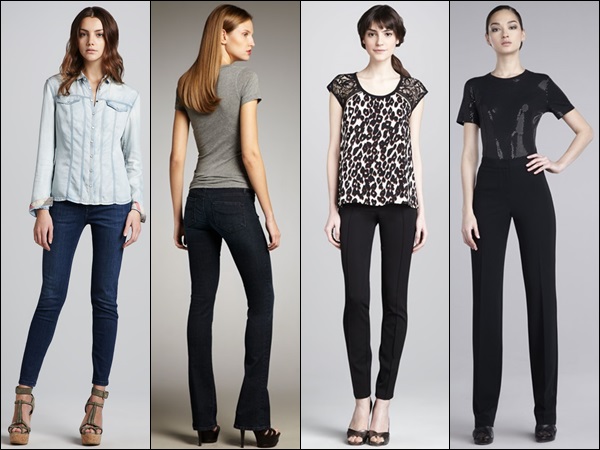 Trousers and skirts best to wear for skinny women
As for trousers or pants, a low rise is ideal for creating curvy silhouette. Trousers like boot-cuts or flared pants make your bottoms round and can give your body extra shape and dimension. Make sure you go for the ones that are a bit of flair at the bottom – tight-fitting but flare out at the ankles at least from the knees down. Opt for trousers that are well fitted and notice that wearing palazzo or extra wide-leg pants sometimes just make your legs look lost
Not that the skinnies look bad for skinny women, but super snug like jegging jeans or extra-fitted pants are not really meant for this kind of body type, as they can just end up making you look skinnier. Better to choose a slim straight or a cigarette pant instead. But, obviously you can still pull off those fabulous skinnies by abusing bolder prints and colors to give a little more presence to your legs.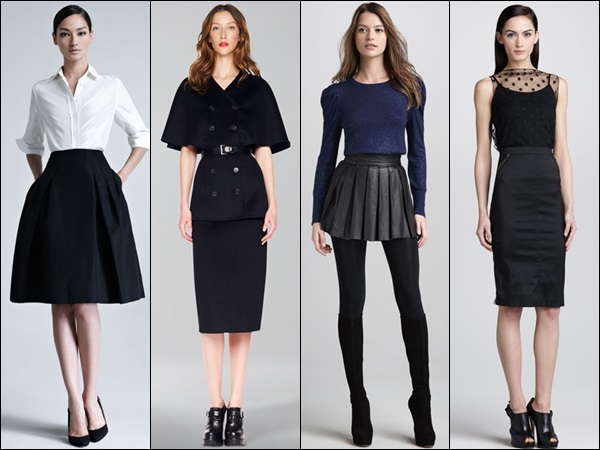 Where skirts are concerned, as well as the dresses, try clothes that are round from your waist down. Asymmetrical, tube or pencil skirts – short or long – that tapers at the knee is a good bet to give a visual extra pounds on your hips. While midi skirts with the hem that stops at the shapeliest part of you calf are also the best bet for skinny women. Play with belts, coats, pleats, tights, etc. to maximize the appearance you want to achieve.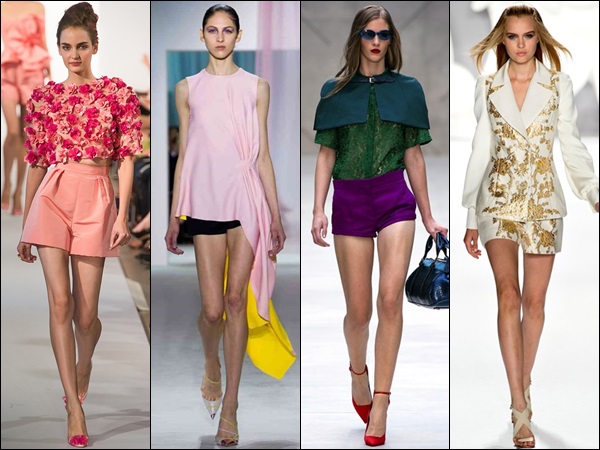 If you wish for a mini, pieces like bubble skirts, flare skirts, and A-line skirts can also be a good option, just make it about four inches above your knee and allow the skirt to be well fitting, not a free size one. When choosing shorts, go for the shorter ones, the well fitted – not too loose and not too tight – short shorts around the hips. Avoid very wide leg shorts as they make your legs look like a pair of sticks or the very tight ones that will only make your body looks even skinnier. However, sometimes skinny women like to sport any kind of shorts and draw the attention away from the lower part of the body by adding striking and full details on the tops, which can be pleats, prints, appliques, bold colors, layers, etc.
If you are a thin, petite figure, avoid those super-maxis, oversized skirts or trousers as they will only make you look even shorter and smaller. A lot of women use baggy clothing as a means to hide the fact they are on the thin side, this is a mistake as it actually accentuates how small you are as the clothing tends to swamp your frame. Maxi-skirts with the right size and height are actually great for hiding legs and looking stylish at the same time, but again remember to avoid anything too baggy.
Continue this article to "Fashion Tips and Style If You are a Skinny Girl (Part 2)" for knowing other tips on how and what to wear best suited for skinny women.
Meanwhile, take a look at some inspirations from street fashion, campaigns and celebrities who best known with their thin, slender figure, who are always well put together and really make the most of their figures.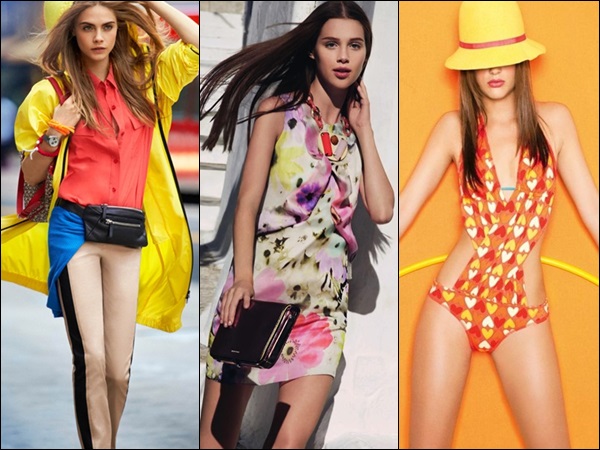 Ideas of pants, dress, and swimwear for skinny girls. Abuse colors and prints to achieve those volume and curves, as well as your youthful, teens-spirit