Finding the right outfits and accessories for thin, skinny girl is actually much easier than for those who have curves and weight. Thanks to the fashion industry who creates such "skinnier is better" images by always bringing those skinny models to showcase their fashion staples. And by this, it means there are plenty of fashion choices out there for you to pull off just exactly like those models. So, be grateful with your slender body, and always be confident with that
These tips are probably useless if you think your thinness is fine. If you don't have problem with your body silhouette, then you can just wear anything you want. Many fashion pictorials show that being skinny is not a big deal since we can wear as many types of outfits as we want.
On the other hand, if you still have problem with self-esteem linked to your skinny frame, let's continue last article, "Fashion Tips and Style If You are a Skinny Girl (Part 1)", on how and what to fashion the thin figure.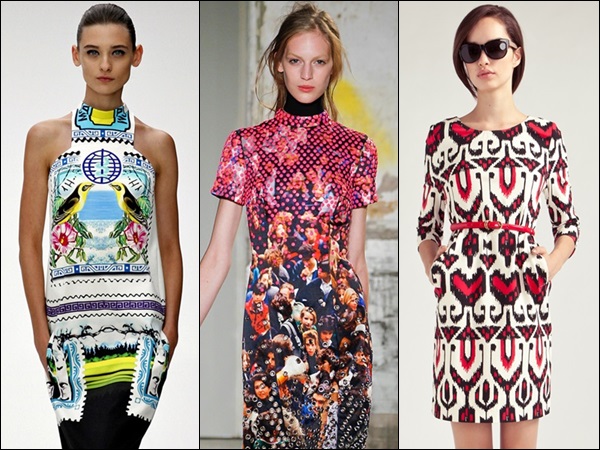 Right colors and prints
Colors: Bright and light colors like vibrant shades and pastels are great to create volume as well to give a fashionable, feminine touch into the look. Don't be shy about wearing bright colors and dare to wear red or yellow if you have the right coloring. Avoid monochromatic outfits, while attires with various colors such as color block or tone-on-tone are strongly recommended.
If you want to look wider, the best trick is to opt for outfits that split up your body at the center line, creating two halves by distinctive colors. Wear more than one color combination and play them with contrast. For example wear light tops and dark bottoms or vice versa.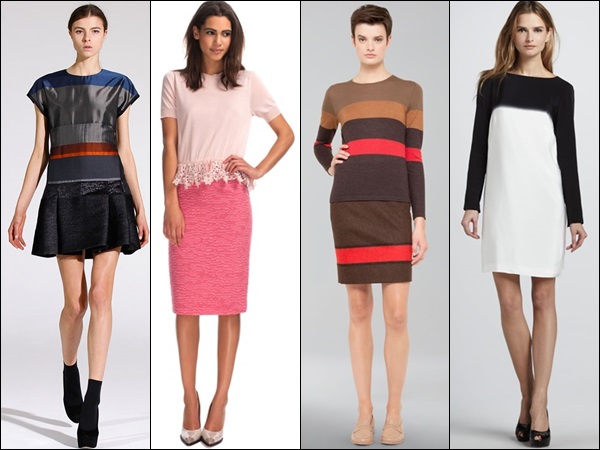 Prints: Heavy prints look great on skinny figure, so go for big and colorful motifs to achieve the illusion of fullness. Avoid vertical lines, and opt for horizontal or diagonal stripes instead such as the navy patterns. Both horizontal and diagonal patterns can add curves to your body, promising wider appearance either with blouses, dresses, trousers or skirts.
Right fabrics
Fabrics with some structure and textures such as knits, denim, leather, tweed, corduroy, and thick lace are great for creating the illusion of curve, but you also don't want to go too bulky as this can make your frame look rigid. So, go with heavy fabrics or even layers, but make sure the fabrics are soft and flexible enough to keep you comfortable and less bulky.
If you want to accentuate your figure then clingy fabrics like silk, cotton, linen, and satin are great to try, but if you want to add curve then avoid them and go for something thicker. You can try playing with contrast, for example team a silk blouse with jeans or a plain cotton tee shirt with linen trousers or a satin skirt. Knit shirt-dresses, often made of acrylic or heavy cotton blends, can also help you look curvier.

Right accessories and footwear
Choosing the right accessories and footwear surely can highlight your strengths including your slender figure, elegant neck and lean legs. Number of fashion pieces like belts, scarves, and jewelries are definitely a good bet for accentuating your skinny figure.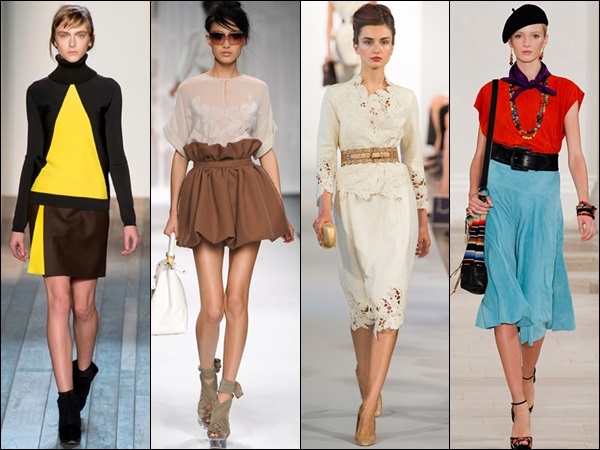 Belts: besides giving formal touch into your look, both thick and skinny belts paired over a floaty dress or top will add shape to your outfit and accentuate your tiny waist. If you have no waist, go for wide belts in bright colors, and if your waist is small, try out some beautiful original belts.
Scarves: knowing how to tie your scarf may also change the overall look. Especially for those with a thin, long neck, scarves and shawls suit well because they add volume and divert attention away from your figure. If you have very thin arms, wear a little scarf knotted around your neck rather than contrasting a thick shawl with thin arms. A smartly chosen chunky scarf can also hide a longer neck and will add some personal touch to your style.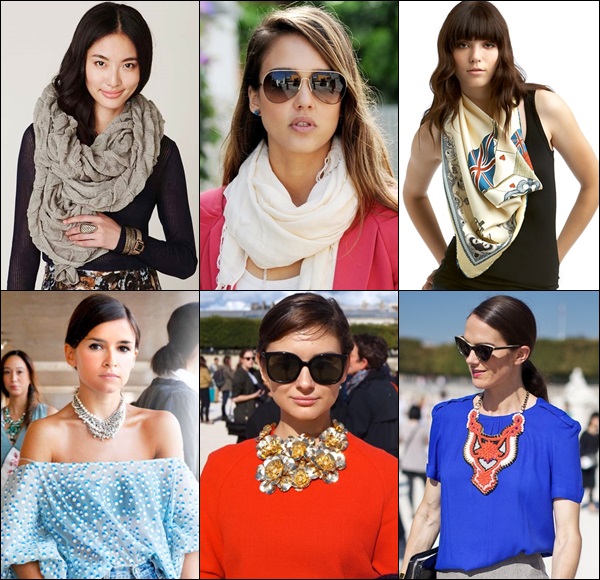 Jewelries: these sparkling accessories can do more to your appearance. Other than scarves, necklaces can also add weight and dimension to your thin, long neck. Wear those low and big, beaded necklaces and combine it with round neckline of your top to achieve much fuller neck. Choose the colorful ones, do some color-blocking for a more striking statement.
Bracelets and bangles – wooden or metal – that strike as you pass by are the major attention grabbers, and they can add curves too. Wear several on your wrist to jazz up a dull outfit or give it an ethnic look. If your wrists are really tiny, bangles give an illusion of volume and of softness. Be careful not to go too bling, though!
Footwear: skinny women should prefer wearing lower heels or flats with impressive style. If you want to wear heels or wedges instead, the height should be kept to a minimum, or you can play with colors, sparks, and appliques for adding weight to your legs and for drawing attention away from the bony knees. Heels and wedges will actually produce much taller figure to thin women, making them as gorgeous as supermodels. It basically depends on your confidence.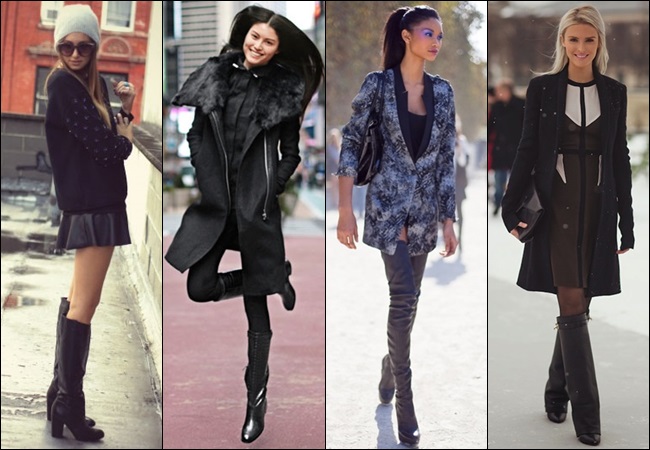 Pick the right boots based on its weight and design. Boots are generally long and will disguise the skinny legs under your skirt. However, be sure to avoid heavy shoes, because light weight shoes will give balance to your silhouette, while heavy shoes will make your legs look even thinner. When choosing a pair of tall boots, opt for narrow calf boots or knee-high sleek boots that fit well around your ultra-skinny calves. Your tall boots are not supposed to gape around the calf area, although sometimes slouchy boot styles are easier to fit because the gaping works with the relaxed vibe of the boots.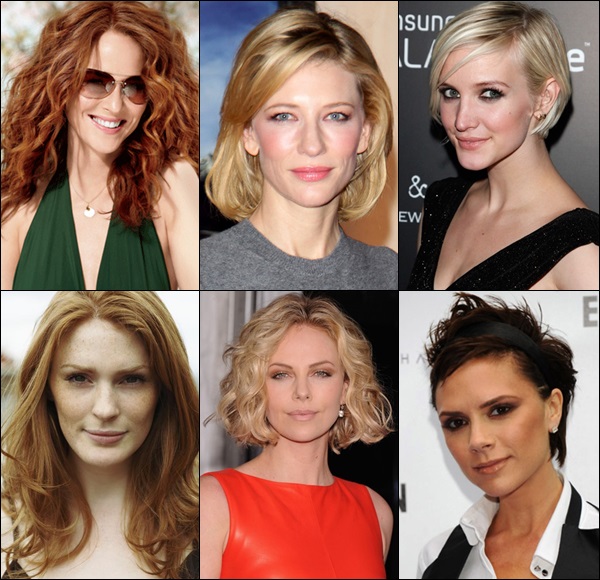 Best Haircut for Skinny Girl
No matter what your hair color, your hair style matters a lot and adds great charm to your appearance. For those who are skinny and have a long, thin neck, your goal is to add volumes and curves in your hair. The more style you add to your hair, the more beautiful you will appear. Medium length or short-bob, wavier or chunkier hairstyles, those will look best and add feminine flair to the skinny figure. Not to mention, long bangs, curls, layers, and angles also flatter.
However, the wrong kind of hairdo can be particularly upsetting to the sleek balance of your body and make you look like you might topple over at any moment. So, don't go too big-haired or your hair will look disproportionate to your body. Also avoid too long, too straight and sleek hair as it only emphasizes your thinness. Too short or spiky hair can also look masculine on a boyish figure, while hair locks, bun, puffs, plats, etc. are the many types that can be molded in a thousand different ways. You may even give your hair some new color. Ask your hairstylist for more ideas and suggestions.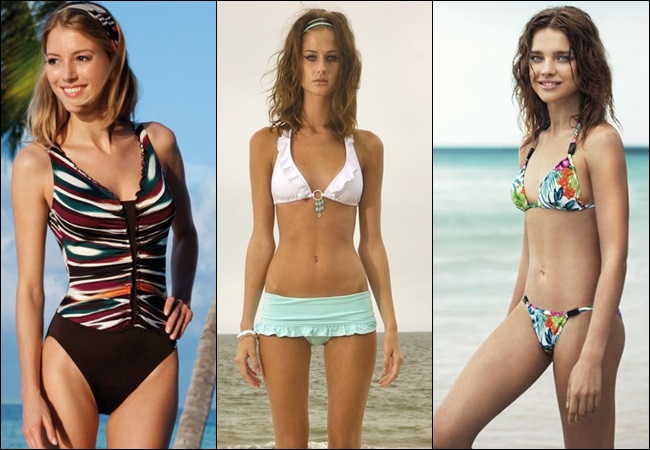 Right swimsuit
Lucky for those with thin figure that they have body to wear those chic ruffled and colored tops that are so hot right now, so go for it. But if your bust is really flat, look for tops with padding, under wiring and a triangular shape to give the illusion of a fuller cup size. Cute, flattering designs like the bandeau top, demi-bra style, Brazilian two-piece swimwear make the most of a beautiful, dainty, bust line.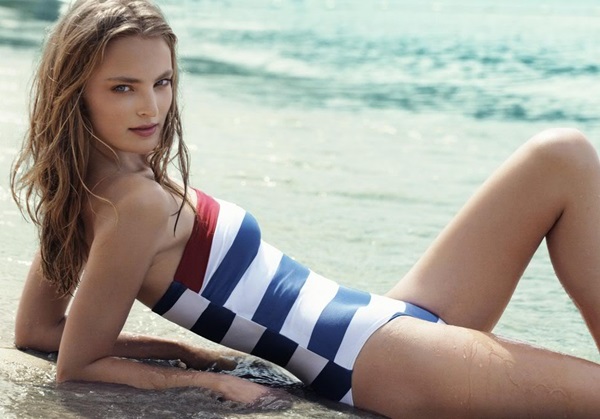 If you're into swimming, wear one piece instead, and avoid swimwear with too many details and too much fabric, also make sure your supportive bra fits well and comes with adjustable straps. As for prints and colors, again, horizontal stripes will give the illusion of a fuller bust, even you are still allowed to play with other numerous bright colors and prints as fun as you like.
Finally, if you're looking for style inspiration on how to dress for a slim shape then take a look at these images featuring fashion campaigns and styles for skinny women. Just remember to always show off your best assets and conceal the others, that you are aiming for a balanced silhouette and to be confident no matter what shape your body is.