Taking style inspirations from fashion bloggers is one of the most fun ways to stay fashionable and put together. These bloggers help us in seeing how a piece of clothing looks on in a real woman's body and also inspires us to think outside of the fashion box, try new things and empower us to break some fashion rules. Let's see how they can inspire us for the next Fall Winter 2014, giving us lots of ideas of outfits, styling tips, accessories and more for the cold, chilly days.
In continuing previous article "Fall Winter Outfit Ideas to Steal from 12 Plus Size Fashion Bloggers (Part 1)" meet other six fabulous bloggers with their great styles, those who really loves to continue empowering us through fashion. Please note that all of these bloggers are not listed in any particular order. They are all equally fabulous!
Nadia Aboulhosn
Nadia Aboulhosn is a master of curve-hugging clothing that looks incredibly flattering. The great thing about Nadia is that her styles are fearless. Never shy about showing off her killer curves, always down to DIY and possessing the enviable ability to pull seemingly anything off. Nadia is always perfect at demonstrating how pieces can become accustomed and perfectly suitable for any body type. The size doesn't matter, the confidence does! And for Fall Winter days, she showed three of her colorful styles, such as: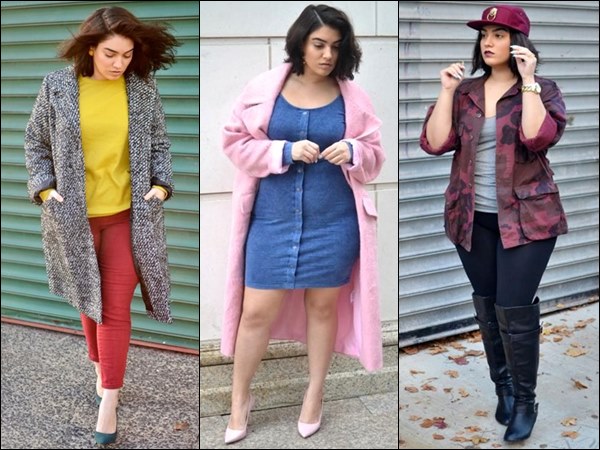 1st Picture: Nadia donned color-blocked winter style showcasing a tweed coat in greyish shade, long-sleeve mustard yellow top, burgundy pants and pointy heels in forest green. You can take this style as idea to mix and match similar items in different colors.
2nd Picture: Nadia shows her freshly pastel look, wearing versatile pieces like a pink long coat, bodycon, long sleeve dress in acid hue, and light rossie heels.
3rd Picture: Another chic style shown by this sexy, curvy fashion diva featuring sporty-inspired pieces such as casual gray tee and black leggings paired with military-camouflage jacket in wine hue, added with a baseball cap in maroon with panel detailing, and finished with nail color in sky blue and seductive lips color in wine
Reah Norman
Being a truly fashionista who loves everything about clothing and styling, Reah Norman began expressing her love as a young girl, creating a homemade photo studio in her bedroom, fully equipped with a white sheet tacked to the wall, a Fischer Price camera, and her stuffed animals and dolls as models. Now, she is the Executive Fashion Director for PLUS Model Magazine, working as a product and prop stylist, specializes in styling women with curves, as well as styling and consulting with plus size clothing companies. Her clients include both everyday women looking to polish their personal style and learn what works best for their body types, as well as plus size models and celebrities. Check out three of her cute outfits for Fall and Winter, ready to follow for more inspirational fashion ideas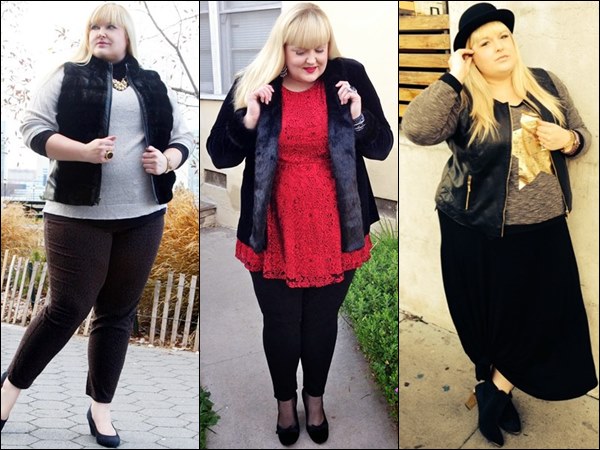 1st Picture: If you are a busy working woman who often has a jam-packed day of outdoor schedules, lots of walking, in and out of various places, and cabs and subway galore, Reah offers one stunning idea how to stay cute and put together in a super cold day. She came with three layered tops of black faux-fur vest and subtle metallic sweater in light gray, layered over a basic black turtleneck. Then she paired the tops with animal print skinny pants in dark color along with black suede wedges to finish the look. Plus, she added a few accessories such as a cocktail tortoise ring, double wrap bracelet, and a gold statement necklace to make the whole outfit looks even more polished.
2nd Picture: For a more feminine look in Christmas family gathering, Reah shows an idea of a pretty red lace dress paired with a sleek pair of black velvet leggings to make the look super festive. Then she finished them up with a faux fur trim vintage jacket, a pair of velour bow kitten heels and added some texture with a pair of fishnet stockings.
3rd Picture: Layers are great for a chilly day that you could jazz them up for a fun Sunday afternoon hanging out at your favorite local coffee house. For the occasion, Reah donned a gold star slub-knit sweater and a quilted leather vest layered over a sleeveless maxi dress. She finished the look with a pair of gold heel suede ankle boots and a wool round-brim boater hat, as well as jewelries such as stacking bracelets, gold stainless steel watch, and a cocktail ring.
Not to mention, here in this article, Reah shares some fashion tips on how to get a successful layered look. See the complete article here
Sakina, Saks In The City
The stunning Sakina is a trendy curvy Parisian. With her fabulous European-chic street styles, she translates her blog into English for those of us that don't parlez-français. As she quote in her blog dedicated to curvy fashion, "You must have more than one trick up your 'wardrobe's' sleeve to be trendy, when you're curvy !" Here are three of Sakina's styles ready to pick for the upcoming gloomy season.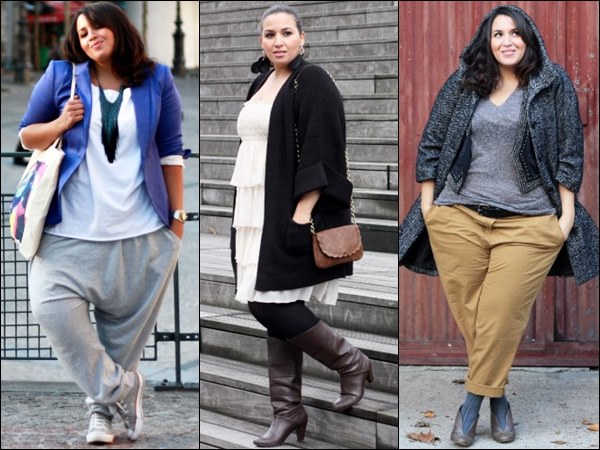 1st Picture: Casually chic and sporty, Sakina donned classic Zara blazer in blue, and paired it with a tee, slouchy, harem pants in light gray, and Converse sneakers also in gray. For more stylish look, she added the look with a fringy statement necklace, silver bangle watch, and cloth tote bag to get the casual vibe.
2nd Picture: For an elegant and feminine look in a bright autumn-y day, Sakina dressed an ivory ruffled dress, paired with black leggings and knit cardigan, then finished it with classic leather mid-calf boots and small leather shoulder bag.
3rd Picture: Trendy and sporty, Sakina chose basic wardrobe for autumn days, including basic V-neck t-shirt in dark gray which layered with studded black satin vest and hooded coat, boyfriend pants in brown, and also some cute pieces like ankle booties worn with socks.
Shainna Tucker
Shainna (Shay) is the 'thick girl' behind a plus size blog, titled "A Thick Girls Closet". She is a young, spirited, fashionable curvy lady who wrote incredibly, fun blog which packed full of ideas for styling fashions from mass market retailers. She proves that you don't have to spend a fortune to be a fashionista. Check out some of her fall winter style ideas.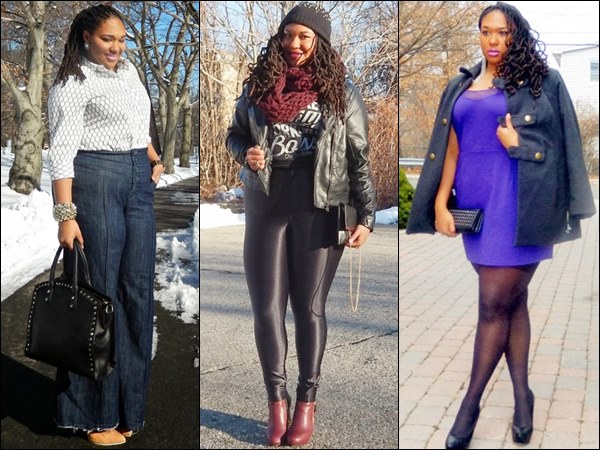 1st Picture: Casual chic is perfect for your day-to-day wear for all year around. Here Shay showed us her fabulous look with a 3/4 sleeve blouse that can lend a casual but still appropriate enough for an office/ professional setting. She paired the top with high-waist, wide leg jeans because she wanted to show that the blouse can also be worn with a skirt as well as denim. Then she finished with ankle heeled booties, bangle and watch, along with black handbag for a more classy touch. She also brought classic black coat to get that polished winter look.
2nd Picture: A little bit rocky, a bit more edgy, and lots of casual touch, showcasing Shay with all-black outfits for a day in winter. She sported a pair of black shiny disco leggings/pants and matched it with other black pieces including printed tee, leather moto-jacket, brown chunky scarf for little splash of color, black beanie, and brown pointy heeled booties also in brown, plus, a black box clutch to complete the look.
3rd Picture: For a warmer outfit during winter, Shay came with urban-chic showcasing a super cute cocktail dress that paired with a classic black coat and a pair of tights for more warmth, along with black clutch and statement earrings to polish the look.
Stephanie Zwicky
Meet Stephanie Zwicky, a 36 year old French fashion blogger, comedian and plus size model, who lives for mixing high street and high fashion. Stephanie hails from France and her blog is mainly in French, with occasional English subtitles. However, you don't need to speak French to appreciate her gorgeous photos and creative outfits. Here are some of her European-classy attires for the cold seasons.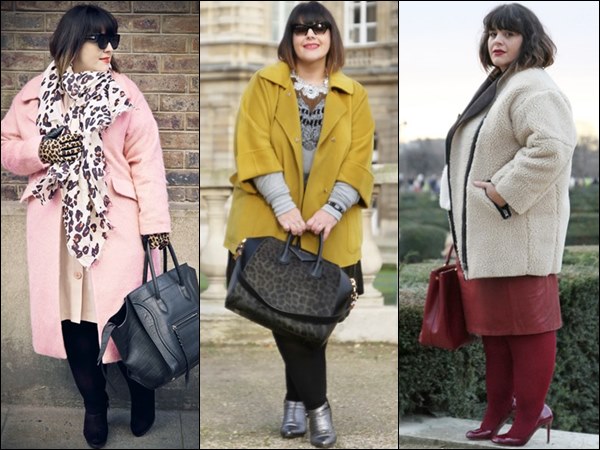 1st Picture: Girly, wild, and elegant are the mixed combination presented in this outfit. Stephanie combined a cotton candy pink coat with an equally pink dress, and added the look with some leopard prints. In this pink-mixed-leopard look, she chose the animal prints for her scarf, gloves, and belt, then threw a pair of high-boots, large handbag, and classic wayfarer, all in black, to tone-down the contrast.
2nd Picture: Full of fancy elements and statements in this outfit, Stephanie sported a long Marina Rinaldi jacket in a perfect winter color, mustard. Besides donning a black leather skater skirt, a gray sweatshirt, and a pair of tights, she also wore a bold statement necklace with fringes, a pair of shiny ankle boots from Jonak, a Karl Lagerfeld watch, and Antigona handbag from Givenchy
3rd Picture: The combination of burgundy and cream is particularly sweet in the winter. For this outfit, Stephanie chose a burgundy leather skirt from ASOS with elastic bands on the sides, which then pair it with a see-through jumper in light cream and layered with a sheep fur coat. At the bottom part, she matched everything in the same colors to the skirt, including heels and tights, plus a handbag also in burgundy.
Tiffany Tucker, Fat Shopaholic
Through her great blog, Fat Shopaholic, a Chicago native Tiffany Tucker shares her thought of plus size fashion, as she inspires those around her and all curvisious ladies worldwide with her funky and bold pieces. Her blog is a sparkly positivity bomb. During the cold, chilly days, she showed some of her ultra-funky ideas, including: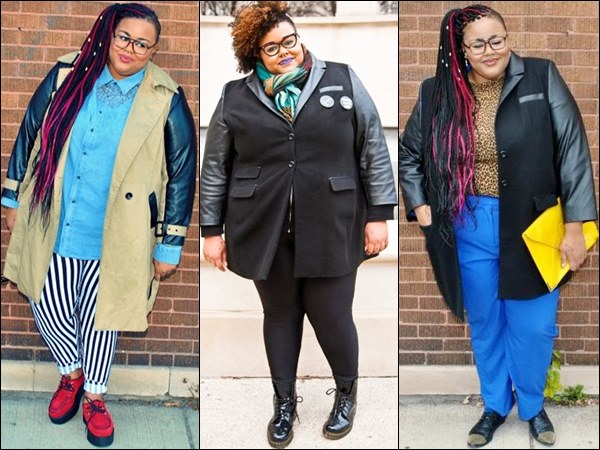 1st Picture: Tiffany came with a denim shirt that is long enough to be tunic length, paired with stripped leggings for a put together, casual look – she rolled the leggings up at the ends to give them the look of pants. Then she finished the look with red creepers and military-inspired leather sleeve coat.
2nd Picture: For a very windy winter day with snow storm and low temperature, Tiffany chose her a black coat layered with a thick hoodie underneath. She also wore a thick pair of Kmart leggings underneath, and paired with black military boots and a thicker scarf for more warmth.
3rd Picture: For a formal look with suit or office wear, Tiffany grabbed her lovely suit pants in bright blue, a more casual leopard top then she threw on an awesome coat with faux leather sleeves to complete the look for a chilly day. She also added a side pony tail, large envelope clutch in bright yellow, gold-studded black Oxford, and door knocker earrings to keep up with her 90's theme.
Last but not least, don't forget to check these articles about plus size bloggers related to fashion, styles, and clothing. Have a great day =))