Fall Winter Outfit Ideas to Steal from 12 Plus Size Fashion Bloggers (Part 1)
We all draw inspiration from somewhere or someone to get the best, most suitable look for our own fashion style. And for many plus size fashionistas, one way to draw inspiration is to take it from fashion bloggers. From preppy to bohemian to rocky, from casual to formal to dressy styling ideas, there are numberless options offered by these incredibly fabulous plus size bloggers to follow. And for the next Fall Winter 2014, here are some styles worth trying to make your days perfectly fashioned.
Ashley Rose
Along with her signature sleek and chic fashion sense, the Australian plus size fashion blogger and model, Ashley Rose, hopes to bring style to a new level for all curvy women around the globe, as she provides lots of awesome fashion and shopping tips throughout her blog. Taking an inspiration of classic with a modern edge touch, Ashley features wardrobe of quality staple items, but then mixed it up with vintage and current trend pieces. She is also the owner of Studded Rose Vintage, Ashley's "online vintage wonderland" you can check through facebook. And here are some styles of her for the Fall Winter days.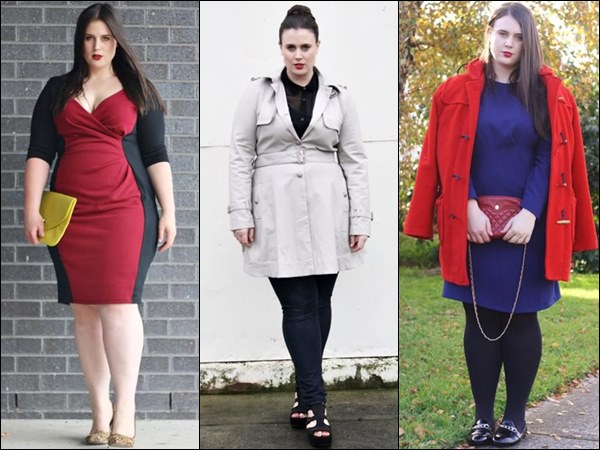 1st Picture: During a little warm of fall season, Ashley dressed simply yet elegant in warm raspberry red hue, as she showed a gorgeous V-neckline and ruched front bodycon dress, paired with leopard ballet flats and mustard large envelope clutch. According to her "A simple dress and a statement shoe is just one of the most simple tricks to get ready in a pinch and this dress allows so much"
2nd Picture: Another simply chic outfit with flattering trench coat in classic color. For the outfit, Ashley matched a basic black shirt with skinnies and chunky heeled sandals, along with a trench coat – Ashley mentioned that the shape of the coat are the most best cut for curves. The slight A-line cut and belted waist, even the addition of the shoulder tabs, really accentuate your curves in the right places
3rd Picture: Much brighter than the second one yet still feels cozy and warm, Ashley chose another day-to-day outfit featuring a gorgeous navy dress paired with vintage red woolen duffle coat, along with black tights, wine clutch, and leather low-heeled shoes.
Elann Zelie
As one of the most recognized plus size bloggers, Zelie always has some unique styles to show off. Interesting shade of lipstick, fun hairstyles, as well as colorful prints on her outfits, she is indeed a fun, crazy, loving girl like she mentioned in her blog. She's recently opened her online boutique for curvy sexy women called Zelie For She. Fierce designs on there, as well as some outfits for Fall Winter she showed through her blog.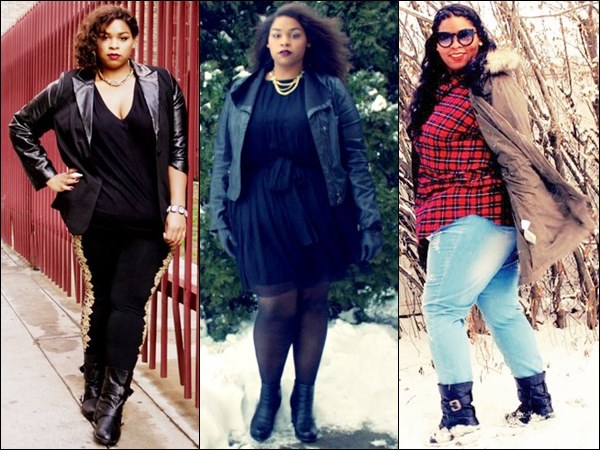 1st Picture: Screamin rocky-chic look during chilly days, Zelie showed us the idea, presenting black-on-black outfit with a little splash of gold. Started from a pair of panel leopard leggings that paired with black leather blazer and basic V-neck tee, she finished the look with slouchy, buckled ankle boots and pretty jewelries such as bangle, drop earrings, and chain necklace. "I hope everyone has an amazing Merry Christmas and Happy Holidays!" she said.
2nd Picture: Again with another all black ensemble, this time Zelie came a bit more feminine, showcasing a full-skirted LBD paired with black leather jacket, ankle booties, stockings/tights and leather gloves, while a piece of gold necklace was added to give a splash of color.
3rd Picture: More colors Playing in the Snow, Zelie showed easy and simple casual outfit of plaid shirt, distressed skinny jeans and furry hooded coat from Jesica London, along with leather ankle boots with buckle details. While oversized sunnies came to finish the look in both aspects – style and function.
Franceta Johnson
What we love most about Franceta is that on top of being a fashion blogger, she also combines her love for both Fashion and Graphic Design into the career of her dreams.  Her street style has a unique urban chic look, infiltrating her smart design aesthetic. For the chilly seasons, she showcased three of her previous casual-chic styles with skinnies and boots, that are easy to mix and match with any staples in your wardrobe.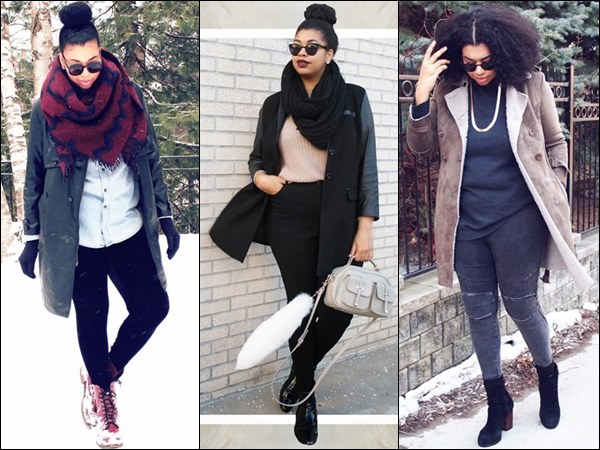 1st Picture: Franceta wore her own design of faux leather convertible trench coat (here) matched with a denim shirt, tights and Doc Martens boots. She also added her look with casual accessories like round sunnies, chunky scarf, and leather gloves.
2nd Picture: Franceta with another classy look as she donned a classic long coat, a thick sweater, skinnies, and flat, leather boots. As for accessories, she finished with scarf and mini bag accessorized with fur tail keychain.
3rd Picture: Her style looks simpler showcasing a thigh-length coat made of suede, a turtle neck sweatshirt, moto leggings, ankle booties with chunky heels, finished with sunnies and simple necklace.
Georgina Doull
Always styling like a doll, the British beauty, Georgina Doull, is all dressed in pastels, full-skirt and frocks.  With her great passion of fashion – both lolita and mainstream – cute pretty things and crafts, her outfits come from her own handmade dresses and other vintage-inspired pieces. She provides lots of incredibly darling DIY pieces and a crafty touch of vintage through her blog, so adorable making you feel like in fantasy land full of pastels and fun. Literally, Georgina is the cutest person ever. Here are some of her outfits for the Fall Winter seasons – although they showcased almost the same style, but all colors and prints chosen are so cute that you can pick for an inspiration.
1st Picture: For a Christmas day, Georgina wore a festive gray jumper with polar bear embellishment on it, a cute velour skater skirt, a pair of leather geek shoes, and black tights for more warmth. Just like all Georgina's iconic outfits, she also added various cute accessories including collar embellishment, bunny ears scrunchie, vintage brooch, and pretty charm bracelet around her wrist.
2nd Picture: Going full on floral pastel goodness, Georgina picked lots of pastels in this outfit such as floral printed skirt by ASOS, a jumper, mini satchel, and patent pointy flats – with pink flowers on them – which all come in a mint blue color. As for the accessories, she threw a stoned-collar and deer headband – all are her handmade crafts.
3rd Picture: Another gorgeous look was presented by Georgina, showcasing a peachy organza dress layered with a furry coat, along with a pair of black tights, crochet trim ankle socks, and ankle boots from ASOS. As always, she also finished it with pretty accessories such as kitten-print bag, a headband, velvet ribbon, as well as dainty rings.
Jasmine Duarte
Being a freelance fashion and beauty writer, as well as a plus size fashion blogger for her blog Glitter on the Ceiling, the Spanish beauty, Jasmine Duarte's style always looks edgy and feminine. With hints of vintage flare, she shares lots of fabulous outfit ideas based on her personal styles, showing her integrity by only posting things she truly like. Her motto is "As long as you wake up everyday and see a beautiful woman in the mirror, you can throw those body standards out the window." Here are some of Jasmine's outfits for Fall and Winter.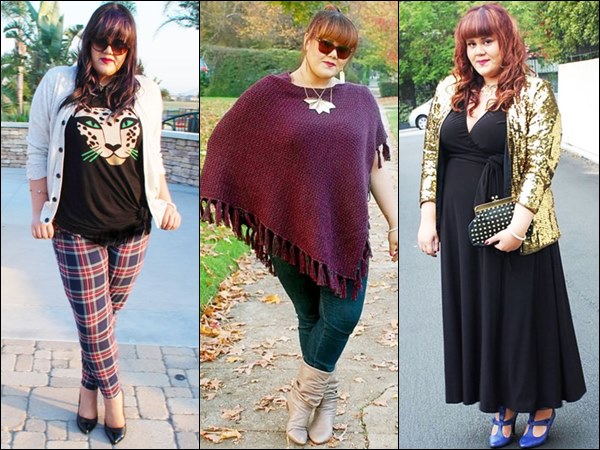 1st Picture: Nothing cooler than a pair of printed skinny pants, as Jasmine chose to wear one of these in plaid prints which look classic yet also trendy, and paired them with a fun graphic tee and a pair of sleek black pointed-toe heels to balance the look perfectly. She also threw a white cardigan for more warmth and a piece of statement necklace to finish the look
2nd Picture: With California's fall season's days in the 60°'s and 70°'s, it never gets very cold which is why ponchos are an easy way to keep warm. The look is incredibly chic with a little touch of boho-meets-country vibe. Jasmine paired the poncho with skinny jeans and slouchy leather boots, added with cute necklace for give interest.
3rd Picture: For a night look during cold season, Jasmine chose a versatile black, maxi dress, which effortlessly glamours and flattering on all body, flexible enough to wear from day till night. Then she layered the dress with textures, sequins and studs, including blazer and clutch, along with heels in different color to bring a black dress to life. She mentioned "You can throw the 'matching shoes and handbag' rule out the window! As long as you have a fun color palette, you'll look amazing!"
Lilli, Frocks and Frou Frou
Known with her blog, Frocks and Frou Frou, Australian blogger, Lilli's style is ultra-feminine and consists of a lot of useful tips on how to make clothes and accessories from scratch – along with a series of posts called "remixes", where she takes simple basic items, and alters them to make them unique. There are also tips about stores that sell plus size clothing and comfortable clothing and accessories. Plus, she's also refreshingly honest about her journeys in plus size fashion, never putting herself on a pedestal, and makes for a delightful read. Here are three pretty outfits shown by Lilli for the chilly season.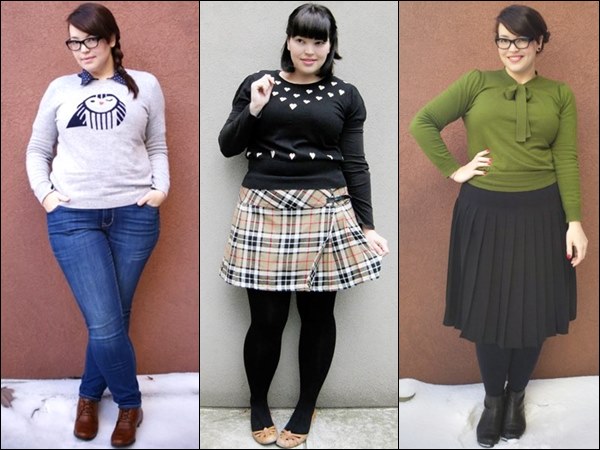 1st Picture: Simple yet pretty sophisticated for casual daytime wear with friends, Lilli wore a cashmere sweater over a classic shirt, paired with basic skinnies and ankle boots. According to her, the focus of this outfit is the look of your sweater as you can play with different patterns, prints, accents and embellishments
2nd Picture: Looking adorable with skirts and stockings and over-the-knee socks, Lilli chose some versatile pieces for her attire such as black long sleeve shirt worn underneath a chic top also in black, paired with skater skirt in plaid, along with black stockings and ballerina flats.
3rd Picture: Mixed with a little touch of the classic 50s, Lilli wanted to achieve a chic, preppy fashion in this outfit. She chose a pretty pleated skirt – fitted to the hips before falling away in knife-edge pleats – paired with 50s styled knitwear with ribbon collar in lime green tone (perfect color for winter). To give more warmth she wore black tights and ankle booties.
Follow the article "Fall Winter Outfit Ideas to Steal from 12 Plus Size Fashion Bloggers (Part 2)" for more Fall Winter fashion ideas from other bloggers. Please note that all of the bloggers below are not listed in any particular order. They are all equally fabulous!
Not to forget, check out more articles about plus size bloggers related to fashion, styles, and clothing. Have a great day =))