Striking a balance between casual, femininity and glamorous, it's no wonder the maxi skirt continues to be a major trend this fall winter 2013 after making a splash seasons ago. And it's definitely true that maxi skirts are the trend that never dies as they are incredibly versatile and comfy, easy to combine with almost everything in your closet, plus they look stunningly gorgeous and super feminine – even if you pair it with rocky staple like biker jacket. Look at the pictures of street fashion to inspire you.
Grab some fashion tips from this "How to Wear and What to Wear with Long Skirts" article to find out how to style the maxi skirts for different occasions. From evening to daily designs, the street styles show exactly how cool maxi skirts look, therefore, if you are a maxi skirt love, or you like to try different outfits, check more street styles below to see how stylish these maxi skirts are, asking you to choose one of the outfits to be the real fashionista on the street, party or official meeting. Surely, you can be to the best dressed during this season with wearing these fabulous maxi skirts.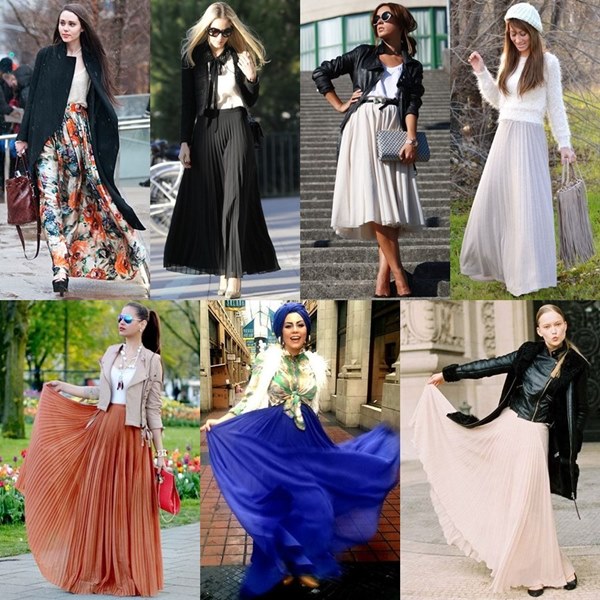 Treat a maxi skirt like jeans that you really don't need to worry about combining this staple with specific outfits. Keep in mind that a maxi or long skirt is a versatile fashion piece that you only have to balance the silhouette, colors, and patterns with other pieces.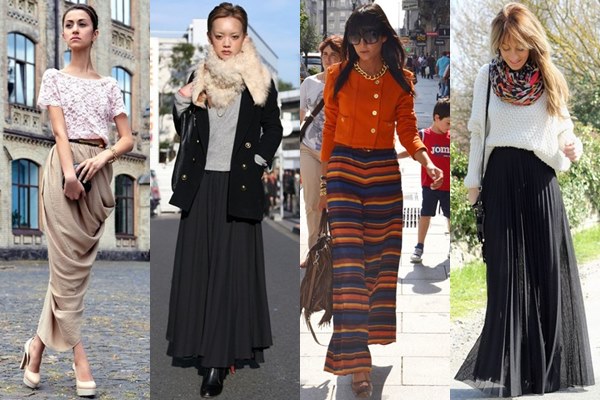 The key point of choosing your office attire is to avoid looking appropriate for the work environment. Avoid looking too risky by flaunting too much, or too frumpy by trying to hide their natural curves beneath layers of ill-fitting clothing. Make your outfits polished and elegant, and find the right balance of femininity and professionalism when you choose work clothes – including work outfits with a maxi skirt.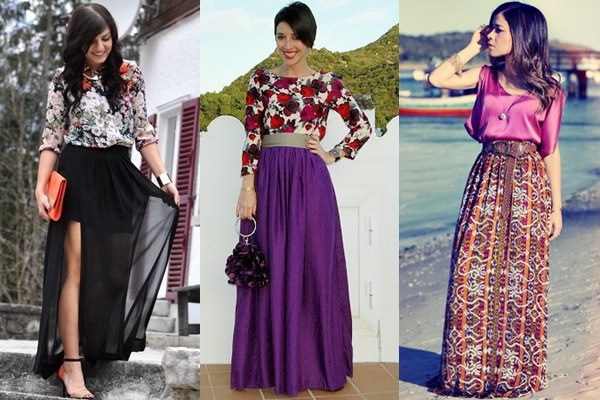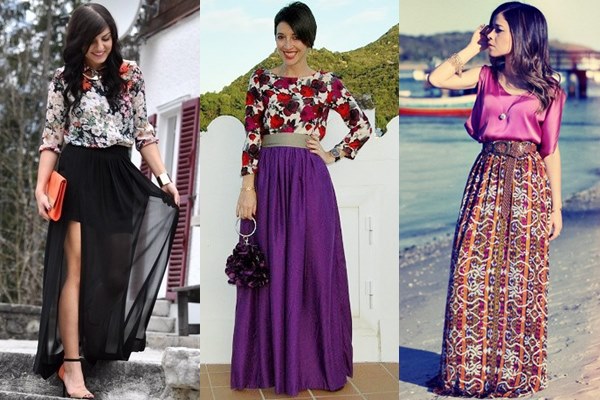 When attending some cocktail parties or formal occasions, the way you choose styles, colors, patterns, and fabrics of your maxi skirt as well as how you pair the skirt with other pieces determine the look whether your maxi skirt is suitable for the event or not. Put on a stylish maxi skirt which is chic and elegant, combine it with dressy top, opt for jewelry that flatters your dress but don't overdo, wear dress shoes, and lastly spend extra time on your hair, nails and makeup. Now you are ready to looking gorgeous with a maxi skirt.
Cozy, comfy sweater and maxi skirt are definitely a winter match made in heaven. In this frigid season, you are recommended wearing your maxi skirt with a knit wool sweater, whether sweaters with stylish prints and in various colors, over-sized loose sweaters, turtleneck sweaters, or just pairing the maxi with a knit top if the days aren't so cold. Try layering as well. Opt for fitted sweater over a shirt, or knit shirt underneath a blazer, or even make three layers for the perfect warmth. To finish the look, you may also wear a stylish hat and chic ornament – statement necklace or scarf – to create a complete look. Here's a video for more style inspirations of wearing maxi skirt and knits.
Knowing how versatile and fabulous the maxi skirt is, without a doubt, this fashion staple is indeed one of the most timeless trends that never goes out of style for years to come. In winter, more exclusively, maxi skirts are easy to add layers over as well as hide layers under, making them the perfect transitional piece for the coming fall months where some days are super chilly and others are still warmed by the summer sun. This alone makes maxi skirts every woman's favorite pieces to wear for fall and winter, besides the skirt itself can also be worn with or without layers. Here are some styles you can steal from street fashion on how to wear a maxi skirt with layers.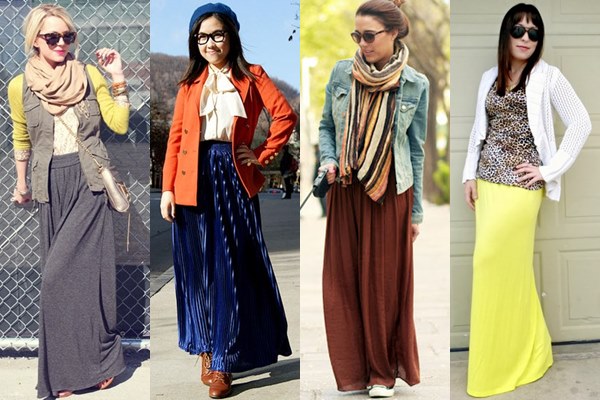 Wear your maxi with a cardigan and leopard print tee for a casual chic style, or with a blazer, a bow-tie shirt, and ankle boots plus winter cap for creating that preppy look, or even sport your maxi with military vest or denim jacket and knit shirt, and add the look with a casual knot of scarf, then you are ready for spending your style fabulous during days.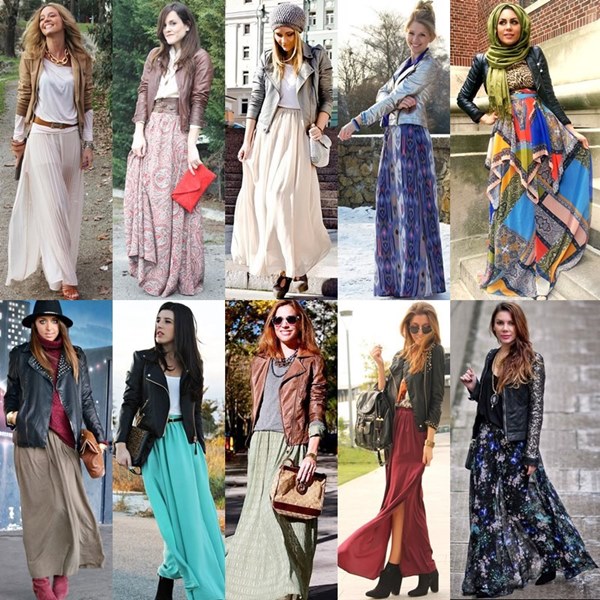 Nothing screams a chic rock-girly look better than a maxi skirt with biker jacket. Wear them with a chic tee for cooler days, or with knitted shirt cold days. There are lots of leather biker jacket you can invest in, from leather jackets in metallic color to natural shades like maroon and gray to classic leather's hue of black and brown. All are fantastic as you can combine your moto-jacket (or biker jacket) with any of your favorite maxi skirt.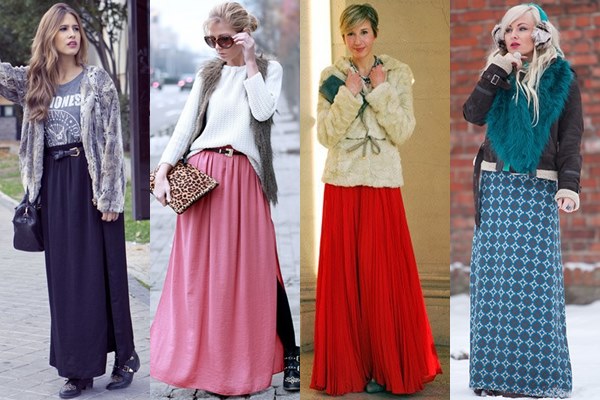 When the day is getting colder, a fur coat or vest can be your best bet to pair with maxi skirt. From dressed up fancy to a little bit funky, fur coat and maxi skirt work appropriate to playful weekend ensembles. Combine the look with the shirt untucked – or tucked into the skirt – and add a belt. Just fashion your style, play off the skirt and compliment the real star of the outfit: you, of course!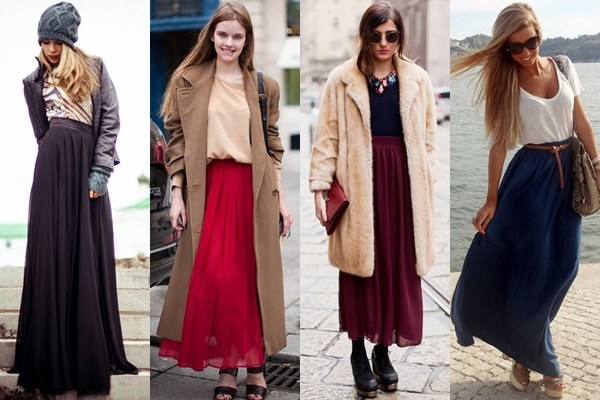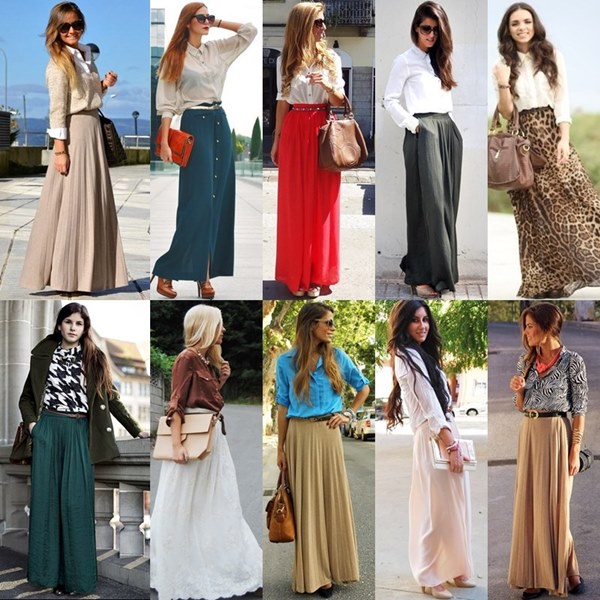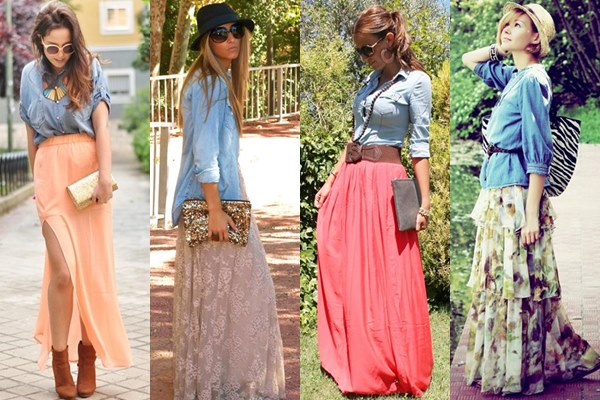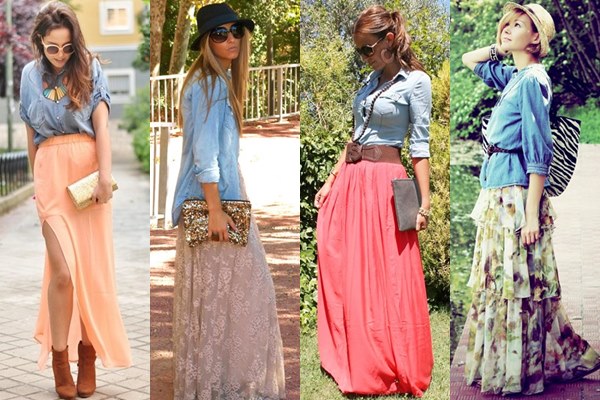 Summer or winter, a chic tee, shirt, or chambray surely can be paired with maxi skirt. Wear your light-weighted tee alone with maxi skirt for summer, while to fall-ize or winter-ize your skirts, obviously you need to wear layers. Start with a tank top, add a shirt, add a knit or a blazer and add a coat if needed. A cute chambray top layered over a t-shirt is also a great way to add an extra layer of warmth and still look fashionable. Or you may wear the chambray or shirt by itself, tucked into the skirt.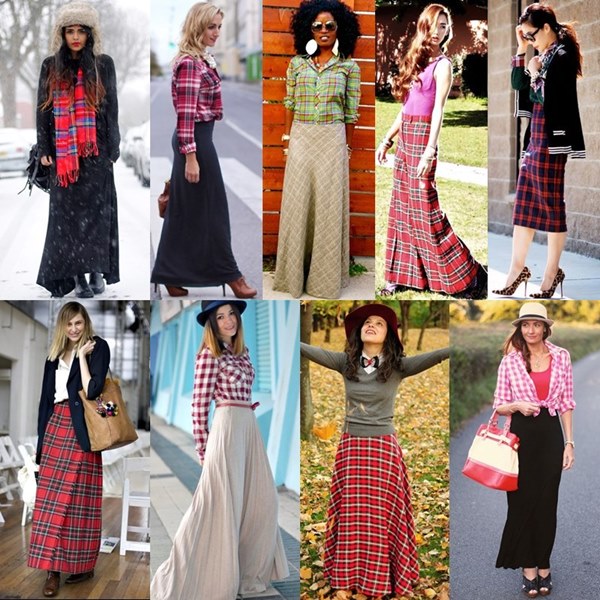 While having fun donning your maxi skirt with almost anything for this fall winter, don't forget to fashion the trendy ideas like wearing tartan prints or styling in military-inspired look. Opt for tartan or plaid shirt for a simple, yet adorable look, or finish the attire with a little vibe of tartan by wearing accessories in those prints to add interest. Or you even can start investing in a new long skirt – pencil skirt or fuller skirt – in tartan patterns. They are incredibly gorgeous and I'm sure this pattern will shift long-term trend as the skirt itself.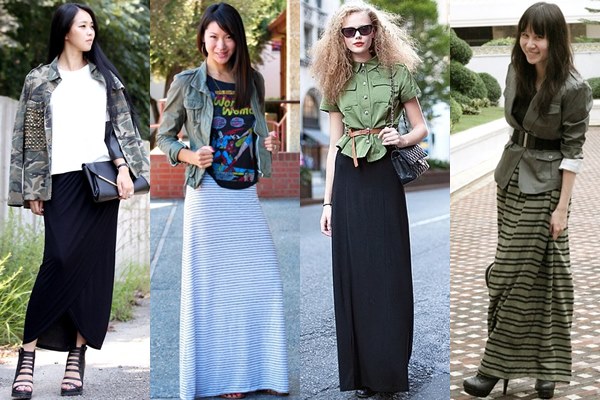 As for the military style, you really don't need to have pieces with army prints to enhance this style. Sporting attire in iconic olive color with its family color scheme is also the best way to start styling this look. Or you can just opt for a stylish military jacket and pair it casually with t-shirt and maxi skirt. Noted that colors like green, navy, khaki, white and black are the chosen hues for this military-inspired look.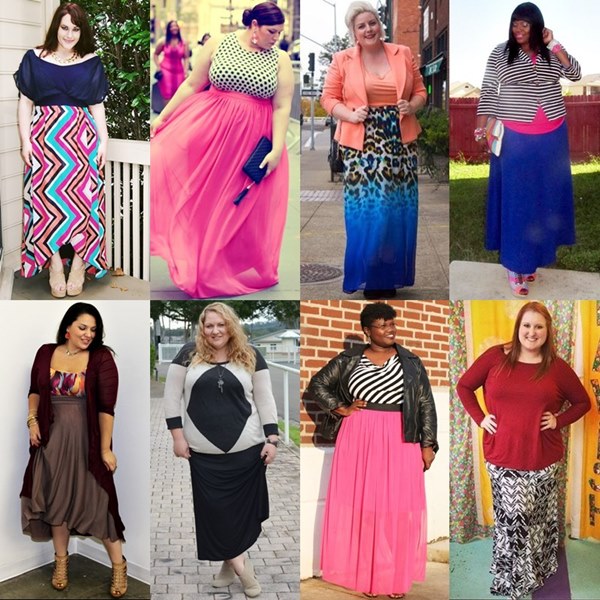 Lastly, for the beautiful plus size ladies out there, maxi skirts are truly your best friend in term of having a flattering, fashionable look, as well as perfect to embrace your curves. Whether it's clingy, flowing, stretchy, all styles suit you. It can be dressed up, played casually or it can be designed and put into use for high glamour. Take a look at this video for more style tips on how to style a plus size maxi skirt.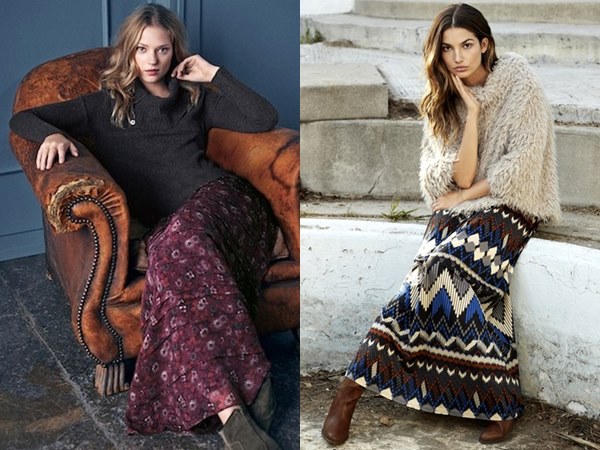 All in all, as you can wear the maxi skirts all year round no matter what the weather may or may not be doing, this season, give your beloved minis a break and opt for maxis that are both big in comfort and long on style. The refreshing floor-dusting silhouette is one to be embraced into fall winter, and not just to keep your gams warm. Dress it up with a silky top and oversized clutch, or go a more casual route with a simple long-sleeved tee and vest. Add a cute hat or a fun pop of lip color. And try different shoes – flats or sandals, and heels work too. Have a wonderful day, be grateful for this year's maxi trend and have fun with it. =))