Whether it's bold nail art or a simple neutral, this season Spring Summer 2015 Nail Trend is all about classic bright and nude shades that have been turned into cooler, more sophisticated versions. After the moody hues for autumn and winter, those who like pretty pastels and minimalist nail art will be pleased to hear what will be approach for Spring Summer 2015. In terms of make-up trends, fresh and colorful nail hues are one of the first things make us think and dream about the warm season.
As it always gets down to the nails, some women want to stay classic and minimalist, while others want to be maximum creative and unique. So, speaking about the top trendy and classic nail designs, let see some of the biggest trends for Spring Summer 2015 for nail polish and nail art. But before you go through this post, make sure you have a stain-free nail canvas to work on, learn "….." for tips how to get a healthy, strong, and stain-free nails.
As for colors of this spring summer bright, from cool stone grey to old-world teal, the good news is that beautifully colored nail polishes in iridescent, rich gems colors is back again for 2015, as well as some spring classics like sherbet pastel candy and coolly understated nude, along with the appearance of warm nautical cobalt, sophisticated scarlet, and crisp white. This season's crop of shades is anything but ordinary. Read on to find your newest, most unconventional nail colors for spring and summer
Classic Taupe Nude Nails
It's classic, chic, neutral, and it's definitely the best non-color for those who love nail polish but in a natural way. The best taupes of the season make a statement. They are opaque and deliberate and meant to look like you're wearing foundation on your nails.
So, the only attention to put is about choosing the one that better matches with your skin tones to create the totally natural effect. That said, pick a shade that matches your complexion and get ready to show a little skin. Or, you can just go picking whatever nude colors you love – from barely there shades of stone, beige, putty, and cream to thick matted hues of camel, mocha, tawny, mahogany, and caramel – to add your classic style some attitude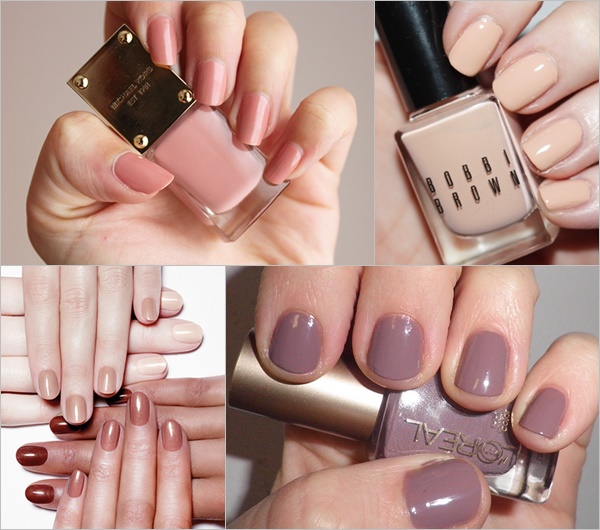 Sherbet Pastel Shades
Nothing puts us in a better mood than a brand-new nail lacquer in one of the season's freshest, most cheerful, and girliest colors like pastel.  From soft pinks to mellow yellows and minty greens, these subtle shades flatter every skin tone while infusing femininity into your breezy, stylish wardrobe. Learn various outfit ideas with pastel through article "How to Wear Pastels for Different Occasions and Styles"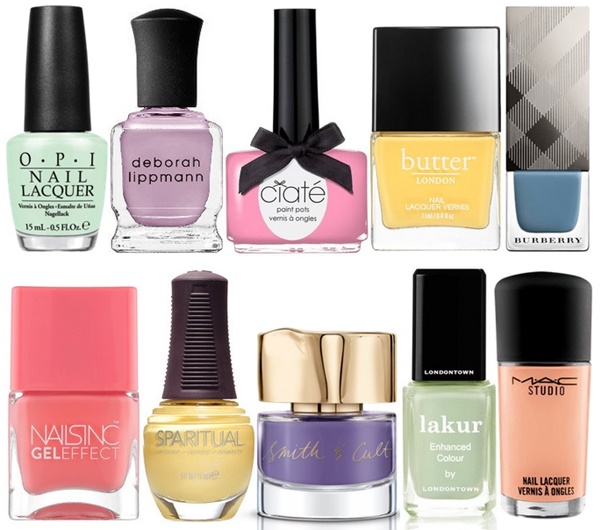 OPI Nail Lacquer – That's Hula-rious! ($10) / Deborah Lippmann Nail Lacquer – Lilac Wine ($18) / Ciaté Nail Polish – Candy Floss ($15) / butter LONDON Nail Polish – Cheers! ($15) / Burberry Beauty Nail Polish – Stone Blue ($22) / Nails inc Gel Effect Nail Polish – Old Park Lane ($15) / SpaRitual RHYTHM Nail Lacquer – Seasons ($12) / Smith & Cult Nail Lacquer – She Said Yeah ($18) / Londontown Lakur Nail Polish – Aces High ($16) / M·A·C Studio Nail Lacquer – To Dye For ($12)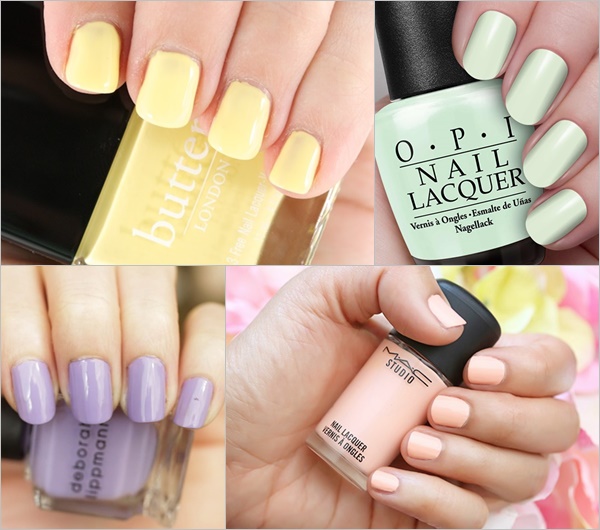 Crisp Creamy White
White nail polish is making a splash this summer and we're all for it! Sleek and minimal, yet fun and summery, white nails are showing up on runways and red carpets as one of this season's biggest nail color trends. This milky shade adds a touch of sophistication to any outfit, and pairs well with basically any accessory. Think these neutral manicures paired with some stylish accessories, including gleaming gold watches and minimalist stacked rings. Not to mention, a white mani is also the perfect blank canvas for a little bit of adorable nail art, whether it's a glitter accent nail or a smattering of colorful polka dots. So, will you be rocking white nails this bright season?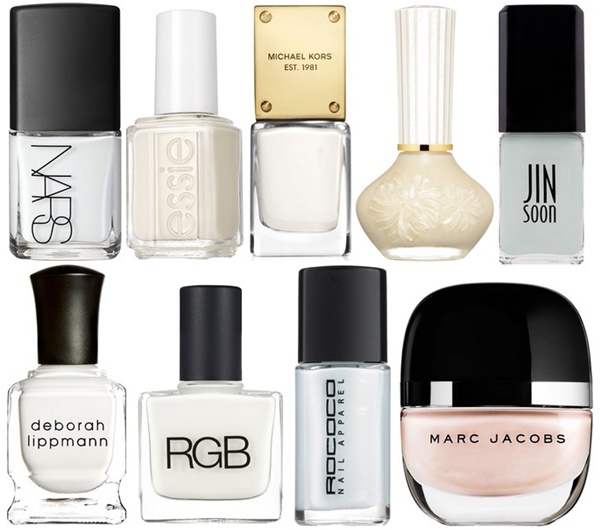 NARS Nail Polish – Ecume ($20) / Essie Nail Polish – Tuck It In My Tux ($9) / Michael Kors Sporty Nail Lacquer – Gossip ($18) / Paul & Joe Nail Polish – Ours Polaire ($16) / JINsoon Nail Lacquer – Kookie White ($18) / Deborah Lippmann Nail Lacquer – Amazing Grace ($18) / RGB Nail Color – White ($18) / Rococo Nail Apparel Luxe – T-Cup ($17) / Marc Jacobs Beauty Nail Lacquer – Blanche ($18)
Vibrance Gloss
The power of a splashy vibrant nail color – whether with a shimmering opaque touch or muted – should not be underestimated. A vivid mustard manicure adds unexpected edge to a work uniform, a deep sophisticated green is classic and perfect for the girl who wears head-to-toe black, pearly iridescent aquamarine takes your poolside style to the next level, and a bright coral red goes with absolutely everything. Enjoy your season bright, gloomy shades are out; bright green, canary yellow, greeny gunmetal, and bold violet are in.
Julep Maryam – Classic with a Twist ($14) / Dolce&Gabbana Beauty Nail Lacquer – Sole ($26) / RGB Cosmetics Nail Color – Violet ($18) / Michael Kors Glam Nail Lacquer – Thrill ($18) / Tom Ford Nail Lacquer – Black Jade ($32) / Burberry Beauty Nail Polish – Bright Coral Red ($22) / Chanel Le Vernis – Rouge N°19 ($27) / butter LONDON Nail Polish – Chuffed ($15) / The Body Shop's Colour Crush Nail Polish – Crimson Kiss ($8) / Rescue Beauty Lounge Je t'aime, Je' t'aime! – C'EST TOUT ($22) / OPI Nail Lacquer – My Gecko Does Tricks ($10)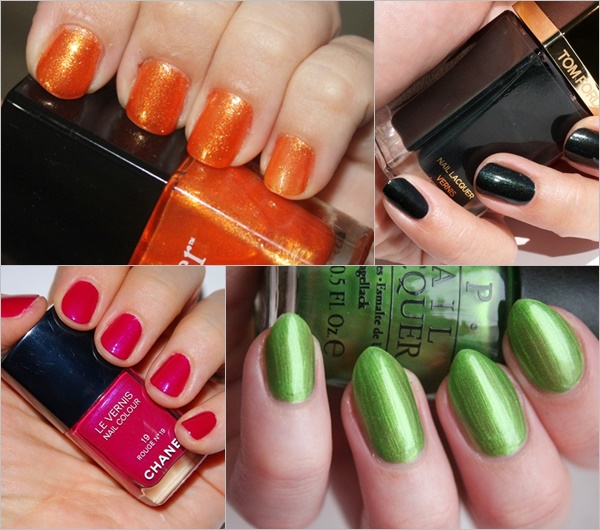 Captivating Red Colors
A crimson and scarlet are two classic red colors no matter the season. Red nails are like red lipstick; you don't have to be wearing anything else to make a statement. They are captivating, pure, warm, passionate, and bold that will stand the test of time. A classic red – think crimson, cardinal, and scarlet – contrasts with pale skin just enough to leave your hands looking crisp and clean, while the ones with a bit brighter, non classic red hues – such as claret, rose, and cerise – expresses playful femininity.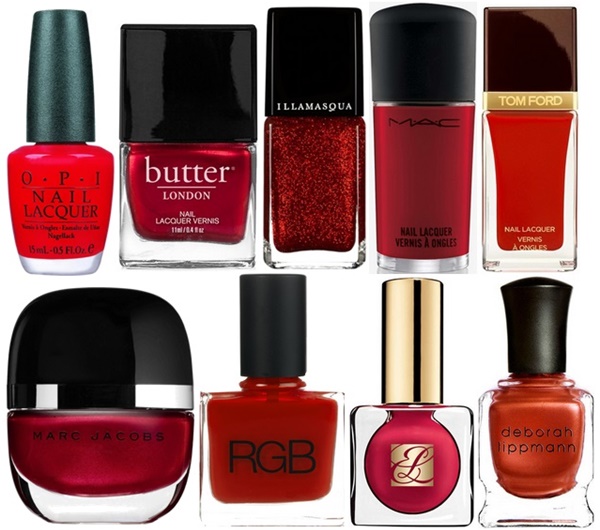 OPI Nail Lacquer – The Thrill Of Brazil ($10) / butter LONDON Nail Polish – Knees Up ($15) / Illamasqua Nail Varnish – Untold ($24) / M·A·C Studio Nail Lacquer – Flaming Rose ($12) / Tom Ford Nail Lacquer – Carnal Red ($32) / Marc Jacobs Beauty Nail Lacquer – Desire ($18) / RGB Cosmetics Nail Color – Scarlet ($18) / Estée Lauder Nail Lacquer – Beautiful Liar ($21) / Deborah Lippmann Nail Lacquer – Brick House ($18)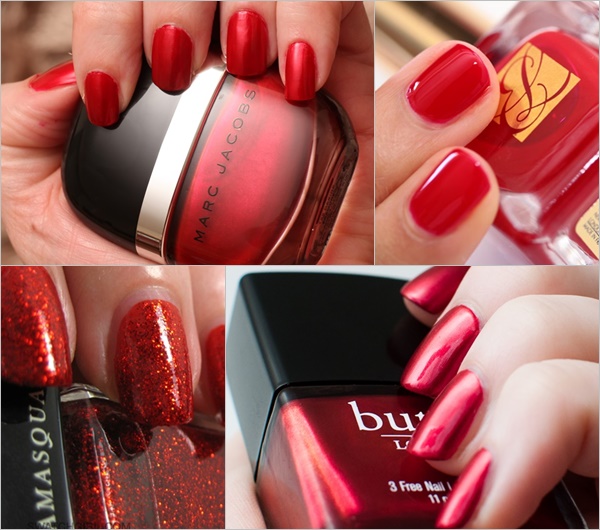 Nautical Aquatic Colors
We're not feeling blue, but our nails certainly are. Not just a classic navy, but this year colors come with pearlescent shades, from bright royal marine, to cobalt blue pearls, to glossy aquatic blue, to intense night blue metallic. These summery blue shades have us counting down the days to our beach weekend or more realistically, a city hangout or even for summer time cocktails. Plus, if you want to wear a darker shade but are tired of wearing black or burgundy mani, these beautiful blues are always a good alternative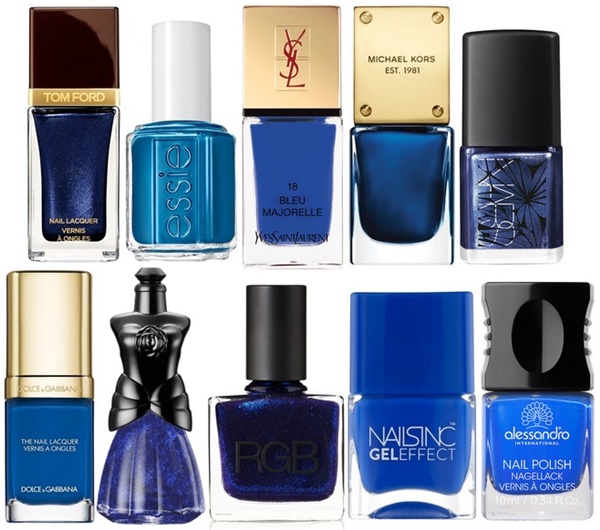 Tom Ford Nail Lacquer – Indigo Night ($32) / Essie Nail Polish – Hide And Go Chic ($9) / YSL Beauty La Laque Couture – Bleu Majorelle ($27) / Michael Kors Glam Nail Lacquer – Femme Fatale ($18) / NARS Nail Polish – Barents Sea ($20) / Dolce&Gabbana Beauty Nail Lacquer – Blue Angel ($26) / Anna Sui Nail Color – Oriental Blue ($15) / RGB Nail Color – Nightfall ($18) / Nails inc Gel Effect Nail Polish – Baker Street ($15) / Alessandro International Nail Polish – Deep Ocean Blue ($10)