Fashion is an art form that everyone's very much welcome to try. But instead of paint and a canvas, the medium you'll be using is your body, while all sorts of clothes are your tools. And much like any art medium, there's no right or wrong when mixing and matching elements. Although, in some cases, it can be common to stumble into the dilemma of wrong combinations or using too much.
You probably found yourself in either of these situations one too many times. And for men, it can be even more tricky as most fashion advice and guideline tend to address women. So, if you're looking for ways to spruce up your wardrobe, this article can be for you. Instead of simply depending on jackets, shirts, sneakers, and jeans, why not throw some trousers in the ring?
Here are some trouser styling tips worth considering:
Look At Style References Or Inspiration
Not a lot of men follow fashion trends and make sure they're up to date with the latest fashion pieces. Perhaps, you fall into this category. There's nothing wrong with that since it could be that you have your own personal style.
However, checking out some references, whether in the form of a fashion magazine, an actor, or a TV personality, can bring a significant change to your wardrobe, as it allows you to explore and discover various styles that match your personality and vibe. Doing so also enables you to find style inspiration that may look good on your body type. In addition, you could even use this guide by Bespoke Unit if you want to create a look that's exclusive to yourself.
Don't Limit Yourself To A Specific Trouser Type
Having style references is one thing, but the actual exploring of various trousers types is another. To help you get started, here are some of the trousers you could try wearing:
Cargo pants
Track pants
Khakis
Jeans
Suit pants and more
Having this many options is likely to overwhelm anyone. But with a variety of this amount, you can consider this an open door for different opportunities. After all, each type of trousers requires a certain combination to make a nice menswear outfit and an occasion where it'll work and fit best.
For example, cargo pants can be worn as either baggy or slim. However, cargo pants are still seen as casual regardless of their cuts. Therefore, all you need to wear with it is a plain shirt or even a sweater. Then, end it on a good note by wearing boots (ideally Chelsea ones), bright sneakers, or loafers.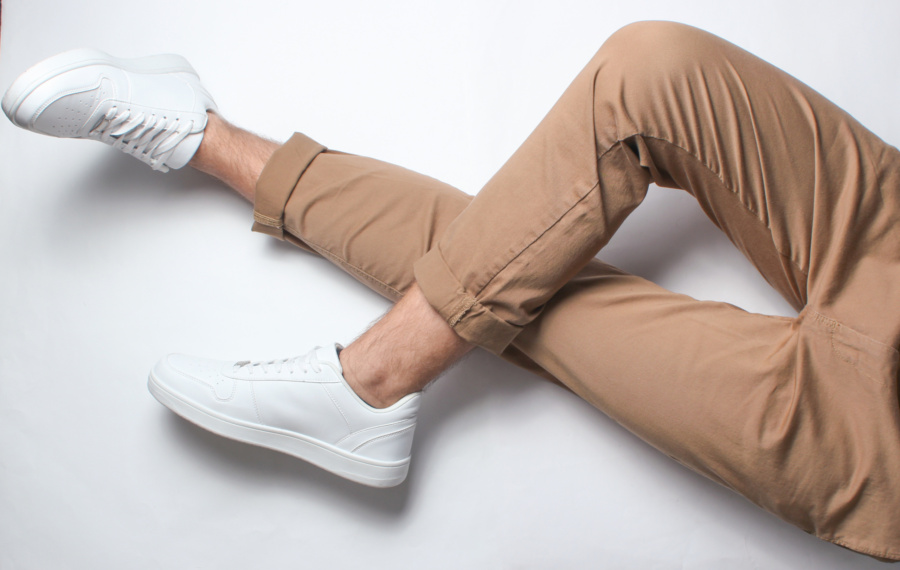 Dress Fit
Admittedly, some men would prefer oversized clothes to lower attention to their physique. But wearing loose and wrinkly clothes may leave you looking sloppy. Therefore, it's recommended that you wear fitted clothes to make you look sharp. And that goes to your pants as well.
Wearing fitted pants may sound restrictive, especially if you have a wide waist. However, how restrictive your clothes are isn't what you'd call 'fitted.' Your trousers should rest lightly on your body without being too snug or so loose that they hang off your frame.
However, if you feel like the waistband keeps drooping, consider investing in suspenders and not just belts. This way, your pants are now held up by your shoulders. Furthermore, your body won't be divided with a belt.
Pair Colors Nicely
Although it's not as obvious as your fit or the type of trousers you chose, colors can still deliver an impact either way, although much more subtle. For example, beige should be one of your go-to colors since it's so versatile. Beige can make it work, whether you're gunning for a cool color scheme or warm tones.
So, if you're looking for something to wear at a smart-casual event, wearing beige chinos and a plain long-sleeved shirt can do wonders for your overall getup, especially when you top it off with a blazer. Stripped or checkered shirts could also be on the table.
Know Your Preferences
Regardless of every helpful tip that exists, it all boils down to your comfort and preference. After all, you can't just throw your money at every article of clothing recommended to you by a style expert or fashion magazine.
If you're on a budget but still want to be a fashion icon, you need to be smart with your clothes. And a good starting point is by being familiar with your preference. However, this should only serve as a stepping stone. Because if you want to broaden your wardrobe, you can't do that by sticking to your comfort zone.
Wrapping Up
Although it's not as noticeable as a shirt, people frequently wear trousers. Whether it's as simple as a pair of sweatpants or as stylish as chino pants, trousers are typically people's go-to for any event, especially for men. But despite its versatile nature, you still need to know the right formula to make it work. The tips outlined in this article can send you off to a good start.