There's no doubt that wedding planning is stressful. The task of choosing the right venue or the perfect dress can seem overwhelming. You want to show off your personal style in this momentous event and create a party that your guests will remember forever.
Making a style statement with your wedding choices is the easiest way to do it. A significant part of planning a wedding is choosing your flowers. Unfortunately, picking your favorite flowers and requesting them on hand isn't that straightforward. It goes beyond the traditional bouquets and table centerpieces to decorate a wedding venue with flowers.
Additionally, floral arrangements are effective ways to personalize your wedding.  To make your wedding flowers stand out, you will need to implement new fresh ideas that will reinvent traditional floral designs. You need to decide what type of floral arrangement you'll use to elevate the setting of your wedding into a once-in-a-lifetime event.
Here are some floral arrangement tips to help savvy couples in planning their wedding:
Set The Right Budget
When you're getting married, it's the time of your life when you need to select the best floral arrangements or choose a unique wedding bouquet for your big day. They understandably set the mood for the significant event. However, lavish displays could sometimes get expensive. The budget must be decided and planned first because it will provide a solid financial framework.
Despite being necessary, flowers will probably cost you more than you anticipated. You should be realistic when making your selections to avoid overspending. Getting local or seasonally produced flowers is less expensive than importing them from other nations. You can achieve this look by choosing some large flowers surrounded by lots of greenery. These would look gorgeous and allow you to use fewer flowers and more leaves.
In addition, February is the one month you should steer clear of arranging flowers on your wedding day. This is the month when fewer flowers are in season, and flower prices are high due to Valentine's month.  Floral arrangements can be made with filler flowers like baby's breath, carnations, or mums, and it costs less. It's also possible to incorporate greenery and filler flowers in the bridesmaid's bouquets.
Consider Greenery
An arrangement made of greenery can be transformed into a stunning centerpiece by incorporating textures and silhouettes that are beautiful and vibrant.  Moreover, foliage is less expensive than flowers, so your floral budget can also be stretched. There are so many bright and vibrant flowers on the market that it is easy to ignore the kinds of greenery and filler flowers that complement them. Therefore, flower arrangements are rounded off and completed by the fillers and greenery. Adding them to a floral décor adds shape, texture, and interest. It can be fun to play with the different kinds of plants available so you can discover what kind of floral arrangement suits your needs.
Research Is the Key
Wedding websites typically have vendor listings that contain general pricing information, images, and reviews. It's crucial to thoroughly research local florists and schedule an appointment so you can meet them and look at their portfolios. It's important to interview potential floral designers in the same way you would interview any other professional.
The floral designer will be able to make floral designs that reflect your vision. With their expert advice, you're sure to choose the right flowers for your wedding venue and season, and your flower ideas will come to life.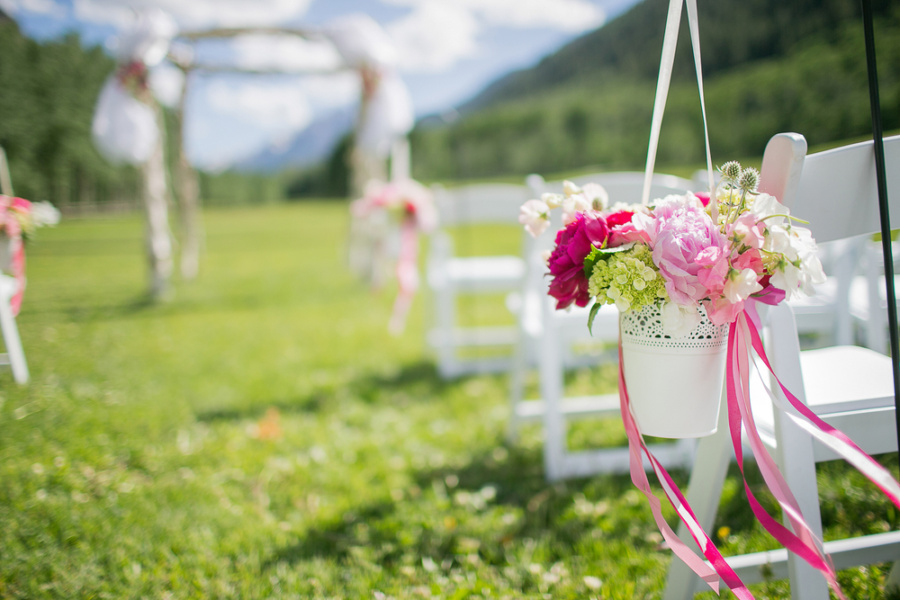 Chose A Focal Point for Your Floral Arrangement
Whatever theme you're aiming for, whether you're wearing some gypsy bridal collection gowns or having a grad ball theme for your wedding, flower decorations play a significant role. While you don't need to arrange small arrangements in a bar or unnecessary areas, centerpieces will be in full view for a few hours, so ensure that they are the focal point. It's best to select just one large bloom and use cheaper flowers for the rest of the centerpiece arrangement.
Additionally, you can consider an area where the floral arrangements can be concentrated more. Wedding ceremonies can be over the top and floral-laden, then a more minimalist reception follows. However, some wish to spend a lot on floral arrangements in one area and spread the budget evenly.
Despite the importance of centerpieces and other arrangements, many brides fail to keep them after the ceremony. On the other hand, wedding bouquets tend to be preserved and maintained long after the wedding has concluded and are sure to be captured in photographs.
Conclusion
Flower arrangements have been used for centuries for bridal bouquets, table centerpieces, and church decorations. Their beautiful shapes, textures, and colors add the perfect finishing touch to every wedding style. It is essential to have beautiful wedding flowers on your special day.
Their color and beauty, plus their symbolism of life, love, and growth, make them a vital part of any wedding celebration. To create something extraordinary, don't hesitate to think outside the box and keep an open mind. Before you know it, you can have a breathtaking bouquet and gorgeous floral arrangements that will be cherished for a lifetime.