Fashion comes fashion goes, other than those modern, urban hairstyles we've seen everywhere, some women just love to go with vintage styles inspired by those that were so popular in the past decades. In fact, nowadays, some of these vintage-retro hair-looks are among the trendiest. Featuring some iconic styles of Brigitte Bardot, or Marilyn Monroe, and more, these classics keep taking their part to inspire us to this day. Check out some options of retro hairstyle trends for you to glam in 2014.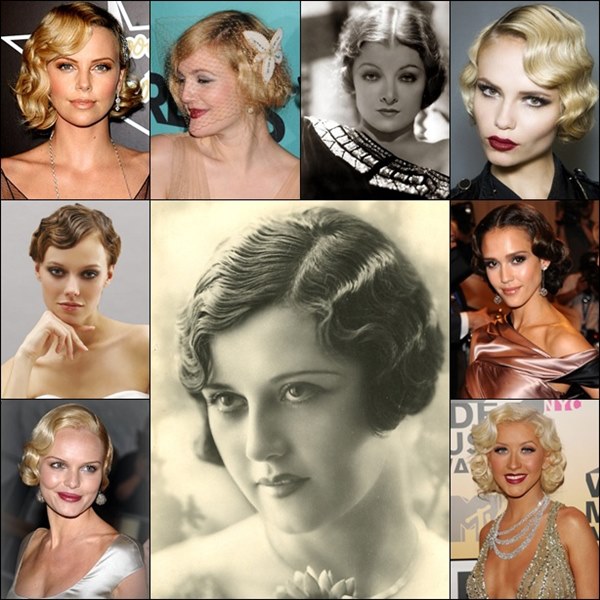 The Roaring 20's
Slick short or wavy bob cuts, Eton crops, heavy fringes, finger waves, kiss curls, headbands, floppy bows, and feathers are definitely 'the' styles of the 20's. Opt for this retro style in short bobs and create a soft wave to frame face, and leave the bangs either loose or tight. One easiest way to get this look is by curling your hair with a curler wand. To enhance into a total retro style, you may put head accessories to complement the look, such as headband, flowers, hairpin, hair-net, or the 20's styled hat.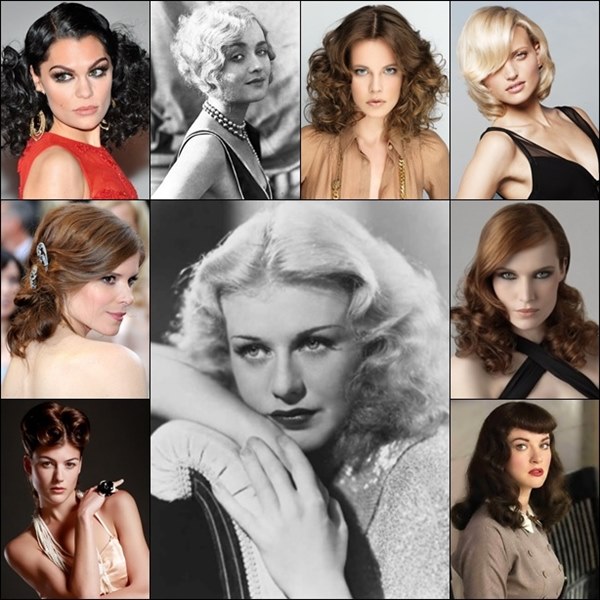 1930's Broadway Fashion
Almost similar to those from the 20's, hair trends in the 30's appeared to be bulkier with more volume. It began to soften a little bit with some waves evoking the iconic styles of Hollywood starlet look, deep-partings, pin curls, and pomade hairstyles. To achieve the voluminous effect you can use spray volume before using dryer, and a hair diffuser to make waves look messier.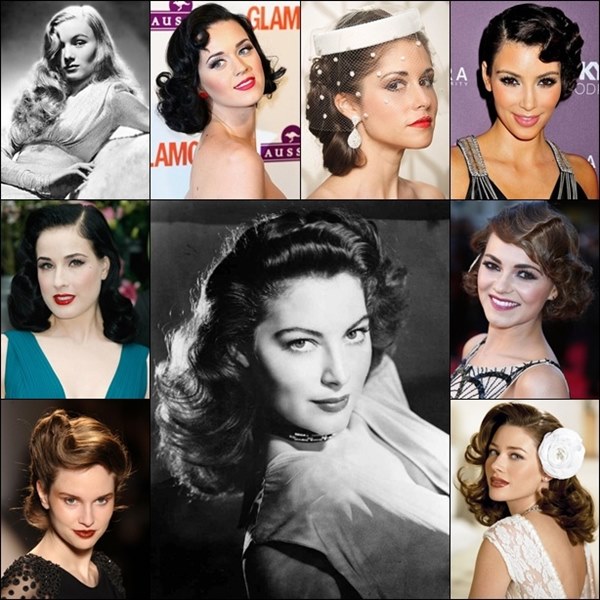 Glamorous Diva 40's
Still playing a lot with curls and waves, the 40's hairstyle was all about glamour and unique fancy styles, which then becomes one of the most famous hairstyles of all time. Although this retro look offers more natural waves and curls than the two previous decades, some styles looked complicated, yet super-glamour resembling a diva during the times. To achieve luxe effect, the 40's hairstyles can be done with just a few tools: bobby pins, hair bands, curlers, comb and hairbrush. Todays, flawless retro diva, Dita von Teese, also wears this style along with other celebrities like Lana Del Rey.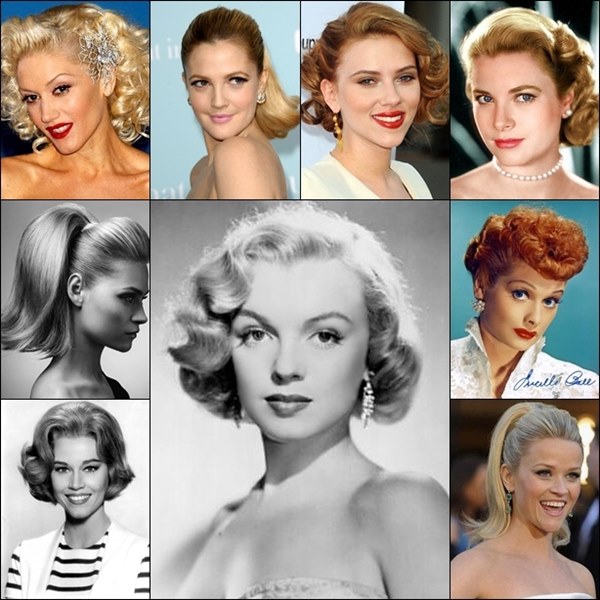 Grease 50's Hairstyles
Short, soft, and curly hairs were considered the highest among the 50's fashion, while hairstyles of Marilyn Monroe, Elizabeth Taylor, Audrey Hepburn, and Grace Kelly would be the best to represent such styles. For the long hair, pony tails were among the most favorites, as this style represented a youthful, simple and fresh energy of the era.
To achieve this cute and chic pony tails, all you need are grooming brush, hair band to create a high ponytail, and hairpins to secure small sections. Use big curler at the ends of the ponytail for that big curly effect, and brush the ponytail to the ends of the hair to create that soft and shiny 'fifties flip' aura.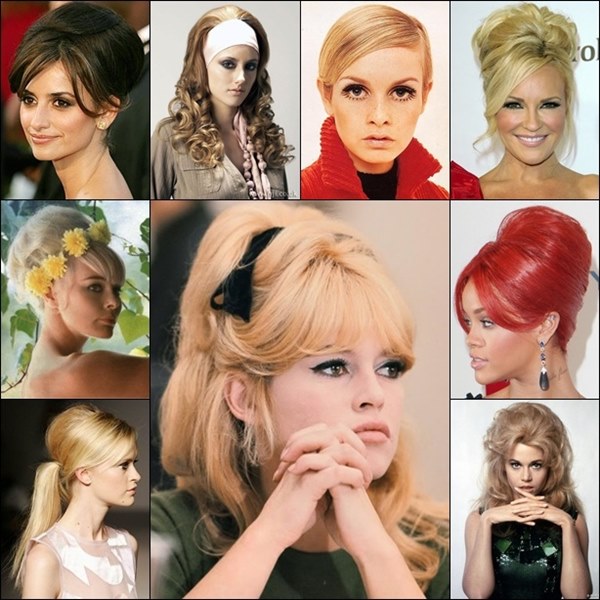 Voluminous 1960's Gorgeous
High voluminous up-do is what always synonymous with the 60's hairstyles, including bouffant, beehives, backcombing to the half-up/half-down look, curly styles, and even the trendy close-cropped hairstyles of the '60s. However, there was also a place for simple short hair of Twiggy's bob among the popular.
The 1960's trends for ladies were fairly conservative and structured, framing the face tightly and using lots of hairspray to hold curls in place. To achieve such styles, the hair was permed from the top for adding height then pulled back creating a chignon directly at the back of the head. A hair piece was added on top for extra length and height.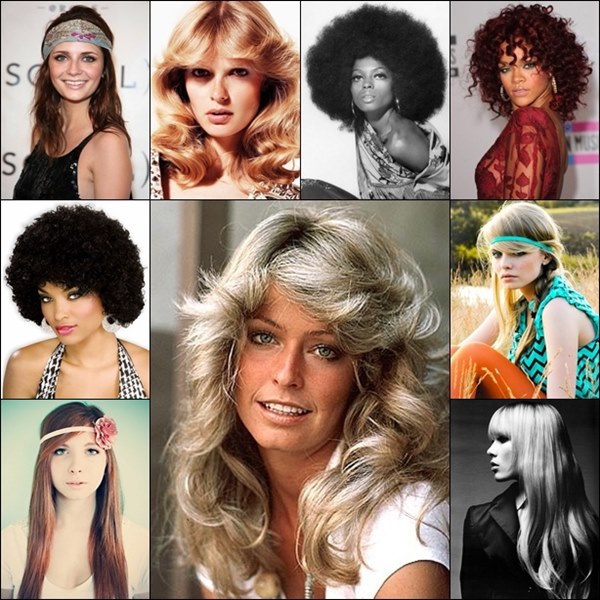 Retro Disco of the 70's Hippies
The 1970's was the period in which the world was well into the hippies' bohemian era, which then gave strong influences to almost every aspect of lifestyle and fashion, including hairstyles. Although 1970's was also a time of the disco wedge Afro curly styles and Farrah Fawcett's feathered flip, the very hippie, cool and natural influences were much stronger, whereas many women let their hair grow naturally and stop wearing any pin-up hairdos, no rolls, hairsprays as well as curlers.
Therefore long slick hairstyles became the highest trends during the time, either in straight and sleek or soft and natural look. You can get natural wavy effect with diffuser or if you prefer a chicer hippies' style, make braids and then release the hair. This style can be combined with hair accessories like headbands and scarves, for example.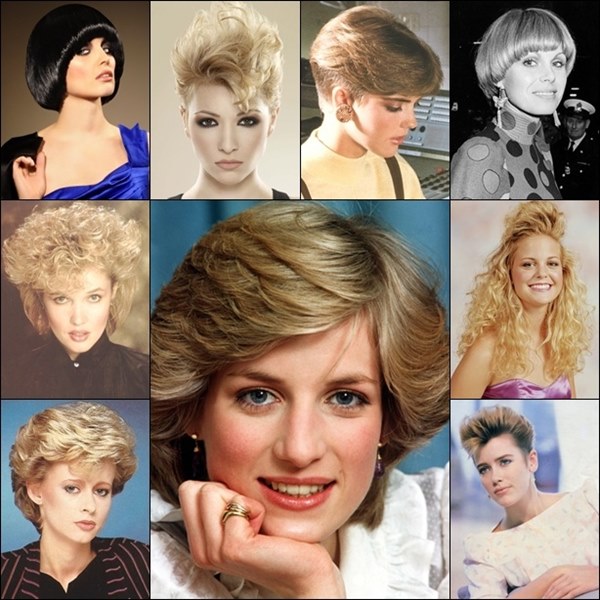 The 80's Punk and The Royal Diana
The 1980s was the time of either high maintenance hairdos, or easy care like a feminine bob, slick and shine of Joanna Lumley's purdey hairstyles. However, Princess Diana's Royal Do was among the most favorites, which was simply a version of a slick bob with a definite back neckline contour. Her cut is still popular among women of all ages.
Moreover, there are also some popular ones including punk spike, mullet haircut and androgynous hairstyles, which sometimes came very dramatic, crazy, wacky and bizarre with plenty of hair color applied. Some also came very romantic and cute like the shaggy and side ponytail, as well as various sprayed, curled, permed, and highlighted styles.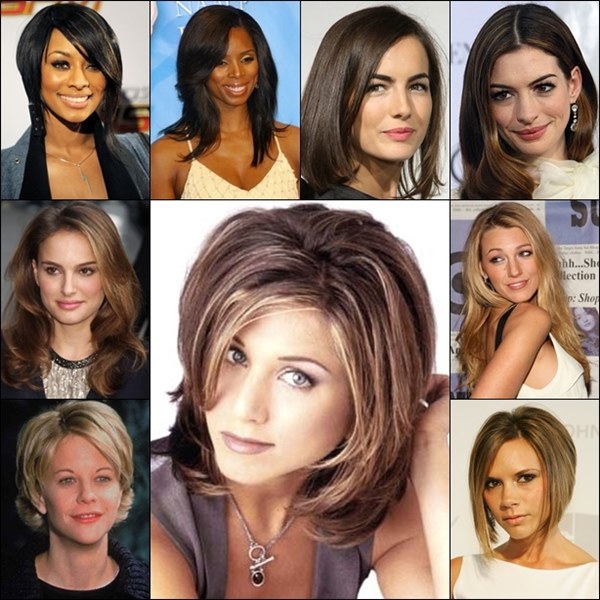 Sexy and Natural of the 90's
Hairstyles of the 90's weren't as big as the extreme styles of the 80's. It appeared to be a bit simpler, more sexy and natural looking. Short and medium length hair with or without fringes, loose waves, and asymmetrical cuts are those that were successful during the decade. In 1995, Jennifer Aniston skyrocketed to fame as women everywhere clamored salons to get the now renowned the "Rachel cut"