If you have a backyard that isn't getting the use or love it deserves, it might be because it's missing something. Depending on the size of your property's footprint, there are endless ideas for you to choose from to make the most of your yard. One of America's favorite outdoor activities they especially enjoy at home is swimming, and what better way to make more use of your yard than with an above-ground pool, that won't be a permanent obstacle should you find yourself in need of extra space in your backyard.
A lesser-known area of opportunity
You might be surprised by the number of adults in our country that have never been taught how to swim, shown here: https://www.cdc.gov/drowning/facts/index.html, and more so by the number of preventable drownings that happen each year. Besides being the best way to protect loved ones from a tragic death, swimming regularly helps keep your lungs healthy, as well as offers low-impact cardio. Regardless of age or physical ability, being active in water can help with pain and strength without causing stress the way running or weight lifting might.
Requiring no destruction of your yard to dig a hole, and capable of being stored in off seasons, above-ground pools offer a fantastic option to those of us who either can't afford to pay for the work necessary to install an in-ground pool, or don't have a lifestyle that allows for having a pool year-round. Compatible with specialized accessories for cleaning and heating the water, you need only tend to the filters and keep the pool chemical levels in their appropriate ranges. Once you get the basics down, it's next to nothing to maintain the pool's cleanliness with a bit of time and attention.
Fun, health, and quality time with your loved ones
When you first picture an above-ground pool, do you imagine a small, round one? The type of pool you can find at any department store? You have better options than those, beautiful and unique above-ground pools are available if you know where to look. Adding a theme of elegance to any yard, you can easily dress up a space with the right lighting and staging paired with a gorgeous, oval pool. Considering the additional space they can offer, for example: making swimming laps easier, as well as allowing for better flow in a space because of their shape.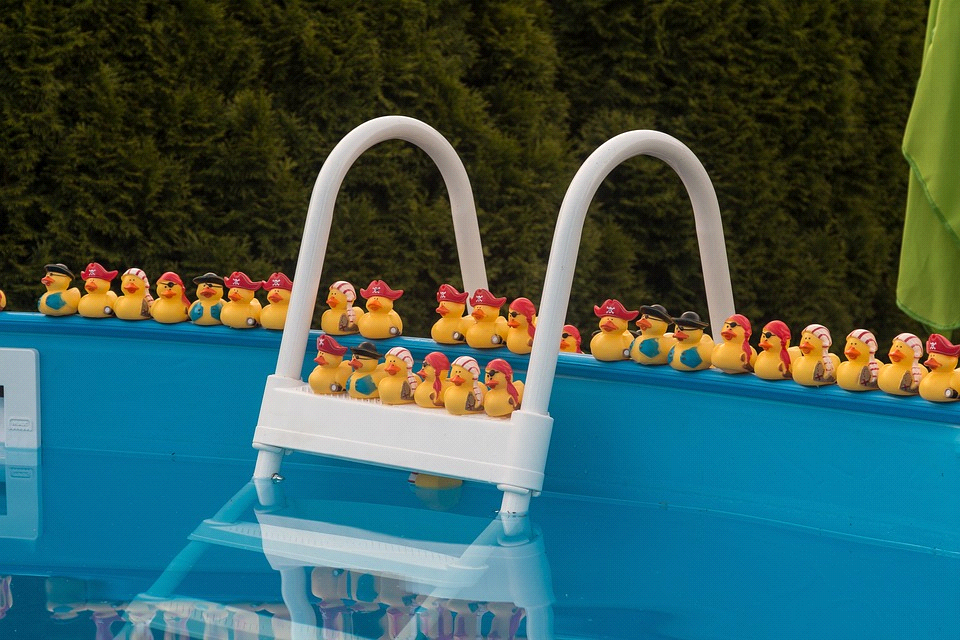 Picture your yard at sunset, an oval pool full of clear water with a few floaties or pool toys, warm lighting from torches or sconces, and a perfect place to keep a refreshing drink or snack. Being able to step out of your back door and into a resort in your own yard, towels already stocked and ready, what could be better? Add a grill or firepit and you're ready to host a backyard barbeque or a cozy night with hot chocolate and good friends after a refreshing dip in your pool!
Easily drained of water for cleaning or storage, above-ground pools are more than a cheaper solution to in-ground pools, they're convenient as well. Created to be both durable and beautiful, you can experience the difference in quality and style once you've chosen a place to set it up. Finding the perfect way to put together your pool space once everything is ready can be something you include the family in, letting everyone pitch ideas for ways to make it even better. A place for everyone's favorite inflatables, easy access to toys and towels, somewhere to keep a stock of sunscreen, or a fridge for keeping water and snacks cool in the sun, the options are wide open to whatever the needs of you and your fellow swimmers are.
It's been proven that swimming is good for your heart, you can read an article discussing the numerous benefits at this site, so it's an obvious choice for getting your loved ones off the couch and out into the sun. Having something that is both engaging, and fun, while also being healthy and creating opportunities for genuine bonding. It also encourages the family to spend a little more time in the sunshine, and, with proper protection like sunscreen, can expose you to the recommended dose of vitamin D.
Figuring out what size your yard is, and therefore what size oval pool would fit best, as well as deciding the most authentic way to make the space your own, don't get too far ahead of yourself before talking to an experienced professional about your options. Make the most of your space with the help of someone with an eye trained to see what Do-It-Yourself-ers may miss, so you can focus on how to let your friends and family know when the inaugural party will be.