Layered over a dress, covered with cardigans, or paired with a high-waist pants or skirt, with crop tops coming back in style this season, this fashion staple is a surprisingly versatile and obviously flattering piece you can wear for fall into spring. They are easy to match with almost any kind of fashion outfits, as well can look amazingly fabulous on different occasions, of course, as long as you know how best to wear them.
These sassy little pieces are packed with personality, and even you don't have those entire 6-pack worth of stomach, you, too, can rock the crop top with taste, confidence, and style. Moreover, the greatest thing about this nowadays crop top trend is that the new version is all about the 'highriff', the inch or so just at the bottom of your ribcage, so it pretty much gives all women some solutions to solve the belly-button bearing dilemma.
Along with those vibes of bohemian and vintage 2013 trend, which are presented in more contemporary way, crop tops with high waist pencil skirts, maxi skirts, pants and shorts stood out throughout many runways in a whimsical, retro manner. Started from the structured bralets in pastel colors and floral prints for a more feminine boho looks, to the futuristic boxy crop top, and sporty crop top for a more preppy urban touches, all designs are offered in a variety of different styles that will suit lots of different occasions.
Just be confident with your own personal tastes when donning a top crop, because top's style will be your greatest asset in deciding what to wear with it. Take a look at some styles you can fashion with the pieces, as well as some sample outfits to get your inspiration going!
Crop Top Outfits on Different Occasions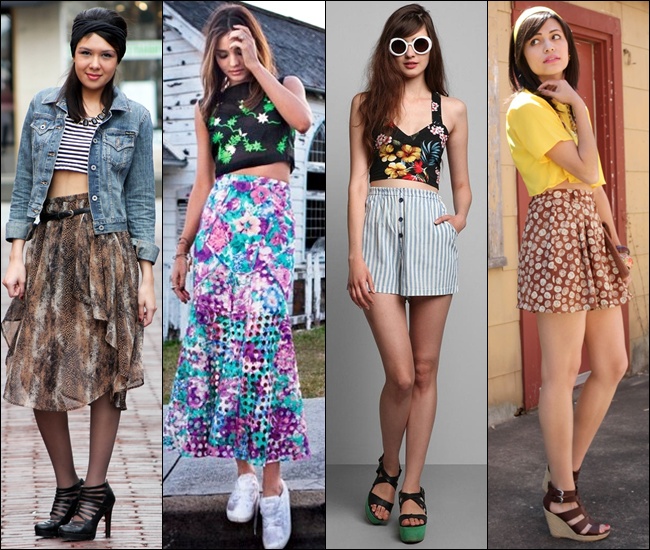 For Casual Day-to-Day Wearing
Being casual means to feel comfortable, yet still look classy and chic. There are plenty suggestions recommended on how to pull off this risqué look in daylight. You can team it up with high-waisted bottoms like shorts that hit above your hips or chic skater skirt for a more youthful feel. Wearing it under an unbuttoned denim jacket and pair it with either skinnies or a skirt can also be a simple, yet fashionable idea with crop tops, plus, you may even try donning your printed crop top with basic bottoms in different prints that will achieve print-clash for a cheerful style, while a couple of pops of neon give it a modern twist. Basically, just keep a fun, casual vibe in mind and consider your venue and you'll be good to go.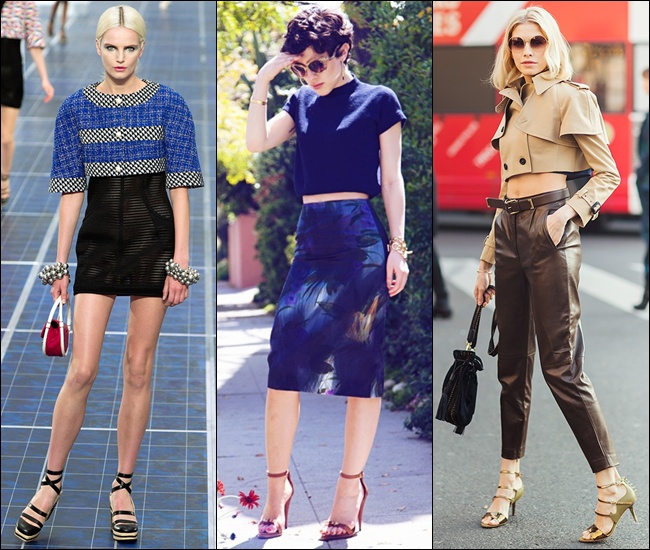 For Formal Day-to-Day Wearing
Cropped t-shirts are definitely too casual at a more formal engagement, so put those kinds of cropped pieces away when you are going to attend some formal places or events. In this case, the tailored crop-top can actually work to reach the formal look, and you can pair this with trousers or a pencil skirt to give a unique twist on typical event attire. More suggestions, you may double the crop top over sheath dress and get those sophisticated looks Chanel has done during their 2013 Spring Summer runway.
If you prefer to have sexier look of your crop top, you may style it as clothing underneath blazer or jacket to pull off a more polite appearance. This option doesn't really cover much more skin, but it will make you feel more at-ease, and obviously more elegant depending on the layers you are wearing.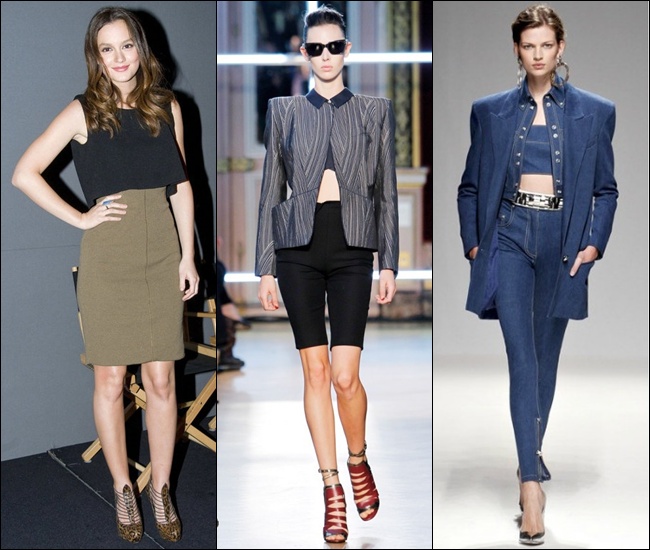 For School or Office Wear
Just like on how best to pull off crop top at formal occasions, having crop top for school or work can be tricky since you still need to maintain the appropriateness and politeness of the outfits. Make sure you don't go too vulgar by showing off much of your stomach area. A higher waisted bottom paired with a crop top, for example, will limit the amount of skin you're showing and can actually look sophisticated and fashion-forward, and it's definitely the best option when going to these kinds of places.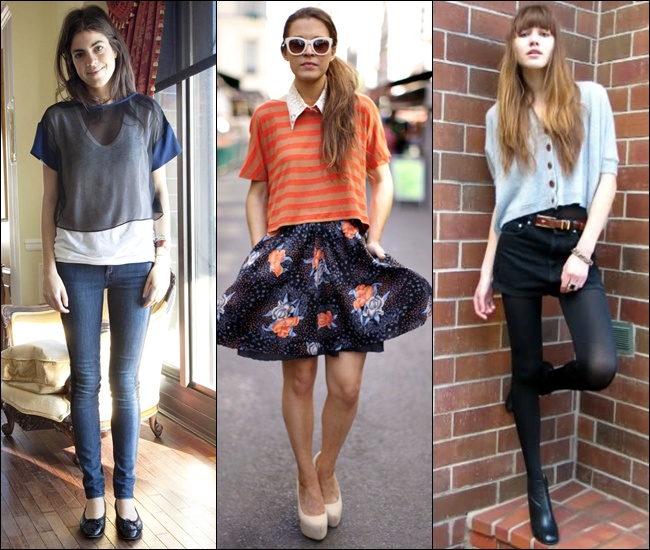 At school, you may wear cropped sweater or long sleeve cropped top with high-waist skinny jeans or skirts to achieve casual yet elegant look, or you may as well put cardigan to cover it, or wear it over your midi dress. As for work, depending on types of office you work at, formal, structured crop tops are the best options to choose, or you can match nice crop top with office suit, pencil skirt, and any other formal suits, and wear it as an underneath garment.
For Party Time
Depending on types of party, you may go both rock n roll and feminine with crop tops. What you have to do is putting more accessories to spark your look, give more details, seduce trendiest prints, and do some makeup and hair-do perfect for the event. Floral bralet will look fabulous with or without a sheer blouse if you're heading to a cocktail night, while bustier with sequins and studs will present your rockiest style complemented by statement necklace, leather bottoms and boots.
Remember that you always need to wear something comfy even when you are in a party. The new concept of wearing crop top for this season are looser and longer, which is actually much more comfortable since you don't have to show much of your midriff section. One main problem of having a very tight and short cropped top, such as bralet or bustier, is that these pieces can be less comfortable, due to the nearly unavoidable muffin top that happens when you sit down, no matter how skinny you are. So unless you plan to orbit around the party all night, never getting off your feet for a second, you might want to rethink a very tight and short cropped top.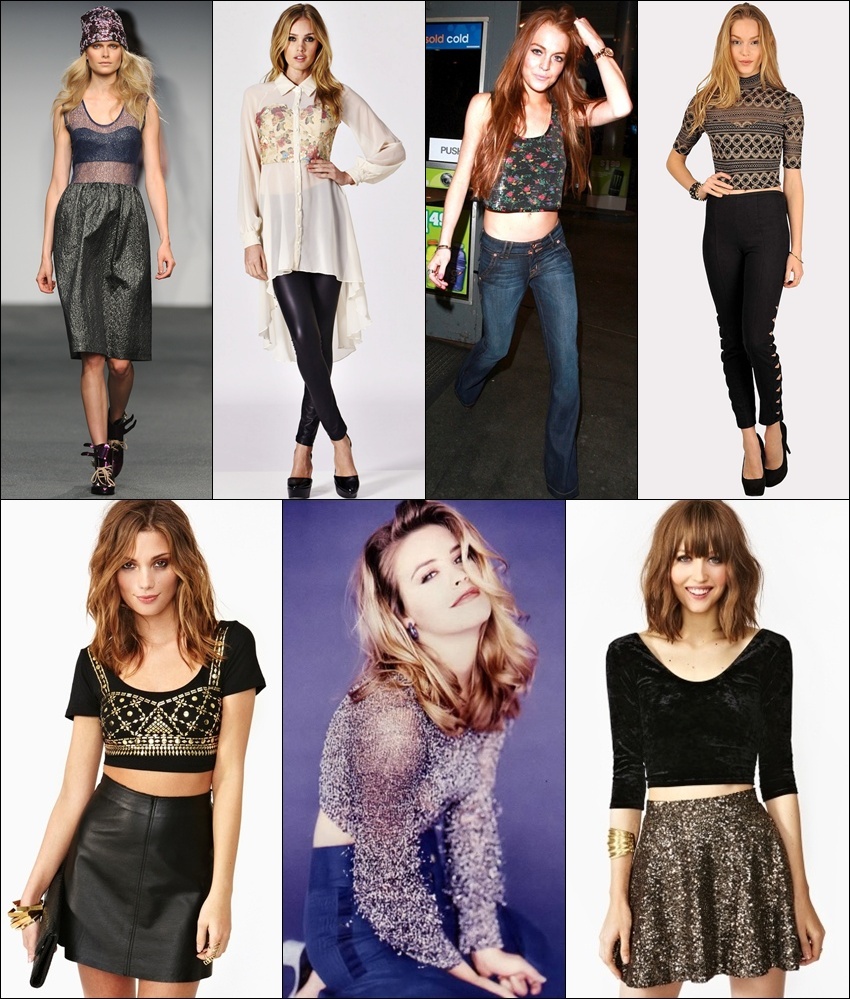 On a Night Out
For night, pieces that are shimmering and glamour will definitely make an impact into your look, prepare to get a little wild and wear your crop top with skinny pants for rock n roll style, or skater skirt for a more girlie look. Of course, if you're still not totally comfortable with the idea of baring a little tummy, you can always wear a tank top underneath for a cute layered look or cover your bralet with a sheer blouse. Don't forget to always praise the high-waist.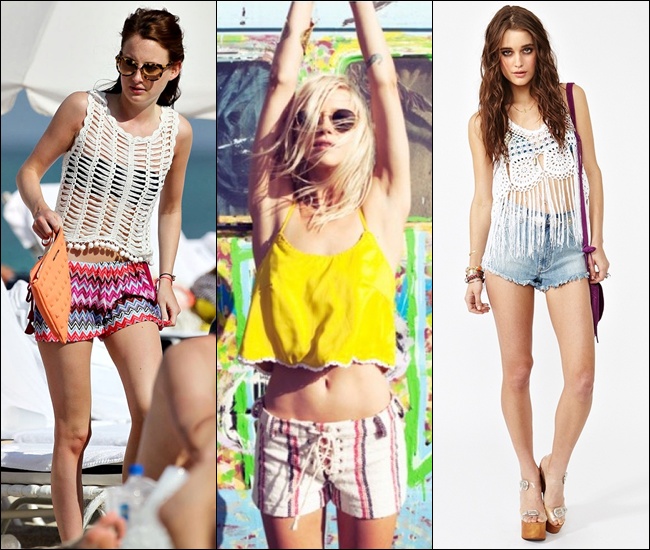 For A Breezy Beach Moment
Being sexy, loose and carefree are the vibes of the summer beach time, so enjoy that moment by rocking light-weighted tops such as knitted crop top or sheer cropped t-shirts, and do it in many ways. You can layer it over a tank-top, sport bra, or bikini top, and pair it with comfortable denim or lacy shorts. Don't forget to wear something in bright and light hues to celebrate the colorful season.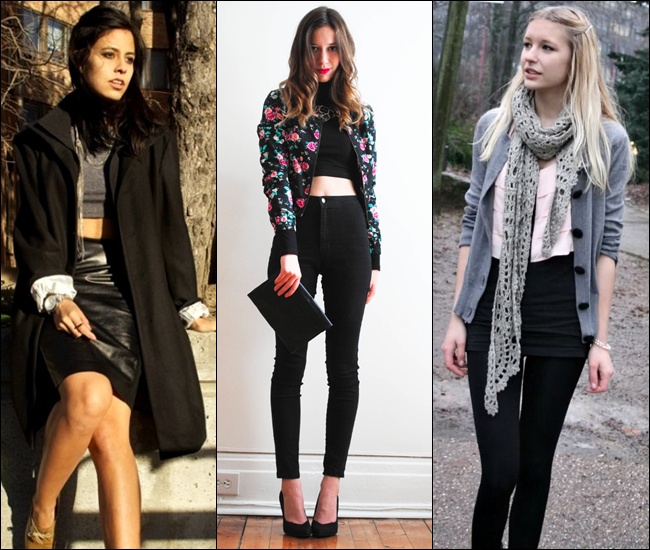 For Winter Chill Season
Just like many other winter outfits, thick layers are one essential item of this season, yet you still can wear them with a crop top. You may put a tank top under it, for example, those are flowy and having a crop top over it will give it a completely different look. There are also suggestions like wearing the crop top over dress, and to make it warmer, put on a coat, jacket, blazer, cardigan, scarf, etc. Not to mention, you may as well try rocking a cropped sweater for a simpler style and pair it with high-waisted bottoms such as skirt with tights or skinny pants.