With Valentine's Day just around the corner, we couldn't think of a better time to start prepping your cute outfit for the special day and hit the town. Whether you're going out on a romantic, fancy dinner date or a cocktail gathering with close friends, these ten outfits (and even more) are perfect for whatever you have planned for the V Day. Click through for the goods, and start brainstorming your Valentine's Day plans now. Think cute, pretty pairing, romantic style, and have fun for the day.
When you are having a love date for Valentine, make sure your look reflects your personality and who you are. Don't dress 'how you think he would like you to dress'. The occasion is not really a fancy dress occasion, and it's important you are being yourself. However, try to dress in most polished and elegant look as you comfort in. Valentine's date day is also not a free-fashion moment where you can wear sloppy or messy outfit. Dress appropriately, sexy but not slutty, and don't wear too much make up or over-do the perfume.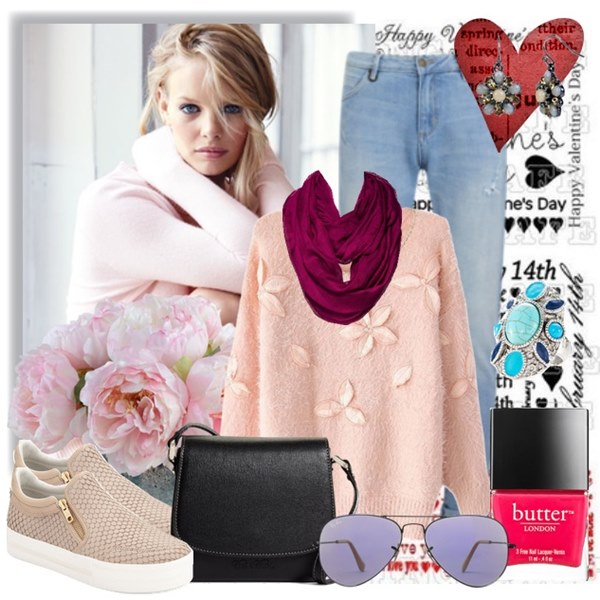 Casual Day Time Group Hangout:
Grab your boyfriend jeans and cute jumper in pastel for heading to the movies or out for a fun hangout with your besties. Add a little stylish touch of sneakers, scarf, aviator, or cocktail jewelry.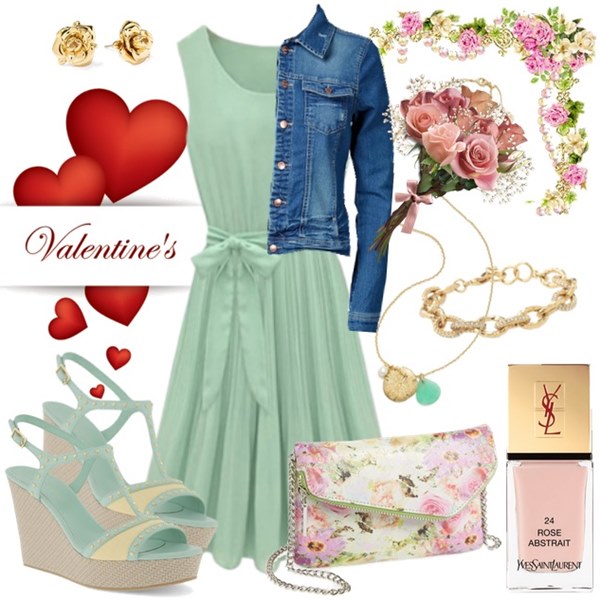 Girly Style Group Hang or Afternoon Date:
If you want to look more feminine for the day – even for hanging out with friends – pick your cute breezy frock and pair it with denim jacket. Add chic wedges sandals to complete the look, along with floral print clutch as well as dainty accessories like pendant necklace and charm bracelets.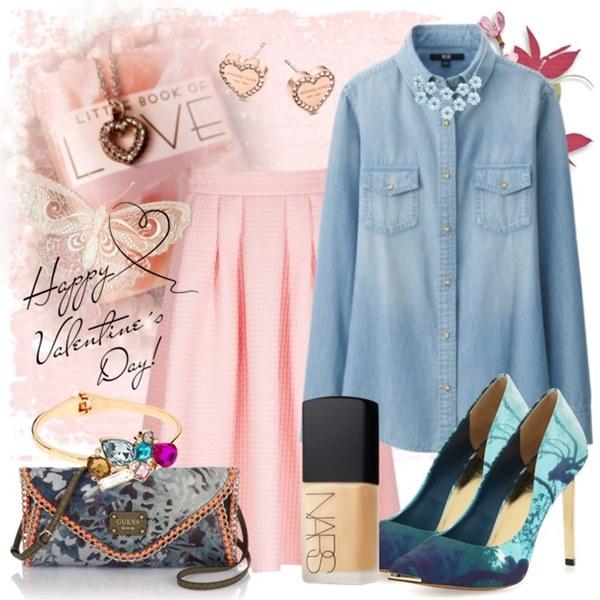 Casual Valentine Day Date:
The punchy shade of pink pleated skirt adds a bit of flair to your outfit. Pair it with basic chambray shirt to give a little casual touch, along with printed pumps for a more girly look. Finish the rest of your look simple and chic by opting for denim clutch, small earring studs, statement necklace in similar color, and pretty bracelet.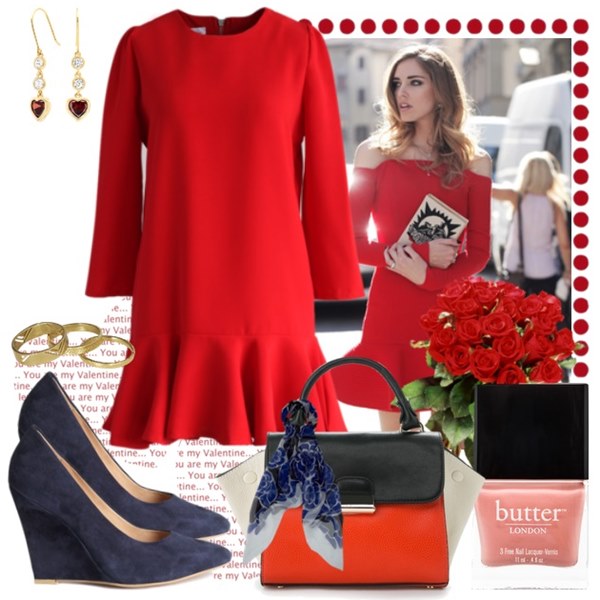 Valentine Office Attire:
For the day at the office for Valentine, if your workplace allows you to wear non-conservative outfit or bright color like vibrant red – business casual office wear – grab your structured red dress, and pair it with classic pairing including wedge court shoes and tote bag. Keep other elements minimal and simple. You can remove the earrings if it looks too bold for your office look.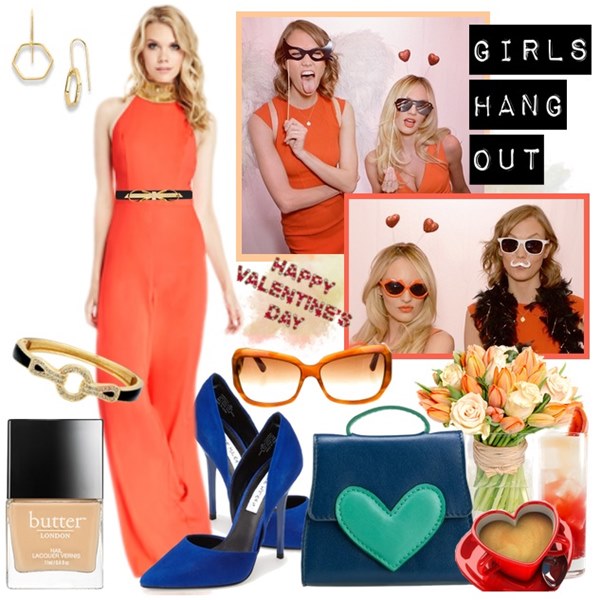 Valentine Afternoon Tea with Girl Gang:
If you're headed to an afternoon tea with your girl group, pick an outfit that's slightly more dressed up than your usually jeans-and-tee combo. You can style your bright colored jumpsuit with dressy pumps and complete the look with cute accessories reflection the day of love. If the jumpsuit looks too bright for the afternoon, tone it down with a classic black blazer. Keep your jewelry simple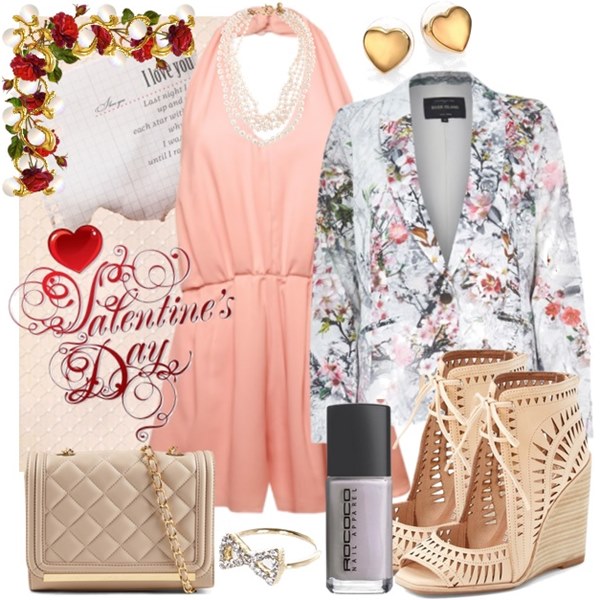 Romantic and Sweet Day Date
For a sweet date with your love during the afternoon, pick fun and easy outfit like a whimsical playsuit or romper and pair it with a structured printed blazer. Pearl tiered necklace looks classy while wedge booties add more fashionable look. Finish the entire outfit with pieces in neutral shade like khaki or beige.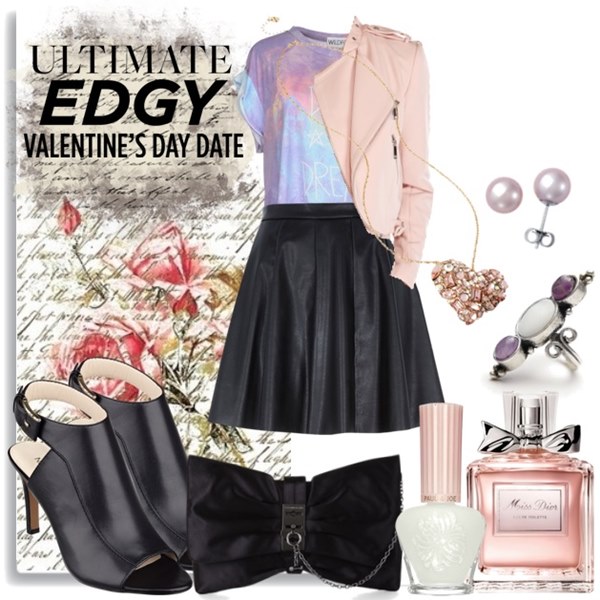 Night Party with Friends
For an evening Valentine party with tons of hotties on the guest list, you want an outfit that makes you stand out. How about creating fun, edgy look by pairing a cute tee and flirty skater skirt, added with pastel leather moto-jacket. Complete the look with black pieces including peep-toe sandals and bow-style clutch to give a little touch of rock chic, along with sweet accessories such as heart pendant, or stone ring.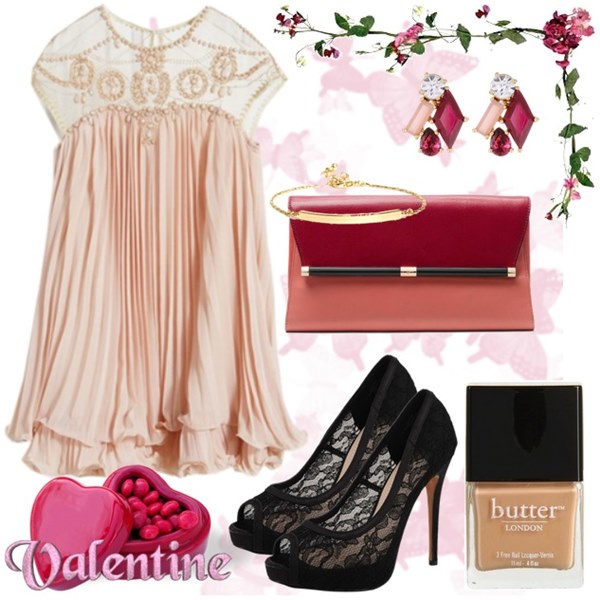 Simple and Easy Date Night
Wow your valentine date night easy and simple, yet super cute and romantic, with a flowy, embellished chiffon mini dress. Add more feminine touch with romantic lace pumps, pretty accessories, and matching clutch to complete the look. Just keep the details simple to let your natural beauty shine.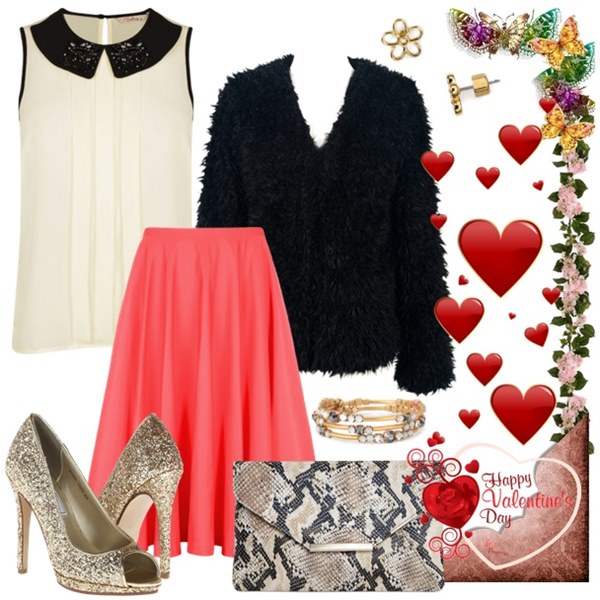 Romantic Date Night
Show off your top-notch taste and classy-gal clout with a fresh look of full, feminine skirt in coral hue, paired with a darling, jeweled blouse in neutral black and white. And complete the look with just the right amount of glam by adding classic fur coat and glittered pumps, as well as a clutch in matching colors. Let the jewelries simple to tone down the busy look of your outfit.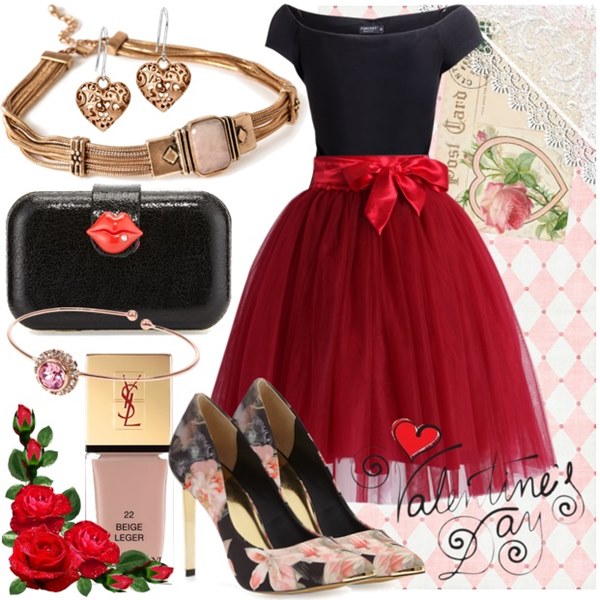 Glam and Romantic Valentine Date
Surprise your special someone with an idea that's super feminine. Your romantic date calls for a cute red tutu skirt with classic off-shoulder black top that will capture his attention. Punch it up with a pair of floral printed pumps and a cheeky black clutch with love details. Then, add a little attitude with a chocker, simple drop earrings and dainty bracelet. It's a look he won't be quick to forget.
Finally, check out the gallery for another polyvore sets perfect for Valentine's Day or other special cocktail occasions, night out with friends, or romantic date with your love one. I'll update more sets frequently as you can look through my polyvore's collection to find each piece featured. Enjoy 🙂