Nowadays, just about everyone has a pair of skinnies hanging in their closet. From fall to winter, summer to spring, this beloved wardrobe essential will always be one of the favorites among other pants. And for this season bright of spring and summer, why not do some serious clean clothing – out with your basic blue skinnies, and in with a pair of white jeans. Whether it's in a hot summer month, or in a cool day in the middle of January, white skinnies are always reliable, always easy and classically chic.
As versatile as the blue ones itself, a pair of sleek and totally stylish white denim has long been a crisp staple that can also be worn with just about anything if you're styling and accessorizing appropriately. Sometimes, even though white is a color that goes with literally everything, it can be tricky to balance the starkness of white on bottom with the rest of your look. So, make the white jeans outfit your spring summer staple this year and learn some favorite ways as well as easy tips to wear them.
How To Wear White Skinny Jeans
Unlike the classic blue denim that can easily be matched with different types of top and blouse, making the overall look more casual, the bright white jeans, on the other hand, don't really blend in to any outfit – on the contrary, they stand out, drawing every eye in the vicinity to your ensemble. So when figuring out what to wear with white jeans, it's important to consider the color and pattern of your top and a number of other factors that will ultimately play a role in your overall look.
With timeless Black and White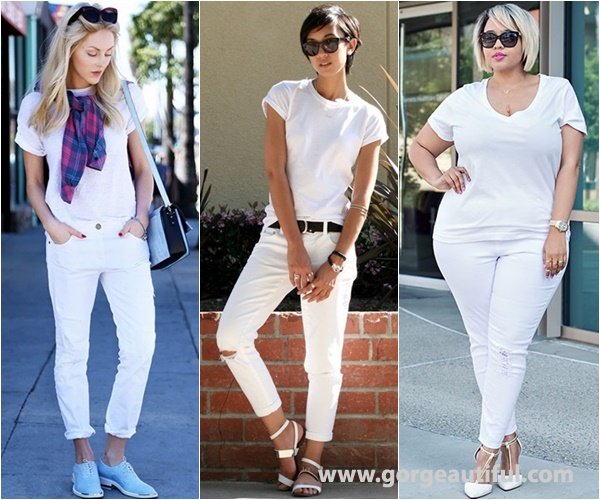 For an easy start, white-on-white as well as black-and-white combo is a guaranteed style success to get your look effortlessly classy and stylish. You may go for white-on-white pairing with skinnies and top, then layer the look with black blazer, heels and bags for a timeless ensemble that always on trend, or pair your white-on-white attire with colored accessories for making more interest into the look.
With Elegant Neutral Shades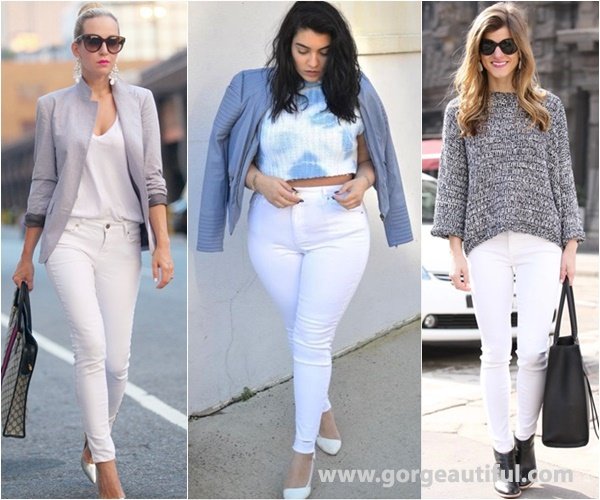 Slightly different from creating a classic outfit in white-on-white or black-and-white pairing, pulling off neutral, muted colors with white skinnies can also make your overall attire surprisingly elegant. Go for neutral in pastel or soft shades like a grey, baby blue or beige top and add some classic gold or silver accessories for a finishing touch of a subtle and effortlessly put-together look.
With a Pop of Color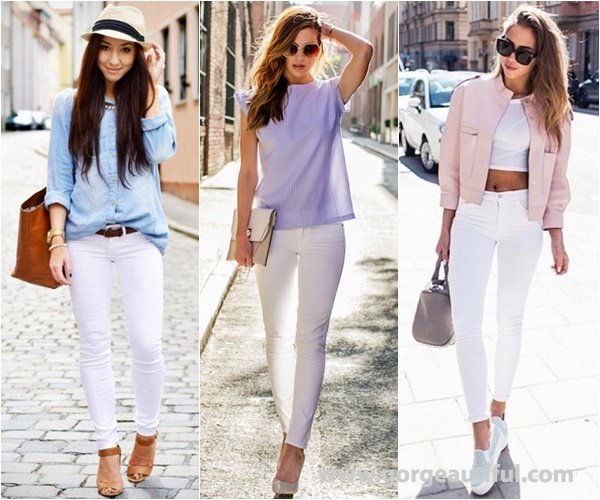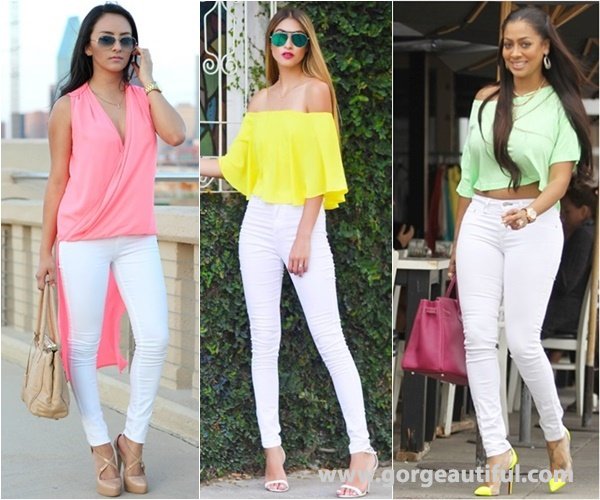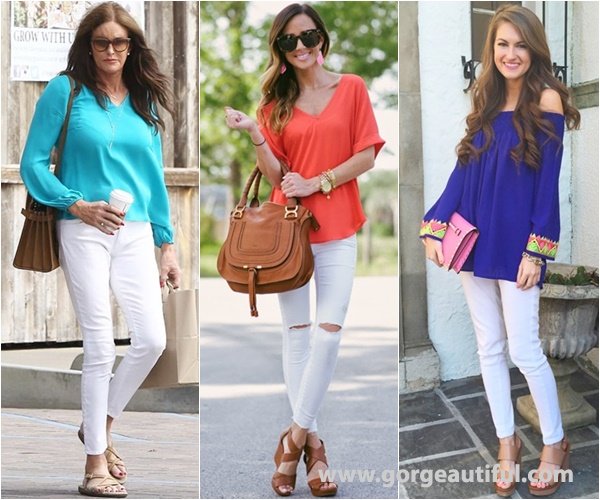 Because of its clean color – almost like a canvas, a pair of white jeans is the perfect base when coupled with brightly contrasting colored tops such as bright neon, soft pastel, as well as bright summer shades like red, blue, or yellow. Wearing contrasting colors will provide another dimension to your everyday spring summer look while you've also got an outfit sure to make you stand out in a crowd.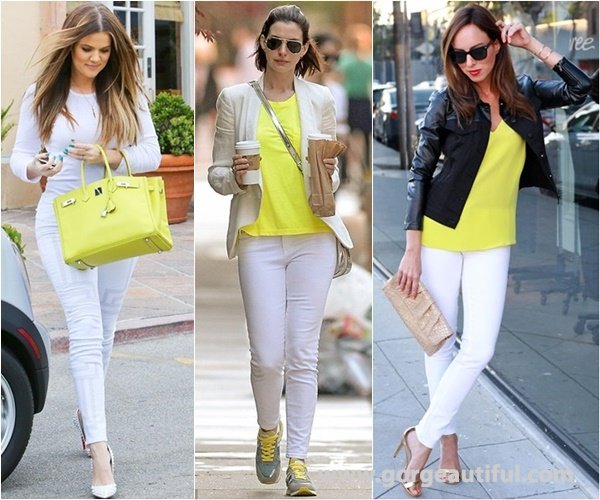 If you're bold and adventurous, neon colors are a great way to cheer up your summer styling with white skinnies. However, if you don't feel wearing bright neon for your everyday use, wear it as a pop of color, and pull off the rest of look with a nude blazer to calm things down, or black jacket in order to bring the bold and bright hues into balance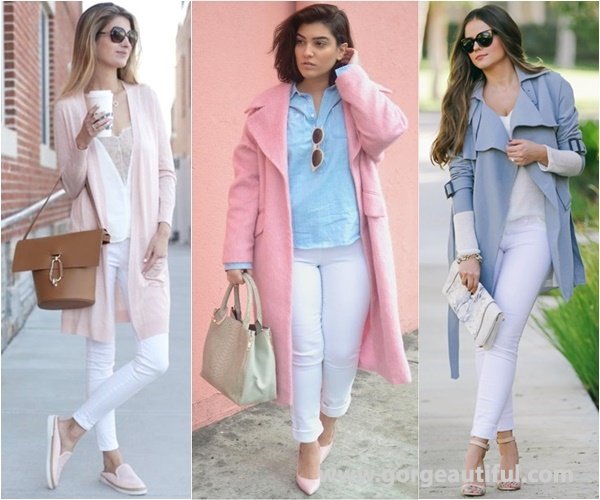 For another easy tips, match your white skinnies with colored layers when the days turn chillier in spring. Long layering pieces like coat or cardigan can work surprisingly well with your white skinnies, especially when matched with subtle blouse and accessories to keep the look more balanced and elegant. As for hotter days, cuffed white jeans are an effortlessly classy wardrobe piece for summertime strolls with friends – and you can easily recreate this look by rolling up the bottom of your jeans.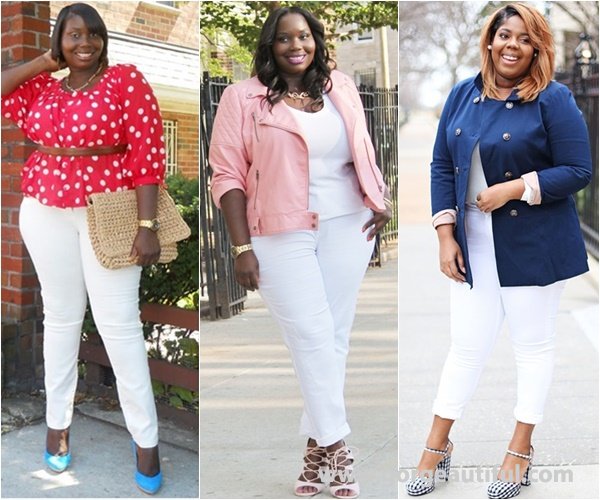 All in all, even though white skinny jeans may seem like a step outside your comfort zone, generally there are numerous ways to match the pieces with almost all colors. Everything from neutrals – including black, tan, and gray – to bright and pastel shades as well as with prints work well. However it's important to add more than just one color, or texture, or print to your white skinnies in order to make your look more put together and chic.