Tutu inspired skirts, or usually called ballerina skirts, have been making their way into mainstream fashion lines recently. They can look extremely whimsical adoring the look of a modern and grown up lady, but it can also easily look costume like – or even looking like a little girl playing dress-up – if it's worn in certain ways. If you the skirt, you may be wondering how to pull it off. Generally, it all depends on the styling. Here's how you can rock the beautiful tulle skirt without looking like ballerinas.
Yes, these tulle "tutu" skirts are no longer reserved for ballerinas, or even for little girls. Whether you want to go the skirt casually playful with jacket, basic tee, or sneakers, or you will take the skirt into a dazzling feminine style, there are plenty of ways to wear a tulle skirt like a grown up. Some play down the flirty, girly vibe by pairing theirs with lace or pastel colors, while others are grounding dramatic, full length versions with casual tanks and tees. Check out various ways to pull off the skirt from casual to office wear, from daywear to party.
Casually Chic Day with Tulle Skirt
Play down the ballerina, glam vibe of a tutu skirt and create a more casual, wearable emphasize by pairing the skirt with comfy tops such as denim and plaid shirt. While denim jacket also works much in the same way as leather jackets or T-shirts, sneakers and chunky heeled Oxford styled shoes looks amazingly cute with a mini tulle skirt.
However, when you pick a loose shirt paired with your skirt, keep in mind to make your shirt as fitted as possible. In general, with this skirt you want to select cropped styles, or fitted styles, because tulle skirts can be quite full and overall this could swamp your figure if you don't partner it with the right top silhouette.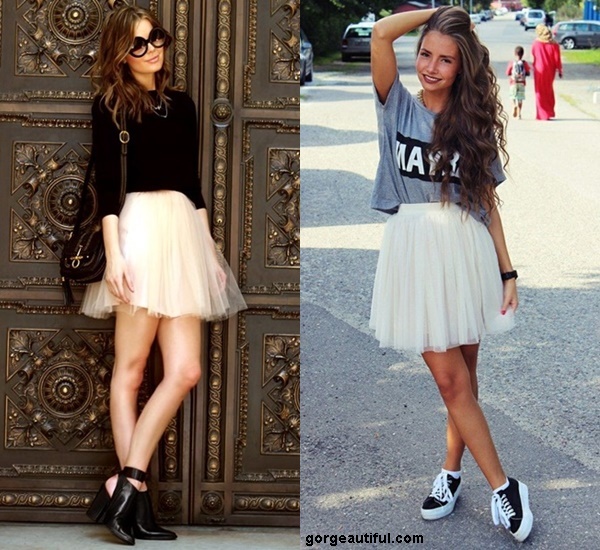 Edgy and Modern Style
To create that grunge-y edge with tulle skirt, combine the feminine side of the skirt with pieces that give tougher look such as leather jacket or bomber jacket. This feminine-edgy mix has been a very popular combination in fashion of late. Some people also like to wear tulle skirts with tough footwear choices like combat style boots.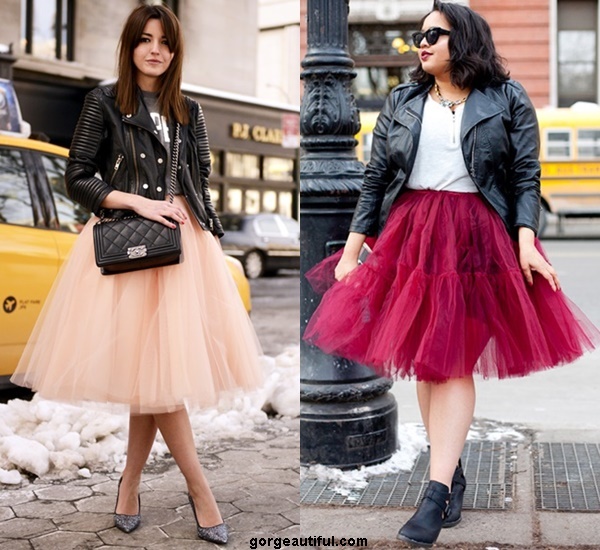 You can always do your own mix and match to add a more feminine or grunge side of the look, plus, you can also have fun by playing with colors and textures as well as accessories and jewelries. For example, if you want to add more feminine side on this grunge-y style, wear girly footwear such as pumps or cute flats for that girly cute.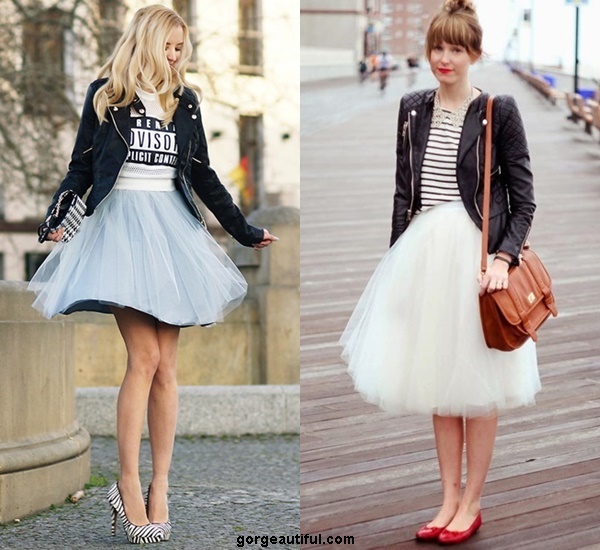 Cute Grown Up Lady
If you want to go for that sweetheart spring casual look with a tulle skirt, wearing the skirt with a tank top or crop top can sure add a playful, sexy style without looking like a little girl.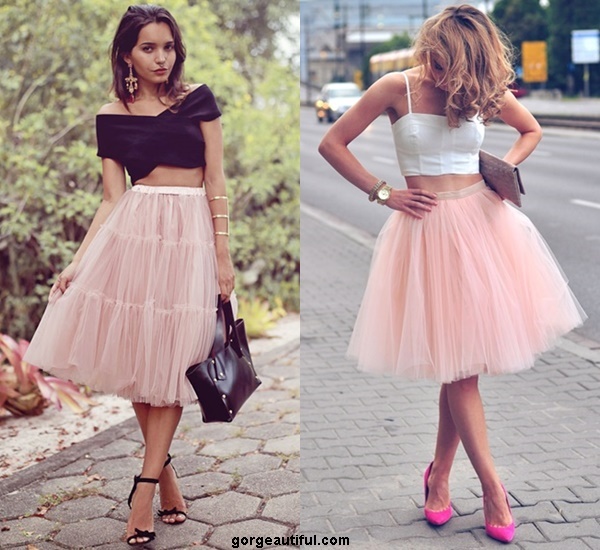 Whether you pair the skirt with a tank top or crop top, it's still a great look, especially with more grown-lady color such as soft neutrals like pink, light grey, and off white. Plus, to make it even less ballerina, add a cool jewelry and accessories like bold earrings, bangles, clutch and sexy stilettos.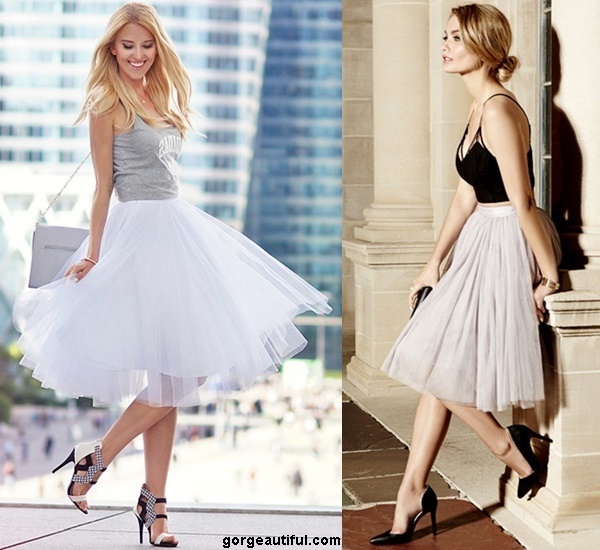 Romantic Feminine Vibe
Everyone knows nothing says sweet and girlie dressing quite like a tulle tutu, but then you can embrace a little touch of romantic feeling into it by pairing the skirt with a festive lace top, or feminine colors such as red scarlet and pastels.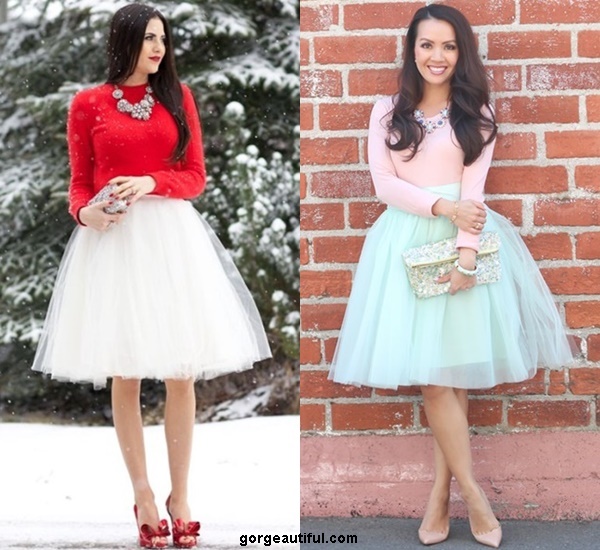 As tulle skirt embodies everything us girls love about fashion, so going all the way with this cute skirt is acceptable. At this point you may wear whatever top you love of wearing. Whether you want to glam it up or go understated with a plain basic tee, by just adding a little festive piece into the look like sexy stilettos, chic clutch, statement jewelry, red lips or even great hairstyling, you're on set of looking lovely and stylish.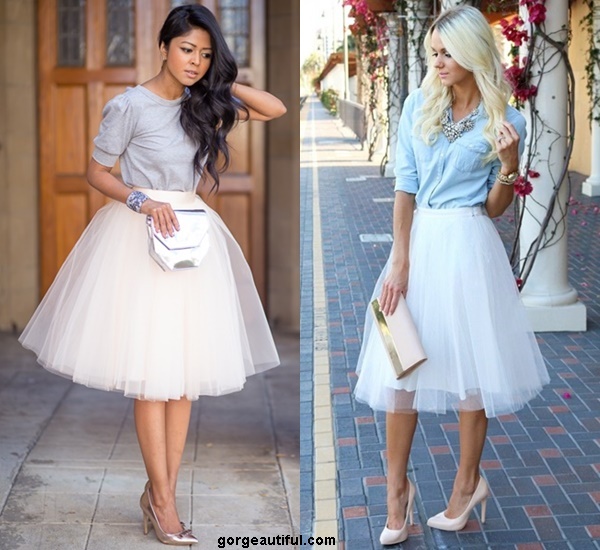 Elegant and Classy Look
To look classy and elegant with a tutu skirt, because these types of full skirt are voluminous, they generally look best paired with fitted tops, while high heels bring extra feminine look. Add a cropped jacket or blazer for a super chic look, as well as nice jewelry such as statement necklace for gving a bit of blings and interest.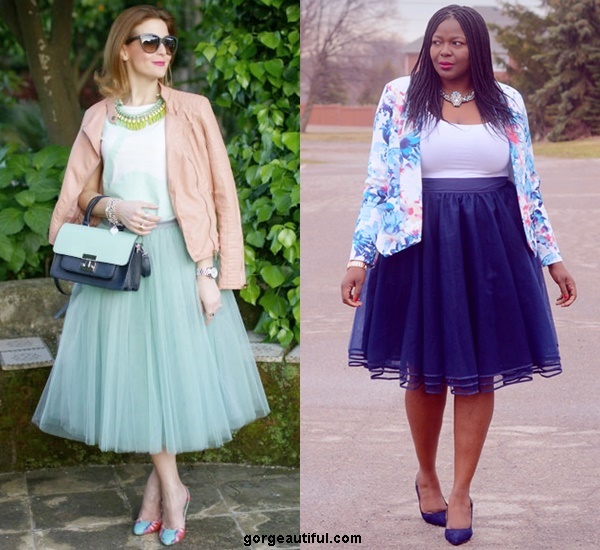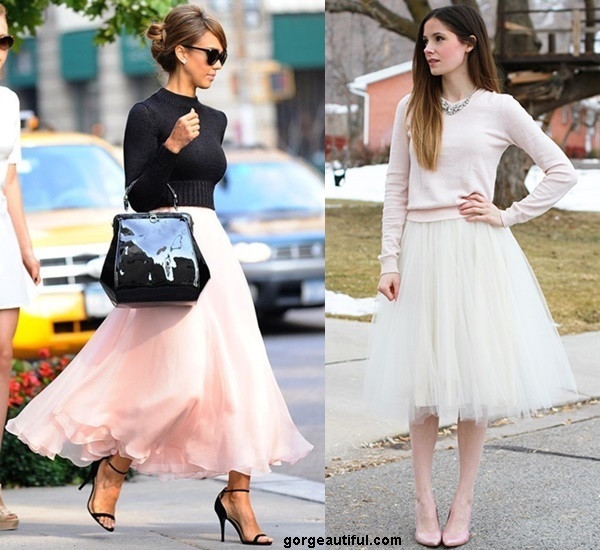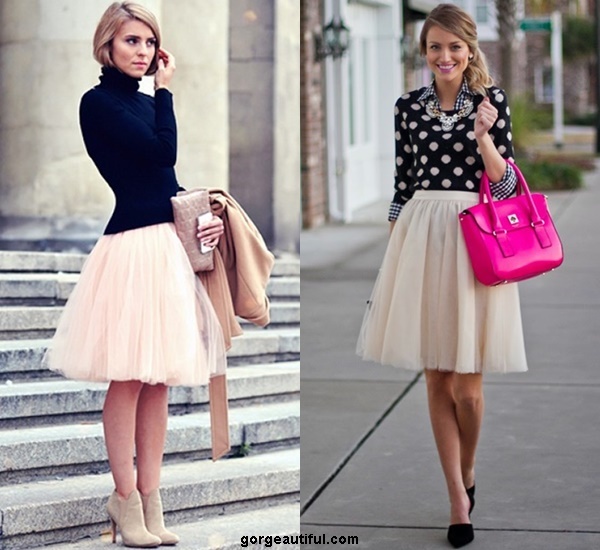 Play with Textures
As tulle brings soft and girly look into the outfit, contrasting textures – such as leather, denim, sequin, knit, or faux fur – will look great if paired with tulle. Whether you want to tone done from looking too girly by adding denim, knit or leather item, or you want to give more glams into with sequins, lace, or faux fur, playing up your tulle with textures will sure give dimension to entire look.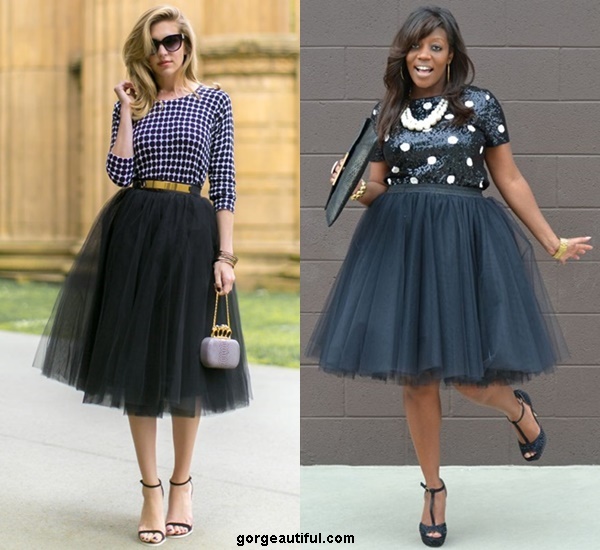 However, speaking of mixing textures, always pay attention to heavy or bold texture when paired with tulle. A tutu paired with lace, fur, or sequins could be overwhelming. So keep the rest of your outfit toned down, and let your skirt have all the attention.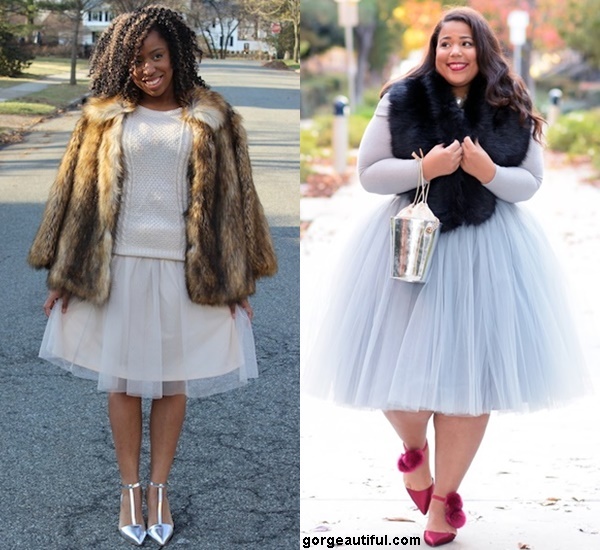 Go for A Cute Maxi Tulle
If you want to fashion this tricky item, always remember that this look with maxi tutu skirt is supposed to be playful and quirky. The skirts can look super edgy when paired with a leather jacket, along with chunky heels and non-girly accessories such as cap or backpack. Or you may go with a simple tee or tank top to tone done the heavy look, or even pair it with black crop top and statement necklace for that cute feminine vibe. Just rock it with confidence and you'll be sure to look amazing.