Summer is the season of fun, and women all over the world are starting to don these beautiful jewelry-inspired temporary designs, otherwise known as flash tattoos. This year, it appears that one of the biggest summer trends is indeed the temporary flash tattoos – especially those in metallic – to add a fun and trendy twist to your outfits as you enjoy your days out in the sunshine. So, if you think temporary tattoos are too '90s, think again. Because it seems like these funky stickers are making a comeback.
Ranging from tiny statement pieces to bold and shiny emblems that will not go unnoticed, no matter the outfit you prefer to don from the day till night, it appears that these cool pieces are perfect for offering a cute alternative to typical jewelry accessories. Not to mention, metallic flash tattoos also look fabulous on every part of your body, from head to toe, and they truly look like two-dimensional pieces of jewelry – whether it's made to resemble head accessories, necklaces, rings, bracelets, or just seriously cool decorative tattoo, slightly boho shapes and designs like eagles, arrows, palm trees, and more. Check out ways to rock flash tattoos – the temporary ink everyone's wearing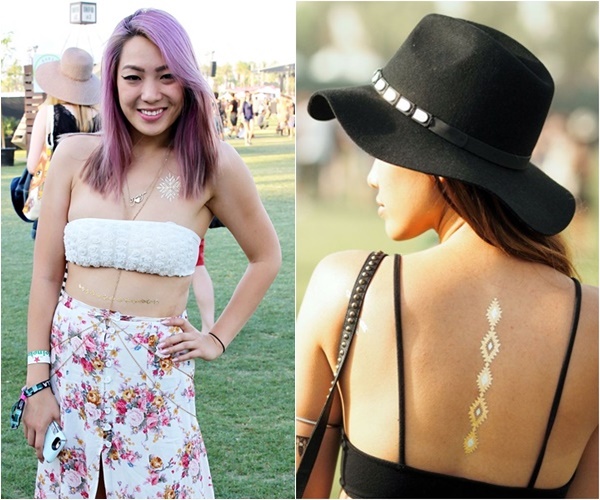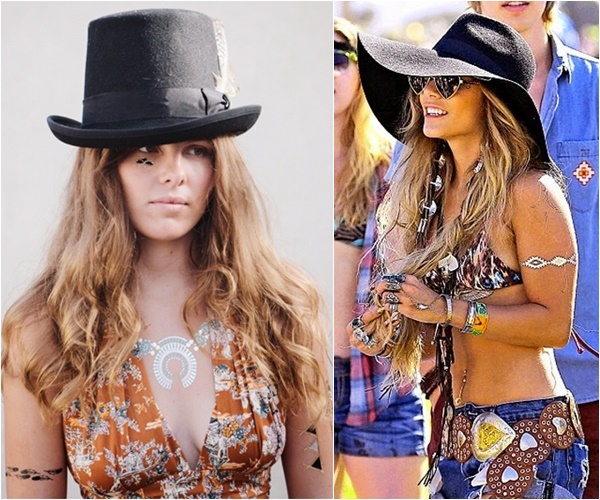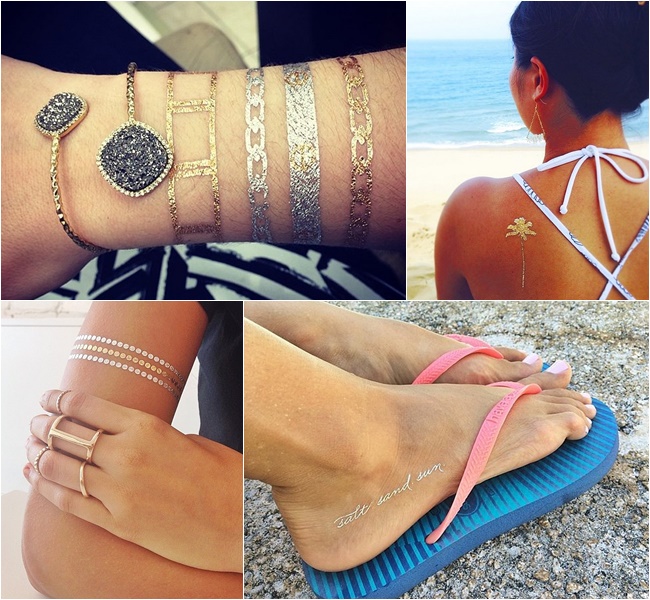 Although these pieces are only temporary that can be ruined, the flash tattoos are actually last up from four to six days and are also waterproof, so you can sport them on the beach without worrying they will instantly rub off. It's an ideal compromise for those who want to wear jewelry to the beach but don't want to lose or ruin it. Plus, it looks so chic, especially when combined with real jewelry. They are great for the beach, for the music festivals, for the fun BBQ meet ups, and even for the dates that require a bit more of personality to be present.
How these pieces work? Place the tattoo on your skin, dampen it up and peel the applicator away, leaving in its place an awesome metallic colored unmovable accessory. But how about the downside? Unfortunately, sunscreen degrades the tattoo's adhesive, so you have to be careful with the risk of sunburn since SPF can't be applied on the bedazzled area. Plus, it's also advised not to wear the tattoos in places without much body hair, because hair prevents the adhesive from sticking on the skin properly.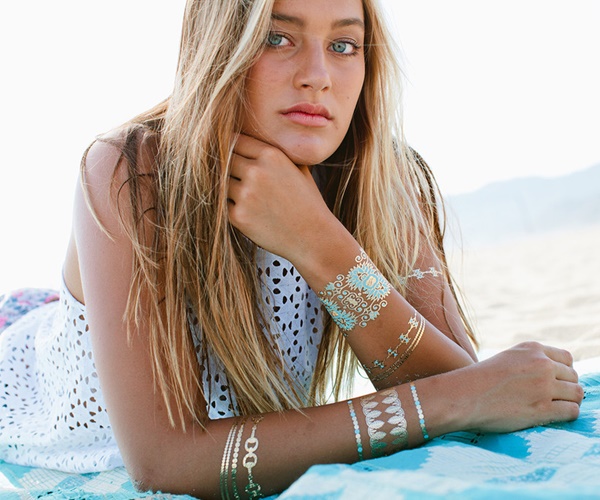 When it comes on how to style these pieces in cool ways, although it surely depends on each personal preference, I'm still thinking that there's always a fine line between doing it right and going overboard. If you are a person who is not so excited about a flash tattoo on the face, or thinking that no one should be entirely covered in the gold and silver foil, just go in moderation. This is actually a tasteful way to glam up any summer look — no matter how thoroughly you're relying on cutoff shorts and flip-flops.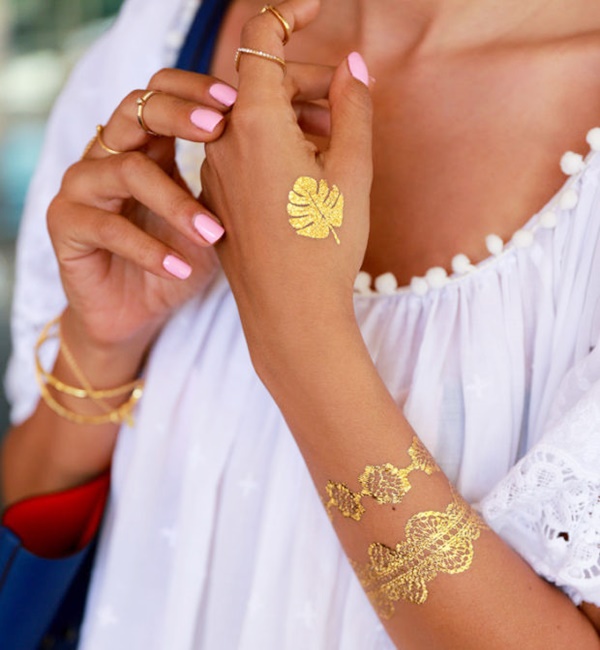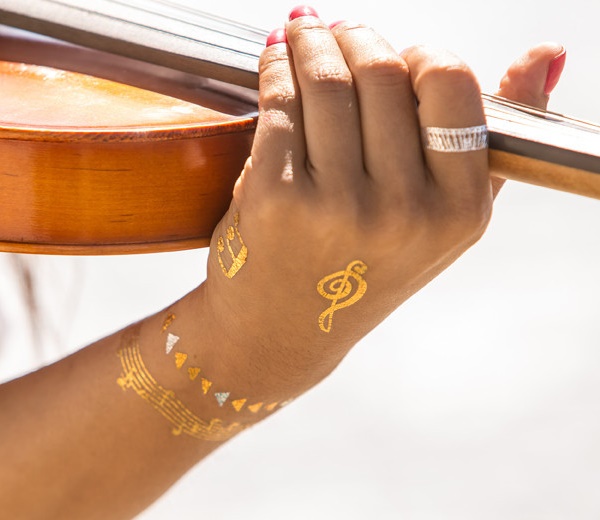 And if you are a person who wants to look super bold and vibrant using this trendy accessory, whether you plan to look like an Amazon queen or a Saharan princess, the inner regal lady in you will be stunningly beautiful with a set of stunning metallic tattoos shaped to show off tribal designs. Just make sure you know what style you would like to achieve, create a theme and place the tattoos accordingly.
You can use it in alignment down your back, or have it all over the arms and neck, particularly taking over the wrist regions with multiple styles, around your midriff, or wear it on your body as incredibly eye catching pieces for adding glam and showing off the ancient in modern style. The possibilities are literally endless. But if you are in the beach, please consider the tan lines the tattoos will eventually leave behind.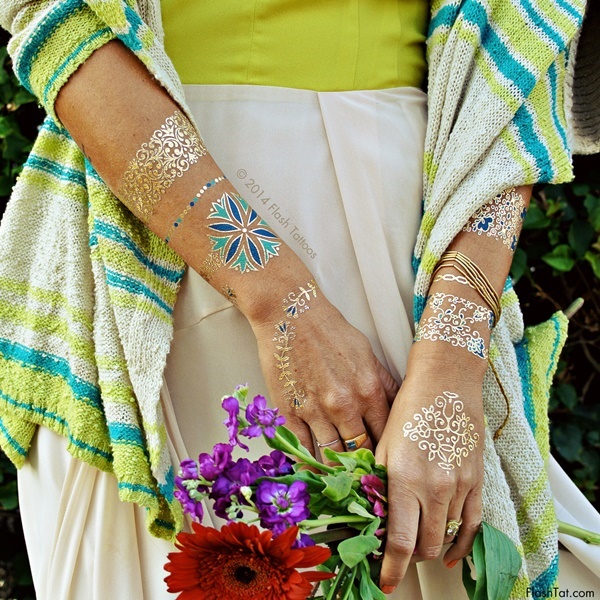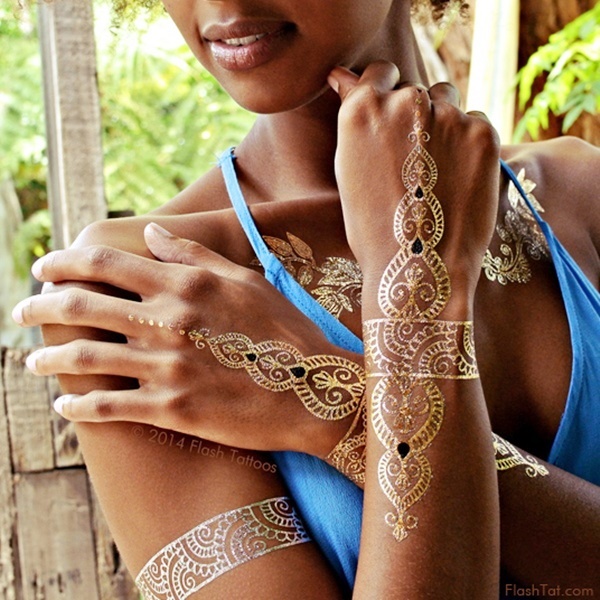 Finally, whether you want to glam your summer fun classy with small, dainty metallic flash tattoos or prefer to wear them in super striking way. With colorful or metallic tattoos, all are lovely and beautiful. It's your choice and that'll be your own personal style. The goal of this trend is all about dazzling the eyes of those looking your way.
And if you still have doubt on ways to don flash tattoo, just wear it like a celebrity would. Celebrities have been donning these awesome looks for a few months now, and after all, celebs are great to be our source of fashion inspiration! Check out these three stores offering their fantastic designs and shapes of flash tattoos