The layered look has been a popular trend in recent years, and this season, trendsetters are taking it a bold step further with the dress over pants. If you are thinking of wearing a dress over pants and wondering whether it even makes sense. Yes it does, and you'll love it. This '90s inspired trend is a cool new way to update items you already own by pairing them in a unique way that might not initially come to mind. Let's see how you can nail your dress over pants.
Check out some dress over pants fashion tips and inspirations below.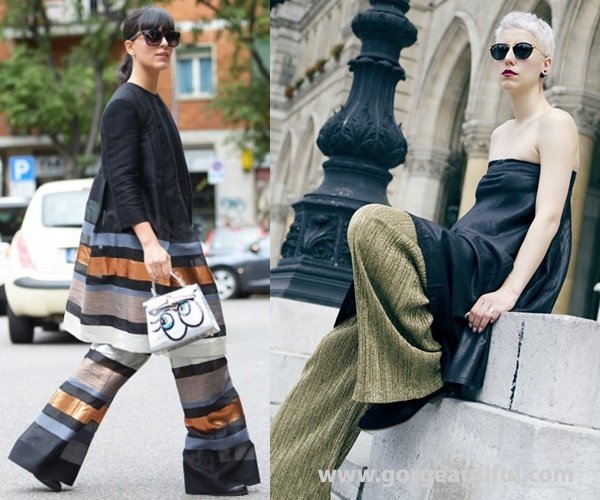 Speaking of dresses, the interpretation of a dress over pants isn't just for mini dresses. Try a midi dress with skinny jeans, or slim-fitting trousers and some stilettos, or a knee-length dress with cropped denim and some classic ballet flats or loafers. As what is trending now, fashion influencers are choosing longer hems that sit just above the knee or midi lengths for a street style edge, paired with a top and/or jacket. Take a look at style inspirations from the runway – Fall Winter 2015 or Spring Summer 2016 – and see how you can rock the look.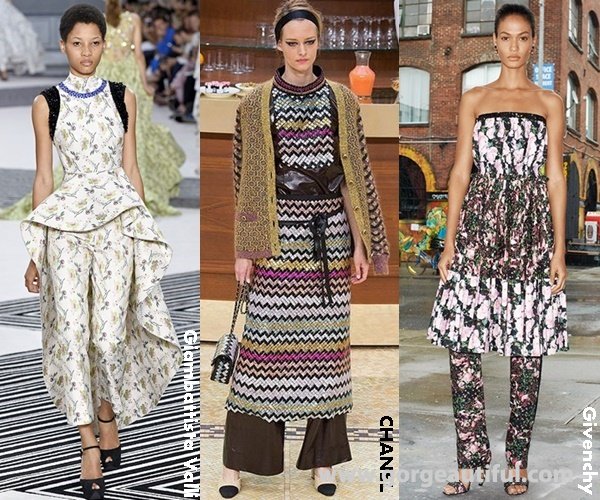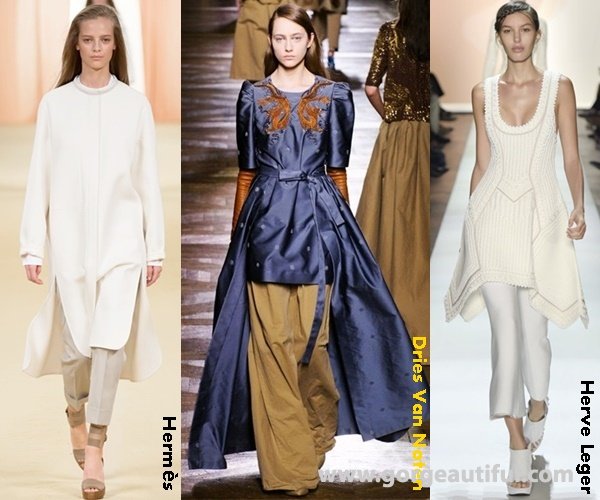 When you're in doubt how to pull off this tricky, yet super cool trend, here are a few easy tips to follow, whether you want to go for a safe look or bolder style:
Play it Safe with Neutral Color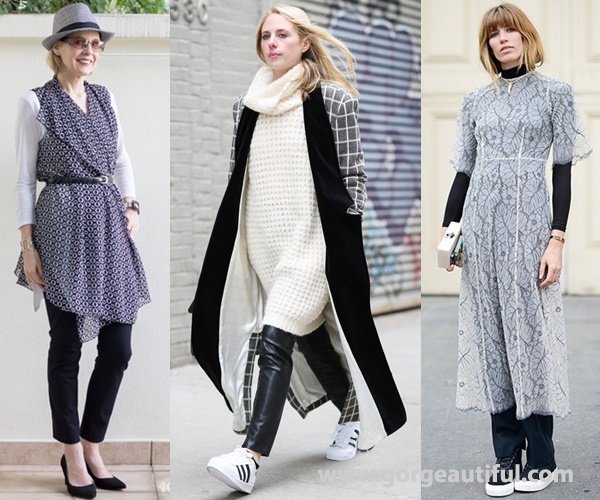 Neutral shades like black, white, camel, khaki, navy, or grey can never go wrong with this trend. The long shirt-dress in solid neutral worn over skinnies is extra-sophisticated with an even longer coat. Here you may put colors, textures, or prints on your tote or shoes for giving more of an interest – yet still looking almost invisible – in the whole look.
It's All about Proportions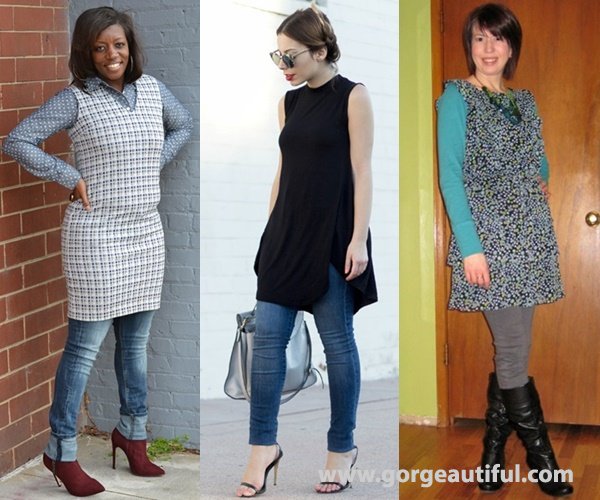 Opting for the dress-over-pants fashion means you have to think of the proportion. For a safe look, choose a mini or short dress that hits around your mid-thigh, simple and well fitted to the body for a streamlined look – just like how you wear a long tunic shirt. Pair it with slim-cut trousers to create a balanced silhouette. Depending on your confidence and personal style, some girls can pull off the look with midi dress or over the knee summer dress, but sometimes, it will overwhelm most frames. Be mindful that sometimes a dress with a really full bottom half or lots of material and draping may not be the most flattering choice.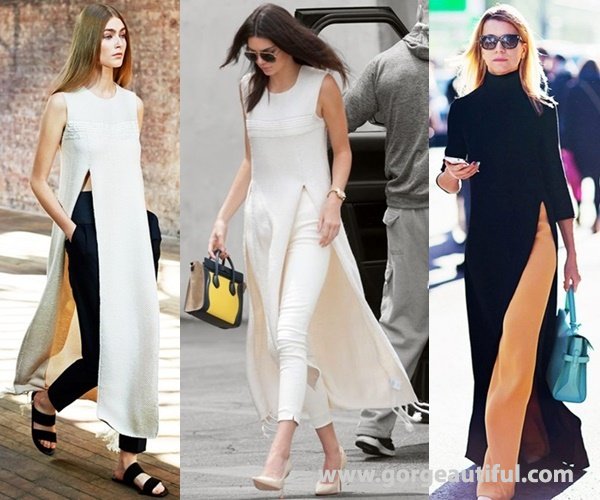 If you want to go for a long maxi dress, instead of mini or midi, picking a maxi that has very high slit is one best choice to pick for creating flow and lighter effect. The slits that extend above the waistline are even the perfect flash of skin, plus it avoids the outfit looking bulky and frumpy
Skinny Jeans as a Must-have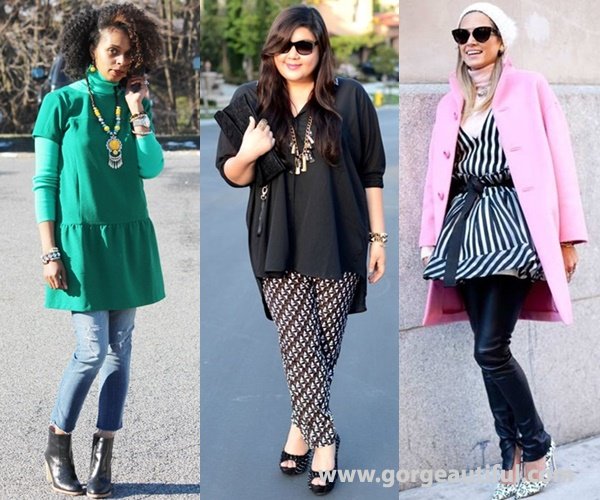 Speaking of proportion, skinny jeans or jeggings will no doubt look great with most dresses, or other slim-fit trousers such as linen pants, cigarette pants, crop pants, even yoga pants can look neat when styled the right way. If you go with a pair of boot cut jeans or flares, these can also work, and look best when paired with a dress that is more fitted around its hemline.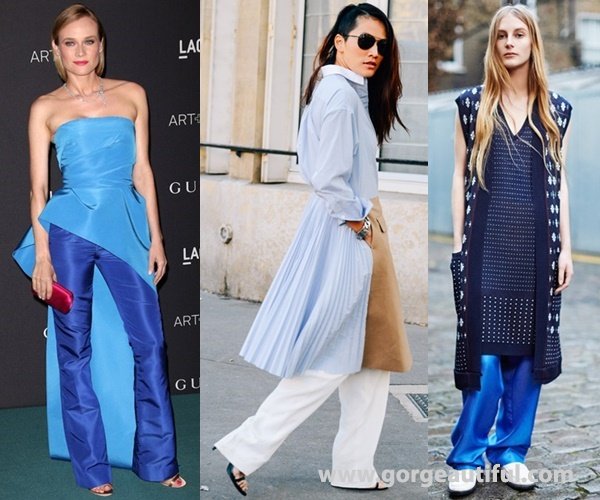 If you prefer things slouchy and casual, toss your favorite simple knit dress over flares and add another knitted layer – such as sleeveless cardigan or vest. You can as well go for a fit-and-flare dress or even a party gown in asymmetrical hemline, paired with your wide-legged or flared trousers. But don't make it more complicated than it needs to be, keep it simple, streamlined and sleek.
Go Monochromatically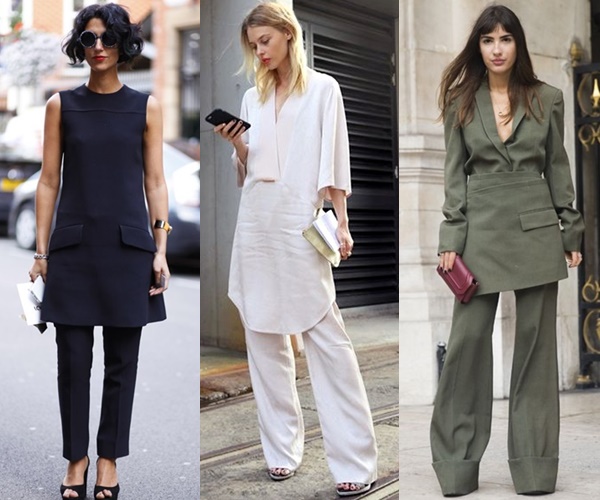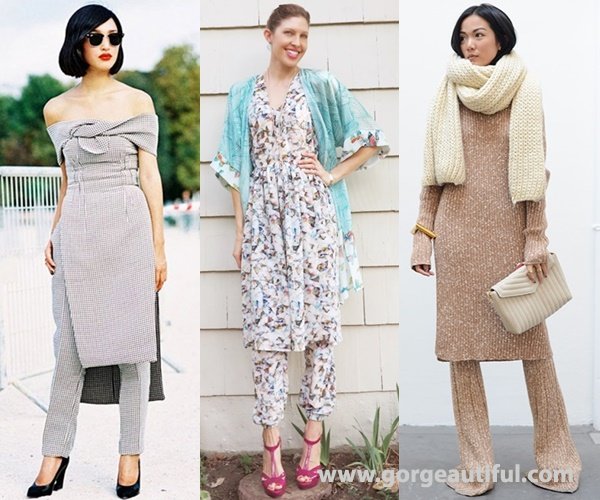 As the trend goes really well through runways and street styles, some label proposes their pieces in a set of dress over pants styles, which most of them come in monochromatic colors, prints, textures, and even in matching fabric. It gives the whole outfit a really sophisticated and fashion-forward feel.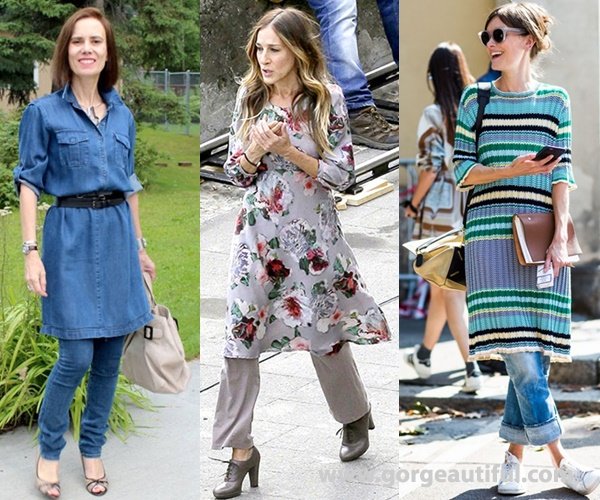 If you have similar staples – between bottom and top – in your closet, try the look and do your own mix and match. For example, denim dress worn over a pair of skinny jeans, or cotton dress with pants in similar monochromatic color family. You could also achieve the same effect by layering one color similar to the pants. These layers can be your outerwear or shirt that worn underneath a sweater.
Mix Things Up with Layers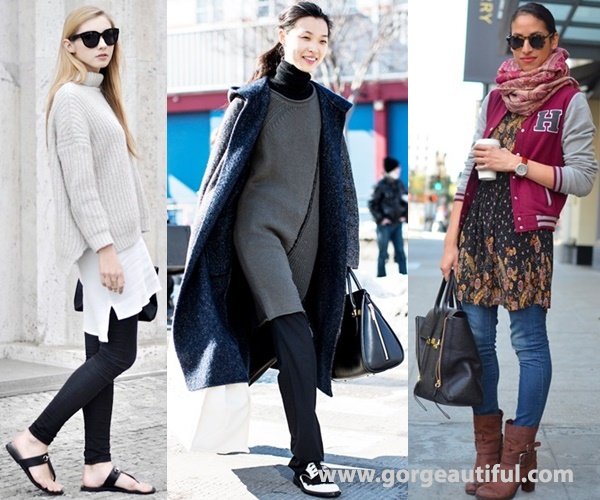 Especially during winter or cold days, playing with layers is super fun to rock the trend. Don't be afraid to get a little crazy and mix things up. Pull different seasonal pieces – think summer dress over a pair of skinnies, booties, and bomber jacket – and see how they might work together. You might also try pairing an oversized coat over a tailored dress which worn over high-neck top, added with trousers and sneakers in matching neutral shades. Plus, a casual chiffon blouse can also be worn underneath loose knitshirt complete with skinny jeans and open-toe sandals. After all, this trend is definitely all about experimentation.
Opt for Heels for Taller Silhouette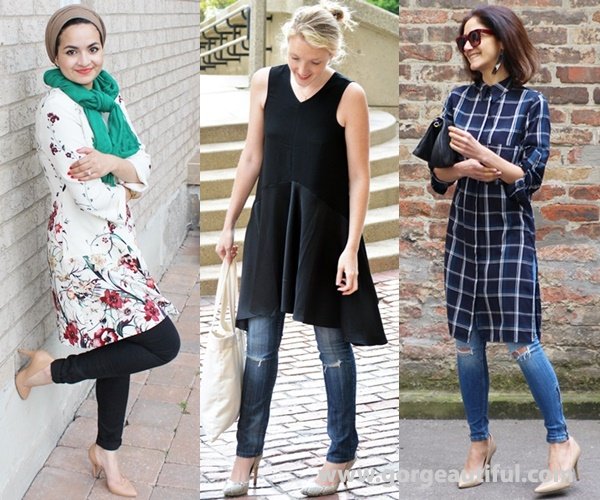 Unless you are very tall, the reinterpretation of the dress over pants trend looks best when worn with a mid to high heel as it will help you feel less frumpy. Managing the added bulk of unfamiliar layers is easier when your legs look their longest and your feet feel a little sexier. A pointy pump also looks best and peep toe boots look equally stylish
Bold Colors for Stunning Look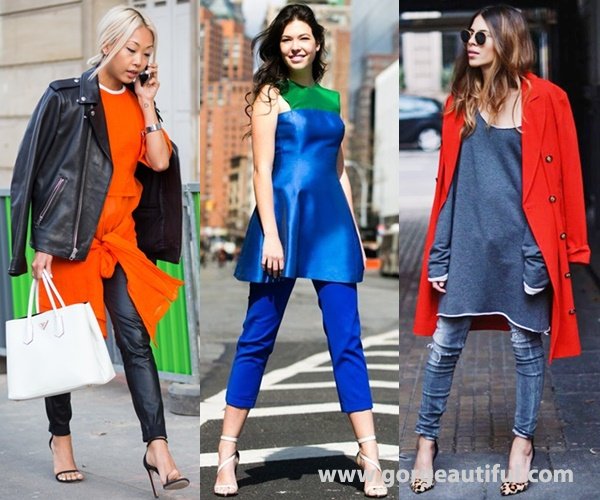 When you are ready for the next further step to look stunning and bold, go for bright colors or do a bit of splash of colors on your outfit. Pick one bright colored staple among the neutrals to make it pop even more.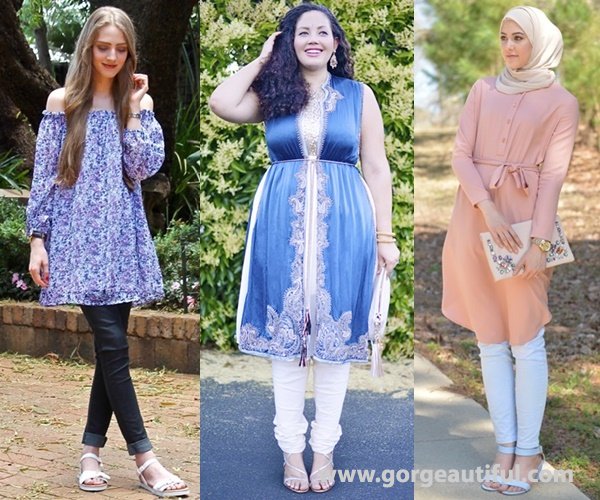 Easy, yet a little bit tricky, the new look of Dress Over Pants trend offers variety ways to rock it. It's versatile and pretty simple to don, whether you are skinny or plus size, and it even looks perfect for those who wear hijab.