Stripes are always in style, even in the world of plus size fashion where some says there's still antiquated rule that fuller females can't rock stripes. But still, rules are meant to be broken, and nowadays plus sizes women no longer have to wait to take part in stripe fashion as retailers and brands have been catching up with the times and are producing stripes of every width, color, and angle at a faster speed. Not only featured in the classic black-and-white or nautical pattern, but also in colorful prints and styles.
Especially for this year 2017, the existence of stripes is just undeniable whether it's for warm or cold seasons, and they appear not only on clothing pieces, but also on handbags, shoes and other accessories. Whether it's vertical or horizontal, diagonal or broken, colorful rainbow or classic pinstripes, the versatile, yet effortless stripe pattern could come in various different styles, ready to rock for all seasons – now and always.
So, if you dream of a smart striped jumpsuit in flattering silhouette or you want to go with more colorful rainbow-flavored palette, how about a few updates with statement striped pieces to refresh your wardrobe, here we've lined up some of the hottest styles from twelve plus size retailers that will let you show your true stripes. Not in the form of mainstream black-and-white or nautical lines, but stripes with colors and chic designs.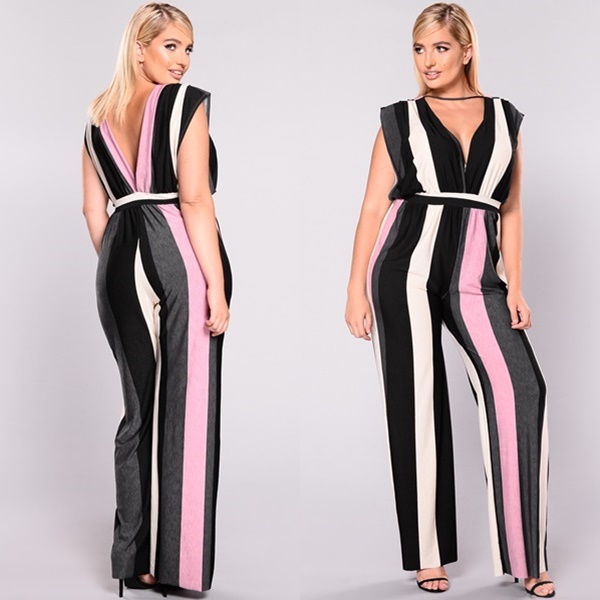 Smart and sexy with the appearance of deep V-neck and V-back, this striped jumpsuit embraces the classiness of sleek attire, yet perfectly design in more modern side. And with the look of bold stripes in four colors combination – between the classics of black, white, grey and sweet color of pink – the jumpsuit instantly brings that cute pop of color that adds a lot of life into a look. Pair this staple with black heels and handbag to make the look even more polished.
What is better than a one-piece wonder that you can always rock in style without worrying about pieces mixing-and-matching outfit. And this sexy off-shoulder plus size jumpsuit is a great way to have a little fun during the sunny days, featuring a relaxed leg and a charming off-the-shoulder neckline, along with the breezy vibe embraced by stripe patterns. With the change of the accessories and footwear, this cool, effortless apparel can be rocked many ways and to many of a few events and occasions.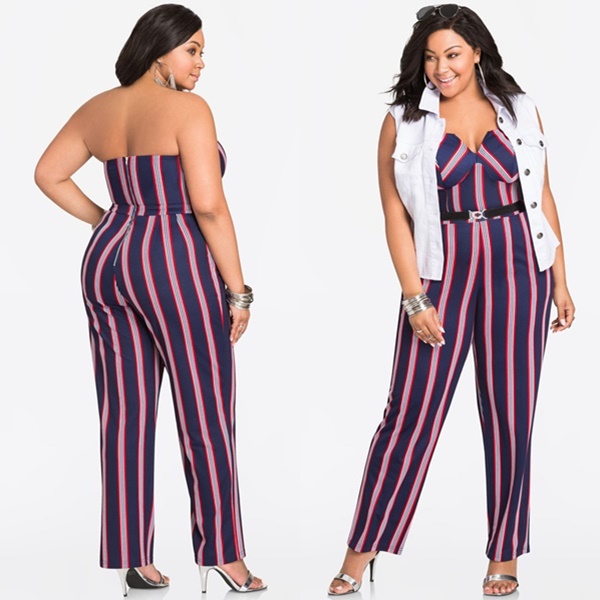 Hot and playful for summer – or even for all season long – this menswear-inspired stripe jumpsuit is an easy wardrobe to pull off, versatile enough to mix-and-match with layering piece as you can dress it up or down and wear it during the day or at night. One of the easiest ways to put a look together is with a great plus size jumpsuit. All you have to do is add your favorite accessories, shoes and purse, and voila, you are all set.
This sleeveless sweater dress is the perfect way to add a little coverage into your summer wardrobe, plus, it also comes in super trendy style as you can wear it mix-and-match with other fashion piece, wear it underneath or over other clothing, or you may go on its own. Whether you're using it as a night time beach cover, pull it off with button-up underneath, or layer over jeans to create that dress-over-pants trend, this red white and blue top is the ultimate in transitional wear.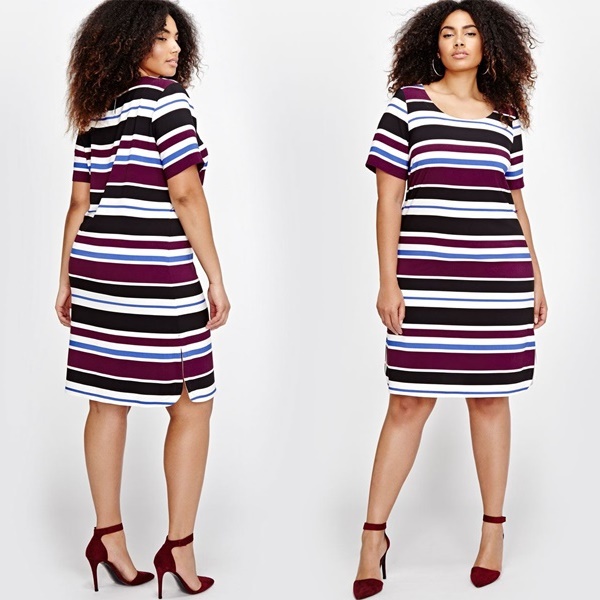 Elegant stripes in trendy hues make this plus size knee-length dress by Michel Studio the perfect choice for a chic and playful fashion statement. Style with classic heels, simple jewels, and tailored blazer for a chic office attire, or you may go with sneakers and layered denim jacket for a more relax and sporty side. Whether you wear it loose for a modern fit or use the assorted sash included to define your silhouette, this bold and chic midi dress will flatter your curves, from work to a casual day look.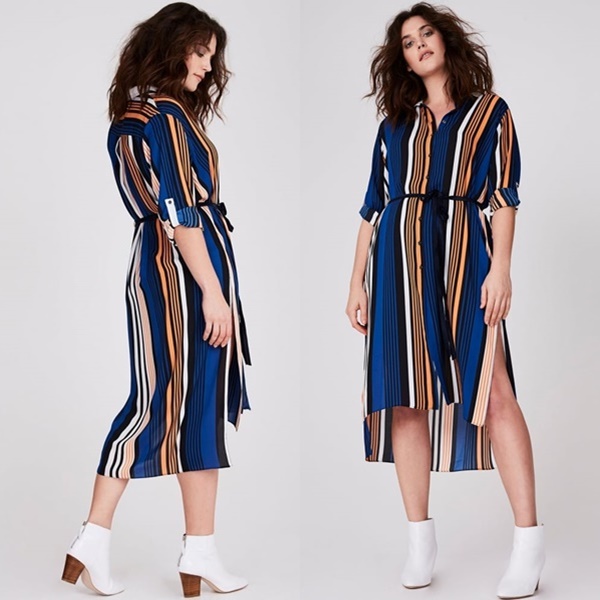 A relaxed fit and bold print ensures this plus size shift dress is perfect for all seasons long, especially summer. While the contrasting blue and orange pop against the bands of black and white creating a bit of dimension through the outlook, its casual smart silhouette offers that perfect comfort with vertical stripes that flatter every figure. In winter or chilly days, you may go dress-over-pants style by pairing the dress with sleek leather-look trousers for an aesthetic that delights in textures.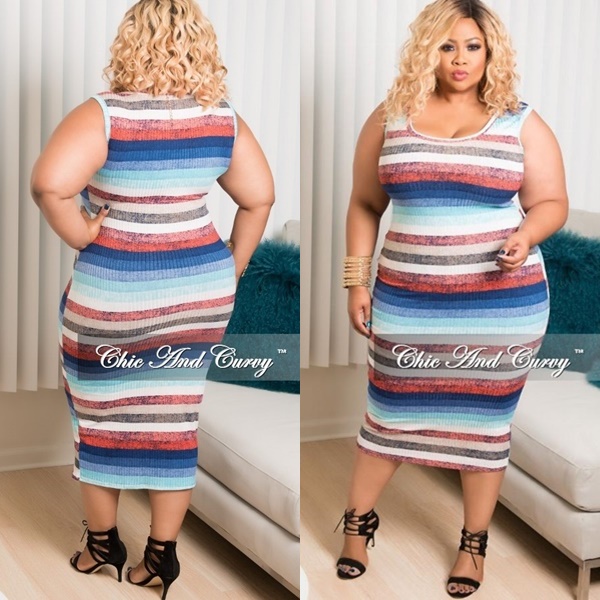 A sleeveless bodycon dress is the perfect way to add a little sporty-mixed-feminine vibe into your day-to-day wardrobe. Whether you're wearing it at night with layered biker-jacket, or during the day with casual blazer, this colorful figure-flattering bodycon from Chic & Curvy is a versatile must-have to wear all season long.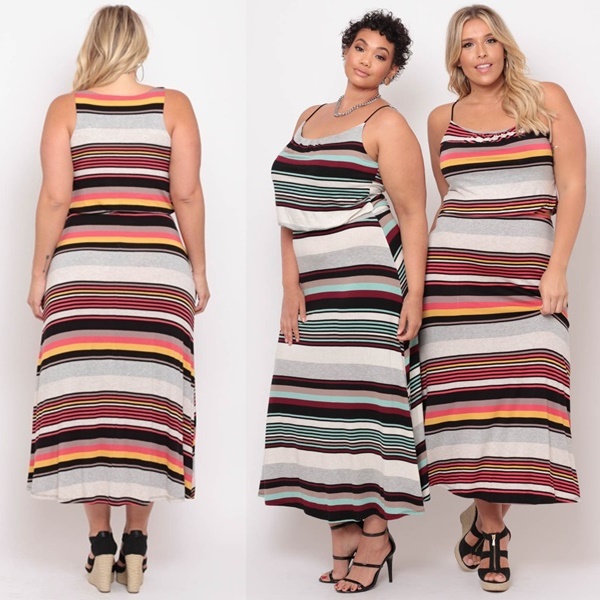 This plus size multi striped maxi dress is totally a keeper for your breezy summer days. Proposed in two different color combinations, these flattering dresses feature a scoop neckline with elasticized band for an added comfort, along with spaghetti straps at neck, light pleating, great drape ability, elastic band at waist to ensure a perfect fit. And in a sleeveless shape, this is a perfect essential day-to-day dress as you team with wedges or sandals for a stunning summer look.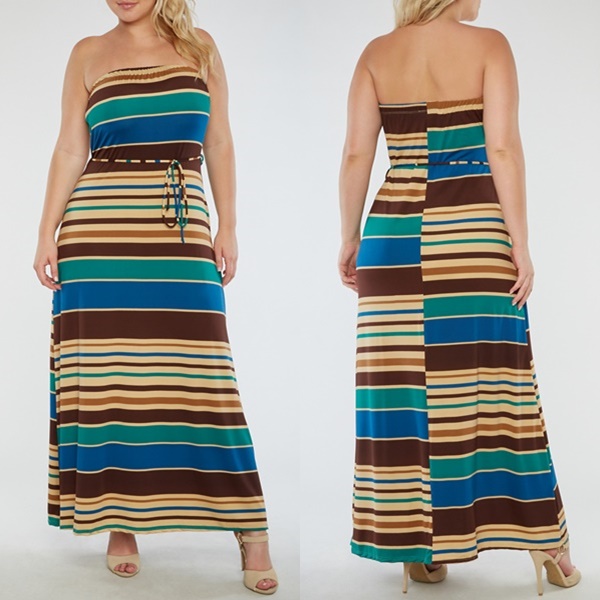 More and more perfect summer staple with its flattering long length and comfortable elasticated bandeau top, this plus size striped strapless maxi dress is durable. Hugs your curves and look super stylish that you can pair with different types of footwear to achieve that casual-chic attire. Wear it with flats or sandals for an easy to wear day dress, with heels and dashing layering piece for a relaxed night out, or even with converse or sneakers to embrace cool sporty chic look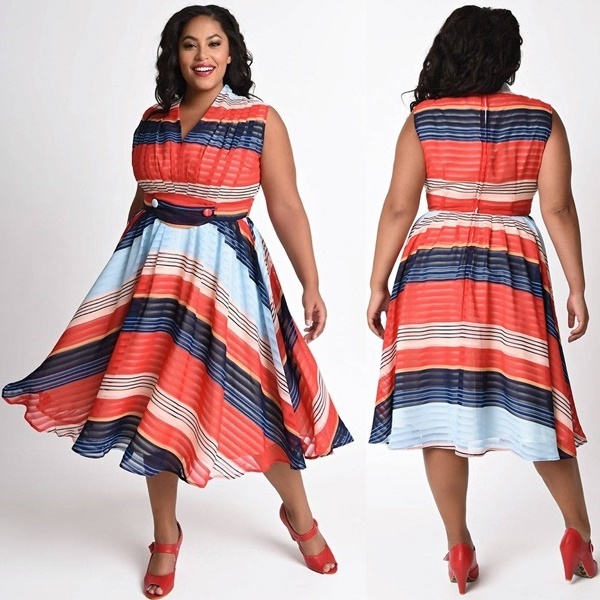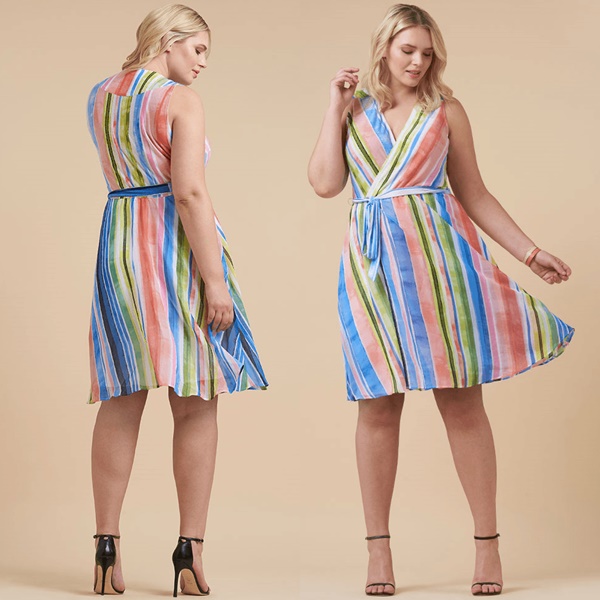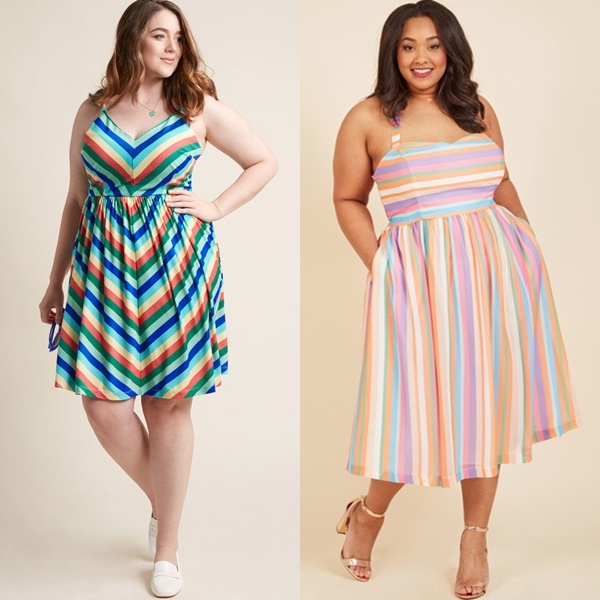 Plus size fashion doesn't need to be boring. Embrace those colorful pieces, and fulfill your plus size fashion needs with these adorable plus size flared dresses in beautiful shades of rainbow. The colors and stripes will definitely make the dress a pretty staple in your trendy clothing arsenal.