Although his collection isn't really my favorites, there is no doubt that Marc Jacobs is one of the great designers of this century, as he brings much influence to the global fashion trend, mostly followed by number of fashion retailers, such as H&M, Mango or Zara. And here there are, the American designer has launched his latest Spring Summer 2013 Ad Campaign fronted by Australian model Ruby Jean Wilson who opened and closed his last show.
Behind the lenses of the brand's longtime photographer, Juergen Teller, the 60's inspired collection comes in a stirring, mirrored setting, creating an optical illusion effect with geometric patterns, stripes, and two-toned elegant prints. We see from the images clearly that by mixing the sight-bending mirrors with a two-toned, geometric dress, Teller instantly transports the scene from a modern-day reality to a mid-century artist's fantasy, where psychedelic vertigo and pop-art combined.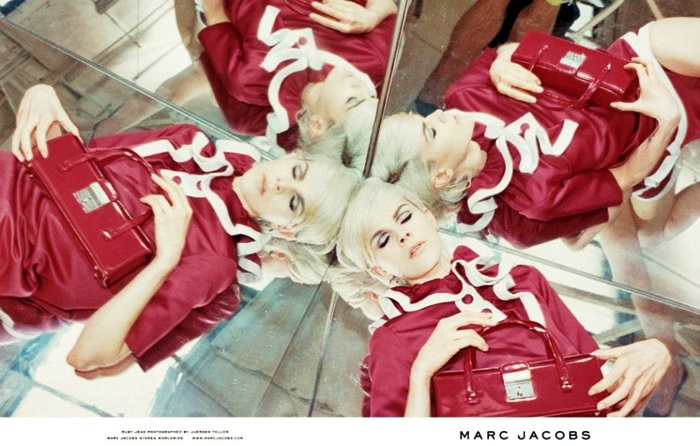 As for the blonde pixie-cut beauty, Ruby Jean started gaining much attention this season right after she cut her hair and dyed it in platinum blonde, channeling Edie Sedgwick. While throughout this campaign, she looks flawless donning bold graphic attire in kaleidoscopic imagery with contrasting pattern in which white and black are the predominant colors. Along with some unusual props like a bicycle wheel or overturned stool on the floor, she simply shows her unique, yet looking incredibly elegant in makeup and hairstyles innocent returning sight to the 60s.