From years back and now, we've seen many articles about pros and cons of plus-size models scattered throughout the media. Some say women's magazines have been manipulating image of ideals for female beauty, body and shape, while others say that showing a woman with folds in her skin or a belly that sticks out is a radical move for fashion industry. Debate aside, we also see how plus size bloggers are now taking the blogosphere by storm, showcasing their beauties proudly.
I personally don't really care about how those magazines showcase plus-size models, saying the models are the representation of "the real" every plus-sized woman worldwide. Since, so far I know, a "plus-size model" is a model who is at least 5'9″ but has measurements above the requirements for "straight size" models. Basically, a plus size model could be a US size 8, 10 or 12, despite the fact that those sizes are not considered "plus" by clothing manufacturers. So they don't exactly represent plus-sized women.
In this post, I prefer to focus on showing plus-size fashions from the real plus-size women's pictures taken from 12 plus-size bloggers who look amazingly gorgeous in every outfit they wore for any different occasions. If you are a full-figured woman who looks for lots of stunning plus-size fashion inspirations, it's always worth trying some of their styles, or maybe all of them. Toss the old-fashioned rules away and see how these plus-size women can do with their outfits.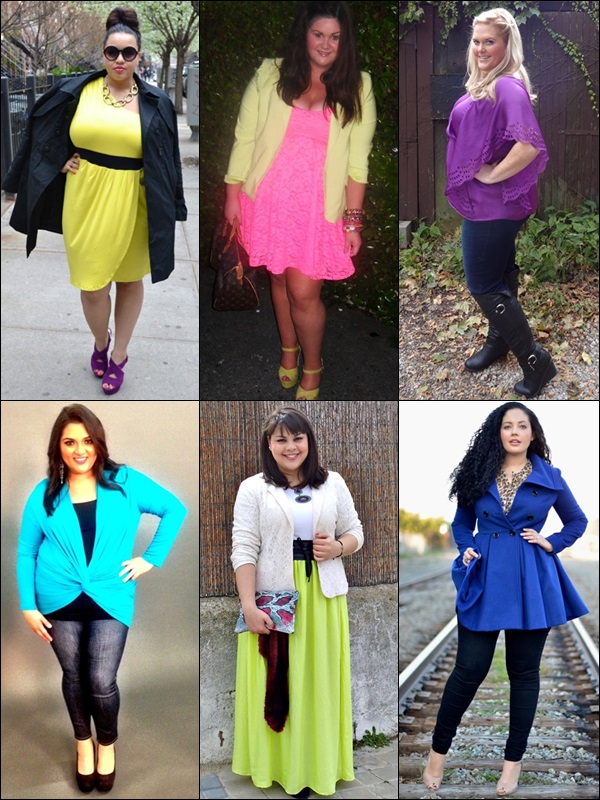 Plus Size Neon Clothing
Who says full-figured women can't wear brights. Embrace your brightness. Pair it with black to make the neon even more standout, or pair with other neon or light shade for a more girly look. How to wear two bright colors in one outfit has nothing to do with your body-shape, but it's more about how to apply a balanced look. If you think the combination does well, just go for it.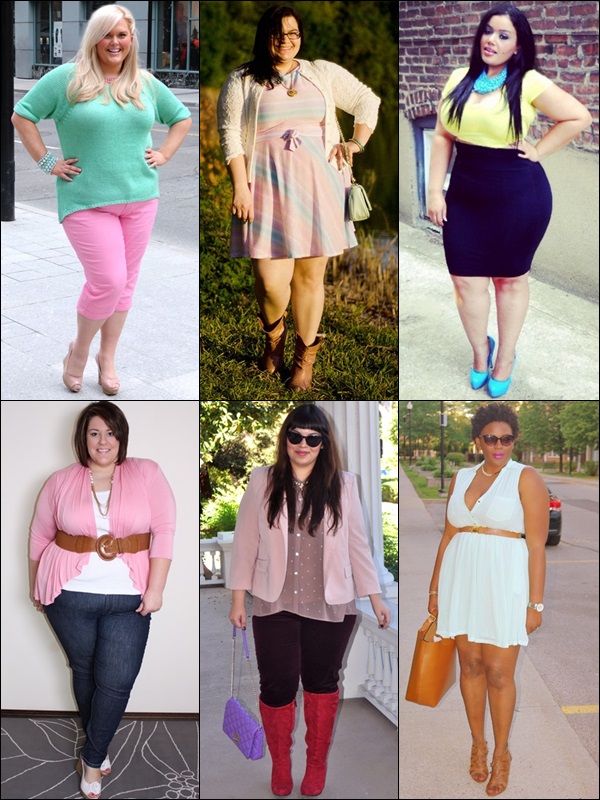 Plus Size Pastel Clothing
The same case with the neons, all plus-sized women can also do with pastels. Just have fun and enjoy your personal style. Skirts, dresses, or pants, as long as the clothes fit your body shape, surely you can create any flattering look you want.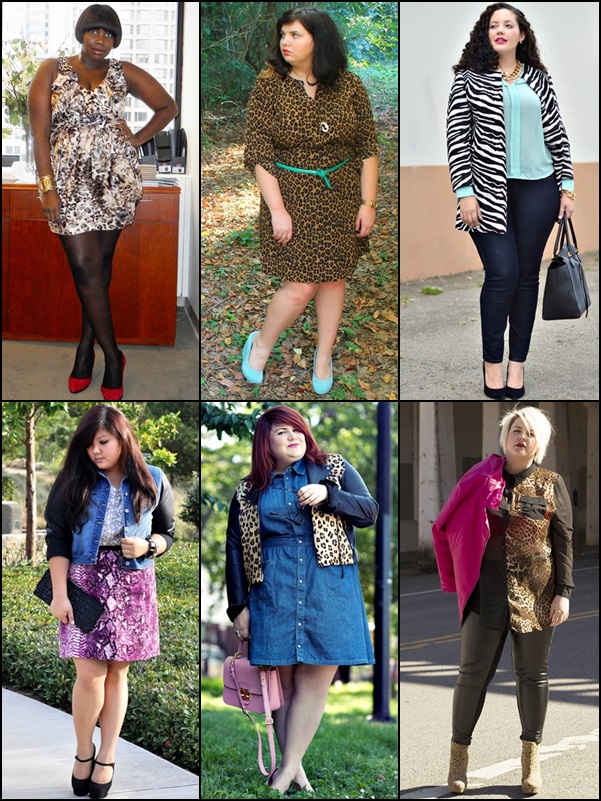 Animal Prints
Nothing can stop you from wearing any outfit you want, even with heavy prints like the animal, tribal, floral, or else. On the other hand, rules are still rules, and there are still some standard fashion laws on how to pull off prints and patterns, even for those thin, skinny women. For me, no matter what body shape you have, creating a balanced fashion combination is a must. It's not about the body shape, it's more about how to look elegant and polished. So, do follow those fashion rules and style like these beautiful ladies in the pictures.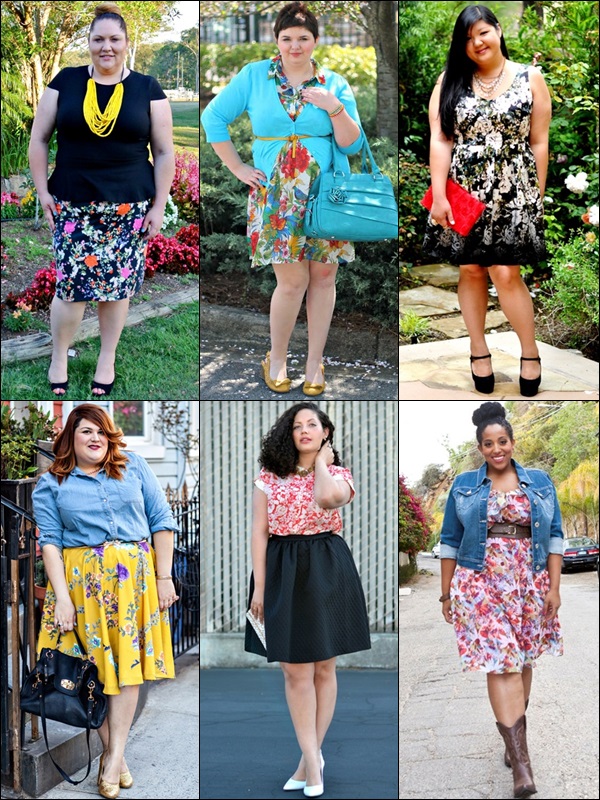 Flower Prints
If you don't find full-heavy prints or busy outfits flattering, combine your printed-piece with something neutrals to tone down the fullness of your outfit. Or wear prints that have light colors to make you look brighter and more colorful.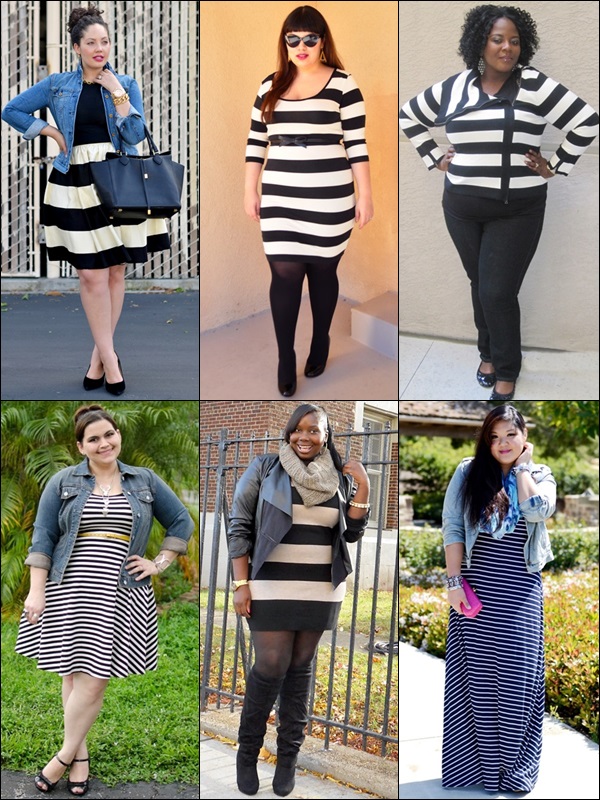 Stripe Patterns
They say horizontal stripes are a big no-no for plus-sized women. Skip this advice and opt for any stripes you want. It's gorgeous and fabulous, plus looks flattering on a curvy shape.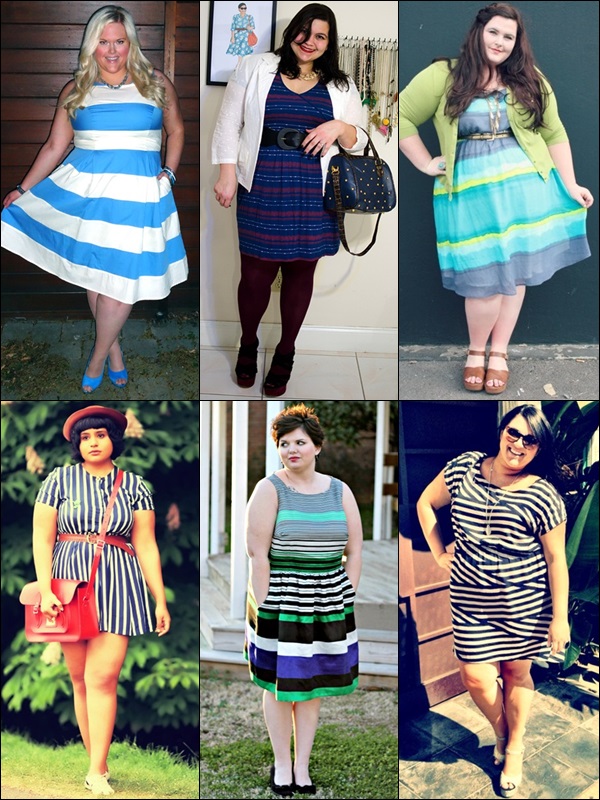 If you find black and white is boring, try some stripes in bright colors. You don't have to wear black and white horizontal stripes all the time only to prove that your shape can wear this pattern. Try many varieties of stripes from horizontals to verticals to diagonals, or any other graphic prints to achieve those stunning looks every women have.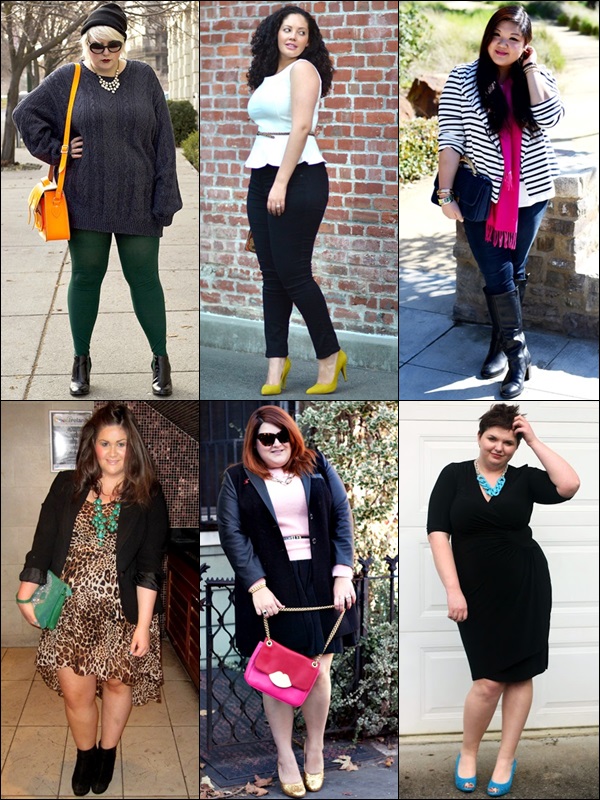 Pops of Color
With so many trends happening simultaneously, everybody is allowed to stand out in the crowd with this fashion trend. So, get a jump on fashion by adding pops of color to your wardrobe.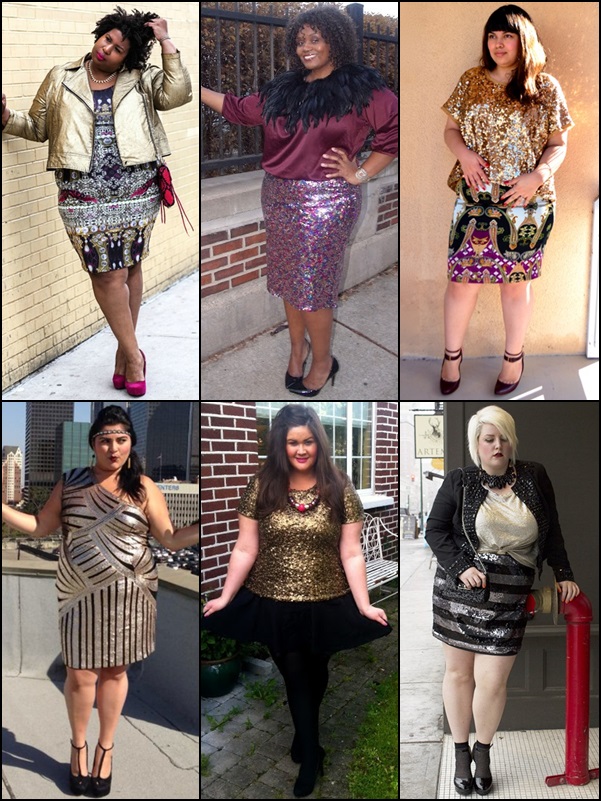 Metallic Outfits
The luxe of metallic shades is back in fashion, as we are revisiting a little more rock n roll glams. Metallic jackets add class to everything in plus-size clothing. This trend will be fun to pull off for a night of fun and bar hopping with your girls. Add a little edge to a femme look with a metallic top or skirt. When wearing one-tone metallic piece, match it with print that has a common color to create a striking look.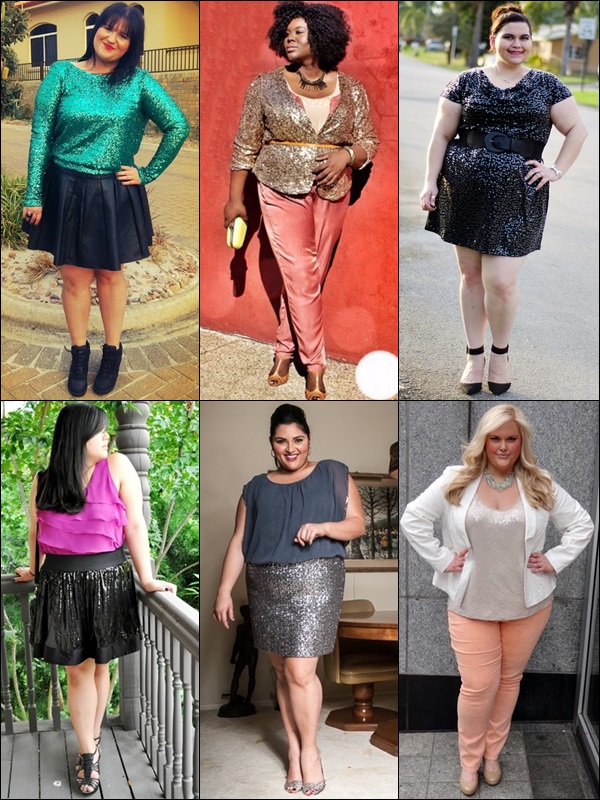 Wearing Sequins
If you wish for something less glimmering, opt for a basic, one-tone sequined piece – silver, black, or gold – and match it with item that is solid and light to give a more casual, yet sparkling vibe.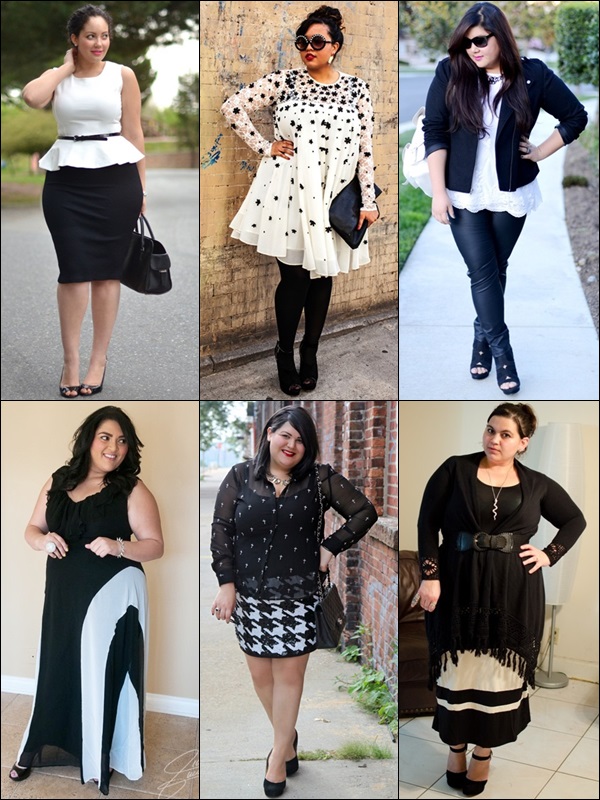 Black and White
The elegance of black and white is timeless. From workweek staples to fun little extras, just do black and white outfits for every style. Again, wearing black and white is not about proving any statements that plus-size women should follow standard fashion rules – wearing black is slimming –, the style itself is more about showing your elegant beauty in a classy outfit.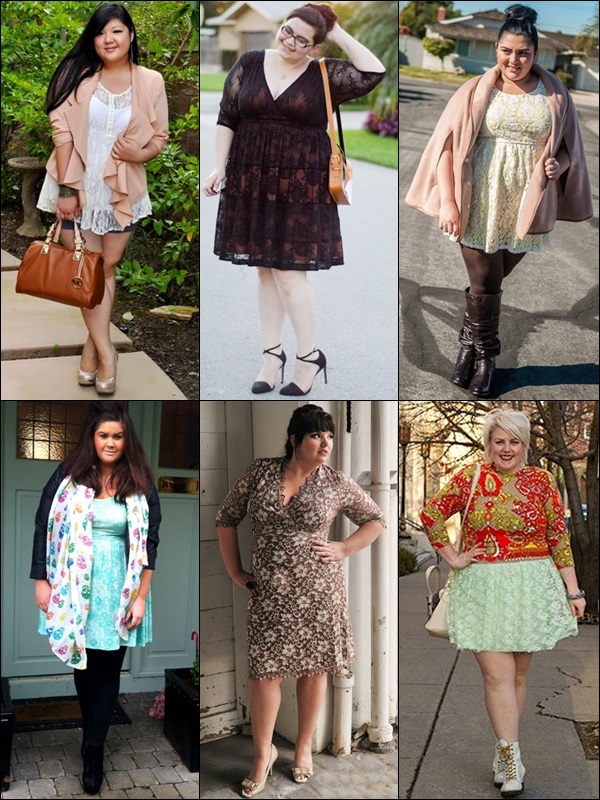 Lace Fabrics
Embrace your sensual femininity and class with lace. These dresses continue to be on trend for Spring Summer 2013. Celebrities adore wearing lace as much as we do thanks to the luxurious, feminine feel it lends an outfit. Add colors to your outfit for giving more dimension, wear heels for the elegance, and match with chic accessories for a fully mesmerizing look.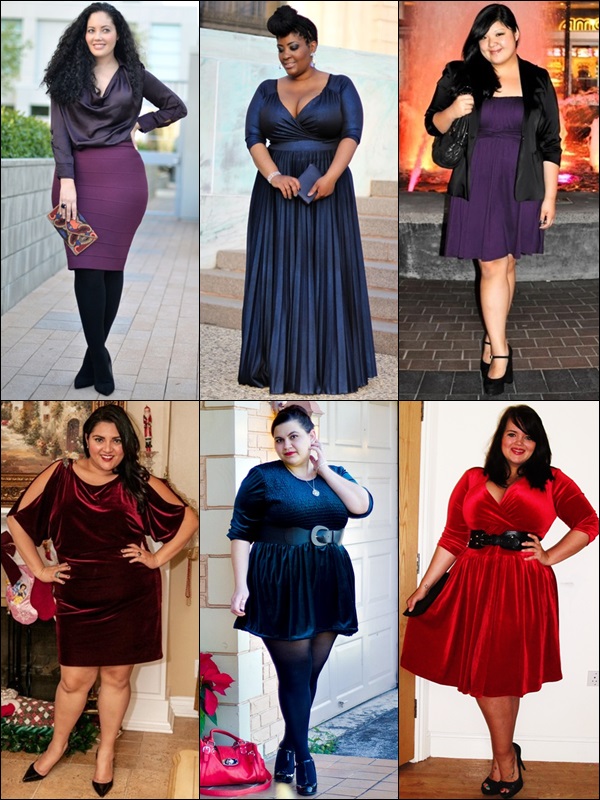 Satin and Velvet
Satin and velvet are shining, which according to the old standard, plus-size can't wear these fabrics because of its sheen. See the six beautiful women above and look how amazing these dresses can be on your body. Velvet, on the other hand, this fabric can make an otherwise simple outfit look more luxurious, but putting someone in head-to-toe velvet creates the effect that can range from soignee to patchouli-scented hippie. It's not for everyone but once this stuff all trickles down the racks, could you see yourself integrating one or two velvet pieces into your wardrobe rotation?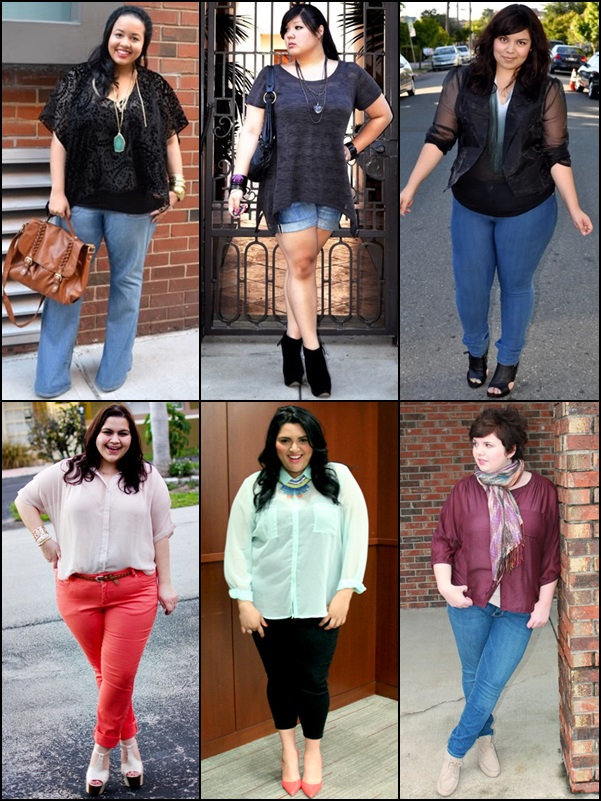 Sheer Tops
Sheer tops are also on trend this season, and there are lots of pieces, lots of colors and designs, lots of ways for curvy women to pull off these fashion staples. Depending on your personal style, you can layer a sheer dress or top over a matching camisole and slip, or try wearing a bodysuit underneath to create a neat and clean look. But if you want to be bold try to wear opaque underwear
Not finish till this, continue this article to Plus Size Fashion Inspirations from 12 Plus Size Bloggers (Part 2) and follow other fashion inspirations all plus size women can wear and what to match them.
Last but not least, don't forget to check out these all articles about plus size inspiration related to fashion, styles, and clothing. Have a great day =))